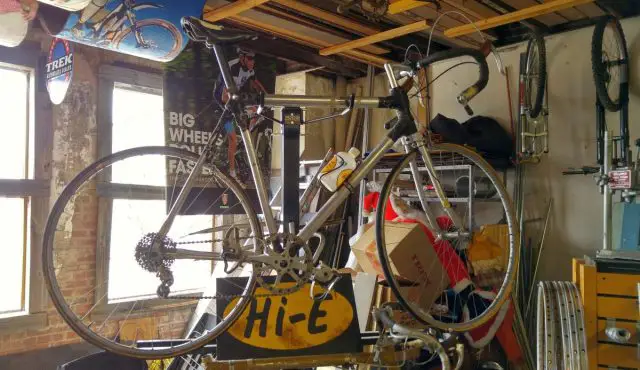 Harlan Meyer (1924 – 2013) and his company, Hi-E Engineering, represented the pinnacle of outside the box thinking, and genuine innovation, from the early 1970's into the 1980's. Based in Nashville, Tennessee, Harlan, a former aircraft engineer, applied principles learned through his work on aircraft, to bicycles. Hi-E came to existence because of Harlan's son, John, a young lad racing bicycles in the early 1970's. Bicycle technology at that time was primitive compared to what we take for granted in 2018. Harlan saw an opportunity to improve everything from components to frames and took it upon himself to design and manufacture innovative parts that were way ahead of their time.
The bike featured in this article is Harlan Meyer's personal Hi-E Cosmopolitan, one of 15 such frames ever produced. Each one was unique in its own way, with differences in chainstays, forks and components fitted to these bikes. The first example was produced around January of 1971. Many of the design features you see in the Cosmopolitan are present in today's road and gravel bikes. RIP Harlan Meyer, what an innovator!
First Flight Bicycles of Statesville, North Carolina, kindly allowed me to take these photos a couple of years ago. The shop currently plays host to MOMBAT (Museum of Mountain Bike Art & Technology), founded by Jeff Archer. Sadly, Jeff's life was taken in 2016 by a drunk driver whilst crossing a street. The Hi-E collection and everything else within MOMBAT remain as a legacy to Jeff. Jeff was a true gentleman and opened the collection to me whenever I passed through town. Thank you Jeff.
The museum itself was a difficult environment in which to shoot photos, but I hope these photos do justice to this incredible bike.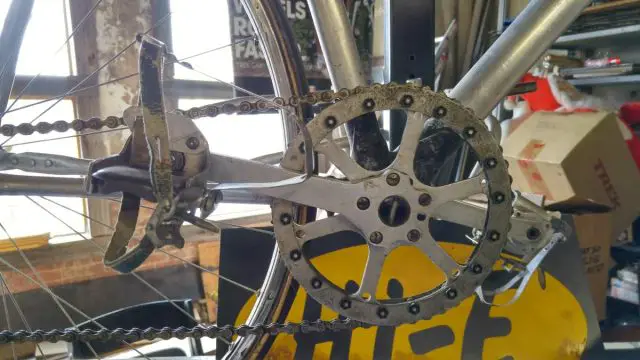 Above, if you thought single chainring bikes (1x) were a new idea, think again. This crankset is circa early 1970's. Don't forget, this was from an era when front derailleurs were fitted to most road bikes.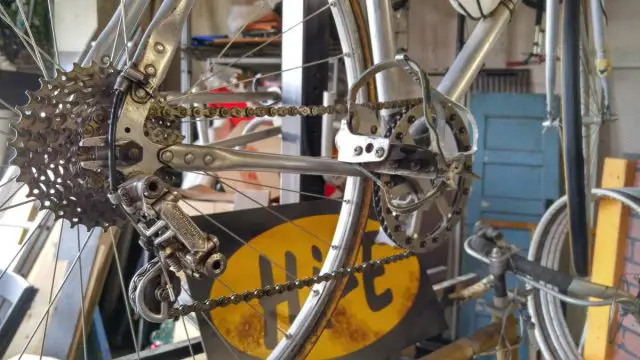 Note the riveted aluminium construction of the frame, and the reverse horizontal dropouts, many years before Gary Klein's distinctive dropouts.
Above, an integrated chain guard keeps everything in place on Harlan's unique crankset. The crankset began life as an aluminium blank, with final machine work to bring it up to a decent level of production finish.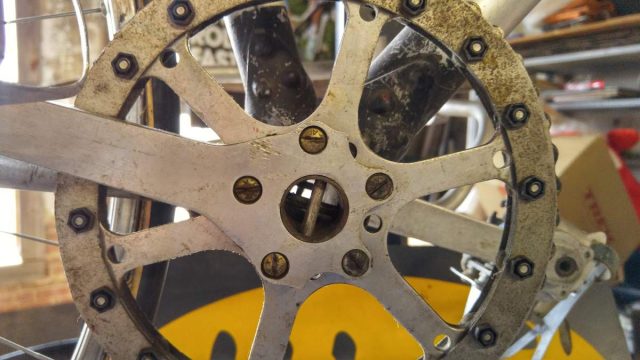 Harlan's crankset also features a unique bottom bracket interface.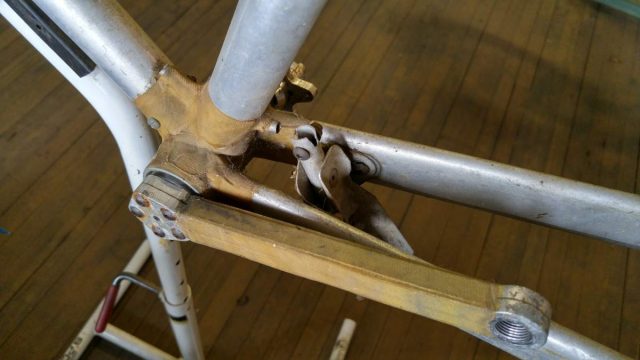 In the photo above, taken from one of three Hi-E Cosmopolitan frames / bikes in the MOMBAT collection, you can see the Cosmopolitan's press-fit bottom bracket. This came from a time when 68mm English, 70mm Italian and French thread square taper bottom brackets were the norm. The press-fit technology was at least a decade or two ahead of its time.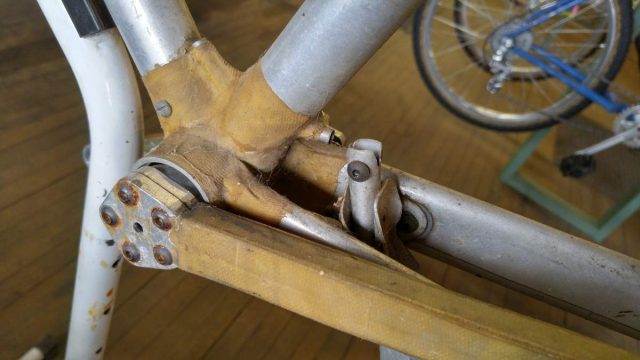 Note also the spoon "brake" on this example. Little is known how it operated or how effective it was.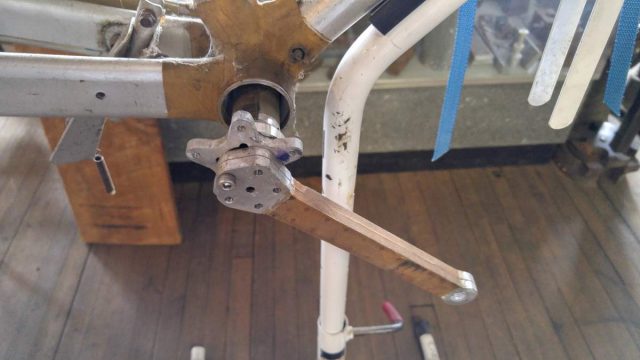 The particular crankset was of double braced construction and quite crude. But, every Hi-E crankset I have seen featured a removable spider, another item way ahead of its time and seen on many modern cranksets.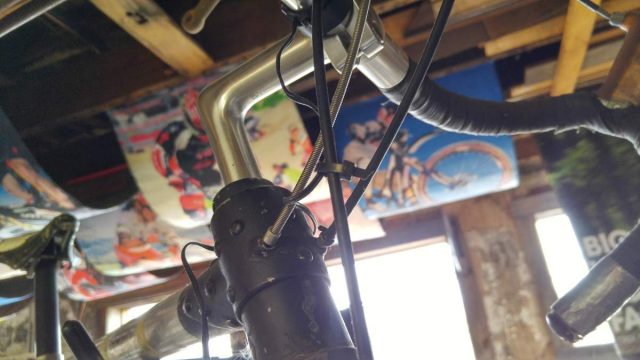 Integrated headset and internalized cables, on a bicycle circa early 1970's!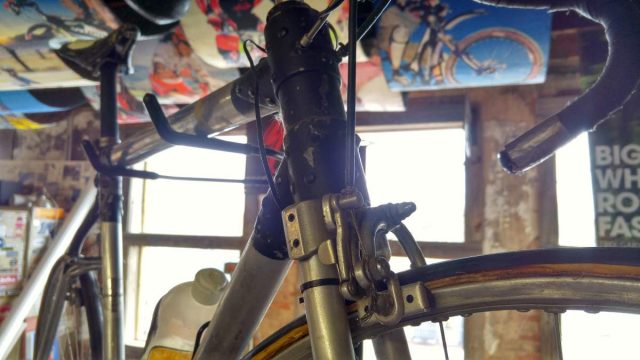 Note the aluminium segmented fork.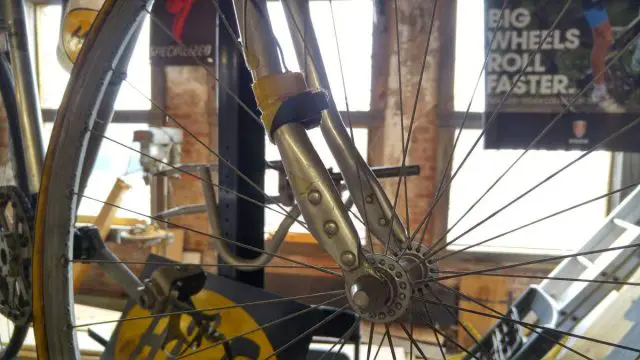 The fork features further segmenting and riveting towards the bottom.
Hi-E was best known for its hubs and "slow-release" skewers, which feature on Harlan's bike, along with his own rims.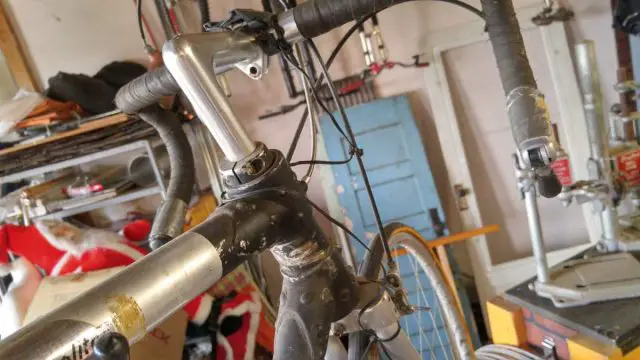 Above, a bar end shift lever handled the chores of shifting, and was a precursor to the fully integrated brake and shifting systems of today. Note the locking mechanism for the headset, which whilst integrated (as in the bearings), still relied on the older quill stem interface. The various wires pictured are from an unknown bike computer.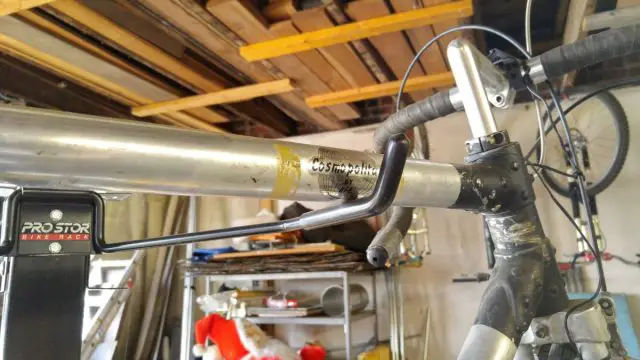 Harlan's personal Cosmopolitan was mostly unpainted, but one or two other examples of the bike that remain in circulation were painted and feature two chainrings.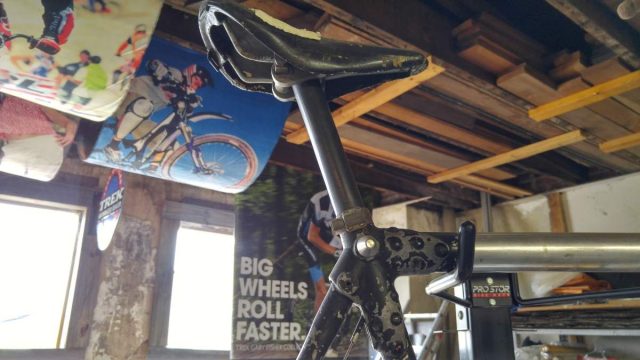 Above, the seat tube / top tube / seat stay junction was a very crude affair. I've not had the chance to ride one of these amazing bikes, but I expect they creaked a wee bit.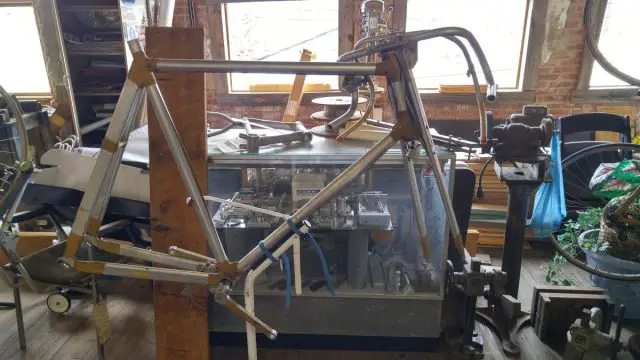 Above, an unfinished Hi-E Cosmopolitan frame. Note the integrated headset and fork.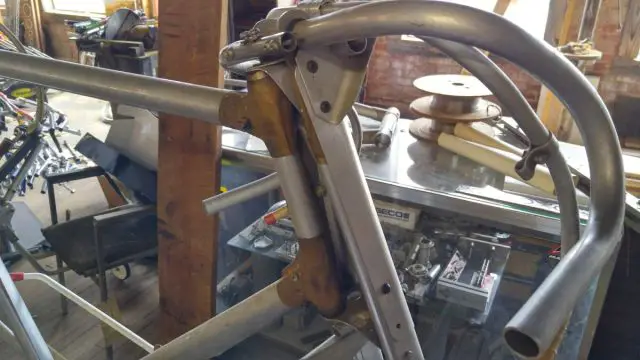 This headset and fork design are very reminiscent of Look's original integrated headset design in their KG196 carbon bicycle, circa early 1990's. Felt Bicycles later introduced a similar design, known as the Bayonette system. As for the additional tubing near the handlebars of the Hi-E Cosmopolitan, a prototype brake lever?
Sadly, these are all of the photos I have of the Hi-E Cosmopolitan bikes. I hope to return to MOMBAT the future for better and more comprehensive photos.
Thanks for reading!
JOM