ENVE is pleased to announce that their Trade-In, Trade-Up carbon wheel upgrade program is back for a limited time. This program allows current and aspiring ENVE consumers to trade in their used ENVE or Other brand carbon wheels, and upgrade to ENVE's latest M Series, G Series, and SES wheel technologies.
Here's how it works. Customers trading in an ENVE wheelset will be extended a $900 credit towards the purchase of their new wheelset, while those trading in Non-ENVE carbon wheels will receive a $600 credit. The Trade-In, Trade-Up program allows consumers to participate through one of ENVE's Retail Partners or directly through ENVE's website.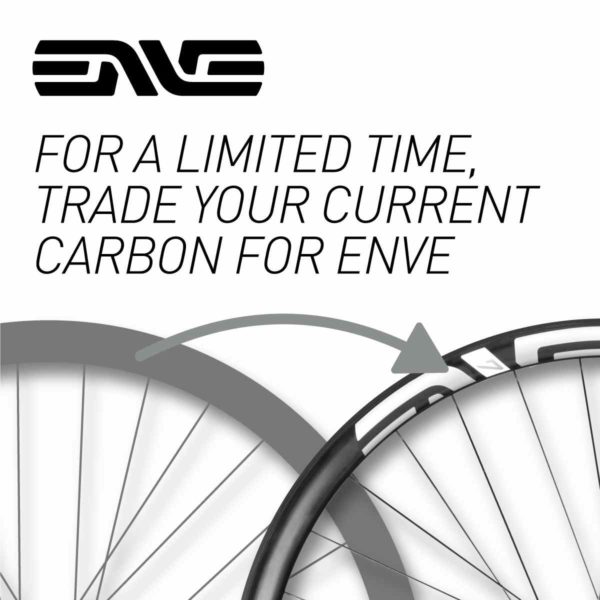 "Last fall, we had what seemed to be a crazy idea. The concept was that we were going to offer to buy back the ENVE customer's previous generation wheel product to incentivize upgrades to our latest and greatest M Series mountain wheels. Our primary motivation was to move customers from old technology to new as the latest M Series wheels truly leapfrogged the previous generation, as well as our competition's wheel offerings, in a material way as it relates to performance. To be specific, the new M Series is more durable, delivers a more refined ride feel, and eliminates the dreaded pinch-flat. While M Series was the focus, the story is the same for our latest SES and G Series wheel lineups. In the end, the program was a success,so much so that we're bringing it back," commented Jake Pantone, ENVE's VP of Product and Consumer Experience.

Since ENVE introduced this program in 2018, many aftermarket wheel companies have launched upgrade programs, but none of these programs have allowed customers to trade in wheels from other manufacturer.
"The objective of this program is simply to give more riders the opportunity to ride and experience the ENVE difference –to know firsthand that not all carbon is created equal.In practice this means that some riders are trading in their wheelsets for ENVE's latest technology,while others will be purchasing a used wheelset that was traded in and experiencing ENVE for the first time as a second-hand owner. For both customers,it is our intention that the ride experience will be their best one yet,"commented Managing Director, Jeremy Venz.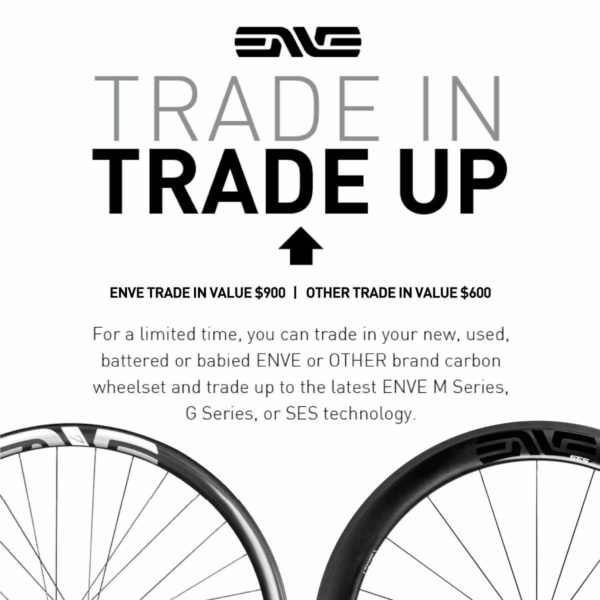 After last year's program,there were many questions related to what happens with the used wheelsets that are traded in. Pantone commented, "Each wheelset that is brought in on trade is immediately evaluated and dispositioned to either be refurbished and resold, donated, or recycled. Many of our customers own perfectly good wheelsets that are sitting in their garages collecting dust. These wheels have become obsolete by way of advancements in axle standards, tire volumes, and the growth of disc brakes.The true beauty of this program is that we are providing a convenient outlet to put these dormant wheelsets into the hands of someone in need. Last year, wheelsets that were traded in on our program were donated to cycling programs in developing nations, to high school mountain biking, and developmental road programs. Ultimately, it is our goal to find a home for each wheelset brought in on trade."
ENVE asks that if anyone has a specific charity that could benefit from used wheelsets in rideable condition to please reach out and your proposal will be evaluated.
The 2019 ENVE Trade-In, Trade-Up program will run from November 19th, 2019 until January 3rd, 2020 and is available to US customers only.