"It has drop bars. Fat 29er tires. An unusually high top tube. Dropped seatstays. A suspension fork? Bottle bosses everywhere. It's weird, and prompts a lot of questions, but people love it." – Marc Lindarets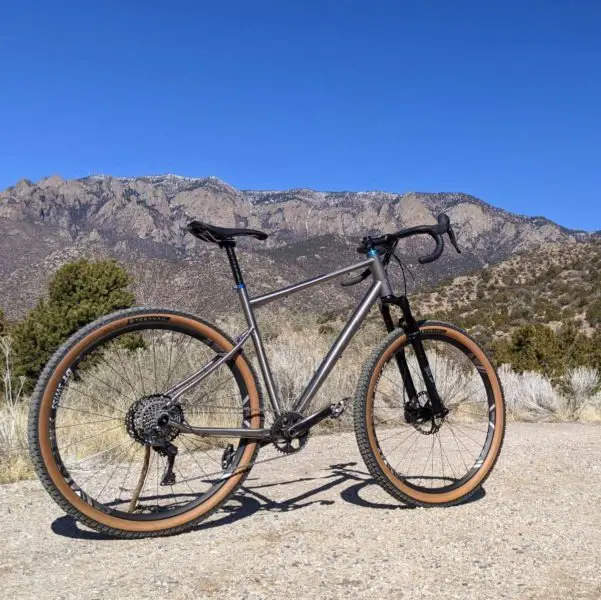 Named for the first -and most significant- pass in Kyrgyzstan's 1,121-mile Silk Road ultra-endurance race, the Kegeti is the mixed-terrain, do-it-all adventure bike from Chiru.  Built from butted and cold-formed 3Al/2.5V titanium, the Kegeti was tested and refined during the Silk Road's first running in 2018 and has gone on to see countless miles in everything from the Tour Divide to after-work overnights.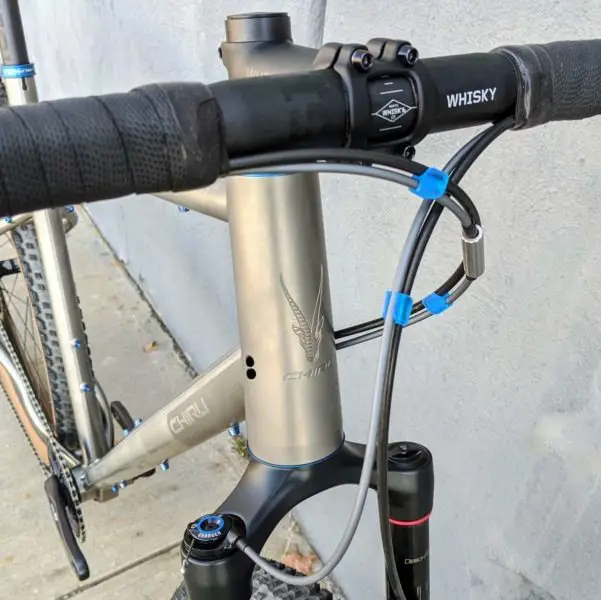 While it may seem odd at first (or second) glance, in the context of its intended use the Kegeti's features begin to make sense.  The drop bars provide multiple hand positions, from upright and relaxed to hunkered down out of the wind. The frame has clearance for everything from fast 700x47mm gravel tires to 29×2.4in knobbies.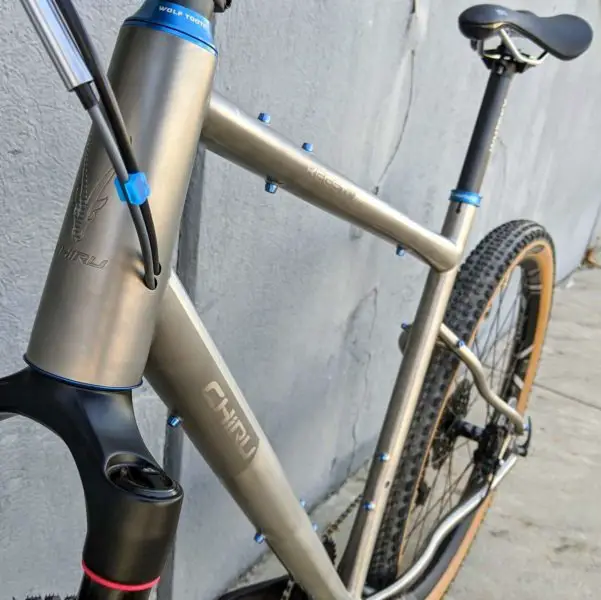 The large front triangle maximizes frame bag space while the dropped seatstays and 27.2mm seatpost provide a remarkable amount of comfort.  It is available with either a suspension-adjusted rigid carbon fork to save weight or with 100mm of travel to make long, rough roads… enjoyable. The eighteen bosses allow for three bottle cages, a top tube feed bag, rear racks and fenders, bolt-on downtube mudguards, and even external cable routing.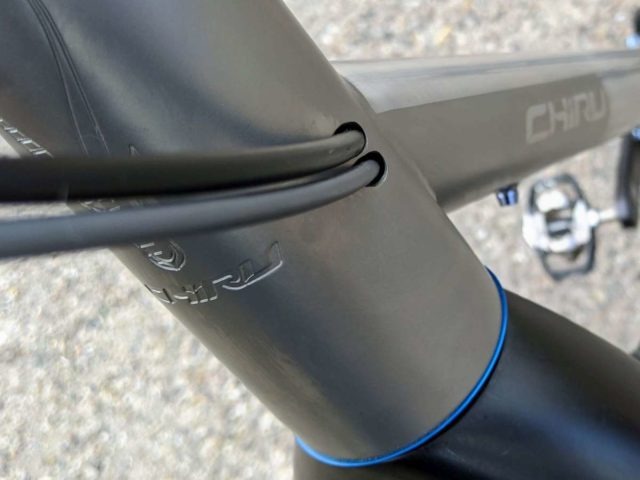 The Kegeti features some of the cleanest internal cable routing ports you'll see in metal and gives its owner the option of running single- or double-ring drivetrains, hydraulic disc brakes, and even a stealth dropper post. Its T47 oversized threaded bottom bracket will accept almost any crank spindle without resorting to undersized bearings (or the treat of BB creaks). And Boost hub spacing means compatibility with wide, durable mountain wheels.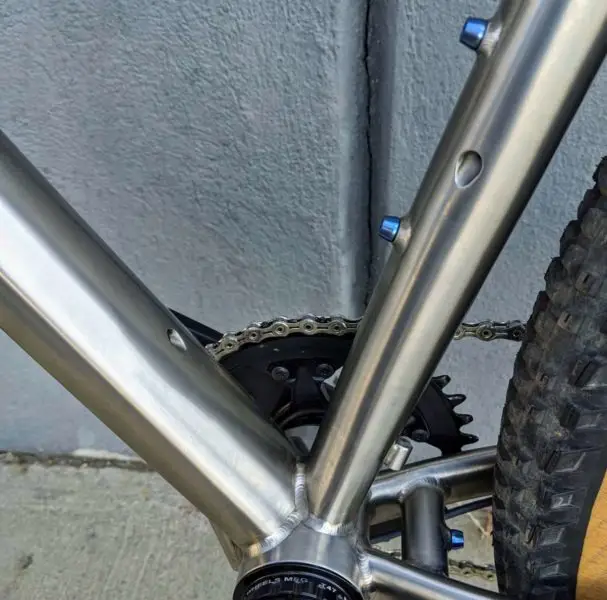 But what we really love about the Kegeti is its versatility. We have heard it called a gravel bike for mountain bikers, providing more comfort and control than more road-biased gravel frames.  It is of course at home on dirt routes like the Canada-to-Mexico Great Divide, but with the appropriate tire and gearing can also be built with an eye toward paved tours or even commuting. And for everyone from Florida who has asked us for a 29×2.3in-tired gravel bike to handle deep sand?  Here you go.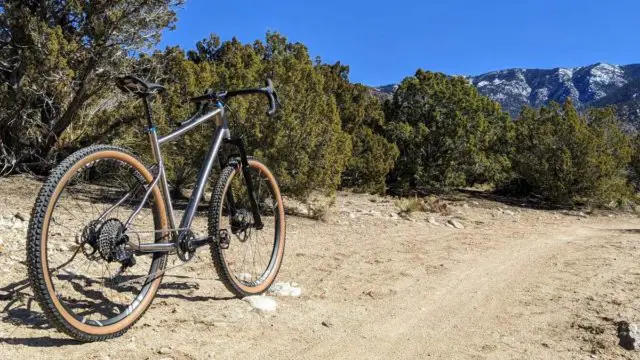 The build you see here is driven by our experiences around Lindarets HQ in New Mexico's high desert. Often sandy and by the end of summer riddled with washboard, our dirt roads can be pretty rough on even the fattest-tired gravel bike. So we've gone with a RockShox SID with the lockout wired to the left Shimano shifter. A combination of XT and GRX components provide Shimano's trademark performance and reliability while a sneaky SRAM XX1 10-42t cassette adds 10% more range than Shimano's 11-42 can offer.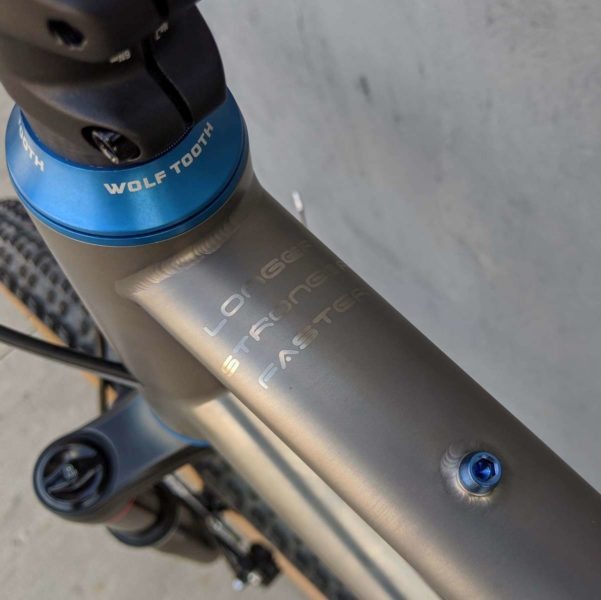 DT Swiss XM1501 wheels, with their 30mm inside width and legendary 240 hubs are a nod towards the bike's bikepacking potential while the Teravail Ehline 29×2.3in and 29×2.5in tires provide comfort, flotation, and control without dragging too much on tarmac. The Whisky carbon seatpost and 24-degree handlebars are comfortable while the blue bits just look good.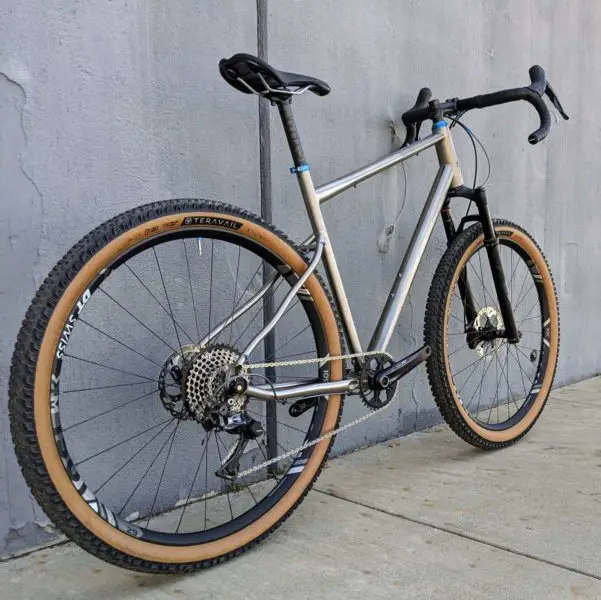 But that's just our vision of what the Kegeti can be.  While we have provided a few builds as starting points (and to give folks an idea of pricing), the truth is that we don't expect many -if any- Kegetis to leave here wearing a stock kit and look forward to tailoring builds to their owners' planned adventures.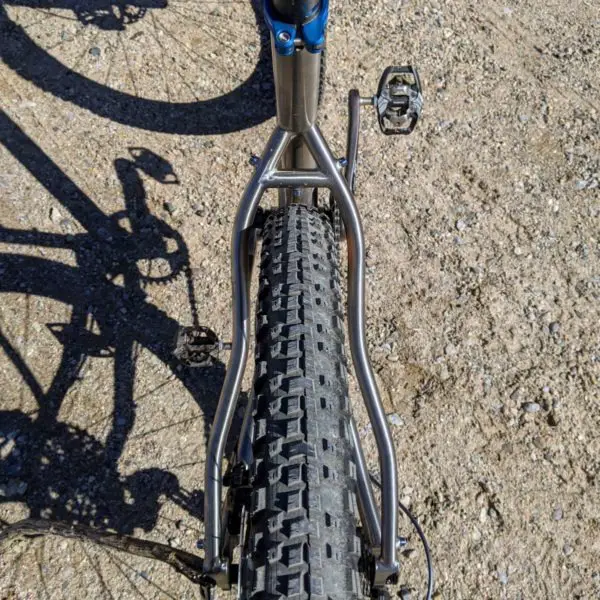 Bikepacking bike, gravel-plus, monstercross, or drop-bar mountain bike: what the Kegeti offers more than anything else is potential. It's a bike that, though it may at first come across as goofy, weird, or contrarian, has never failed to bring a smile to our faces. We invite anyone who likes to smile to contact us to discuss how we can make the Kegeti perfect for their next adventure.
---
U.S.A. Availability from Lindarets.com
Frame & Fork Pricing from $US 2,250
Complete Bike Pricing from $US 4,330