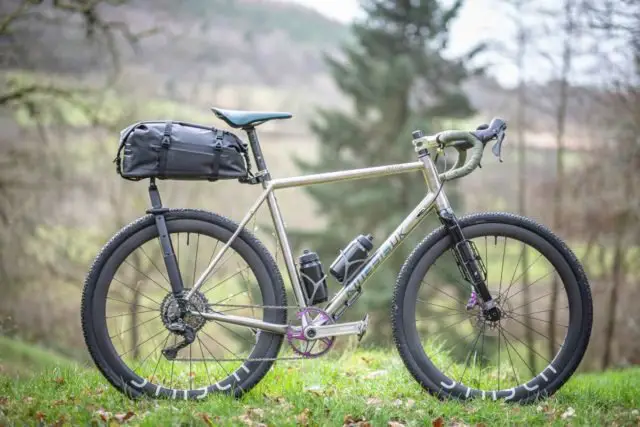 "2021 is shaping up to be a big year for us here at Tailfin, the Bristol, UK-based designers and manufacturers of Technical Bikepacking Equipment. Known primarily for our range of innovative bikepacking and touring rack systems, we took aim at bikepacking focussed products last December with the launch of our extremely well-received Cargo Cages. Since then we have been developing some new additions to our range as well as updating a crucial existing piece of equipment to further solidify our appeal to the bikepacking and adventure market." – Tailfin.cc
Alloy Arch Update
A large part of the winning formula of Tailfin's innovative, zero-sway rack and rigid seatpack systems is the rear one-piece arch. This solid structure ensures a completely secure connection between bike and luggage, eliminates movement, and imparts the unmistakable Tailfin ride quality so loved by all who try it.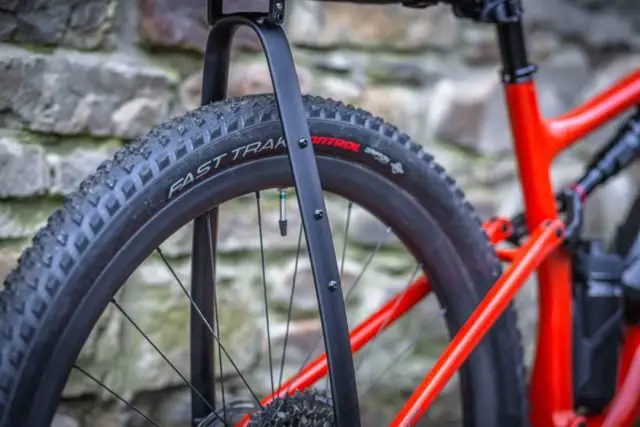 As designs go, the Tailfin Arch is perfect at doing the job it was built for but at Tailfin, we don't like to let the grass grow under our feet. Observing the increasing availability of accessories that utilise double or triple bosses (including our very own Cargo Cages), it was obvious we could capitalise on the unused real estate either side of the arch. The result? All our Alloy Arches are now fitted with triple bosses as standard.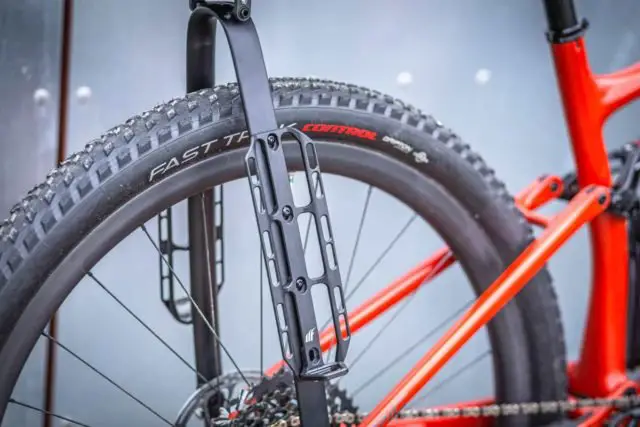 Our durable 6061 aluminium Alloy Arch was the obvious recipient for the update. It's designed to be tough, the perfect companion for all-terrain adventures, so is ideal for dealing with the extra demands carrying more kit can put on your equipment.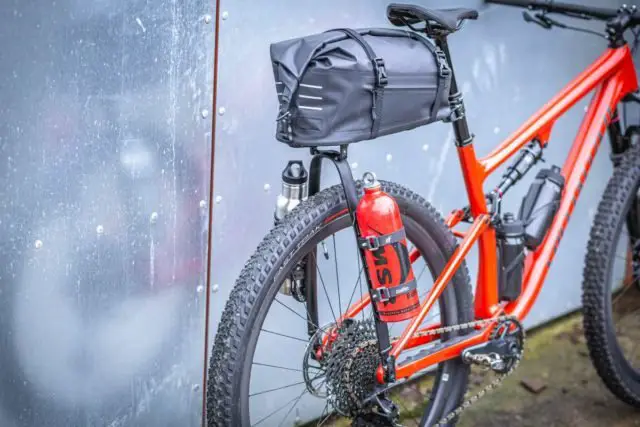 Being Tailfin we sweat the details, so whilst on the surface, it seems drilling and fitting some threaded inserts sounds simple, we've gone out of our way to use the highest quality parts ensuring years of reliable use.
Firstly, we haven't settled for the industry-standard aluminium rivet nuts, our inserts are stainless steel. The result is a thread that is much harder to damage and an insert that is less likely to fail. Secondly, these inserts have an ED Black (Electrophoretic Deposition) coating. This coating offers three benefits – it inhibits galvanic corrosion with the aluminium rack, helps to reduce the chance of a seized bolt when using the bosses and lastly it provides a black surface to match colour of the rack.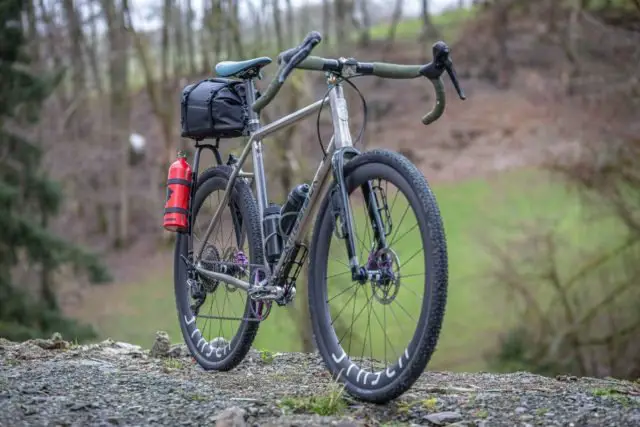 The triple bosses use standard 64mm spacing so can be used with any brand of water bottle or cargo cage (of course the new Alloy Arch looks best when used with Tailfin Cargo Cages). Finally colour matched steel bolts are supplied to keep things stealthy when the bosses aren't being used.
The triple bosses enable the new Alloy Arch to take a further 3 kilograms of load whilst off-road or 5 kilograms of load whilst on-road, per leg. This additional 6-10 kilograms of carrying capacity takes the system's maximum weight capabilities to 15-19 kilograms for non-pannier compatible models (pannier compatible models remain at 27 kilograms).
The newly updated Alloy Arch with triple bosses is available now for both X and S series rack systems as well as the AeroPack Alloy. For owners of existing Tailfin rack systems, the new Alloy Arch can be purchased separately.
Specifications
S THREE Alloy Rack
Construction: 6061-T6 Aluminium
Weight: 480g (for axle mount), 420g (frame mount)
Colour: Tailfin Black
Price: From £99/€131/$147
X THREE Alloy Rack
Construction: 6061-T6 Aluminium
Weight: 540g (for axle mount), 480g (frame mount)
Colour: Tailfin Black
Price: From £129/€169/$192
AeroPack Alloy*
Construction: 6061-T6 Aluminium
Options: With or without pannier mounts
Weight: From 800g
Colour: Tailfin Black
Price: From £189/€245/$283
*Aeropack includes integrated 20 litre seatpack/top bag
Gravel Cyclist's S One & X One Trunk Rack & Pannier Review
AP Mount
The new AP Mount is an elegant solution to increase luggage holding capacity on all of our current AeroPacks and removable AP20 Trunk Top bags by simply bolting to the underside of the bag. The AP Mount is CNC machined from a single piece of 6061-T6 aluminium and finished in Tailfin's signature black anodising with a new laser-etched logo. The AP Mount's concave shape and double Voilé strap-compatible guides allow it to snugly carry a water bottle. Integrated triple bosses further increase carrying capacity and enable all standard bottle cages and cargo cages to be fitted. A low weight of just 34 grams and an extremely low profile ensures that the AP Mount is most definitely a fit-and-forget piece of kit.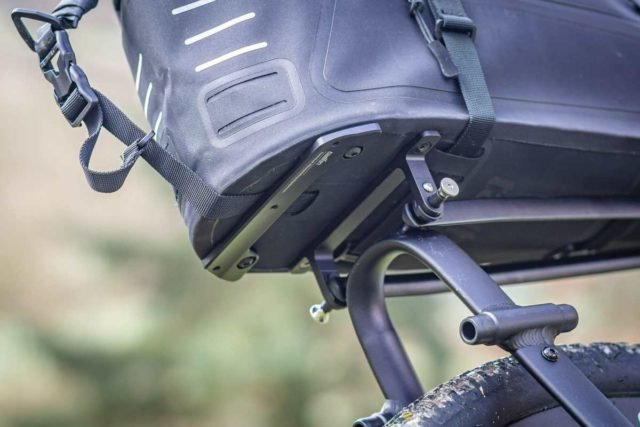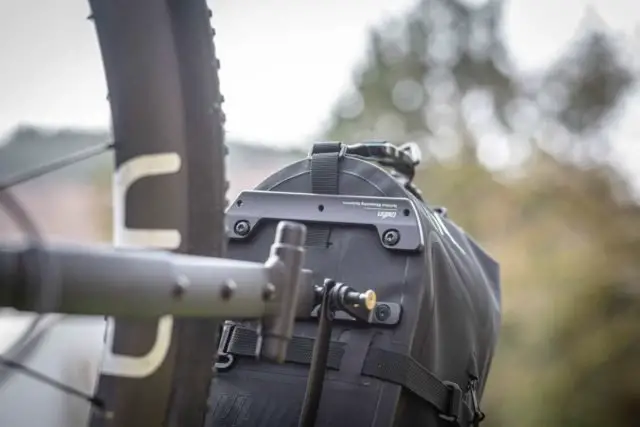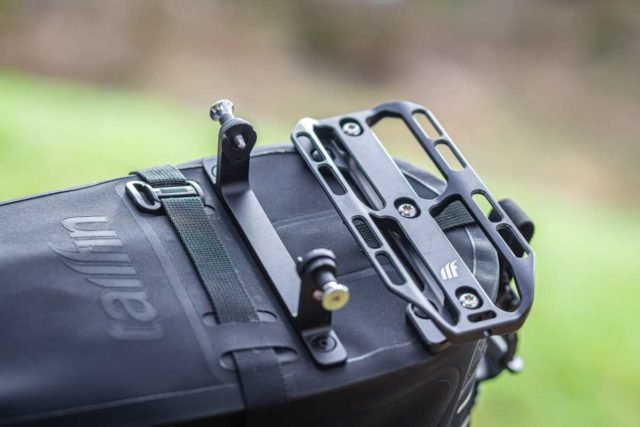 Specifications
Construction: CNC machined 6061-T6 Aluminium
Weight: 34 grams
Colour: Tailfin Black
Price: £20/€30/$30
Tailfin Universal Thru Axle
When we released our first Rack, the T1, five years ago, we solved the biggest problems when attaching a rear rack to a bicycle – how to mount it to a bike that has no rack mount eyelets. Our patented system involved swapping out the rear axle to offer up two solid mounting points and, when combined with our secure seatpost clamp, helps create a rock-solid platform to ensure maximum stability no matter the load.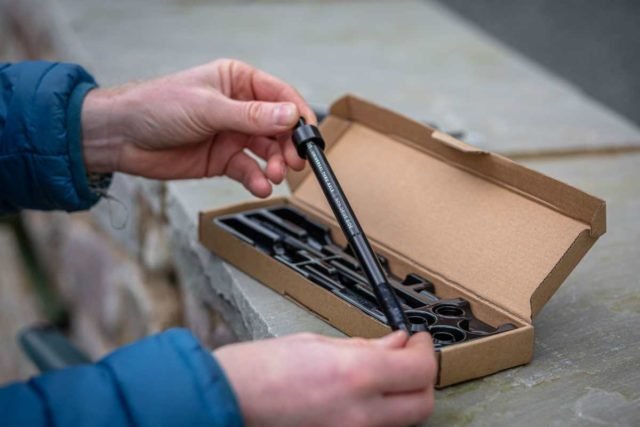 When all bicycles ran quick-release skewers, life was pretty simple, however, as thru-axles have become the dominant standard we have had to adapt. Unfortunately, like many components of a bike, there is no single standard used by all. Different bike brands tend to opt for an axle that suits their bikes the best, and this can vary in a few different ways. Therefore one of the most commonly heard questions about our racks is "which axle do I need to fit it to my bike?" The Universal Thru Axle is our answer to this question*!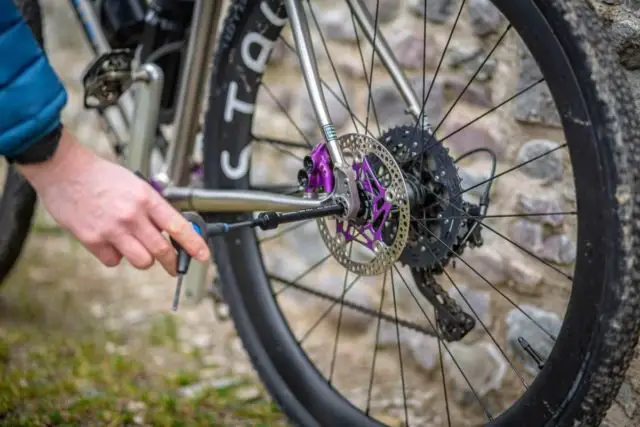 The new Universal Thru-Axle takes the guesswork out of choosing your axle and also future proofs you in case you swap bikes or indeed have different bikes with differing axles. Four swappable threaded ends cover almost all axle thread pitch standards from 1.0mm – 1.75mm, including 1.0mm double lead for Mavic Speed Release. The whole thing can be easily installed with a couple of 5mm hex keys.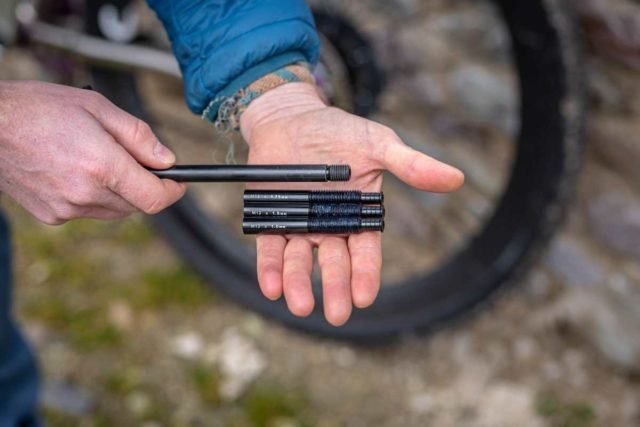 One neat feature of the new Universal Thru-Axle is the ability to extend the width to accommodate the wider 148mm rear wheel BOOST spacing found on most modern mountain bikes.
* Patent pending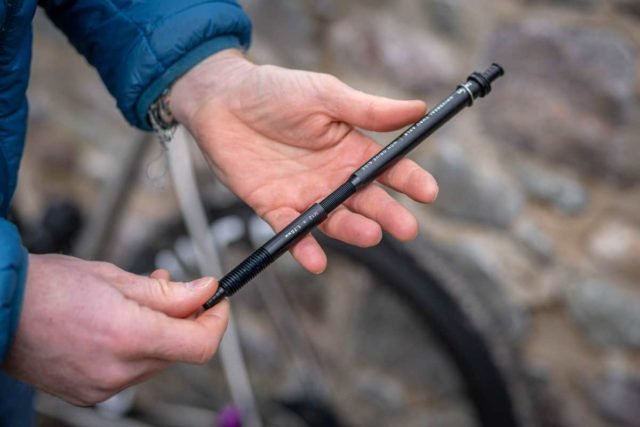 Specifications
Construction: 6061-T6 Aluminium
Weight: from 65 grams
Colour: Tailfin Black
Price: £49/€59/$69
Tailfin x Voilé Straps
There is nothing better than the traditional Voilé strap for attaching additional kit to your bike. In fact, we rate them so highly we even designed our Cargo Cages to work perfectly with Voilé strap dimensions. For this collaboration we opted for the reliability of the heat-treated aluminium buckle Now you can match your straps to your Cargo Cages thanks to our custom genuine Voilé straps. As is to be expected with Tailfin, the only colour option is black (this ensures the Tailfin x Voilé straps will continue to look good). Available in 15″ and 20″ lengths and sold in pairs.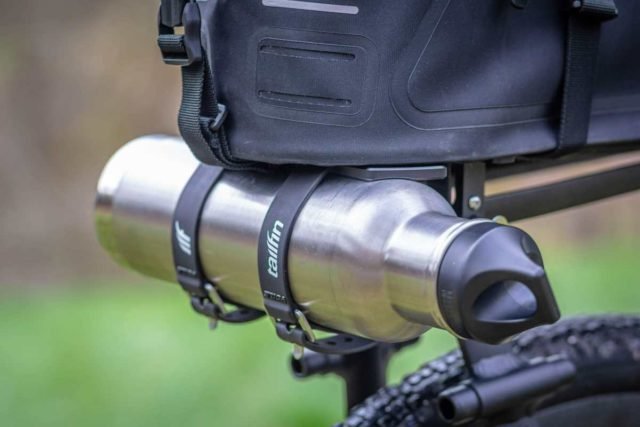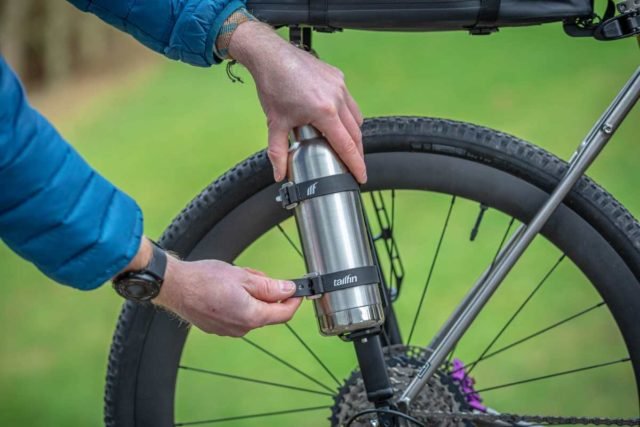 Specifications
Construction:  Polyurethane with a UV-resistant additive. Heat-treated aluminium buckle
Weight: from 21 grams
Colour: Tailfin Black
Price (per pair): £15/€20/$20 (15"), £17.50/€25/$25 (20")
AeroPack Renaming
After feedback from existing and potential customers we have made our AeroPack rigid seatpack range a little easier to navigate. Rather than being designated X and S as with our rack range, customers can now choose between AeroPack Carbon or AeroPack Alloy. The AeroPack Carbon range remains as our lightest and fastest AeroPack setups whereas the Aeropack Alloy benefits from the triple boss upgrade for added versatility. Customers can still opt for pannier mounts or the lighter non-pannier compatible version.