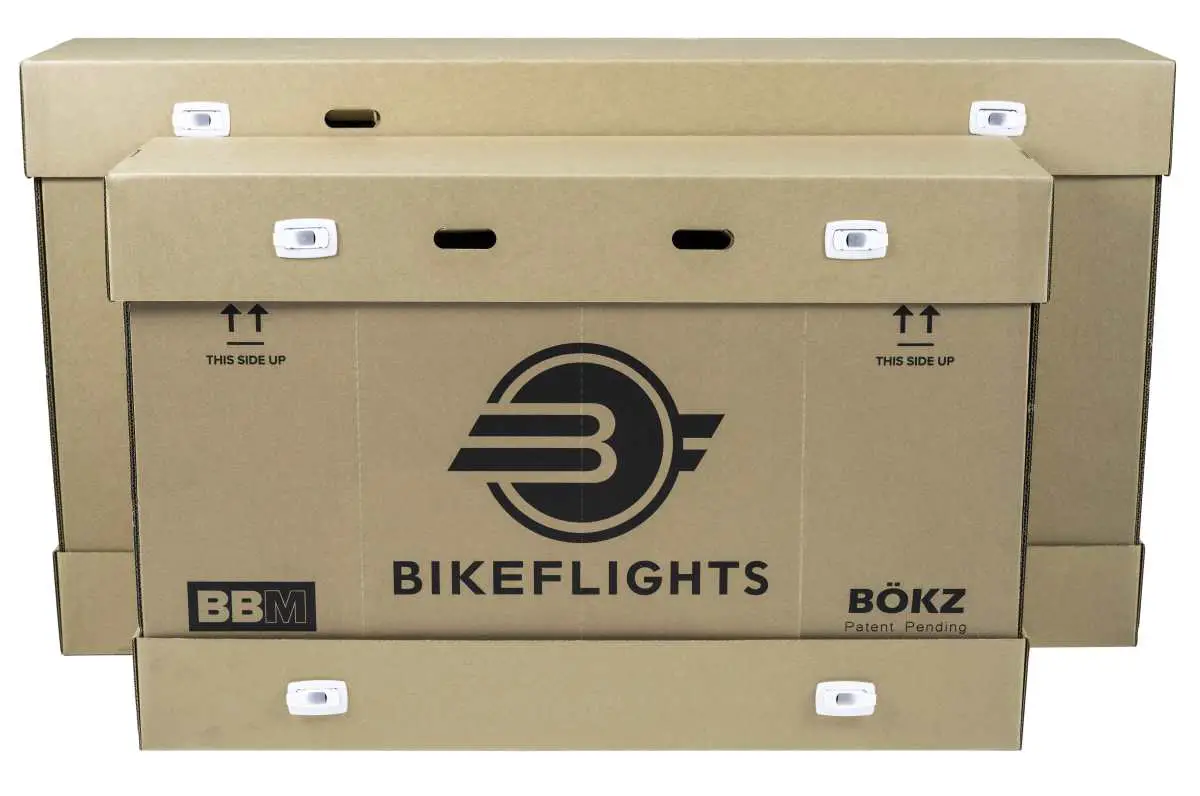 "Drawing from 11 years of experience shipping bicycles to every corner of the world, the bicycle shipping experts at BikeFlights.com have developed an entirely new, reusable bike box system. The BikeFlights Bike Box is a collapsible, cardboard-based shipping case that integrates the protective benefits of high-end shipping cases into a lower cost and lower-waste package." – BikeFlights.com
Promotional Video
Riders around the world trust BikeFlights.com for all their bike shipping needs. While serving more than 800,000 cyclists, BikeFlights.com has analyzed the reliability of various bike boxes and cases, giving them unique insight when it came time to redevelop their own packaging solution.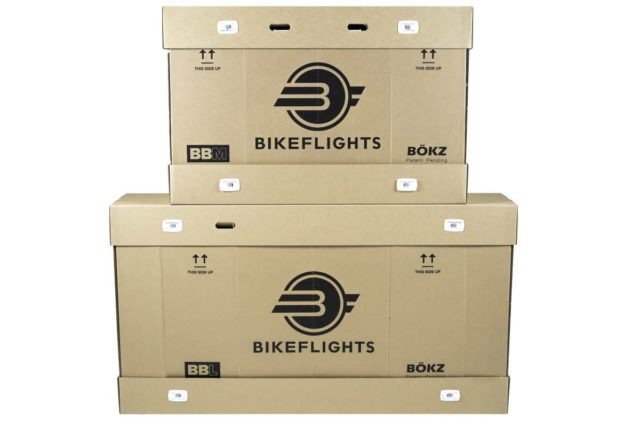 Designed and rigorously tested to the Amazon ISTA 6A standard, the Bike Box offers confidence-inspiring levels of protection for your bike during shipping. It has been engineered to withstand multiple drops of 18 inches and 36 inches, a horizontal compression force up to 229 pounds, a vertical compression force up to 1,732 pounds, and sustained vibration while loaded to up to 300 pounds.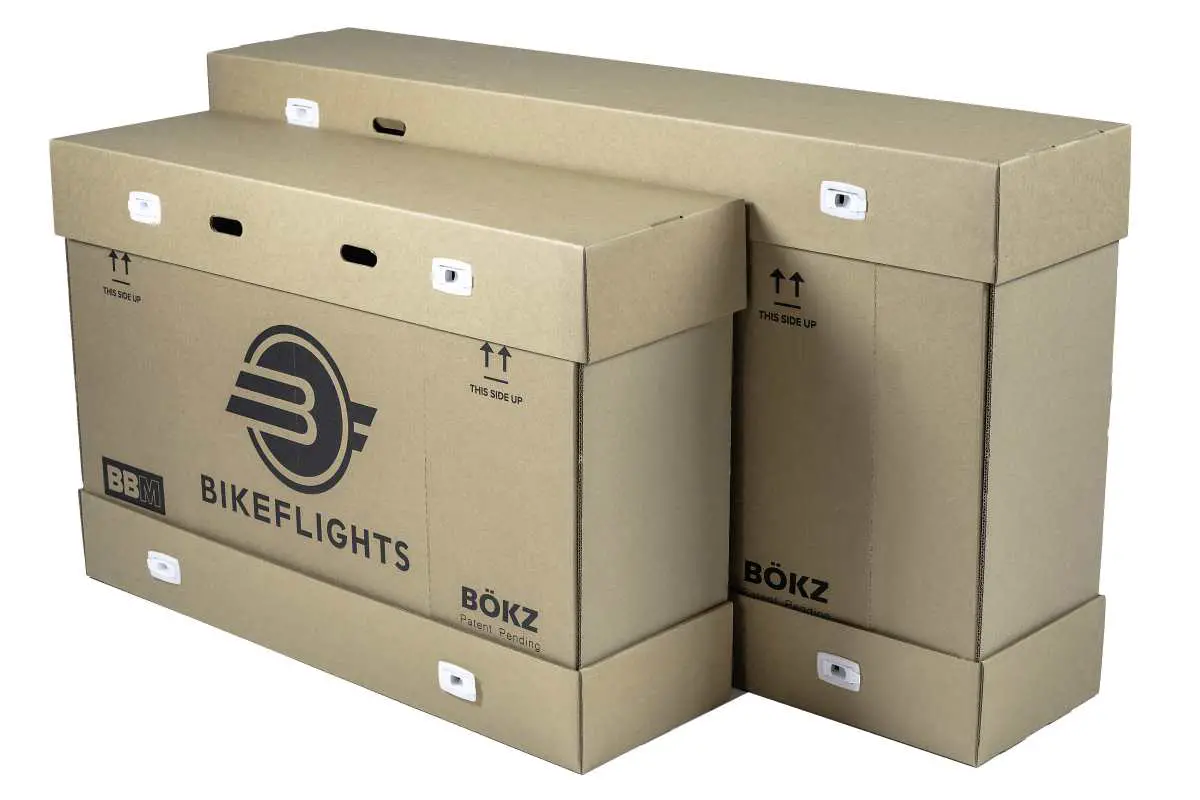 To minimize environmental impact, the box has been designed for multiple uses, and you can pack it back down to its original size for efficient storage between uses. Every piece of the box's package becomes part of the bike box when built, so there is no packaging waste, and the entire box is recyclable once you're finished with it.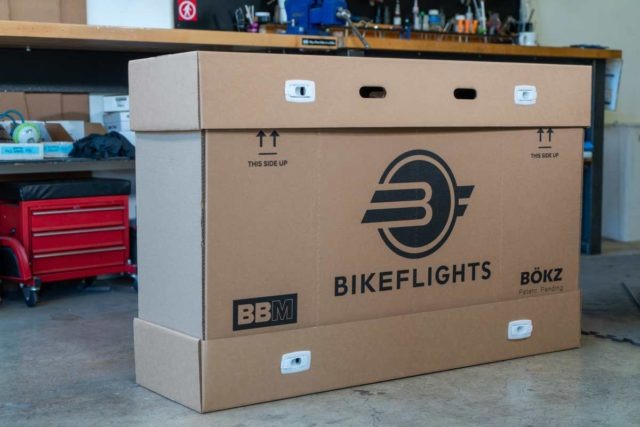 "We're excited to take the knowledge we've gained over the years and apply it to creating a one-of-a-kind bike box system," said BikeFlights.com President William Alcorn. "There's nothing else that offers comparable protection, value and reusability, and we've designed the system to make it easy to pack, saving time for everyone."
The team at BikeFlights.com is working to make shipping bicycles and gear the easiest part of going to ride in a new place or shipping a bike to a new owner. As part of this, they will be shipping the BikeFlights Bike Box from three separate warehouses across the US. This ensures most customers will be able to receive their BikeFlights Bike Box within 1-2 business days of ordering.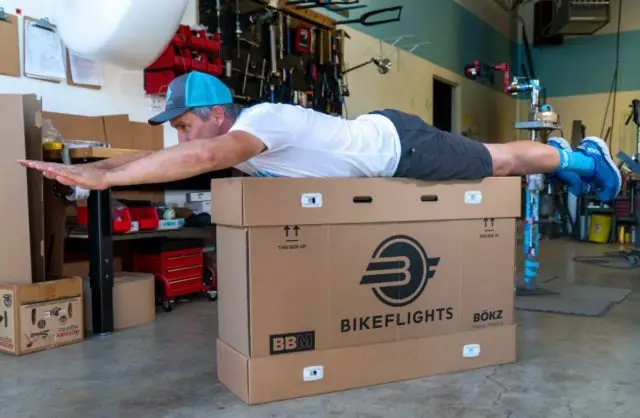 BikeFlights Bike Box Details
Easy To Assemble

Simple To Pack Your Bike

Reusable Design For Multiple Shipments

Disassembles For Easy Storage Between Uses

MSRP $149.95 (Large)

MSRP $119.95 (Medium)

FREE 2-Day Shipping To Lower 48 States
Large Box Kit Includes:

1 – Top tray

1 – Bottom tray

1 – Right side panel

1 – Left side panel

2 – Slotted end panels

8 – BClips

2 – Blue axle covers (for front wheel)

2 – Paper tube axle spacers (100mm, 110mm)

1 – Front axle foam block

1 – Downtube foam yoke

4 – Bungees

1 – Clear parts bag (8.5x11ish)

1 – BikeFlights sticker or magnet

Medium Box Kit Includes:

1 – Top tray

1 – Bottom tray

1 – Right side panel

1 – Left side panel

2 – Slotted end panels

8 – BClips

2 – Blue axle covers (for front wheel)

6 – Paper tube axle spacers (100mm, 110mm, 130mm ,135mm, 142mm and 148mm)

4 – Bungees

1 – Clear parts bag (8.5x11ish)

1 – BikeFlights Sticker or magnet

Sizes:

Large: 62 x 13 x 33" when assembled

Medium: 45 x 13x 29" when assembled

Large: 62 x 13 x 7" as shipped

Medium: 45 x 13 x 7" as shipped