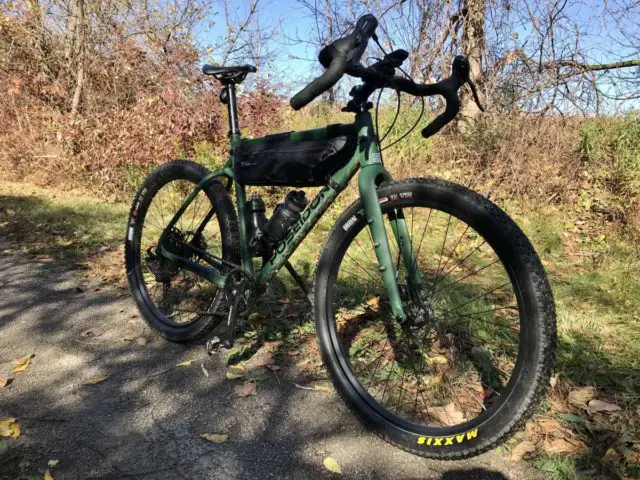 Gravel… seems all the rage these days.  I've been a mountain biker all my life but got into the "gravel" game with a cyclocross bike many years ago.  It was fine for paved roads and rail trails, but really suffered when I'd duck out into interesting looking paths through the forest.  I eventually upgraded to something with 42c tires for more capability but was ultimately disappointed in that as well.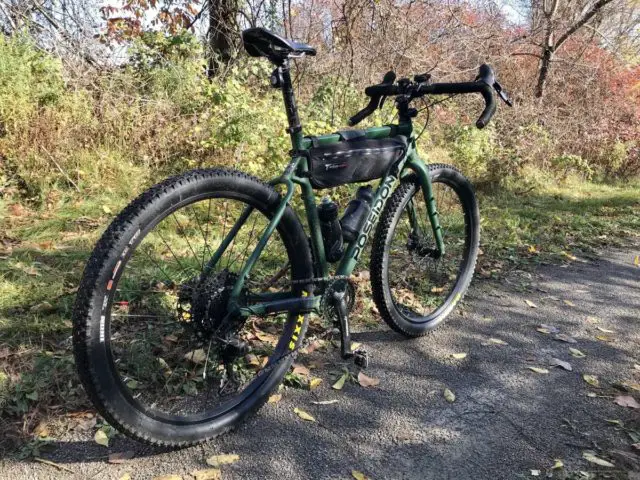 This summer, Poseidon bikes, a small consumer-direct company in California, released the Redwood.  A gravel / adventure bike with 27.5 x 2.35" tires, with room to swallow 2.5" rubber if you desired.  My interest was immediately piqued in a company that I hadn't really heard much about before.  The huge tires would make the sandy terrain that I live in (the Southern Ontario sand plains) less of a struggle and feed my need for adventure into the unknown.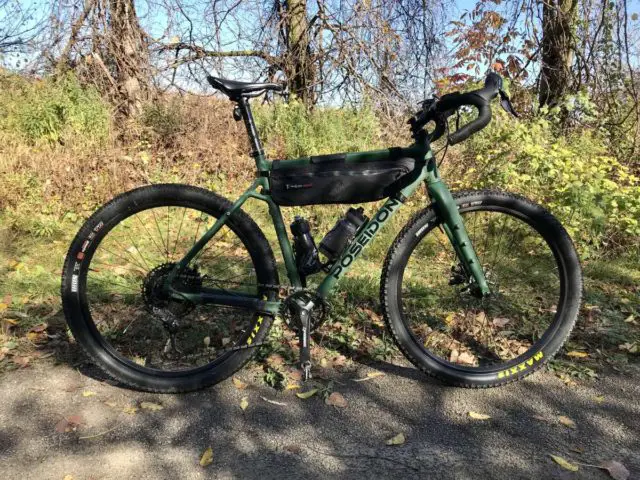 The Redwood is listed for $US 899, but I live in Canada which means import fees and shipping.  By the time it arrived at my door I was in the $1500 (Canadian dollars) area.  Still not bad for a type of bike that wasn't really available anywhere else other than a custom build.  A bit of back and forth with Luis at Poseidon, and the shipping was sorted out via BikeFlights, even after a mistake or two on my end.  Excellent customer service.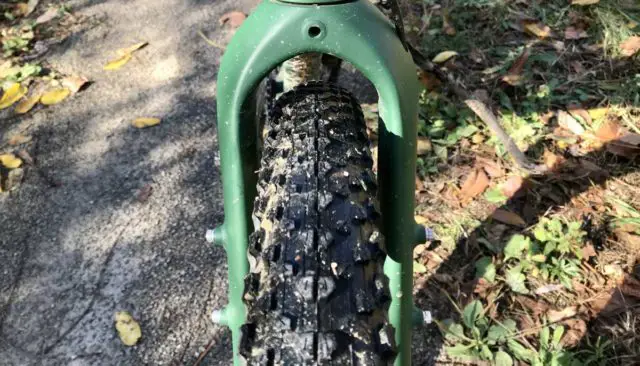 Unpacking the Redwood and assembling is a breeze.  I've got plenty of experience building bikes, and even worked in a bike shop for a short period, so no big surprises there for me.  If you aren't comfortable building a bike and making all the fine adjustments, then I recommend taking it to a local bike shop for assembly.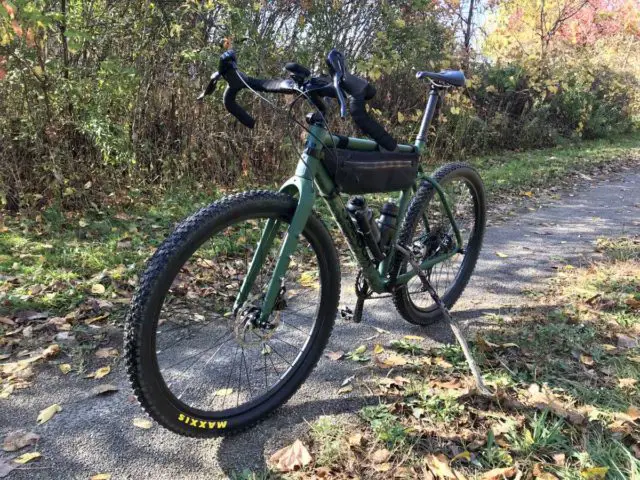 The bike is a full aluminum frame and fork with four bottle cage mounts on the frame (size large tested) and three-pack mounts on the fork.  There are also mounts for fenders or racks on the rear.  The bike ships with a Poseidon brand handlebar that has a 20-degree flare.  I admittedly swapped this out for a Ritchey Venturemax of similar proportions, only because I prefer the "ergo bend" on it, as well as more robust bar tape.  It also has a Poseidon branded stem, seatpost, and seat.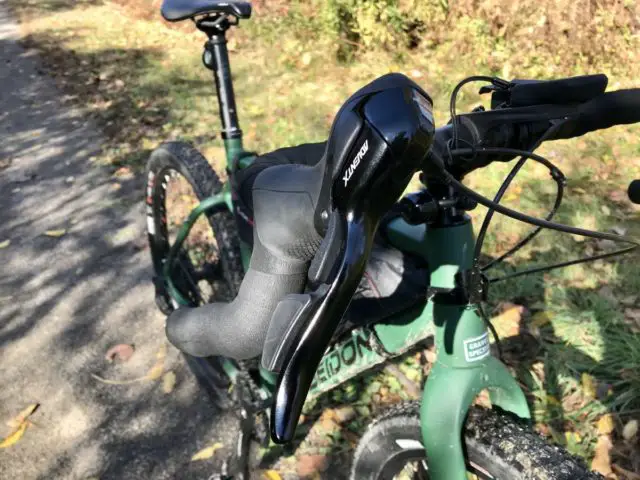 The drivetrain is Microshift's top-tier (but still affordable) Advent X 10 speed system.  It's a wide range (11-48) cassette with a clutched derailleur and a unique two-lever shifter system.  The gearing can feel a bit "gappy" in spots, but I don't think dialing in your cadence is the focus on this bike.  The crankset is an off-brand square tapered Prowheel unit with a 38 tooth narrow-wide chainring, making the stock gearing choice perfect for off-road adventuring.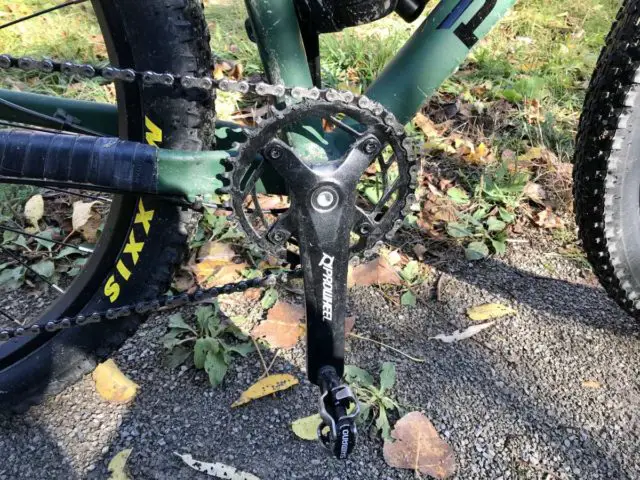 The square taper crankset is disappointing but serves a purpose in keeping the cost of this bike so low, so I cannot complain about it.  It's given me no complaints thus far.  The brakes are Tektro flat-mount mechanical calipers, a two-piston system derived from their higher-end TRP Spyre brakes.  While not amazing performers, they have been able to stop the bike in tricky off-road situations with a 230lbs rider.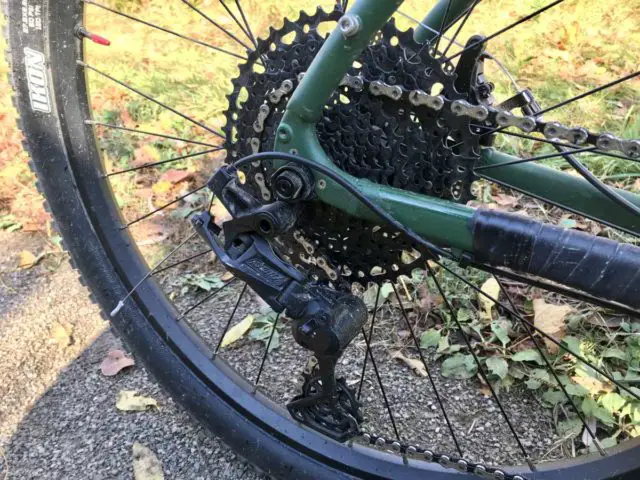 Wheels consist of no-name tubeless compatible rims, laced to Quanta hubs.  The hubs are thru-axle with a 142×12 rear and 100×12 front, which is rare to see at this price-point.  Tires are Kenda Kadre 2.35" wire bead 30 tpi units which are not tubeless compatible.  I'm a big fan of tubeless so I did take the plunge right off the bat and swapped to Maxxis Ikons in 2.35" to accommodate a tubeless setup.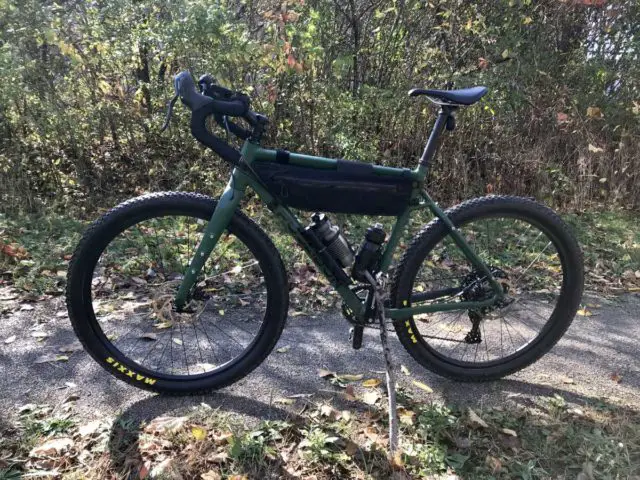 One issue I did have when building the bike, was that the wheels were wildly out of true.  Upon closer inspection, the wheel tension was very far out as well.  I spent some time truing and tensioning the wheels and they have been good since, but be aware of this.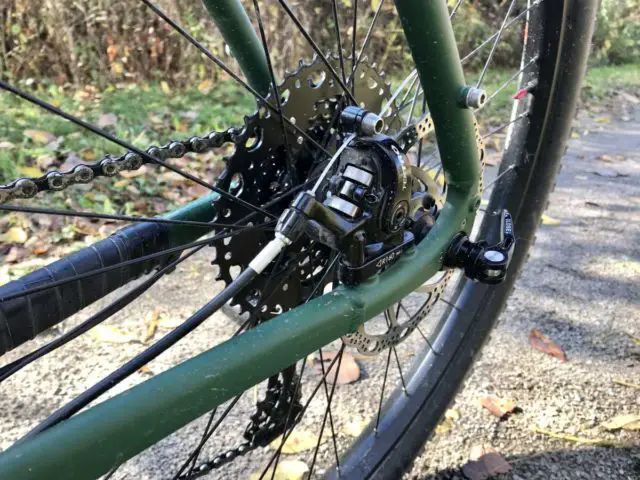 The other big issue I have was the seatpost.  It's listed on Poseidon's specs as being 31.6mm, which would be easy to find a compatible dropper post (the frame is set up for an external dropper).  I found that the actual post size was 31.8mm, meaning you would need to shim and run a 27.2mm dropper if you desired such a setup.  Just something to be aware of if you have a 31.6mm dropper sitting in the garage and are eyeing up this bike.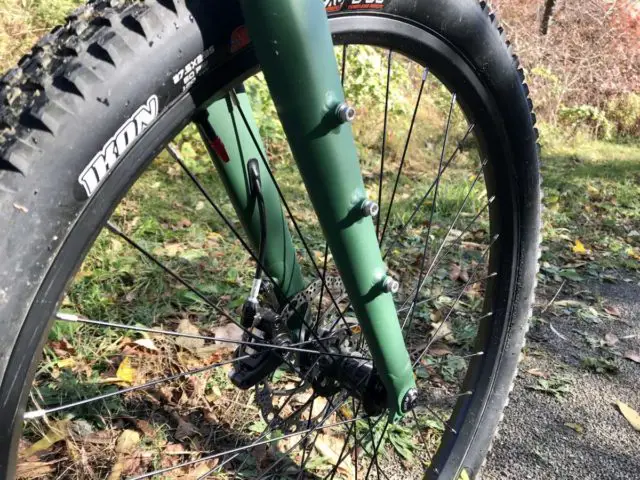 So how does it handle?  The wide bars and short stem, coupled with the increased trail figure from the bigger tires, give it a slightly mountain bike-ish feel.  The 440mm chainstays hit a sweet spot between quick handling and stable-going.  The best way to describe the feeling is that it's a drop bar mountain bike.  It handles off-road situations very well too.  I've put a bunch of miles on everything from buff flow trail, to deer paths on this bike and it seems relatively happy on all of it.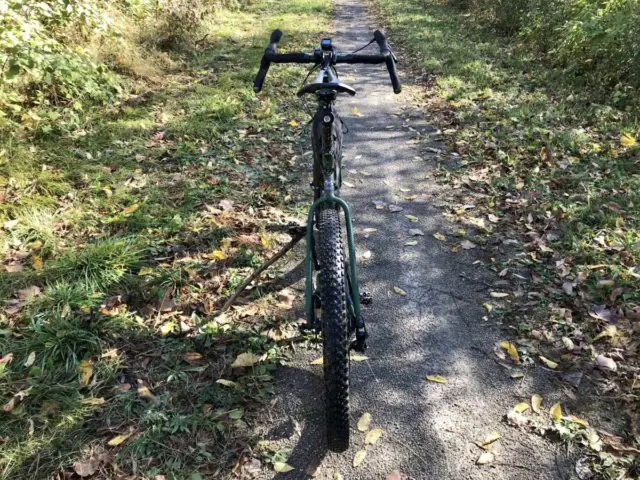 Compared to my other CX/ gravel bikes I've owned, this is definitely much happier to be on singletrack and I'm not fighting the bike through rough situations.  The large tires do slow it down on the road, as to be expected, but this isn't the kind of bike you hit the criterium with.  It's a great exploration bike, happiest when off-road on trails or gravel roads.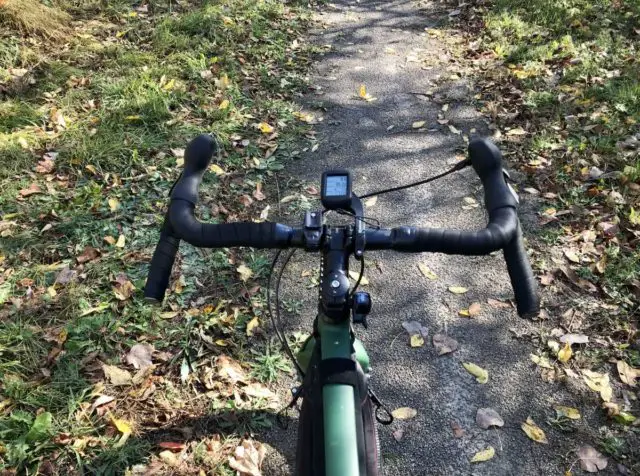 Pros:
Huge tire clearance
Great off-road handling
Perfect gearing range for the intended purpose
Well-rounded built for the money
Thru-axles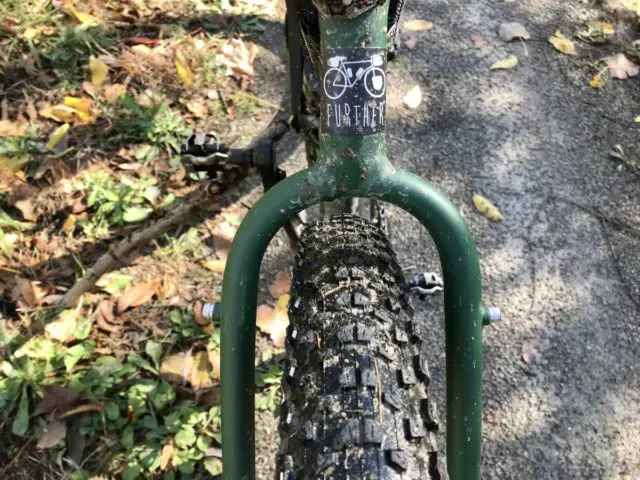 Cons:
Odd seatpost size
Wheels of questionable build quality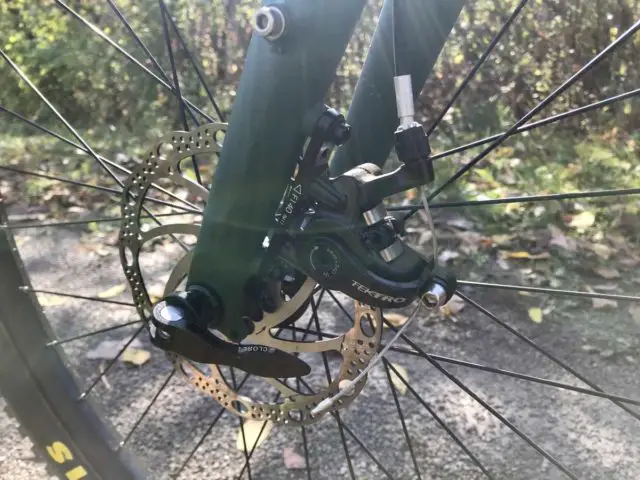 Other than a couple of small quibbles, it's a great overall package.  It's a delight to ride on gravel roads, rail trails, and even mountain bike singletrack.  Perhaps "gravel" isn't a good classification for the Redwood.  It's more of an adventure bike or bikepacking machine, or a "gravel plus" if you will.  A solid bike right out of the gate, with room for upgrades and personalization, I'm looking forward to putting many miles and memories on mine.  See https://www.poseidonbike.com/products/redwood for more details.
Guest review kindly provided by Eric Ratch
Be sure to check our review of the original $US 600 budget gravel bike, the Poseidon X!