"The Only Way To Predict The Future Is To Create It"
"We've been working together for 40 years to go past our limits, to redefine what is standard, to create something completely new." – DMT Cycling
DMT is an Italian company whose "history is born out of passion for the art of cycling footwear". The company offers a full range of high-quality shoes for road cycling, MTB, track (velodrome) and triathlon.
The company has a long history in road racing, a sport that is among the leading edge of technical developments. DMT leverages their prototyping and design laboratory for the latest in technical expertise, and production lines in Italy and Kotor Varoš (a town and municipality located in north-western Republika Srpska, an entity of Bosnia and Herzegovin) manufacture the goods we buy in the stores.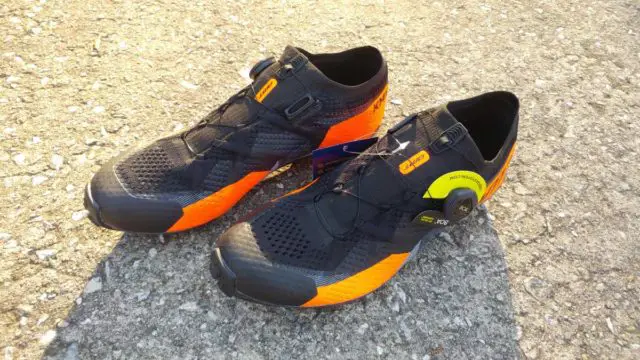 DMT KM1 Shoe Review
"Working with Tiago and Hans of the DMT marathon racing team we set out to make the next generation of race shoes. Light, breathable, proprietary Engineered Knit construction eliminates pressure points, fits like a glove, and is super breathable. Race-winning energy transfer and durable trail traction with the Dual Compound Carbon outsole featuring Michelin® rubber lugs."
Engineered Knit Construction?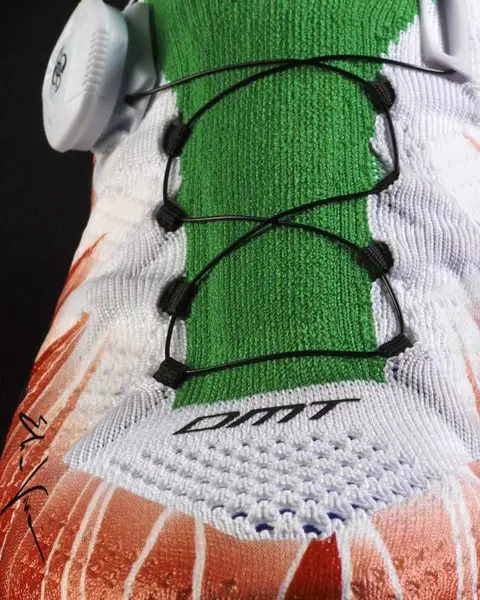 "DMT is the first company to create a full 3D Knit shoe. 3D Knit is an innovative material made of thousands of ultra-thin threads creating a mesh-like fabric. The full 3D Knit upper makes the shoe so comfortable, breathable, and lightweight you can barely feel it on your feet. Starting from 2018, the Italian Professional Road Champion, Elia Viviani, wears our revolutionary shoe on the most exclusive podiums."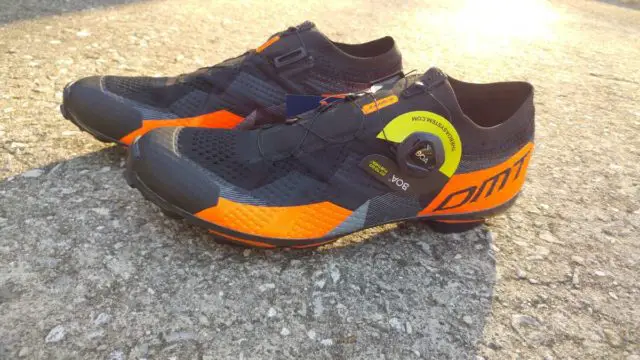 For 2019, DMT extended its 3D Knit technology across its entire range of shoes.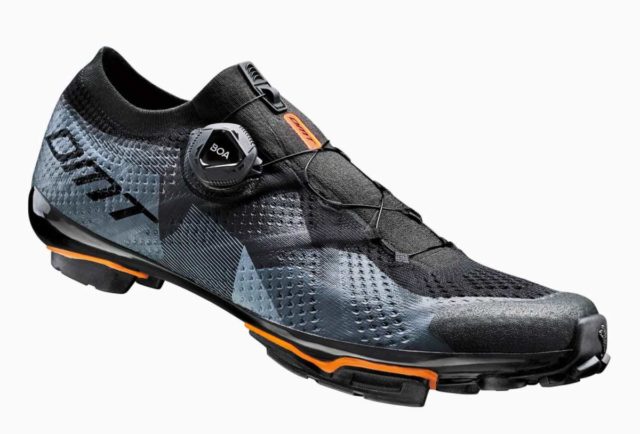 The KM1 shoe is offered in European sizes 37 to 47, with half sizes between 37.5 and 45.5, and two colours, Black and Orange. For the matching kit / shoes / socks crowd, the black DMT KM1 shoe may be a better choice, but it isn't your typical boring black shoe, as the photo above demonstrates.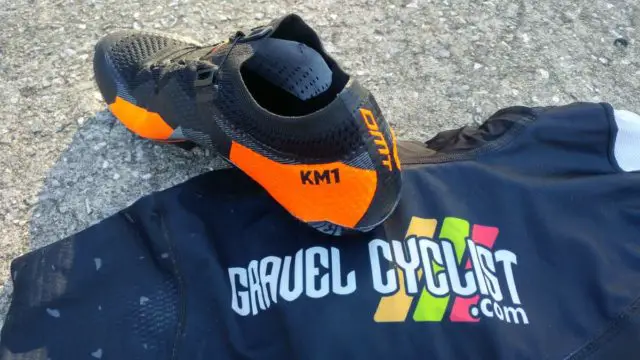 The orange finish goes well with the regular-edition Gravel Cyclist kit. If you cannot ride fast at least look fast!
Plenty of Tech
Full Engineered 3D Knit upper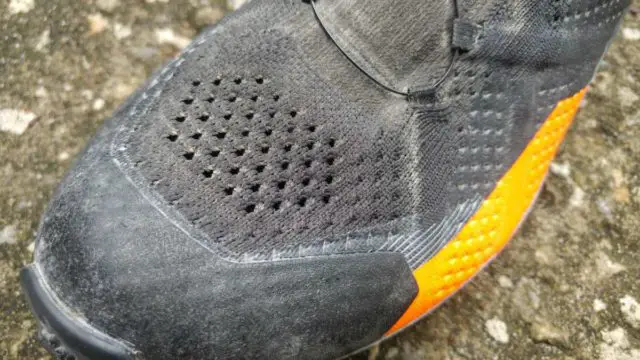 Variable thickness and knit structures for ultimate comfort
Integrated webbing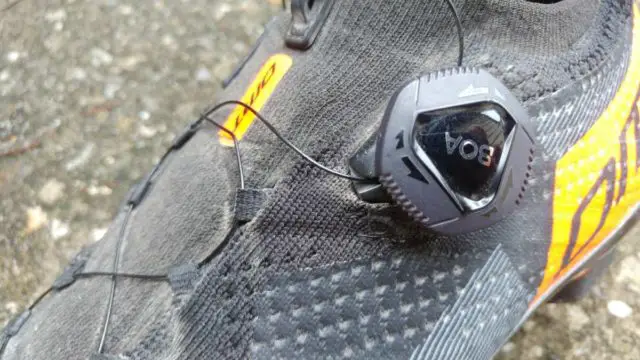 Boa® Fit System with single IP1 dial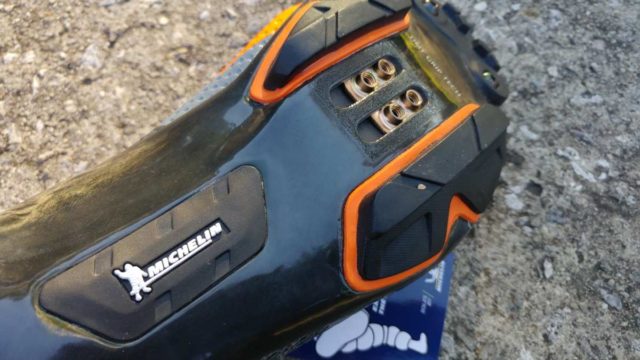 Dual Compound Carbon outsole with high traction rubber lugs developed in collaboration with Michelin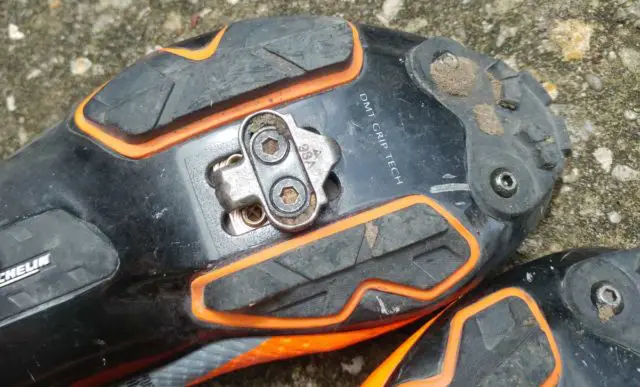 Rubber toe bumper and abrasion-resistant coating on toe cap for protection
Some riders may find the BOA dials to be less than ideal, but in my experience, I've found them efficient for making adjustments on the fly. I've reviewed and owned several pairs of shoes featuring BOA dials. To date, I've broken one BOA string and that was due only to excessive stooping down for photography, a foot position that places a ton of strain on tensioning strings.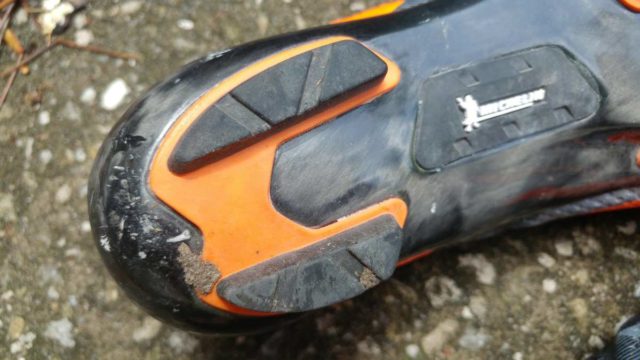 The DMT KM1 features a two-hole cleat connection with two possible mounting points and plenty of fore and aft adjustment. The KM1's feature rubber protection fore and aft, designed to aid with off-the-bike traction.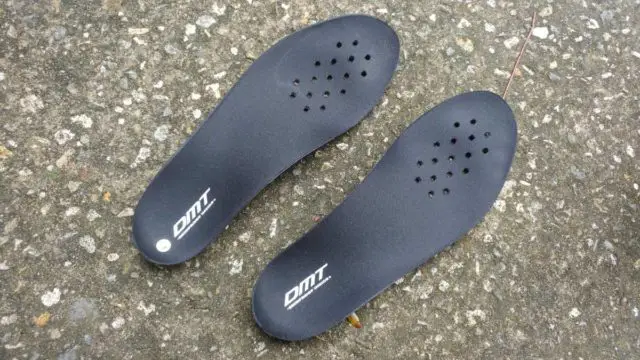 Above, the insoles that are packaged with the DMT KM1. Typically, I substitute stock insoles for those by Specialized (I have high arches), but this shoe did not require that. More on that further down.
Weighing Them Up
DMT claims a weight of 295 grams for a size 42 KM1 shoe. To test this claim, onto the gram scales they go! Important note, I have Shimano's SH51 cleats with bolts mounted to the shoes, which adds 52 grams per pair. Typically I weigh shoes immediately after I receive them, but I was a little remiss this one time.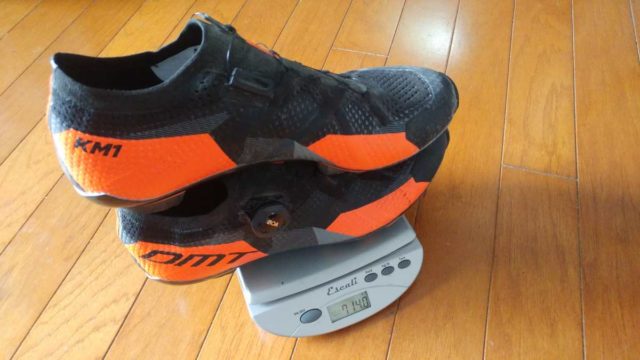 Pictured above, the size 43 review shoes weigh 662 grams for the pair (remember, I've deducted 52 grams for cleats), making approximately 331 grams for each shoe. Assuming a weight difference of 15 grams between the spec weight of 295 grams for a size 42, the size 43 review samples are about 21 grams over spec weight per shoe. That is a little over the accepted 2% fudge factor that manufacturers reference when talking about product weight.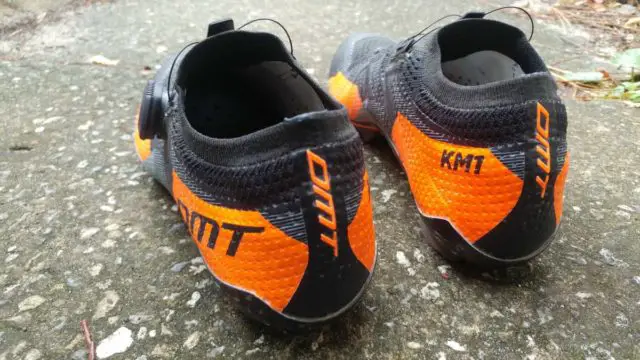 Wearing & Riding the DMT KM1 Shoes
Overly stiff soles are not where it's at for off-the-beaten-path cycling, whether that be aboard a mountain bike or gravel cycling. In my opinion, you need the perfect mix of stiffness but enough flex, to take the bite out of jarring bumps from the road surface.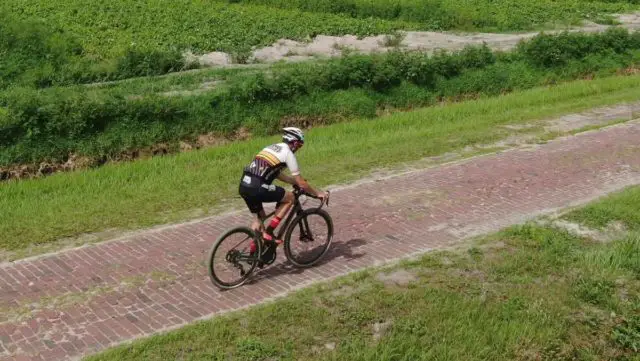 Tyre pressure is the biggest overall factor for comfort on a bicycle, but it helps no one's cause if you're riding around in a pair of planks that create hot spots. Additionally, shoes designed for MTB / gravel cycling need to be highly walkable, as there are times you may be forced to hoof it. This circumstance may not happen to the top-end racer crowd, but if you explore in the manner I do, hike-a-bike is a regular happening!
All of my off-the-bike testing aka walking has proven the DMT KM1's have good walkability characteristics. Not the best, because there isn't a ton of flex in the sole, but not the worst by any means. Michelin's contribution to this shoe provides excellent grip, even if you should find yourself tiptoeing across a patch of rocks.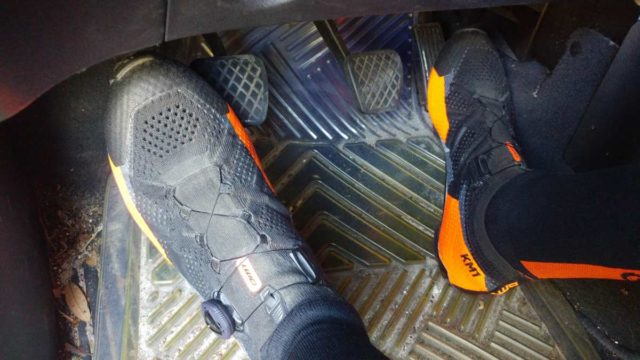 Pictured above is another example of my real-world testing, how is the driveability of the DMT KM1? If I've driven to a ride near my home location, I have been known to drive home afterward wearing my cycling shoes. The DMT KM1's rank well for browsing the aisles of the grocery store and driving a three-pedal vehicle, aka one with a manual transmission, aka a dying art form, aka vehicle manufacturers are getting rid of stick shift and that royally sucks. #savethemanuals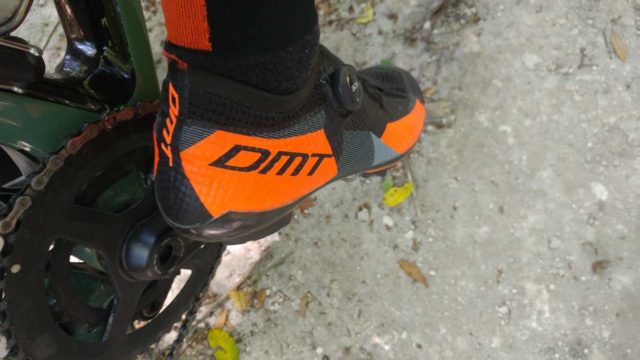 Sizing for these shoes was accurate, which speaks volumes compared to the shoe sizing crapshoot I've seen in the past. The 3D Knit and one BOA closure make the DMT KM1 a little difficult to put onto one's foot, but once there, it feels like a slipper, a natural extension of your foot. My feet play nicely with a regular-sized toebox, but those who need wider at the toe end will have a problem with these shoes, as they do taper down a little towards the front.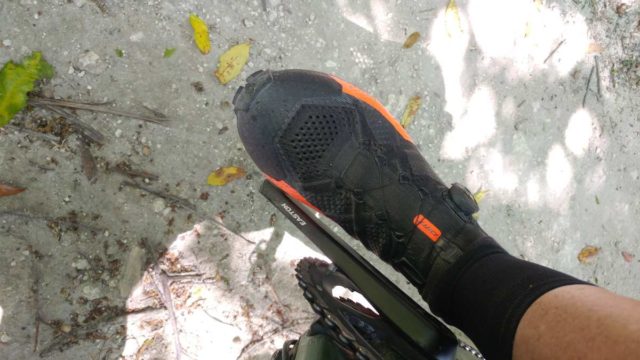 BOA dial shoes are so nice with their enhancements to speed, ease of use, and security versus laced shoes. However, I would prefer to see a second BOA dial to provide the option of easier entry and exit, and the ability to micro-adjust the shoes even further.
My initial rides in the DMT KM1's weren't a good experience, because my Specialized insoles did not play well with this shoe. By that I mean, my typical high arch support insole was not required for these shoes, as they are suitable for a rider with high arches out of the box.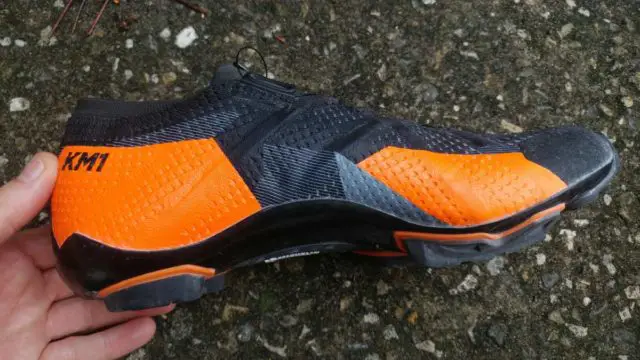 This became painfully apparent when my arches felt as if a massive wedge was beneath them. The Specialized insoles exacerbated the high arch support in these shoes by another magnitude, making them uncomfortable to wear. However, once I figured out the cause of the issue, the stock DMT insoles were substituted, and I was in business.
With this said, the DMT KM1 is likely going to be an unsuitable shoe for those with flatter feet or a mid-arch. Unfortunately, there was nothing mentioned about this on the box or on the DMT website.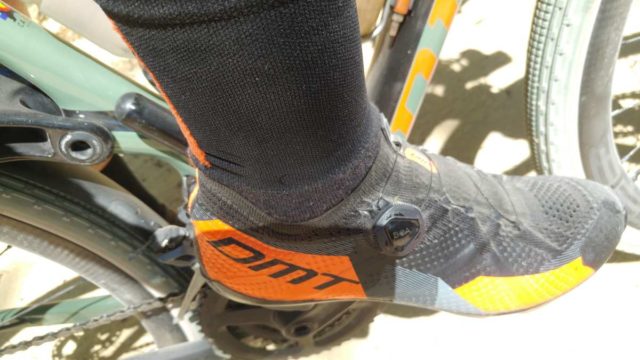 However, on the positive, these shoes fit extremely well once these issues were sorted out. No hot spots, and a feeling of great comfort aided by the 3D knit design. The very top of the shoe, where one's feet enter, features a stretchy material that is akin to a snug-fitting elastic retainer. This material helps with overall comfort, as there are no sharp edges to rub against one's ankles and so on. The added bonus of this snug fit, small pebbles have a difficult time entering the shoes.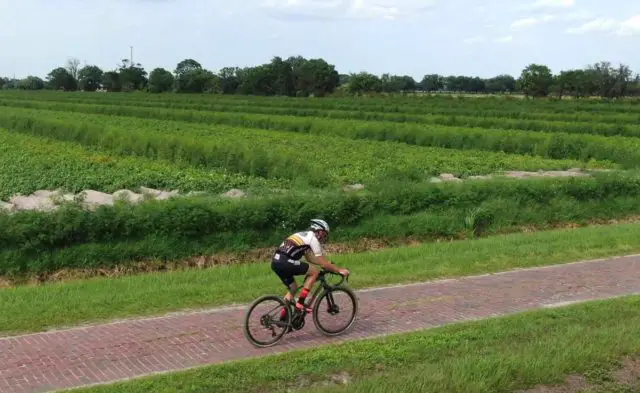 The DMT KM1's weren't mud or sludge tested, but as they have a generous amount of room front and back of the cleat, I expect they would clear mud well. With that said, the DMT KM1's have held up well over a three-month window of testing. They may have gotten dusty in the photos below and elsewhere in this review, but they look good to this day and clean up easily.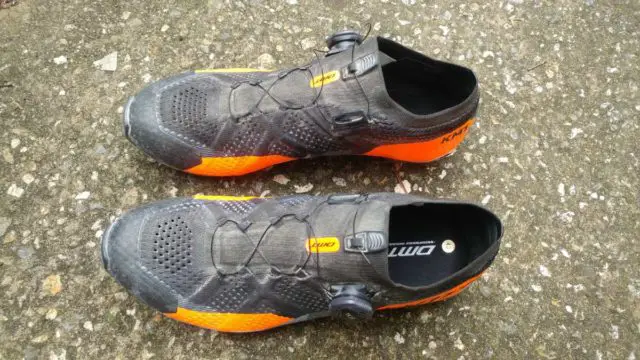 The DMT KM1 shoe is not cheap at an MSRP of $US 439. However, the importer for the DMT brand into the USA, ALE Bike Wear, is running a promotional sale at the time of this article.
Overall, I like these shoes but I fear the high arch construction is going to limit who these shoes appeal to. This is a definite try before you buy pair of shoes. These points aside, the KM1's look good, are slipper-like comfortable to wear, resilient, and stand out from the crowd.
More information available at DMT's website.