The Cat5Gear cyclist case is designed to store essential cycling gear in a well arranged, ventilated, compartmentalized manner. The case measures 20″ (50.8cm) in width, 15″ (38cm in depth), and 7.75″ (19.7cm) in height. This equates to somewhere around 2,000 cubic inches of storage space.
Internally, the case features four main compartments, with dividers that attach securely to velcro against the inner case walls. Four mesh pockets, two that reside against the case wall, and two that are part of the case lid, further aid with gear storage. Velcro closures keep everything secure.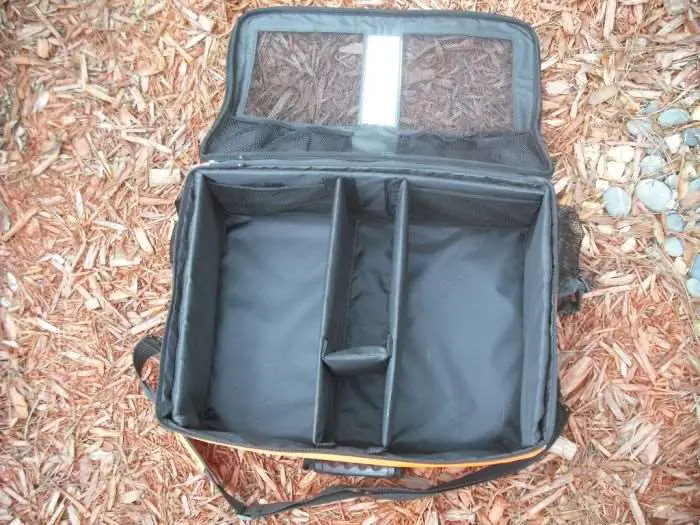 The lid itself is vented and allows you to get a bird's eye view of the case contents. A single zipper opens and closes the case lid. Water bottles are conveniently loaded into the exterior adjustable holders, and an integrated checklist, reminds the case owner of what to pack.
The case is completed with a comfortable hand strap, that makes it easy to carry or load into one's vehicle. Alternatively, the case can be slung over a shoulder utilizing the adjustable, padded shoulder strap.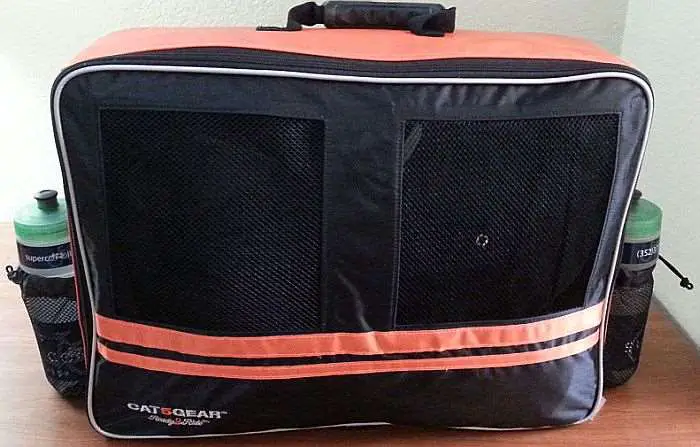 The Case in Action
Thus far, the case has seen a month of use. The case has been toted to:
Rides across town, half filled with essentials such as helmet, shoes, kit, etc
Races, involving almost a full day of travel in each direction, the case packed to the gills with every conceivable combination of clothing imaginable.
NAHBS 2015, where I packed most of my regular clothes, and two pairs of running shoes – not that I run.
Here's what I fitted inside the case for the 2015 Southern Cross race: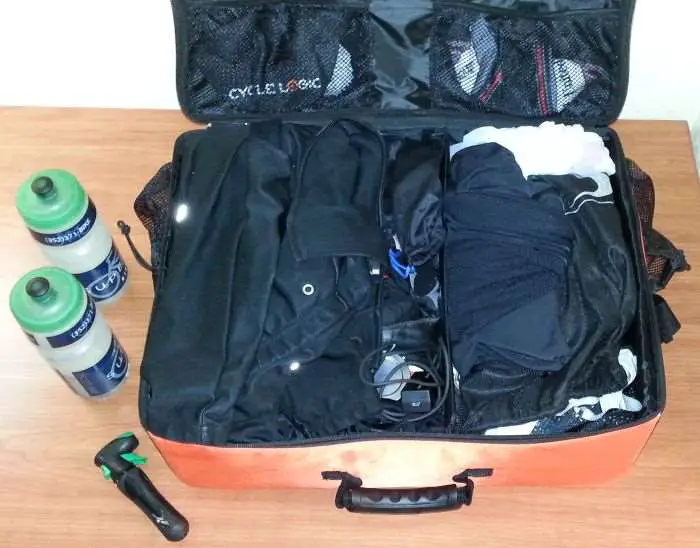 Breakdown of the contents (photo 1):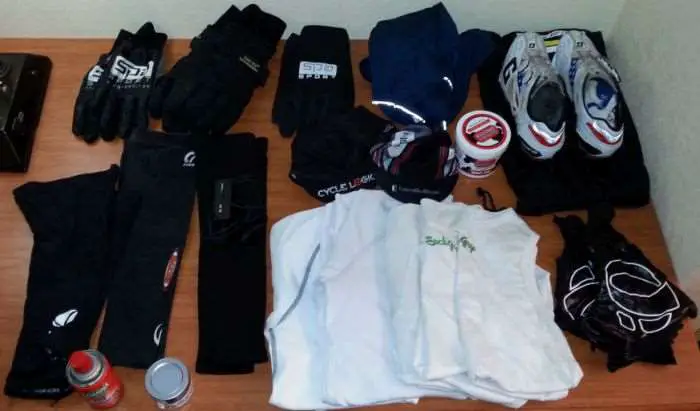 1 x Neoprene gloves, 1 x Winter gloves and 1 x Ski gloves.
1 x Knee warmers, 2 x Arm warmers.
5 x Base layers of varying density.
1 x Rain vest.
1 x Shoes with shoe bag, and 2 pairs of socks stuffed inside.
2 x Caps.
2 x Bottles of embrocation.
1 x Container of chamois creme.
1 x Pair of shoe covers.
1 x Shimano Di2 internal battery charger.
Breakdown of the contents (photo 2):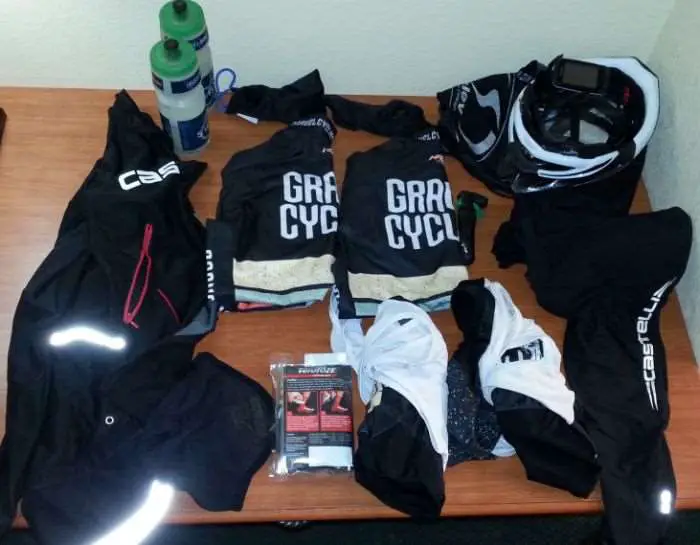 1 x Castelli Gabba jacket.
1 x Castelli Nanoflex bib knickers.
2 x Gravel Cyclist jerseys.
2 x Gravel Cyclist bib shorts.
2 x pairs of glasses.
1 x Helmet with bag. Helmet contains 1 x saddle bag (filled with tube, tools), 1 x heart rate monitor strap and 1 x Garmin 800 computer.
1 x Pair of shoe covers.
1 x Skull cap.
2 x Water bottles.
1 x Co2 inflator and cartridge.
The case is a nice size, but not overly large and easily fits inside one's car, even if the car is packed with a bike, spare wheels, food bags, and other gear. In other words, it fits nicely into available nooks and crannies.
Come race day, I relocate the case from the rear of the car to the front seat, with the lid open. This provides easy access to everything I'm looking for, versus scrambling through multiple backpacks as I have done in the past.
Overall
This case is a winner. I have used it above and beyond its specifications – there is loads of space. Buy one.
Compartments and pockets allow for everything to be organized.
The case is available in plenty of colours, including a special edition Bianchi case. Perfect for the Bianchi owner!
The only improvements I could suggest would be a double zipper for the lid. That would make opening and closing a little more convenient. A wet bag storage area for drenched clothes would make it absolutely perfect, but this would require a much bigger case. A plastic bag works just fine 🙂 *
Cat5Gear is a Canadian company – support the Great White North!
* Since this review, Cat5Gear has released The Sac. A bag designed for keeping dirty shoes or soiled clothing, which fits into one of the compartments of the Cyclist Case, or can be used on its own.