About Bont Cycling
"Mr. Inze Bont first started making custom shoes in the backyard of his Sydney, Australia, house in 1974 after struggling to find a boot that would fit his wide feet. Mr. Bont pioneered the field of custom footwear and has remained the #1 custom boot/shoe builder in the world since 1974. Each week, Bont makes up to 200 pairs of custom boots and shoes."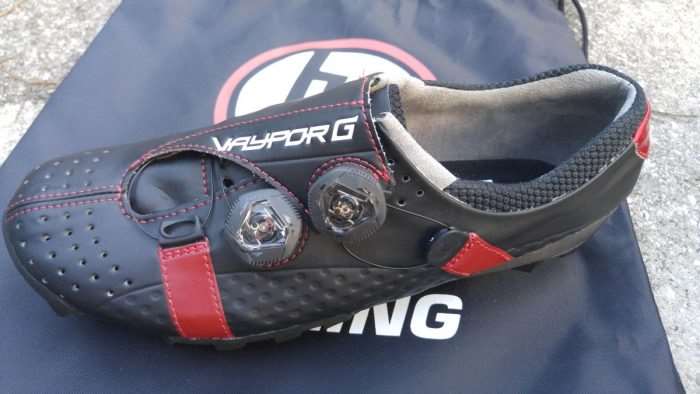 "In the mid-1990's Inze tried to use socks with resin impregnated in them as he had seen being used in the hospitals to take a cast of people's broken bones. He used the sock to quickly and easily make impression molds of peoples feet. They were so easy to use, he could post them out and people could make their own molds and post them back to our factory. This is still the most popular method used today."
Bont Cycling Vaypor G Shoe Review
Bont's Vaypor G shoes are marketed as "Gravel" shoes. Seriously? Aren't these just reconstituted MTB shoes? Not exactly. According to Bont Cycling, the demands of riding or racing around on dirt and gravel roads requires an appropriately designed shoe.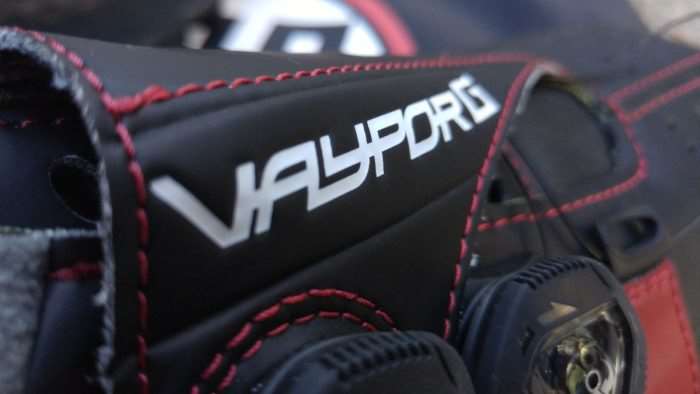 "Lighter, Stronger Faster", according to Bont.
"The Vaypor G brings to Gravel riding Bont Cycling's industry-leading carbon technology and biomechanical efficiency. Our latest flagship shoe sets new standards for those with a passion for dirt."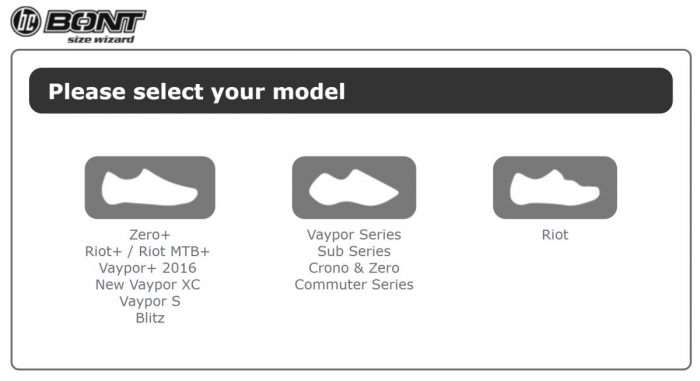 Before I could order my sample pair of Bont Vaypor G shoes for long-term review, I had to consult Bont's size wizard. At the time of writing, the Vaypor G model isn't listed on Bont's website, but I chose the Vaypor + 2016 option at left.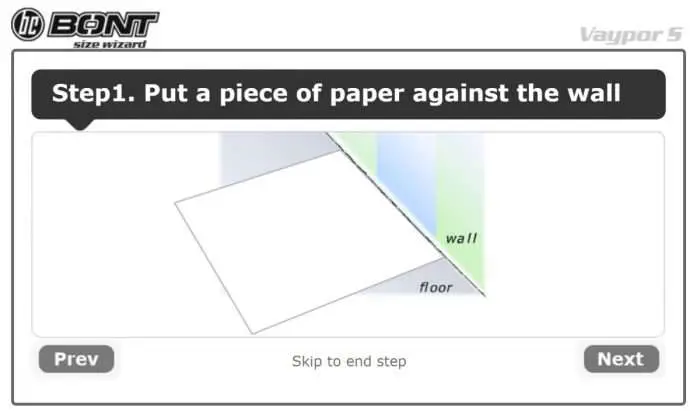 I'll spare readers every step involved in the Bont shoe sizing wizard, but my advice is – do not skip this process or skimp in any way. Follow the process to the letter.
Bont's sizing wizard indicated I needed a Euro size 43 shoe, which jives with my shoe sizing selection from other brands. I wear size 42.5 / 43, depending on the brand. On June 16, 2017, my order was placed with Bont's marketing representative in the US of A. Hi Suzette!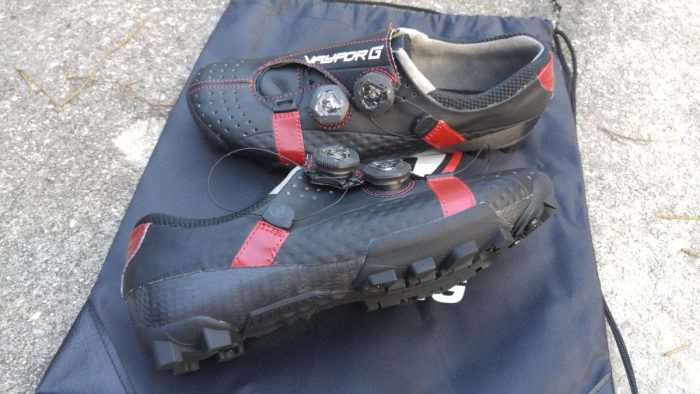 On July 14, 2017, the shoes arrived. Considering the Vaypor G's weren't really in production at the time I took receipt of them, I was impressed with how quickly they arrived.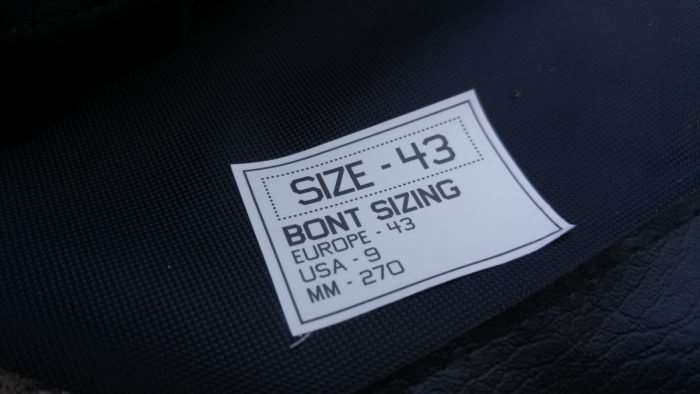 I understand the Vaypor G's are publicly available at the time of writing, so the time between an order to receipt should be much quicker. One thing to bear in mind, my pair is a stock size. Bont offers custom sizing for their shoes, and I assume turnaround on those would be a little longer.
Bont Vaypor G Features
The Bont Vaypor G features a unidirectional carbon monocoque chassis with Durolite upper and faux seude leather liner. Carbon fiber in the Vaypor G is sourced from Toray, a renowned Japanese supplier of this featherweight material.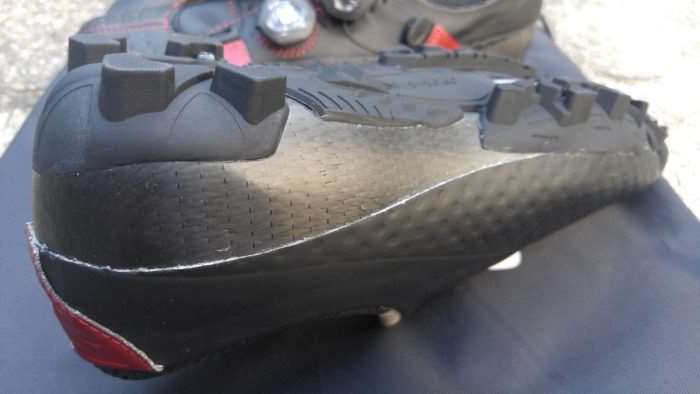 Bont's shoes are heat moldable, although this feature only applies to the shoe base. The shoes can be heat molded multiple times if desired. If your Bont shoes fit well out of the box, the heat molding process is not required. You can read more about Bont's heat molding process, HERE.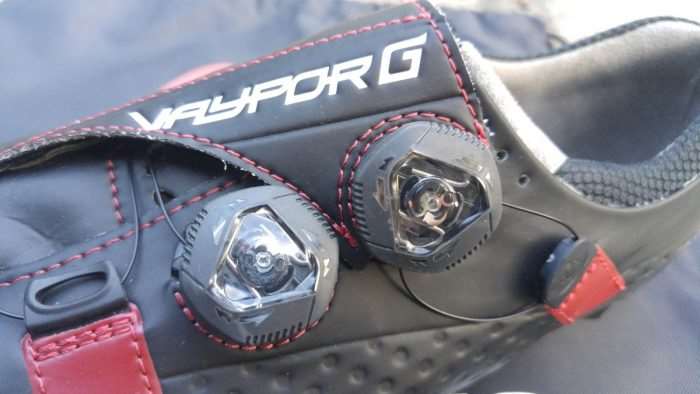 The Vaypor G shoe utilizes the proven Boa dial system. If you've not used this system, you simply turn the dials in the appropriate direction to tighten or loosen the shoe uppers, and pull up to release tension completely – and remove the shoe. The system relies on a set of detents beneath the dials for adjustment, paired with a string of Kevlar to keep everything secure. In my experience, the BOA system has proven easy to adjust while riding, and the detents hidden beneath the dials stay firmly locked in place.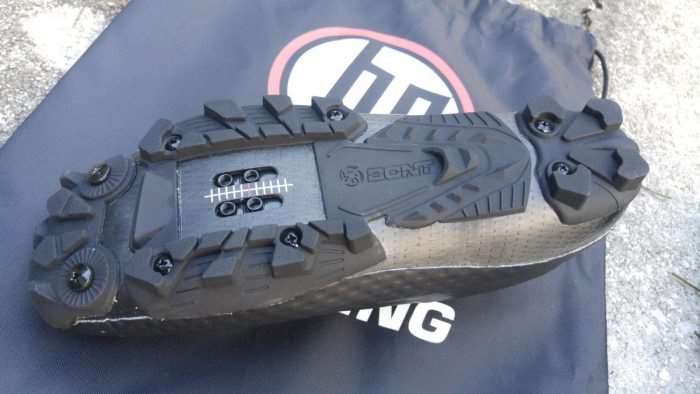 The soles of the Vaypor G's feature replaceable sections of treads, spike mounts, and two-bolt cleat compatibility. Of importance is the lowered stack height of these shoes, measuring a slender 3.6mm.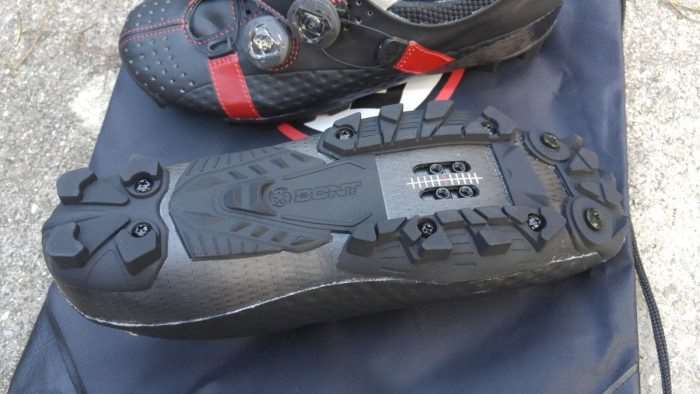 These shoes effectively put one's foot closer to the pedal axle than other shoes, so keep this in mind during your initial rides. Compare notes from your former shoes and make a saddle height adjustment if necessary. If you're anything like me, you can detect your saddle height being off by a single millimeter…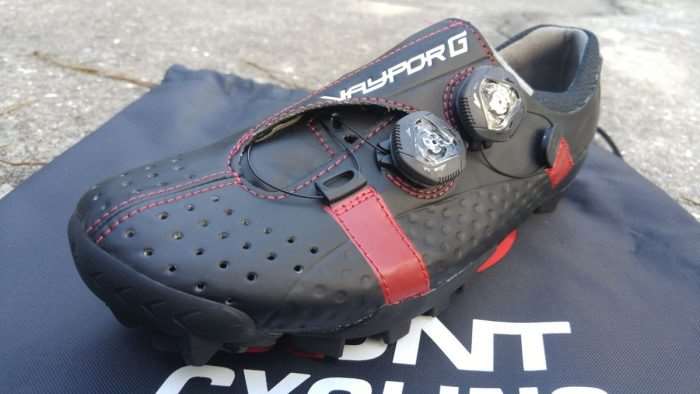 Pictured above are the Vaypor G's frontal vents, located above the toe box. Additional venting aka holes, are present near the tongue of the shoe.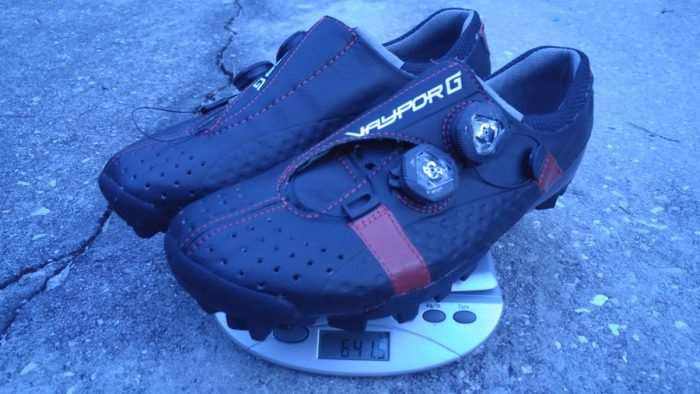 On my decently accurate gram scale, the Bont Vaypor G's weigh in at 641 grams the pair in a size 43, sans cleats. Pardon the image, it was taken on the edge of nightfall.
Riding the Bont Vaypor G Shoes
Suzette, Bont's USA marketing representative warned me of one thing about these shoes. "They aren't meant for walking around in". Huh? What the eff does that mean? Are they too delicate and fragile to grace the soil of this Earth?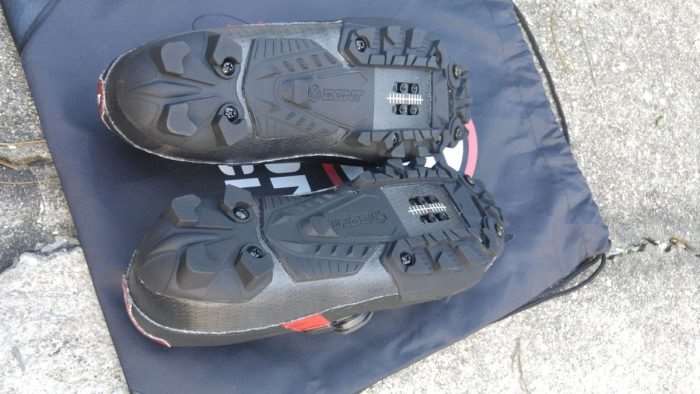 For anyone who has spent at least an hour or three riding their bike along a dirt and gravel road, there is a good chance a dismount may be required. That could involve hike-a-bike across some gnarly or muddy terrain, hoofin' it over a fence that may or may not involve private property, or an impromptu tap dance routine in the parking lot as you load your bike into the car… and I ain't no Fred Astaire or Ginger Rogers.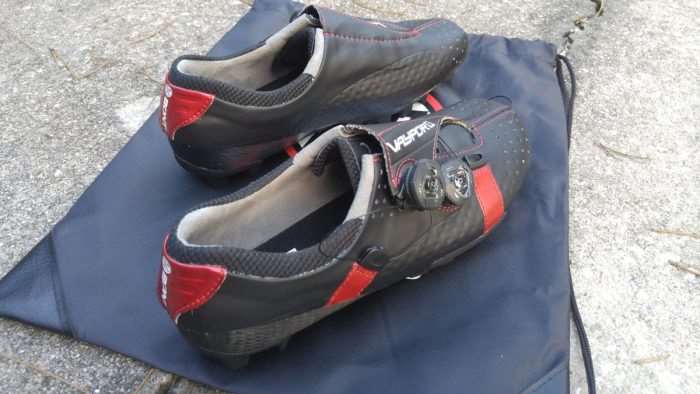 The Bont Vaypor G shoes are stiff. In fact, they are the stiffest cycling shoes I have ever ridden – and I have owned a lot of high-end shoes over the years. To further test this theory, I ignored Suzette's advice about "not walking in them", and walked around in them at my local grocery store one evening… as you do.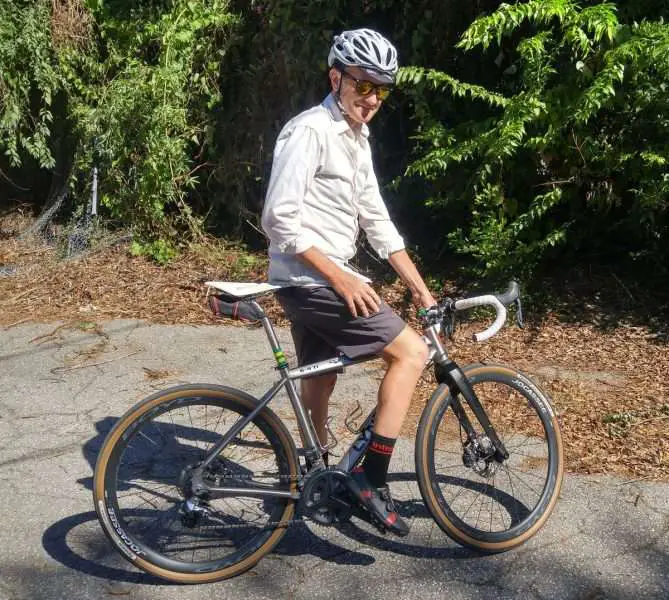 Nobody in the grocery store batted an eyelid at my stylish Bont Vaypor G shoes (they don't scream attention), and I re-confirm, they are stiff! The Vaypor G's are not the sort of shoe you want to spend a lot of time hike-a-biking in, such is their stiffness. They weren't uncomfortable, but they did feel like two very rigid boards strapped to my feet. However, this uber stiffness translates to zero power loss while pedaling your bike… more on that later.
Their appearance is notably different from most other shoe offerings on the market today. Bont claims their cycling shoe lasts are biomechanically designed with this task in mind. Their design and appearance differ from traditional cycling shoes from other manufacturers, which fall into the designed like a "dress shoe" category.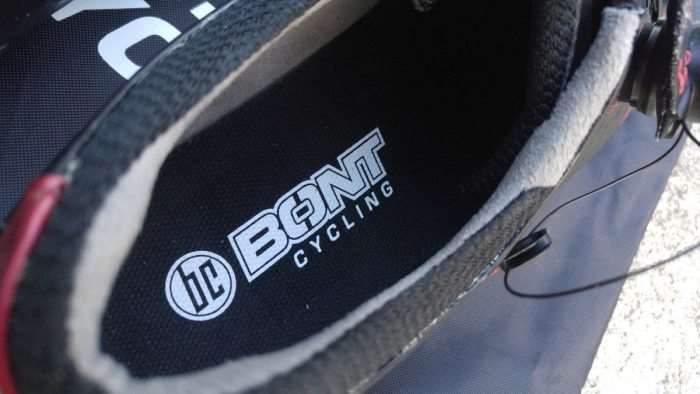 Wearing the shoes on the bike and how they feel when riding is what counts, and this is where the Bont Vaypor G shoes excel. My experience could best be described as sliding my feet into a near perfectly fitted bathtub. No sliding around, just a firm feeling of security, ensconced in a stiff housing of carbon fiber and other spanky materials.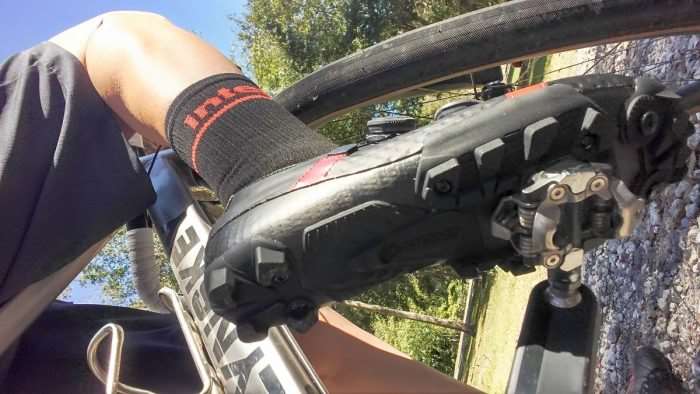 Gone are the feelings of any sloppiness around the heel of the shoe. Bont has worked hard to provide a shoe with excellent foot support and a heel cup that aids with one's pedal stroke in all directions.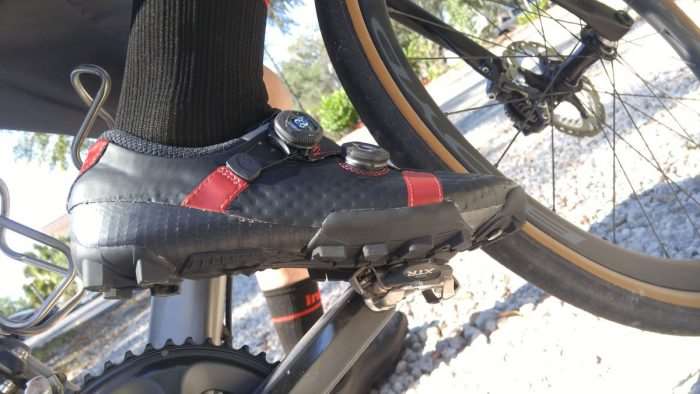 Once you get over the fact that these shoes feel like no other, the feeling you're wearing shoes as you pedal along simply drifts away. That's a good thing, as I don't like thinking about stuff like shoes when I ride.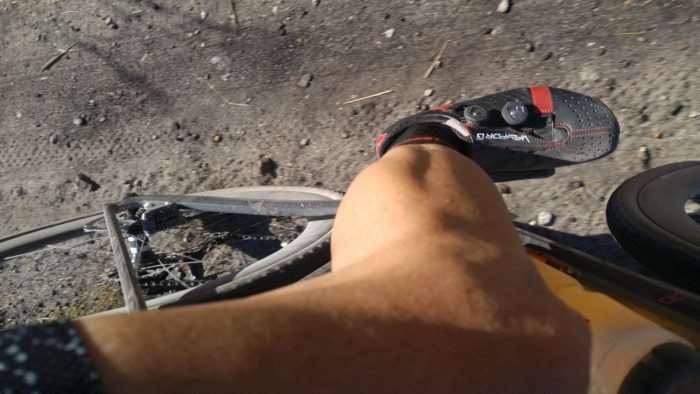 The fit would be perfect, but for the feeling of a pressure point just forward and below both of my tibalis posterior – aka a little forward and below of my inner ankle on both feet (note to podiatrists, if I got that wrong, please accept 1,000 of my most humble apologies). My minor fitment concern was passed along to the CEO of Bont in Sydney, Australia, Mr Steven Nemeth.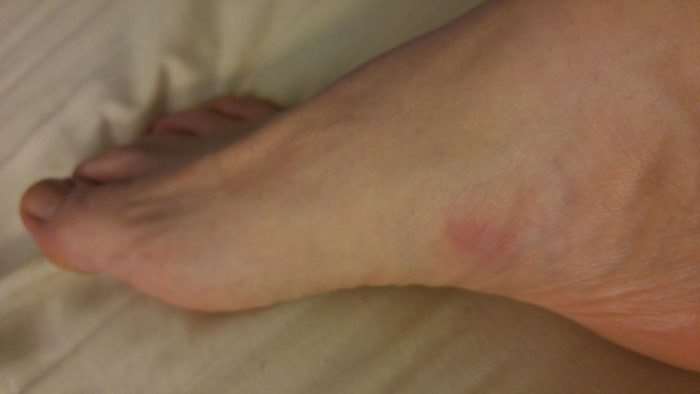 Without seeing an image of my foot or precise measurements, Steven felt I could have a low volume / wide foot in this area. You might say I am the perfect candidate for a custom Bont shoe. In the big scheme of things, the pressure point didn't cause me massive pain or discomfort, but it is something I would like to resolve If the Bonts were my only pair of cycling shoes.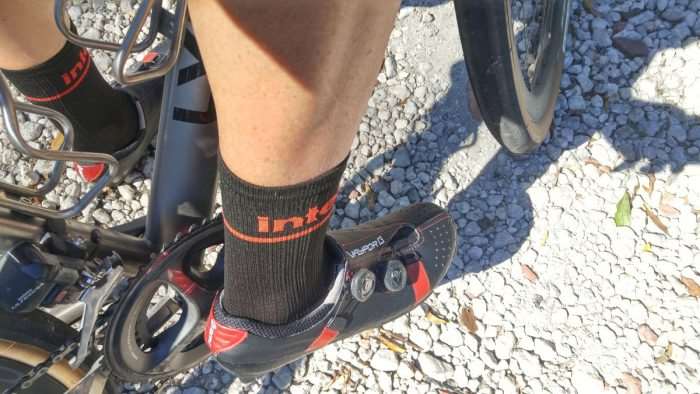 Casting my minor, personal fitment bug aside, the Bont Vaypor G's are rather sublime. I mentioned earlier I completely forgot about wearing them as I rode along. That feeling still persists even after riding them on and off for almost four months.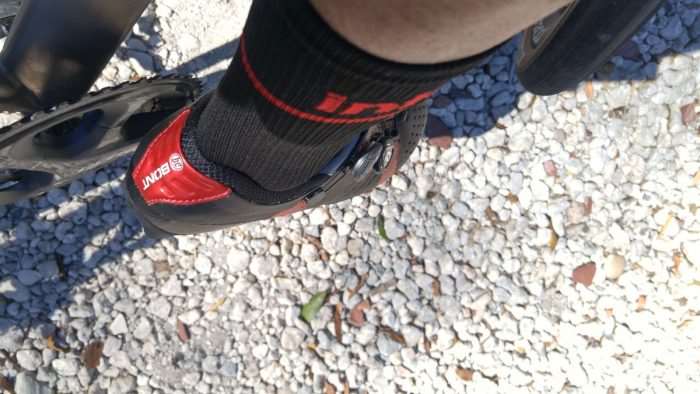 Power transfer is simply amazing. I have no way of measuring power and flex in a shoe, but I honestly felt that every watt of my rather ordinary power output went straight into the pedals and drivetrain of the bike. Zero inefficiencies in the Vaypor shoe design, which probably had much to do with the shoe that inspired the design of the Vaypor G – the road going Vaypor – a design that has been receiving accolades for years.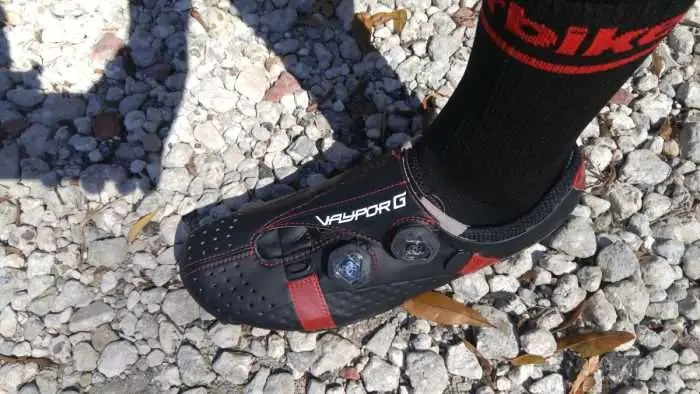 The Bont Vaypor G's are shoes for the gravel cyclist who demands the utmost in performance, but with zero concession for inefficiency or discomfort. With that said, the Vaypor G's are not for everybody. On the walk-ability scale, they measure poorly, but this aspect was never part of Bont's design philosophy for these shoes. And for that, I like them even more. Bont has been completely honest with their intent for these shoes, versus fancy mumbo jumbo marketing to sell shoes that may end up being horribly uncomfortable.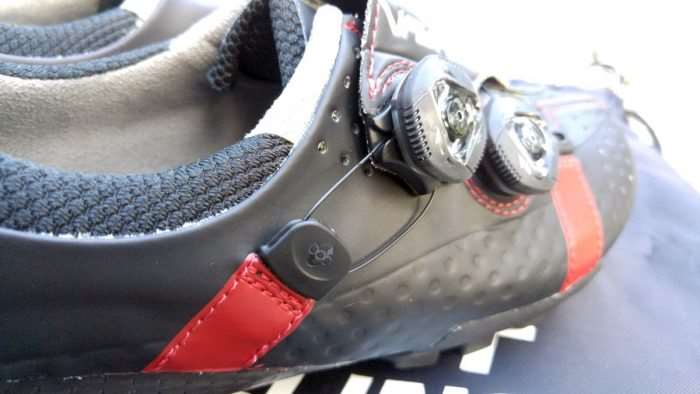 If you haven't ridden shoes with Boa's superb dial system, you're in for a treat. They make adjustments on the fly an absolute snap.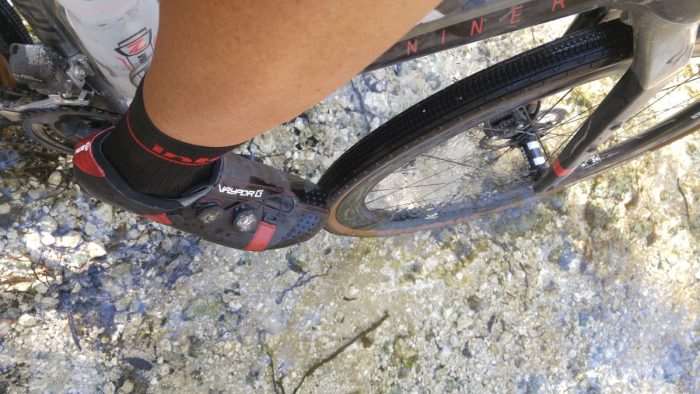 The Vaypor G's also stand up well to water submersion, as the photos above and below demonstrate.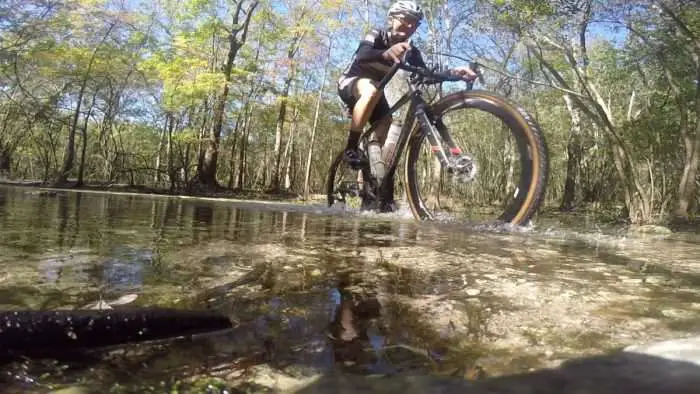 Water immersion is never much fun during a gravel ride or race, but how the shoe holds up long term is important.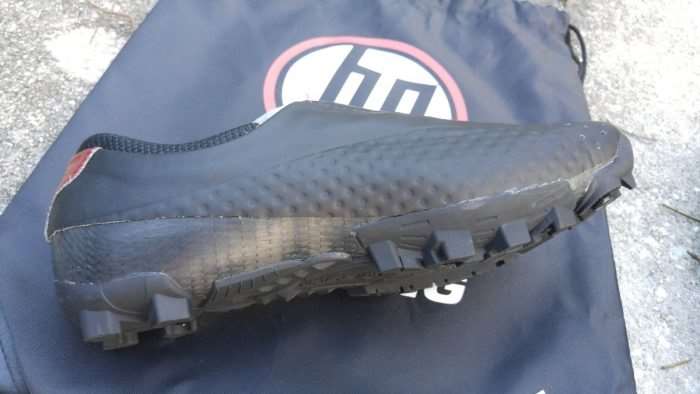 My only negative point about the Bont Vaypor G's is my minor fitment issue, alluded to earlier. But, this further instills the importance of visiting a stocking dealer to see how they fit, or going the custom route, particularly if you have concerns about placing an order via Bont's website.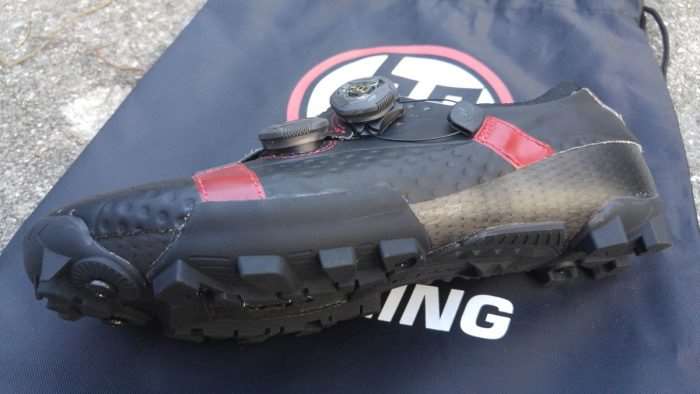 The Bont Vaypor G's are like no other shoe – I am thinking a Bont Vaypor G custom shoe may be in my future… with custom colors, naturally.
Priced at $US 399.00, the Bont Vaypor G's aren't cheap, but they are cheaper or on par with similar high-end MTB shoes – barring the fact the Vaypor G's are considered "gravel" specific. I expect the Vaypor G's will stand up in well the long-term, despite my test period only last for about four months.
Thanks for reading!