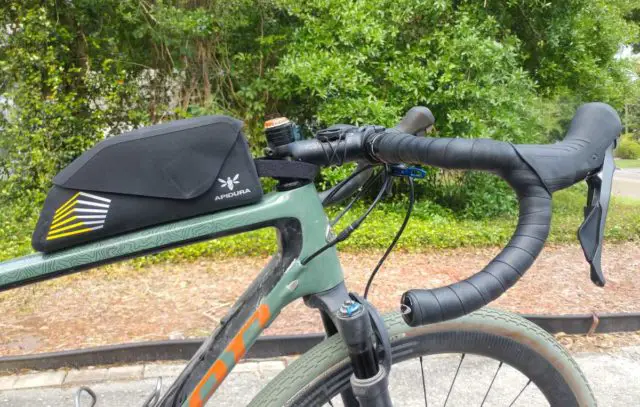 Apidura designs and manufactures Ultralight Bikepacking Equipment to:
Discover The World
Encounter New Cultures
Race Across Continents
The name Apidura has been related to adventures by bicycle for many years. I recall the first time I ever saw their extended size saddle packs, such as the Expedition and Backcountry models. At the time, I didn't see those products fitting with the type of gravel cycling I enjoy, but as I've gotten more and more into long solo journeys on the gravelly roads less traveled, I've had to expand my horizons beyond the amount of crap I can stuff into my jerseys pockets!
I haven't yet ventured into oversized saddle packs, but I have embraced the top tube bag / bento box / whatever nomenclature you like to use. Because I still enjoy gravel bike races / experiences and spirited riding with my close mates (when Covid-19 isn't around), I desire packs / bags that aren't going to flap about in the wind, are minimalist in design and not too clunky in appearance.
Putting it mildly, any pack on my bike has to be efficient and every ounce of space has to be used. I want to carry the absolute bare minimum of gear, because a bike that feels like a truck, slow and unresponsive, isn't appealing to me. Think credit card bikepacking / flashpacking, that is probably more my speed. No disrespect to anyone who truly loves and appreciates way off the beaten track bikepacking adventures with serious needs to carry cargo.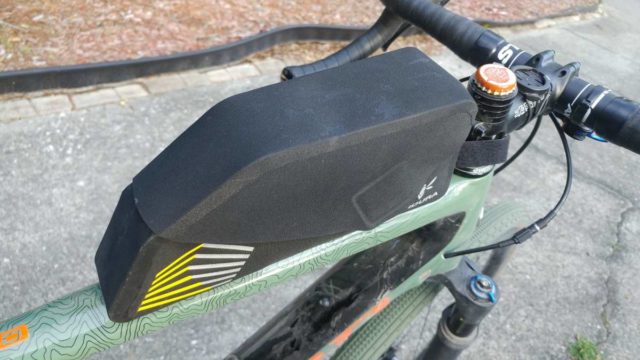 Apidura has realized there is a need in the market, likely to cater to riders who echo my sentiments. Their Racing Bolt-On Top Tube Pack is designed for "ultra-distance competition, gravel racing and the needs of time-conscious riders whose bikes have top tube bolt bosses." This pack can be strapped to the frame, more info below.
Hexagon Construction & Magnets
The pack is made from Hexalon, "a bespoke laminated fabric developed specifically for Apidura. Designed to fit the demands of ultra-distance cycling competition and audax, the material is waterproof and lightweight, with strong tear and abrasion resistance."
Measuring 23.5cm long, 4.5cm wide, 10cm at its highest point, the packs weighs a paltry 107 grams with fixing bolts. Despite its light weight, the pack feels tough and very durable.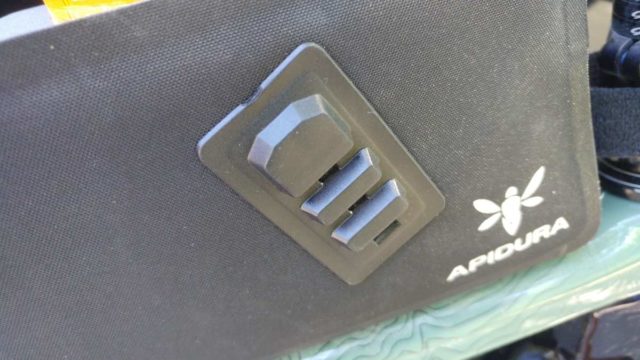 There are two mounting positions to suit different bikes and the waterproof flip-top lid is easy to open and manage a clear view of the pack's contents. The flip-top lid is secured with a magnetic closure, a feature I really like.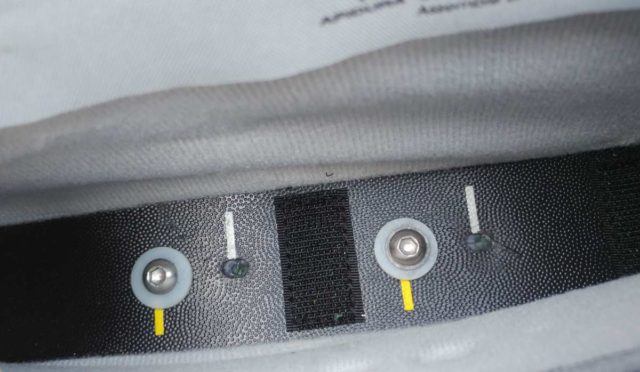 The pack's interior is lined with a soft to the touch material in a light grey colour. The mounting bolts are shielded from the contents of the pack by a cushioned flap. This helps to keep rattling to a minimum and protect electronic items from taking too much of a pounding.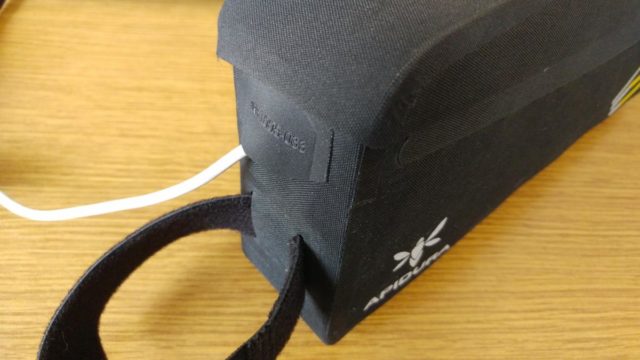 There's also a cable port at the front of the pack, designed in such a way to keep the water out. A velcro loop strap port is located below the cable port and designed to offer another method of retention to the steerer tube, beneath the stem. Apidura supplies velcro straps for that purpose, and straps to lash the pack to the top tube, suitable for those frames that don't feature top tube mounting points.
The pack is finished in black, the only colour available, with Apidura logo and reflective piping. A simple design that compliments most bikes.
Real-World Use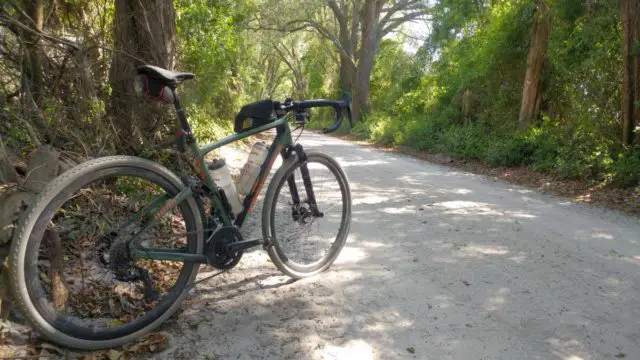 The Apidura Racing Bolt-On Top Tube Pack claims to hold about one litre, but retains a very slim profile. At just 4.5cm wide, it's narrow, and it won't bother those riders whose knees have a habit of abrading a wider top tube bag. However, the trade-off is apparent, you potentially lose some cargo space, but for the minimal "let's carry bugger all on the bike crowd", this likely isn't a problem.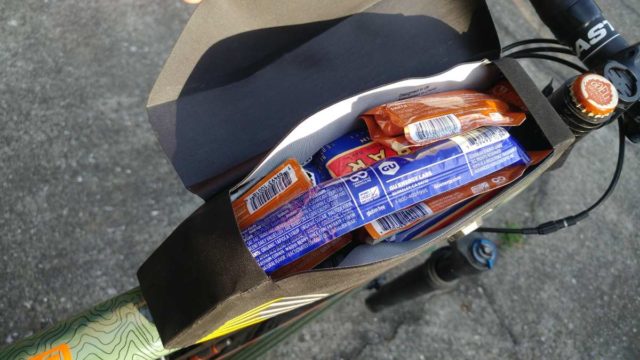 Above, I loaded the pack to the gills with supplies I would burn through during an average 100+ mile ride.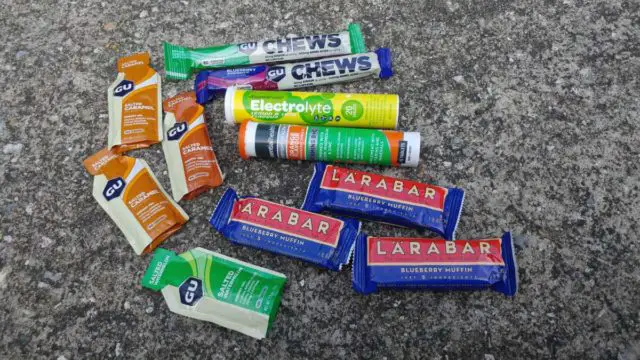 Above, the contents I stuffed into the pack whilst managing to keep the lid closed.
4 x Gu Gels (Gu Roctane Gels are a fave, too)
3 x Larabars
2 x Gu Chews
1 x Electrolyte tablet pack from Aldi Australia
1 x Vitamin B+C tablet pack from Aldi Australia – Aldi USA, start selling these in the USA, please.
The Electrolyte and B+C tablets are super handy during petrol station / store stops. I also use Gu Hydration tablets.
As you can clearly see, that's a lot of stuff jammed into the Apidura pack!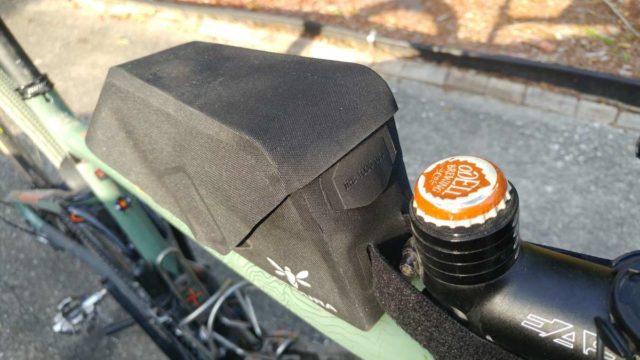 Positives
A ton of goodies, phones, spare batteries, whatever you like, can be stuffed into this pack.
The magnetic flip-top is very convenient, no worries of messing around with a dodgy zipper.
Reliable, none of my gear has been ejected despite stuffing the bag full. The magnetic closure is very secure.
Looks good, doesn't bother me during pedaling, even out of the saddle.
I like the option to strap the pack to the steerer tube.
Durable, well-made, has proven resistant to abrasions.
Easy to clean.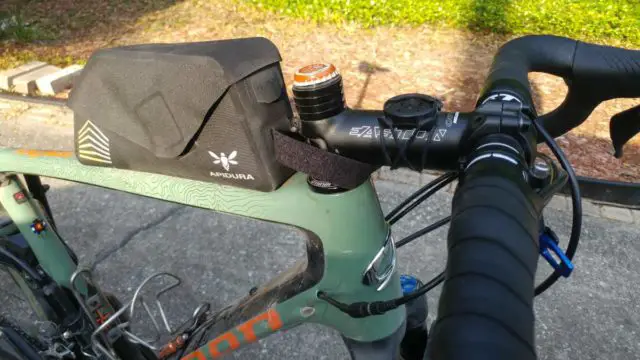 Negatives
Gets a bit wobbly when packed full. I tried to alleviate this by using larger washers inside the pack, beneath the mounting bolts, but that didn't help much. If there was a way to stiffen the bag a smidge, this may help.
Due to the sloping shape of the pack, you have to be careful when the flip-top is open. I haven't lost anything yet, but items positioned towards the rear are at risk of ejection should you hit a bump with the flip-top open.
When I posted a sneak peek of this review to Gravel Cyclist Instagram a while ago, there was some squawking about the price. I don't see it as being exorbitantly high, but some folks weren't pleased.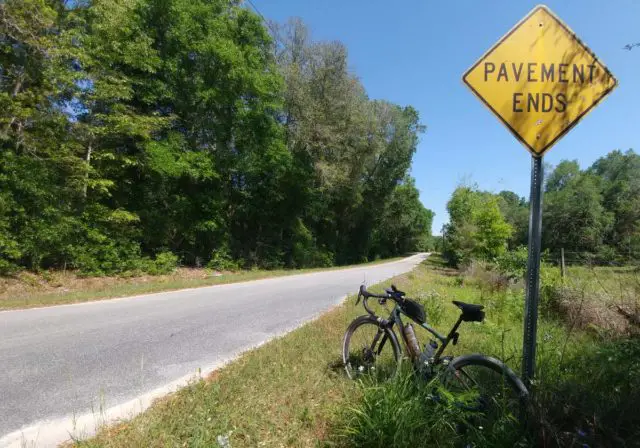 The Apidura Racing Bolt-On Top Tube Pack (One Litre Size) will set you back $US 68.50
In closing, I reckon the Apidura Racing Bolt-On Top Tube Pack is an excellent option for those seeking a minimal approach to toting food, phones, batteries, whatever madness you're into, around on your gravel bike.