Sizes: 42/45cm (tested), 44/47cm
Weight: Ergoterra Pro aluminum (tested): 245g / Ergoterra Team carbon (claimed): 200g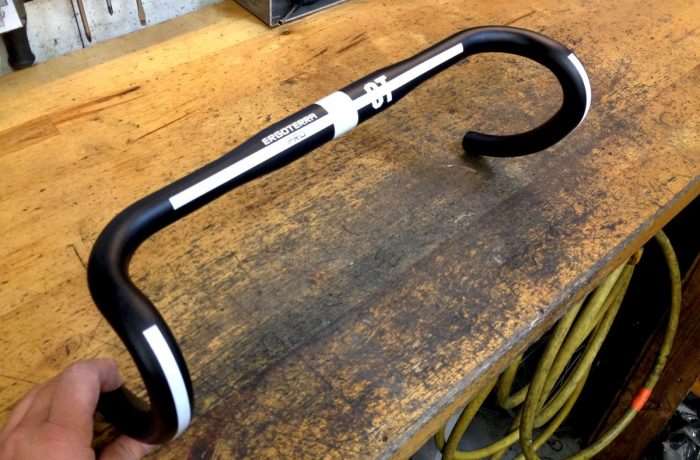 We've all learned over the years that there's plenty to like about a wider bar when you're off-road. Namely, improved balance, stability, and leverage for moving the bike around. A flared drop bar serves up these advantages for road bikes and encourages a wide elbow stance, without increasing the width at the brake hoods. This should all sound great if you plan on riding a drop bar setup on singletrack or particularly chunky gravel, or if you're bikepacking with front panniers. Pioneering bars like the Specialized Dirt Drop, Salsa Bell Lap and On-One Midge have provided well-loved, and somewhat exaggerated templates for the style, with shallow and radically flared drops.
Maybe you're like me, and you've tried flared drops before and liked them… but your "gravel" bike does double-duty sometimes on road rides, and those hyper-flared drops start to feel weird when you're tucked into a pace line. Or maybe you've been irked that the brake levers mount somewhat diagonally, sacrificing comfort in the hood position. It's a lofty goal; designing bike parts that work well for diverse uses. But that's kinda the whole point of this "gravel bike revolution," isn't it?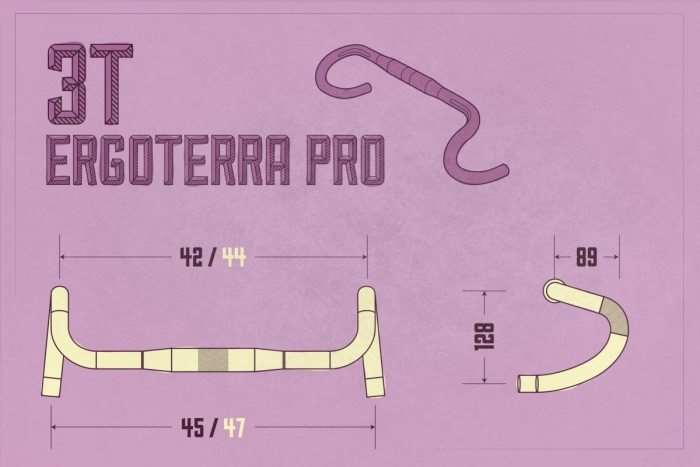 So, how about a compromise? Enter 3T's Ergoterra. Available in aluminum "Pro" (tested) and carbon fiber "Team" versions, the Ergoterra is closer to a modern road bar, with a more conventional 127mm of drop, and just a bit of extra wingspan.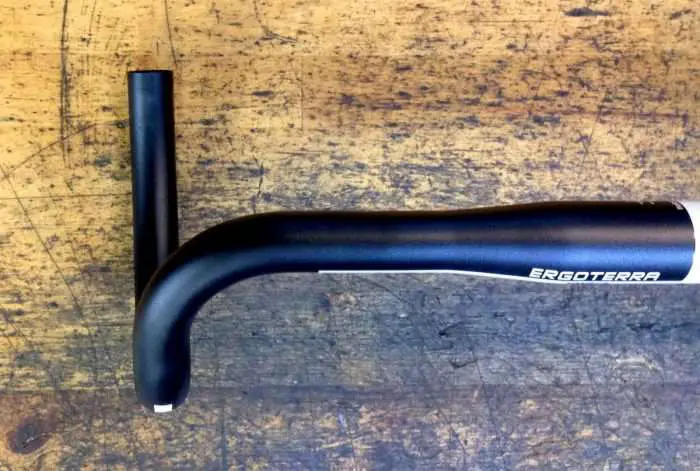 The drops are flared 6 degrees outward, which provides a tad more stability and enough clearance to keep your wrists from digging into the top of the bar when you're out of the saddle and moving around. Importantly, 3T have accomplished this without flaring the curved portion of the drop, allowing for brake levers to mount vertically. The ErgoTerra comes in two sizes: the 45cm model is 42cm at the hoods, and the 47cm model is 44cm at the hoods. Both sizes use fairly straightforward compact road drops with 127mm drop and 89mm reach. With claimed weights of 245g for the Aluminum Ergoterra Pro and 200g for the carbon Ergoterra Team, these should make weight weenies everywhere rejoice.
ON THE BIKE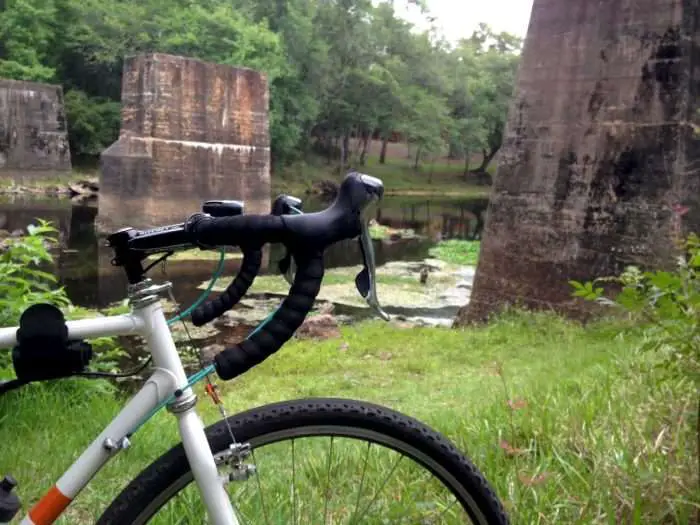 The Ergoterra has a nice flat transition from the top of the bar to the hoods.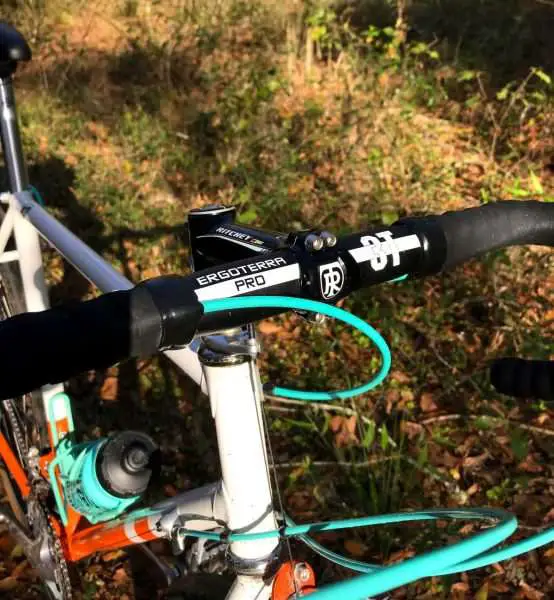 3T extended the oversize clamp section, to provide clamping room for cross-top levers (or whatever bell/light combination blows your hair back).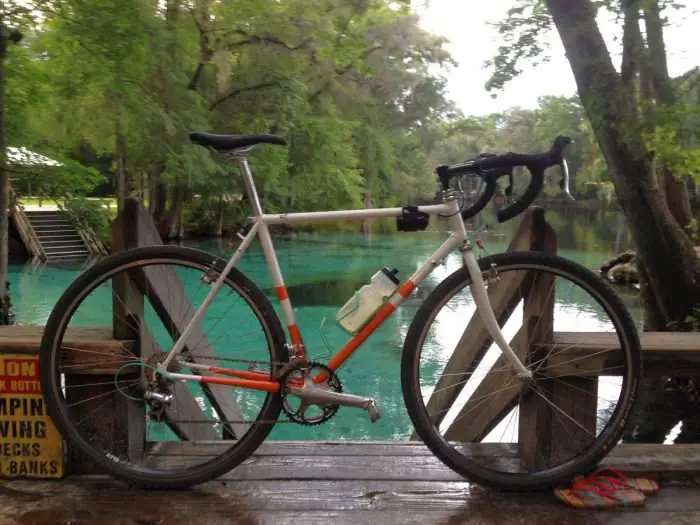 The Ergoterra has a drop curve similar to 3T's Ernova, which I've been using for a while now on my road bike. It's more of a modern "ergo" shape than their traditional round "Rotundo," but doesn't have the exaggerated reverse curve of some modern bars. I personally find this a versatile bar — I can comfortably put my hand anywhere in the drop, and the round top provides adequate grip for lifting the front end in technical terrain. And, 6 degrees of flare may not be much, but it's just enough that I haven't found the top of the bar interfering with my wrists on technical terrain or while bunnyhopping.
3T have been in the handlebar business since 1961, and they've got more than three dozen drop bar models to choose from. Do you just want a straight-up familiar road drop? Plenty of those to choose from. Dig those big, wide, radically flared dirt drops? Check out the Superghiaia. But if you're looking for a "goldilocks" drop bar that's versatile enough for everything from road rides to singletrack, the Ergoterra just may be the one for you.