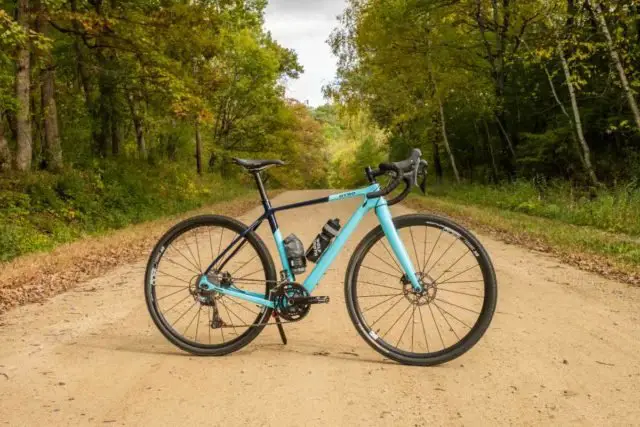 "The B-RAD TekLite Roll-Top Bag is a premium, lightweight, and flexible storage option to keep your riding essentials protected from the elements. This follows the same profile as the original B-RAD Roll-Top Bag, but uses the new TekLite material, which is made with layers of strong, durable, and lightweight fibers. Bags are large enough to carry a packable jacket or food for a full day on the saddle, yet sleek enough to stay out of the way of legs while riding. The roll-top opening makes for quick access, while the hook-and-loop strap allows for easy removal and repositioning. It can be attached under a saddle, strapped to a frame, secured in a bottle cage, or mounted onto any B-RAD Base." – Wolf Tooth Components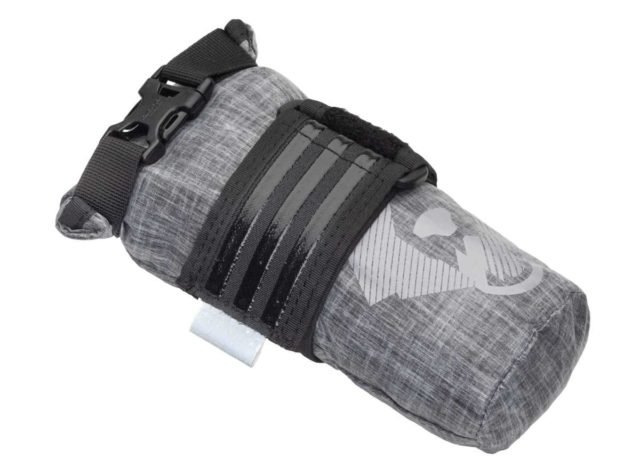 1.0L capacity to carry riding essentials: multi-tools, spare tube, small hand pump, and/or snacks

0.6L capacity to carry riding essentials: multi-tools, spare tube, or snacks

Ultra-high-molecular-weight polyethylene material is lightweight, strong, and durable

Roll-top design protects contents from water, dirt, and other road grit

Silicone-backed strap with hook-and-loop design keeps bag securely in place

Flexible, durable construction from a composite of abrasion-resistant, high-tenacity fibers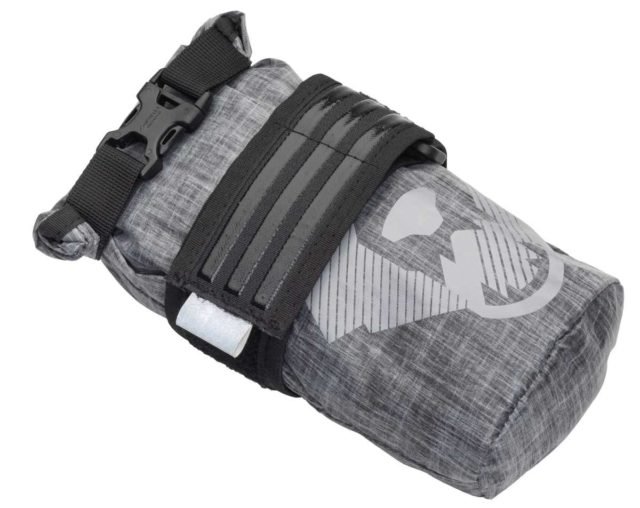 Compatibility
Can be mounted directly to any tube on a bike with just the strap

With the Mounting Plate, it can be mounted to any B-RAD base for the ultimate in organized, secure on-bike storage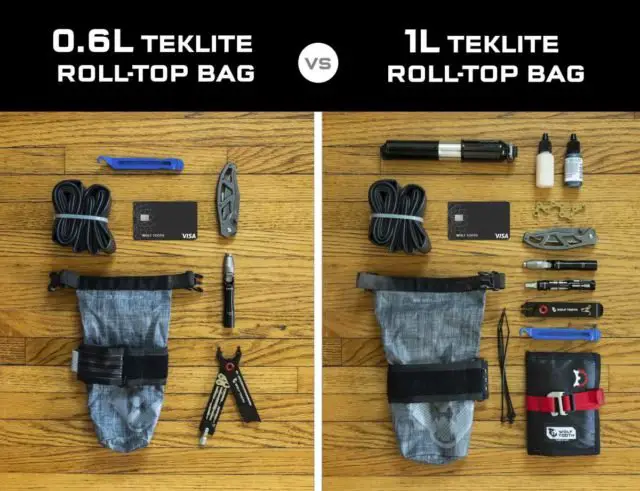 Product Variants
Bag and Strap include:
Bag and silicone-backed strap for mounting to saddle rails or directly to frame tubing

Bag, Strap, and Mounting Plate includes:

Bag, strap, B-RAD system mounting plate and hardware. This allows you to mount to a B-RAD base in addition to mounting to saddle rails or directly around frame tubes

REQUIRES a B-RAD Base for the mounting plate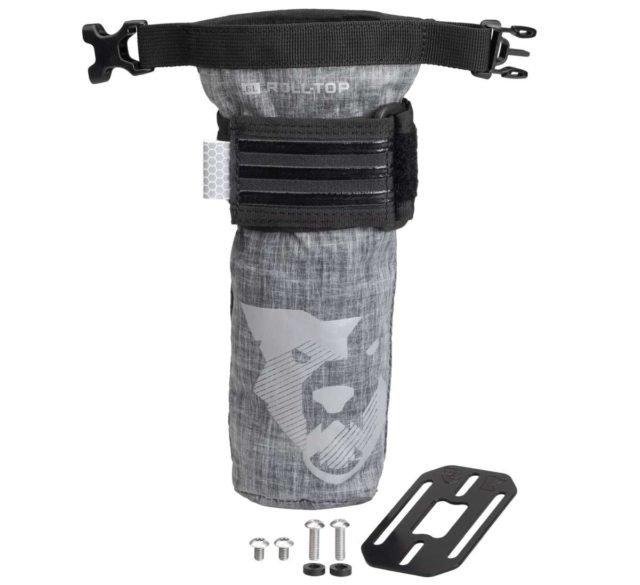 Recommendations
When mounted on the underside of down tube, check clearances before riding.

When mounting hard items in bag (like a pump or multi-tool), be sure that there is some padding between that hard item and any external hard surface like a saddle rail or the B-RAD mounting plate. Rubbing between two hard surfaces/edges/corners with grit mixed in could eventually wear through the bag.

This bag is not classified as waterproof (dunkable), but it is extremely water- and weather-resistant.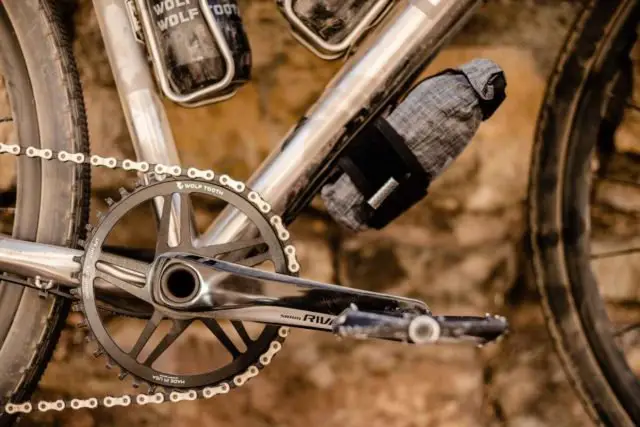 Technical Specifications
B-RAD TekLite Roll-Top Bag 1L:
Weight: 167.5g Bag and Strap | 18g Mount

Bag Dimensions: 4″ wide x 3″ tall x 5-8″ long (when rolled vs. unrolled)

Strap Dimensions: 2″ wide x 16″ long

Capacity: 1 liter

Materials: Ultra-high-molecular-weight polyethylene (UHMWPE), sealed seams, Duraflex buckle, 2″ wide silicone-backed strap

Included: Mounting hardware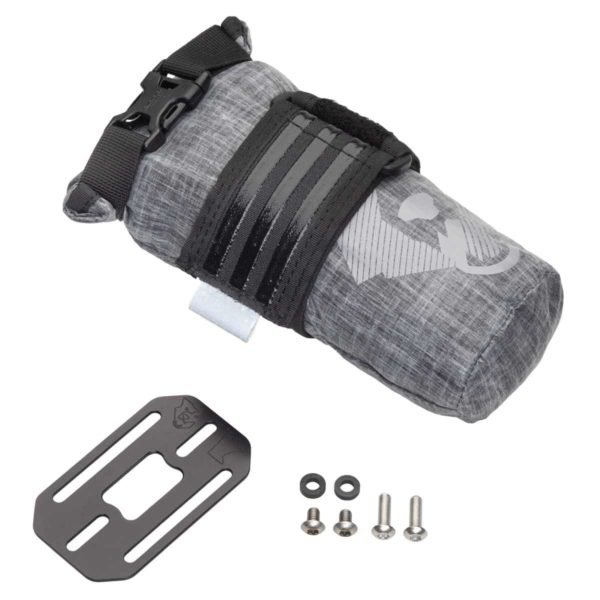 B-RAD TekLite Roll-Top Bag 0.6L:
Weight: 157g bag and strap | 18g Mount

Bag Dimensions: 3″ wide x 2.5″ tall x 5″ to 7″ long (when rolled)

Strap Dimensions: 2″ wide x 13″ long

Capacity: 0.6 liters

Materials: Ultra-high-molecular-weight polyethylene (UHMWPE), sealed seams, Duraflex buckle, 2″ wide silicone-backed strap

Included: Mounting hardware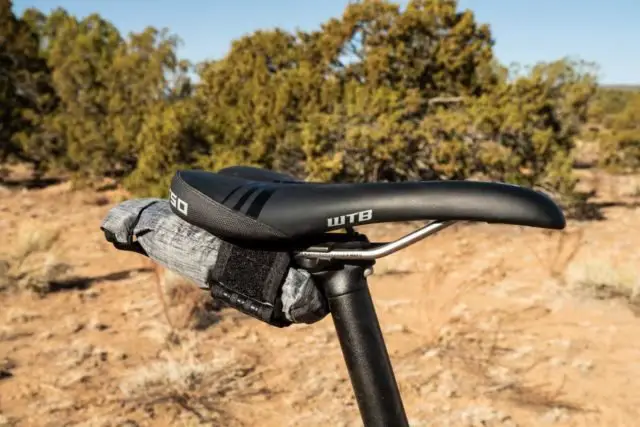 Pricing
0.6L TekLite bag and strap: $US 39.95
0.6L TekLite bag, strap, and mounting plate: $US 44.95
1L TekLite bag and strap: $US 44.95
1L TekLite bag, strap, and mounting plate: $US 49.95