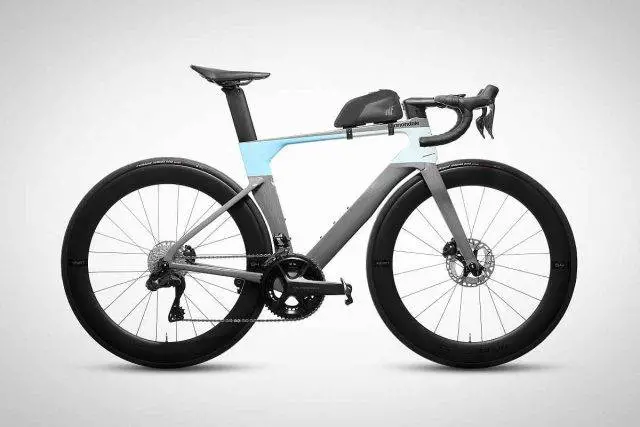 "The new Tailfin Top Tube Packs signal the next phase in the evolution of modern, technical bikepacking equipment. Here at Tailfin, we feel that riders shouldn't put up with equipment that compromises performance, so we focus on creating products that work better than anything else." – Tailfin Cycling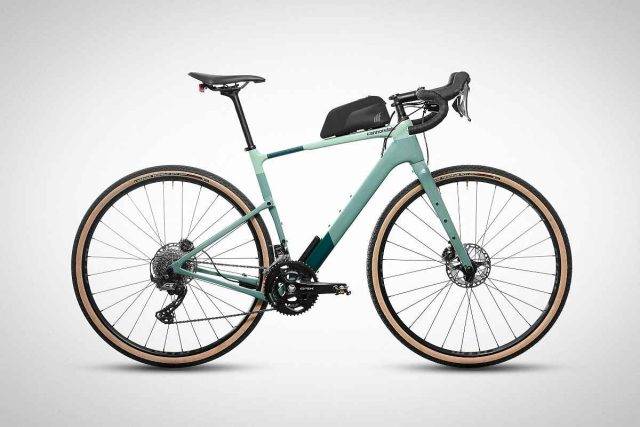 "Existing top tube packs often fall short in design and functionality, leaving riders with a suboptimal experience. With our new range of Top Tube Packs, we aim to eliminate these issues and annoyances and offer a complete selection that caters to all types of cycling, from road to gravel and mountain biking."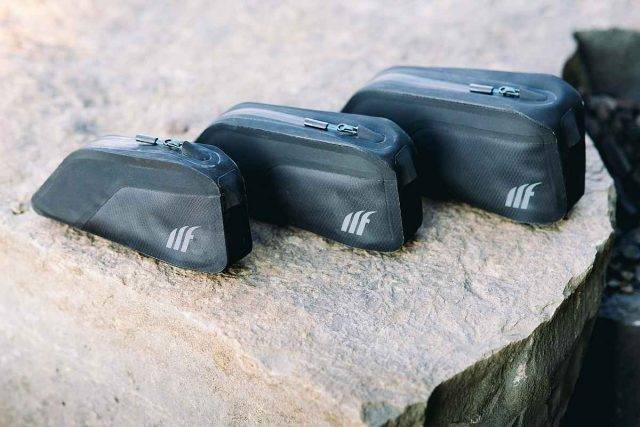 Top Tube Pack Need to Know
Three sizes of zip-opening Top Tube Pack: 0.8, 1.1 and 1.5 litre

Two sizes with flip-lid opening Top Tube Pack: 1.1 and 1.5 litre

Unique V-Mount hardware eliminates unwanted movement or frame rub

Flip Lid versions feature innovative and patented Mag-Lock closure system

Shaped to prevent knee rub (differs for varying pack volumes)

Aerodynamic teardrop shaping to blend smoothly with the stem

Ability to carry phones, battery packs and other heavy items in complete security, be it on chunky gravel or gnarly singletrack

No need for a stem/steerer tube front stabiliser strap

All versions can mount via dedicated TPU straps

OR

frame fit/direct mounting. No need to purchase two different versions for different bikes. Each pack ships with straps and screws.

Ships with a variety of replaceable straps to allow mounting to skinny steel tubes or large diameter Carbon MTB at the downtube/top tube union

Internal pocket large enough for most modern smartphones

Cable management port

Fully waterproof materials and 3D welded construction

Fully replaceable hardware

Shock absorbing insole aimed at preventing noise/rattle and damage to delicate electronics.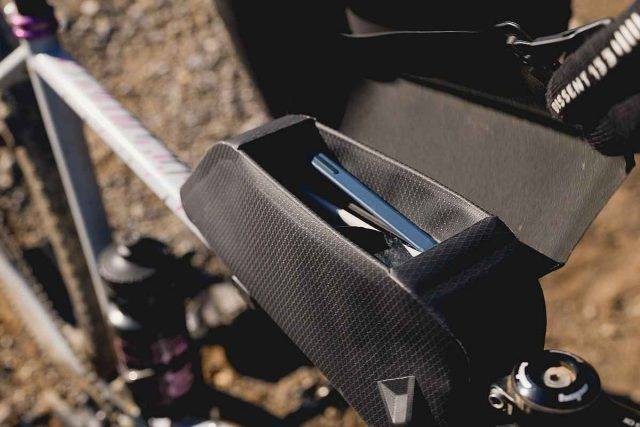 Why?
"As the home for Technical Bikepacking Equipment, we want to revolutionise how people experience adventure. We aim to create harmonious partnerships between riders and equipment, allowing them to focus on enjoying their ride and adventure. Our number one core principle is innovation, and we only release products once we have developed a product that outperforms every competitor in every requirement. As evidence of this, the new Top Tube Pack range has been two years in the making, from the initial planning and prototyping phase to production. The reason for this? Perfection. Every part, from material choice to the flip pack's magnetic closure, has been honed and perfected in-house. We have had a lot of help along the way thanks to our R&D Division riders, such as Lachlan Morton, who have been integral to the testing process. Thanks to their feedback, we have ended up with a full complement of five top tube packs, meeting the needs of every type of rider."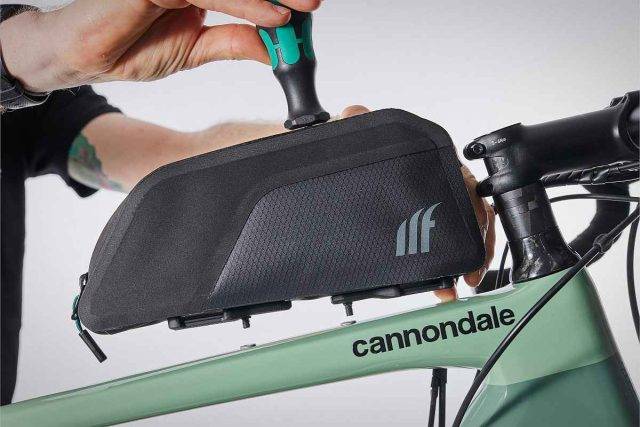 With something as simple, ubiquitous and prolific as a Top Tube Pack, there are a lot of excellent examples already out there, and some are loved by many. However, after numerous detailed conversations with our riders and other experts in the industry, it is evident that every single top tube pack has at least one aspect that compromises overall satisfaction. The fundamental problems found with existing packs demonstrated were:
Instability – wobbling side to side when loaded or knocked by the rider or when front strap is pulled by the handlebars.

Knee rub.

Frame rub – velcro straps combined with movement made short work of paint jobs.

Bulging when loaded – stuffing with kit led to increased knee rub/interference.

Waterproofing – many designs suffer from water ingress through stitched construction, non-waterproof zips or lightweight materials.

Straps or direct mount – choose one. Often two different versions are produced, so many riders must purchase multiples to fit various bikes.

Aesthetics – many look unwieldy, boxy or disproportionate to the bikes on which they are mounted.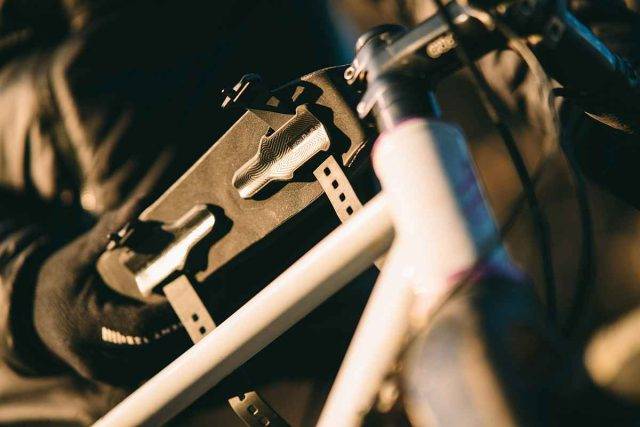 How?
"As with all our products, we aim to create the ultimate solutions. In this respect, our Top Tube Pack is no exception. Taking on board the critical features/problems of existing top tube packs, we set about creating the ultimate version."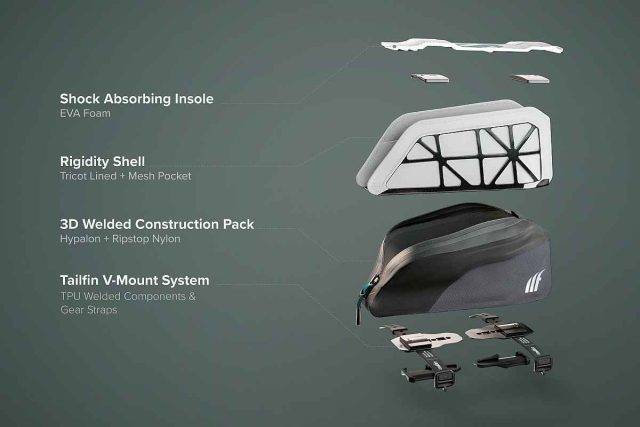 Curing Instability
"Without a doubt, the number one issue with all top tube packs is the propensity for unwanted movement, be it due to terrain-based vibrations or rider interaction (knocking to the side when getting on and off the bike, for example). Many existing packs fit well when the bike's top tube matches the pack's base width. They stop working well when it's either trying to grip narrow-diameter steel tubing or oversized carbon and alloy tubes. Luckily we already had the basis for the solution in the form of our proven V-Mount technology (found on our existing Downtube Packs). The V-Mount system combines many parts, all working together in harmony. From the tacky rubber pads to the abrasion-resistant and grippy TPU straps to the welded V-Mount tunnel/garage to how we transfer the rigidity to the internal HDPE 'Taco Shell'. It's the unification of these parts that create the magic."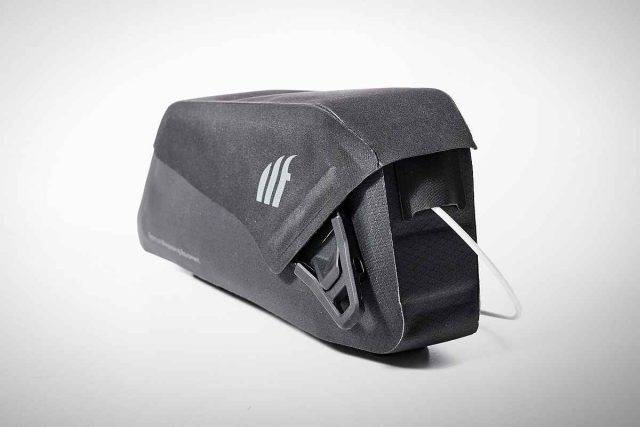 "We haven't taken the same V-Mounts from the Downtube Packs and just attached them to the bottom of the Top Tube Pack. These V-Mounts feature a completely revised design for dedicated use, forming a robust structure capable of withstanding any knocks from the rider alongside remaining locked in place regardless of riding conditions and terrain. This performance has allowed us to create a high-volume top tube pack and still guarantee complete stability even when used on smaller-diameter frame tubing."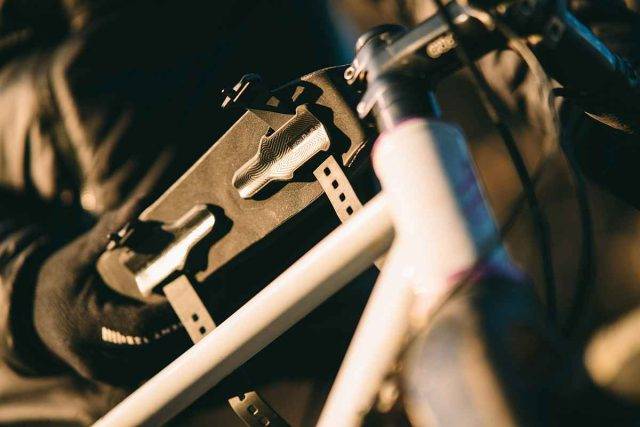 Eliminating Knee Rub
"Every rider is different. Through extensive research and body mapping, it was obvious that one of the limiting factors of a rider's use of top tube packs is the tendency for the pack to interfere with knee tracking. Riders with a narrow stance width or knee tracking that moves inward laterally often have problems, especially when riding out of the saddle or on road or gravel bikes with a shorter reach. We knew that eliminating knee rub across all sizes of top tube packs was impossible, so we focused on creating a multitude of volumes appropriate for different riders/bikes. Much like one shoe doesn't fit all, the same applies to top tube packs. The 0.8 Litre Zip Top Tube Pack offers the most clearance and features a radical 3-dimensional tapering designed to find the sweet spot between storage and interference, thus allowing more riders to use a top tube pack. Combine this with the stability created by our V-Mount attachment, and you would hardly know the 0.8 Litre Top Tube Pack was there."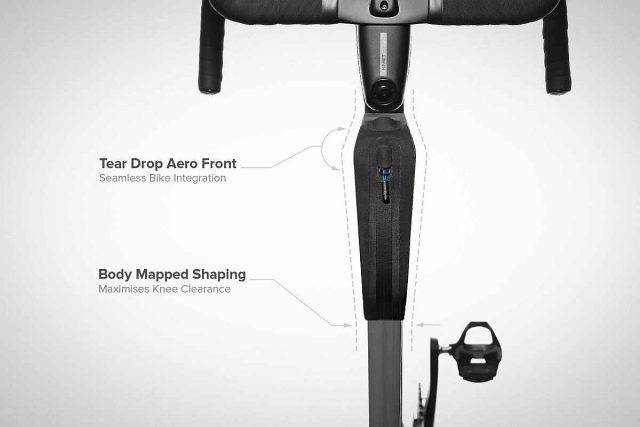 Protecting the Frame
"Normal top tube packs use velcro or other inherently unstable attachment methods that introduce a certain amount of movement to the pack whilst riding. Even when riding on dry and clean roads, this movement can damage the finish of your beloved bike and, in some extreme cases, cause actual damage to the frame itself. You could apply lots of helicopter tape to protect your frame or just mount one of our packs instead. Our V-Mount system with dedicated TPU straps stops movement completely when attached correctly. So even on multi-day expeditions in the worst conditions, you can be safe in the knowledge that a Tailfin Top Tube Pack will not cause any problems."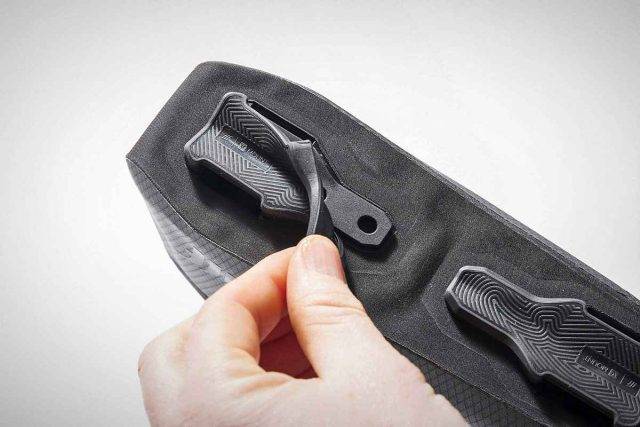 Making It Weatherproof
"Our entire Top Tube Pack range uses a revised, lighter version of Tailfin's signature Hypalon/Diamond Ripstop Nylon* mix to create a weather-proof pack. All packs feature our 3D welded construction process (no mean feat on such a small yet complex design), eliminating any potential weak points for water to get in. On top of this, all zips used are genuine, fully waterproof versions."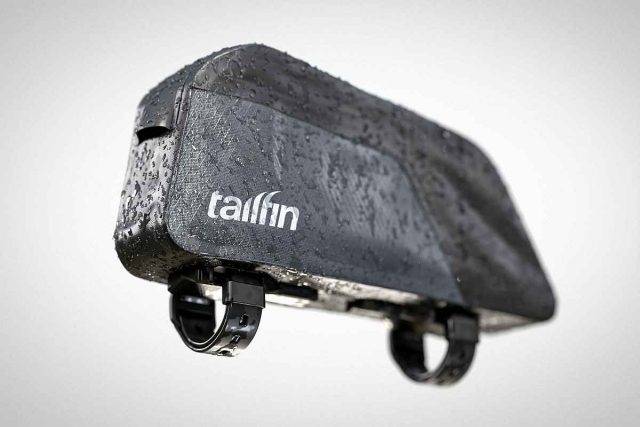 *Due to the lower wear and stresses placed on a top tube pack, we could incorporate a lighter-weight 210D Hypalon material without impacting durability.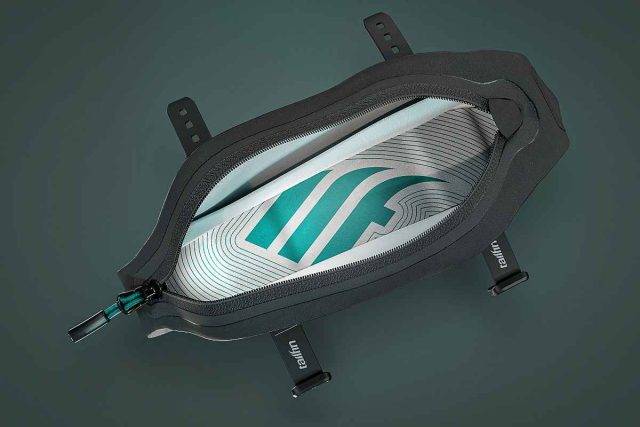 Mounting Options
"Now you can have your cake and eat it! All Tailfin Top Tube Packs can be mounted using the supplied TPU straps or bolt-on attachment with compatible frames. The V-Mount hardware provides two bolt-on configurations to place the pack exactly where you want it. In addition, the rubber boots of the V-Mount system are pre-cut to retain and allow the bolts to pass through neatly. Using the V-Mount in this way provides market-leading stability for a bolt-on top tube pack. This also allows for the load to be spread away from the frame's riv-nuts, minimising any potential damage when carrying heavier loads in your top tube pack."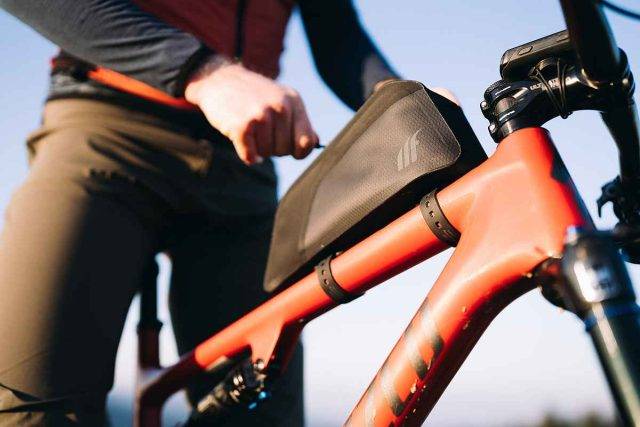 "The Tailfin Top Tube Pack has removable straps; this improves pack life, something sewn-on velcro straps can't compete with. We also ship all packs with an additional 36cm long TPU strap enabling setup on bikes with a large top/head/downtube union. You can even use two straps together for even larger applications. Once again, increasing the number of bikes the Tailfin Top Tube Pack is compatible with."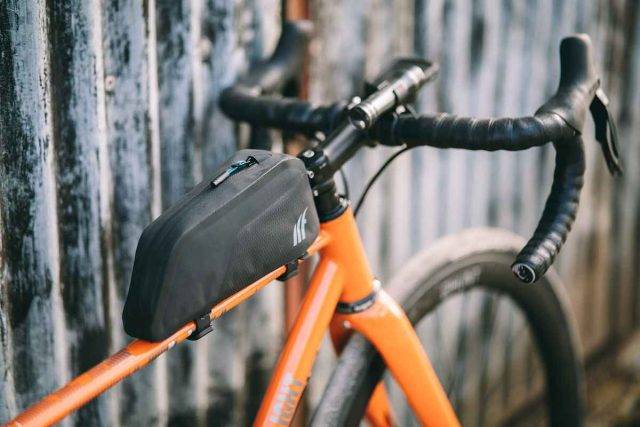 Tailfin from the Ground Up
"Our Flip Lid Top Tube Packs feature some very special parts designed to provide the very best user experience found in this pack style. From the beginning of the development phase, we weren't satisfied with the function of off-the-shelf closure systems; most 'auto-lock' styles can leave you second-guessing if they are really shut, not ideal when riding over bumpy terrain. So we created our own: Mag-Lock. Mag-Lock features a unique active-locking mechanism incorporating both mechanical and magnetic closure for complete security and peace of mind with a positive haptic feel. The integrated Cord-Lock adds additional stretch to the system preventing overstuffing from interfering with the safe closure of the pack. Intuitive, secure and child's-play to use even when wearing thick winter gloves, it's one of the most satisfying pieces of technical design we have created. Just don't ask how many prototypes were tested in its lifecycle!"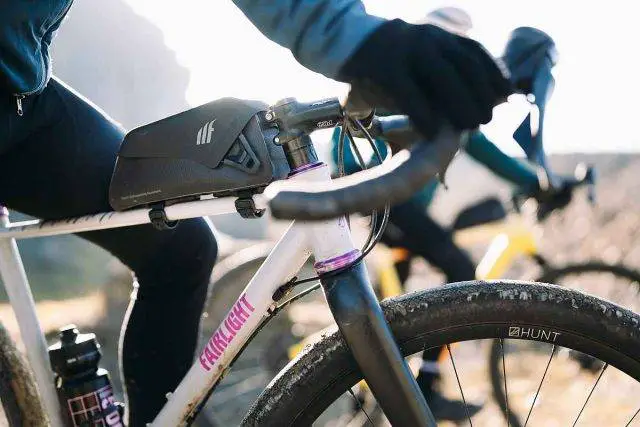 Suggested Use Cases
0.8 Litre Zip: Road, gravel or any application if knee rub is normally an issue for you.

1.1 Litre Zip/Flip: Road, gravel, MTB

1.5 Litre Zip/Flip: MTB or any application if more space is required and knee rub isn't an issue for you.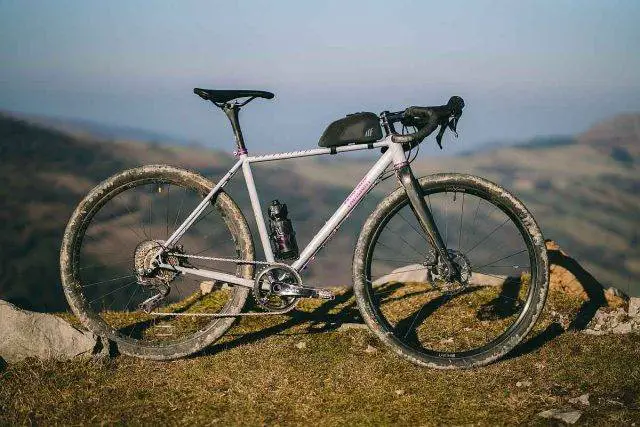 Specifications
Colour

: Tailfin Black

Volume:

0.8, 1.1 and 1.5-litre

Materials

: Hypalon/Ripstop Nylon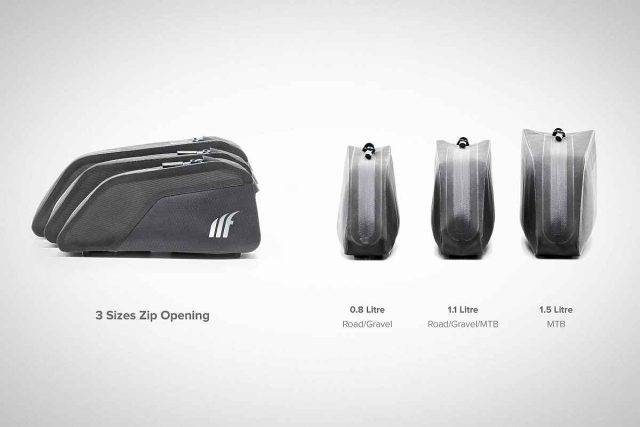 Weights (strap/bolt-on)

: 

0.8 Litre Zip – 150g/138g

1.1 Litre Zip – 165g/154g

1.5 Litre Zip – 190g/178g

1.1 Litre Flip – 179g/167g

1.5 Litre Flip – 199g/187g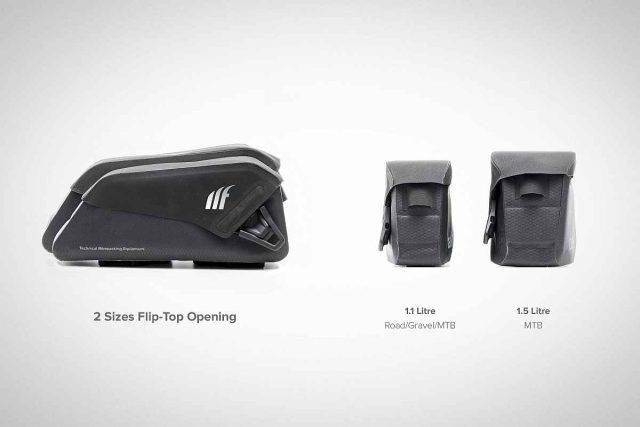 Pricing

: 

0.8 Litre Zip – £52/$65/€60

1.1 Litre Zip – £55/$70/€65

1.5 Litre Zip – £60/$75/€70

1.1 Litre Flip – £60/$75/€70

1.5 Litre Flip – £65/$80/€75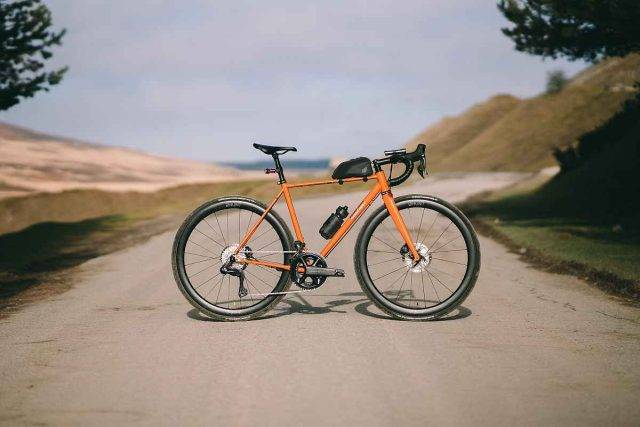 Warranty
"Tailfin believes in making high-quality products that you can absolutely trust. For that reason, we guarantee all our products against manufacturing defects for 5 years from the date of purchase. If your product fails due to a manufacturing defect – we will repair the product where possible and replace it when it is not."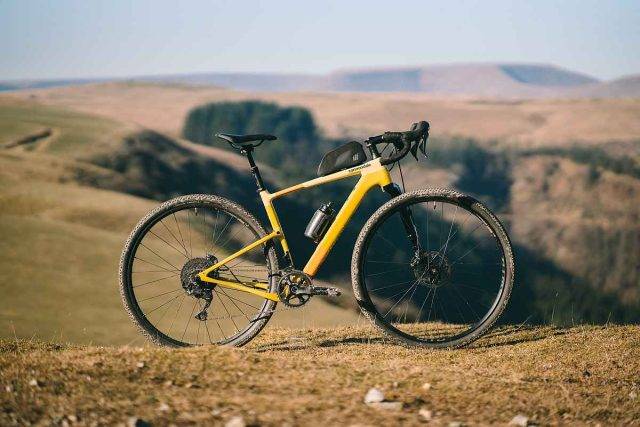 "If you are unfortunate enough to suffer a crash, then we want to help you get back on the bike. If your Tailfin products are damaged as the result of a crash, then we will arrange a 30% discount for you on a like-for-like replacement."