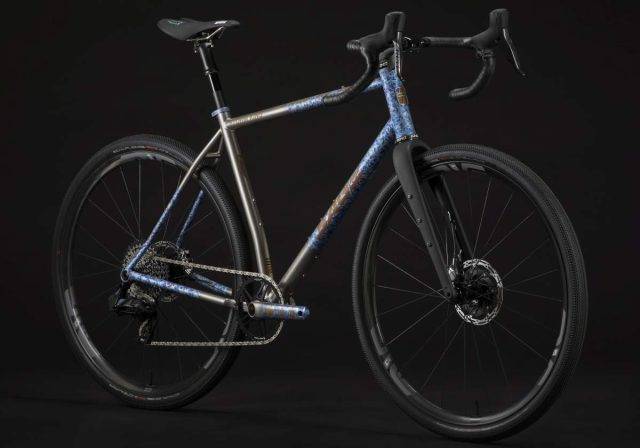 Modern adventure race geometry, 50mm tires, and stealth routing bring things up to speed.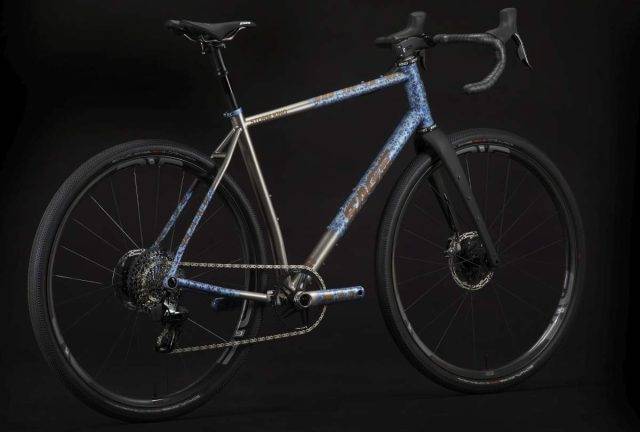 Sage Titanium's Storm King is the gravel bike to grab when the day's rides touch on everything from smooth gravel to chunky singletrack, where a higher variety of miles mean much bigger smiles and timed splits come in equal measure with technical bits.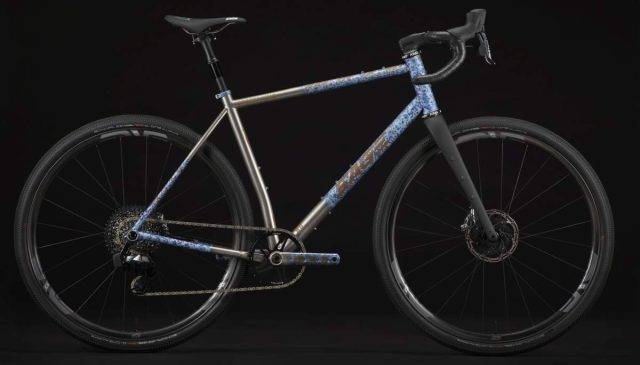 This latest version is now ready for even gnarlier courses and future components thanks to new geometry, design, and spec updates, with the ability to fit monstrous 50mm tires.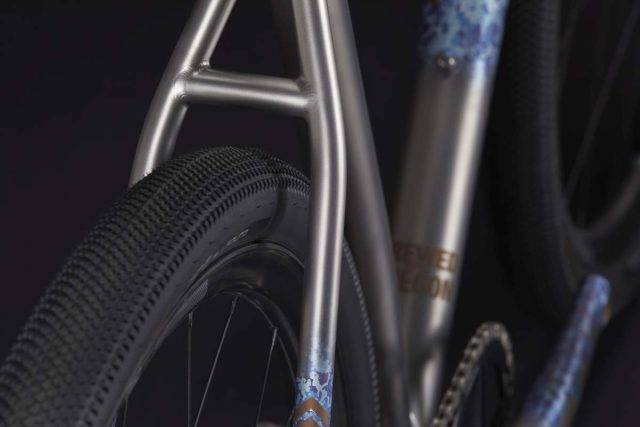 Storm King V2 Highlights
3D printed chainstay yoke

3D Printed dropouts with UDH / SRAM T-Type compatibility

Full internal routing

US-sourced Titanium & US-made frame

700 x 50mm tire clearance

Longer reach w/ shorter stems for virtually no toe overlap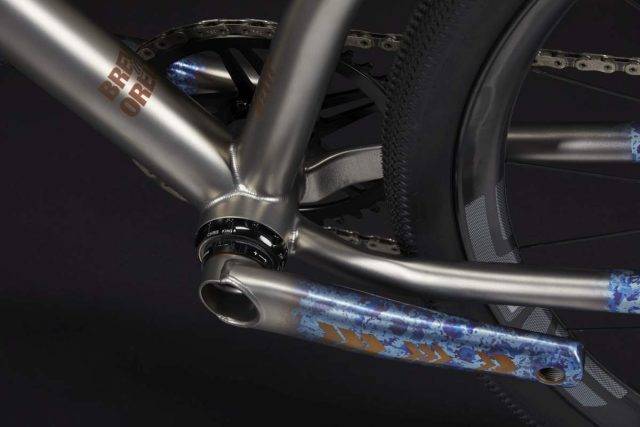 Increased Tyre / Tire Clearance
If you want to ride anywhere, you need tires big enough to grab the ground and bolster your confidence, and it doesn't get much bigger than 50mm (2.0 inches) on a gravel bike… Or does it?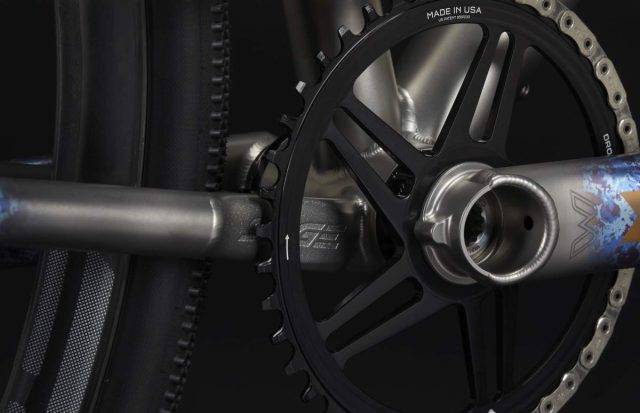 The new Storm King v2 has two chainstay yoke options, letting you grow from 700 x 50 to 650B x 2.4" max tire sizes.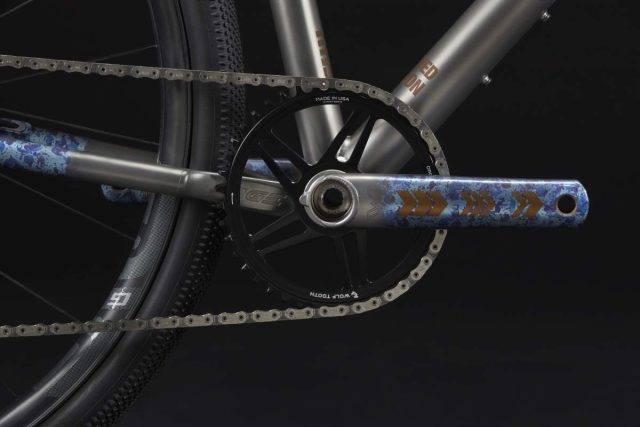 Both yokes keep the same geometry across the rest of the frame, and both options are paired with an ENVE Adventure Fork, which accommodates either wheel-and-tire combo.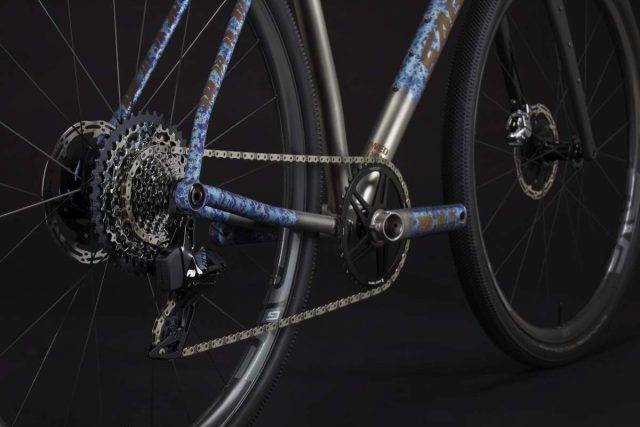 Why not just go big? The standard yoke maintains double chainring compatibility with 48/31 Shimano GRX and 43/30 SRAM Wide 2x groups, or up to a 46-tooth single chainring. The wider "Gravel+" Yoke is only compatible with 1x drivetrains up to 44-tooth chainrings and wide spaced cranksets.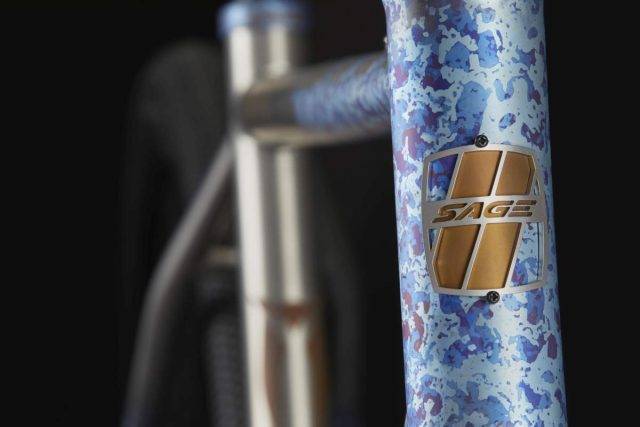 Revised Geometry
The tricks with adding larger tire clearance go beyond making room for more rubber. Pushing the chainstays wider affects chainring options, and increasing the rolling diameter gets things closer to your toes at the front of the pedal stroke.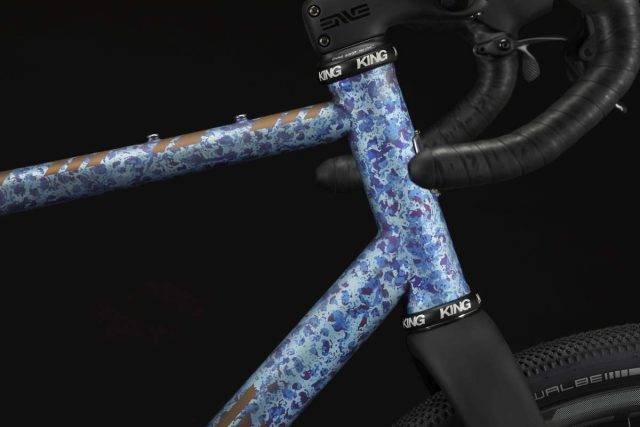 To address the latter, the new Storm King stretches the top tube and reach by 2cm across the size range, and pulls back stem lengths by the same amount. This moves the tire forward, adding 20mm of toe clearance, which founder Dave Rosen says all but eliminates the chance of your shoes rubbing the front tire during aggressive maneuvering.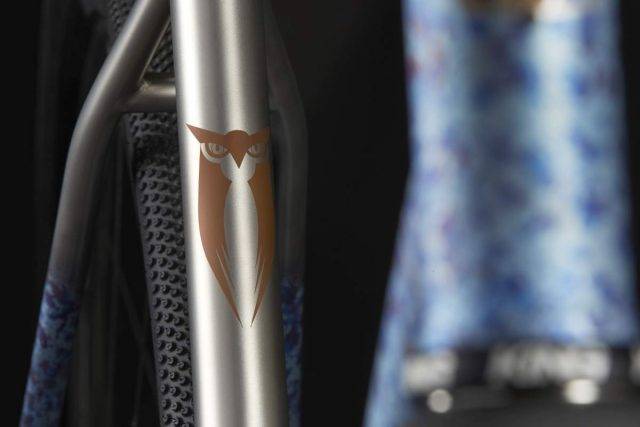 The added benefit is a slightly longer wheelbase, which enhances high speed stability on rough terrain. The shorter stems speed up the steering at lower speeds, with a shorter lever to move, providing a stable yet responsive ride quality that encourages riders to push a little harder.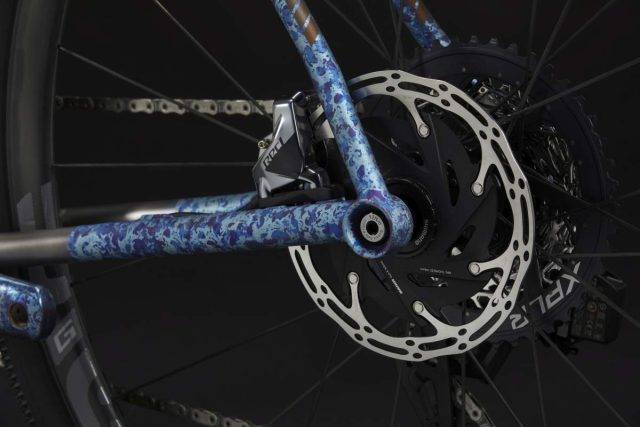 3-D Printed Parts & Internal Routing
The other trick is chainstay clearance. Sage redesigned the svelte 3D printed chainstay yoke, first introduced on their Powerline hardtail MTB, for maximum tire and chainring clearance as well as compatibility on the new Storm King.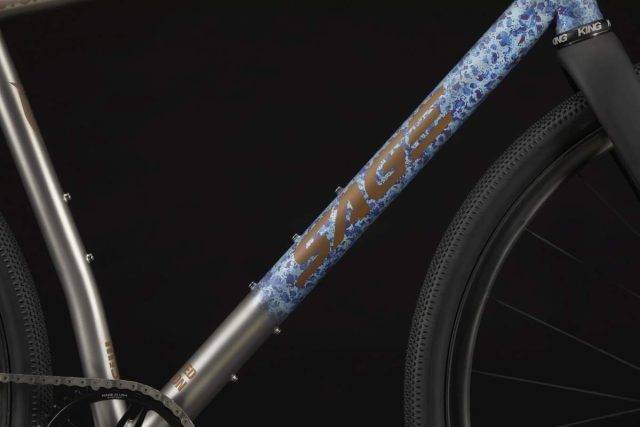 The additive manufacturing technique not only produces a strong (and beautiful) part, it also allows for more flexibility with geometry, and the Storm King provides all of that clearance while keeping short 42.3-42.5mm chainstays.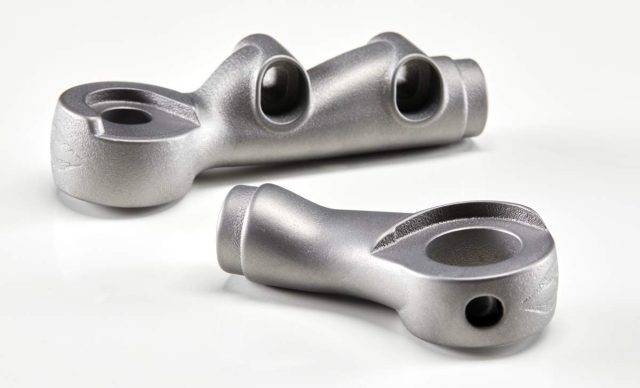 The Storm King v2 also gets their new 3D-printed dropouts, but with a new gravel optimized design. Not shown on this bike* are all-new, gravel-specific dropouts with both UDH and T-Type compatibility.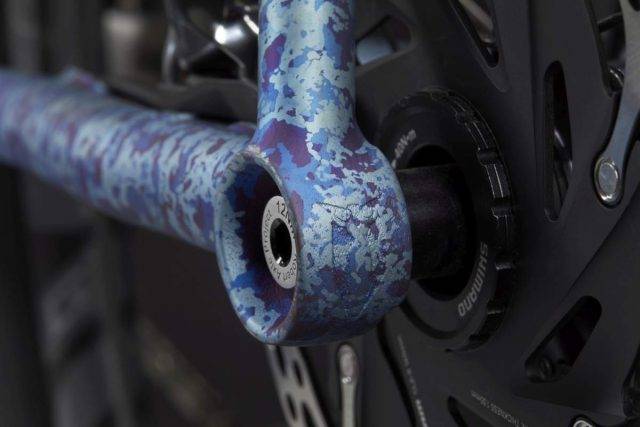 Many of the UDH-equipped road and gravel bikes on the market use SRAM's universal derailleur hanger but haven't designed the entire dropout for T-Type "Transmission" drivetrain compatibility. The new Storm King's dropouts will work with both, offering riders a future-proof design.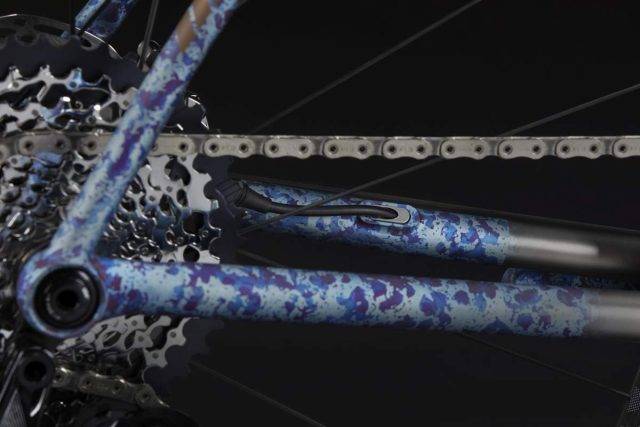 "Titanium bikes are often called 'lifetime' bikes because of the frame's durability and repairability," says Rosen. "By ensuring compatibility with current and next generation drivetrains, components, and all the tire sizes, the Storm King is truly a gravel bike we can ride for decades to come."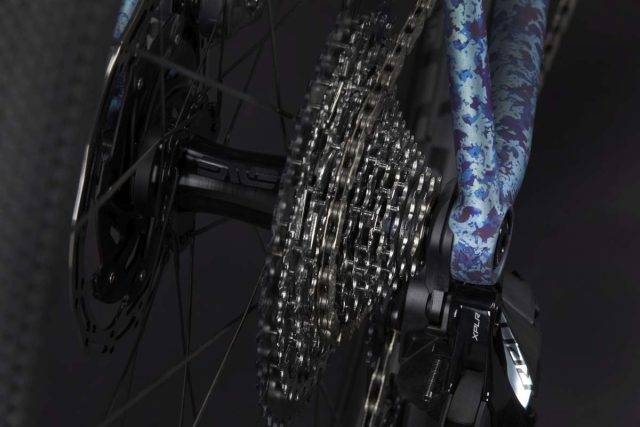 What about Suspension?
Our Storm King GP is the suspension-corrected option, named for the Gifford Pinchot National Forest, one of our favorite spots to get rowdy in the woods. It has a shorter head tube to accommodate taller forks, optimized for 40-50mm travel gravel suspension forks.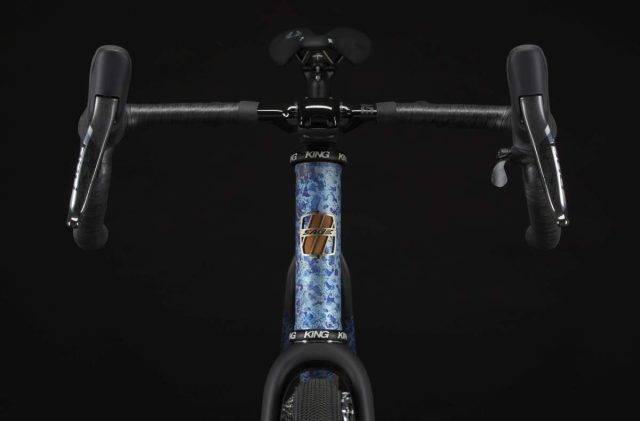 Geometry Chart

Prices & Specifications
700×50 or 650×2.4" tire clearance

142×12 / 100×12 Standard Thru Axle Spacing

T47 bottom bracket

Internal Rear Brake, Shifter Cable & Dropper Post

1x and 2x Drivetrain Compatibility

Mechanical and Electronic Drivetrain compatible

44mm straight headtube fits any fork

Made in USA 3/2.5 titanium tubing (US sourced, frame is US made, too)

3 bottle mounts on all frame sizes (two inside, one underneath)

Dropper post routing optional
Frame price is $6,000, framesets from ~$6,500. Complete bikes are built to order with your choice of drivetrains, forks, wheels, tires, and cockpit. Average bike prices range from $9,500 to $14,000 including choice of finish.
Available now at SageTitanium.com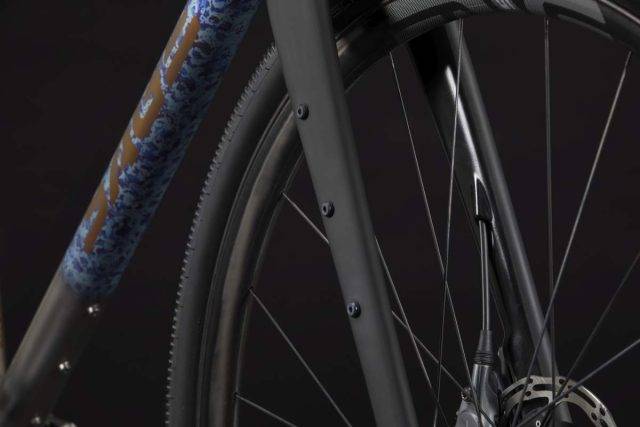 About that Dropout & New Stuff
Want the inside scoop? Want to see something before anyone else? Swing by our booth at the MADE Bike Show August 24-27, 2023, and check out our brand new T-Type compatible 3D printed dropouts in person.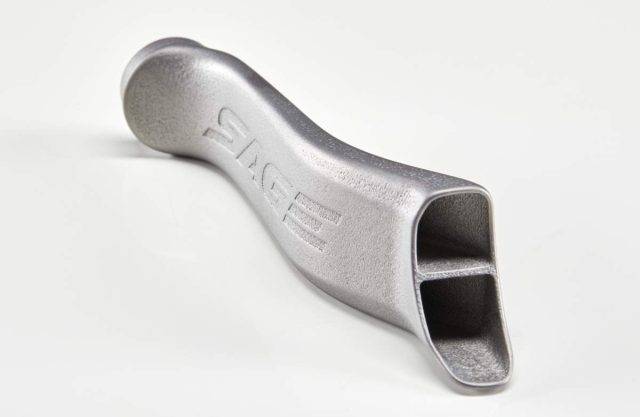 The dropouts shown on this bike use our standard UDH-compatible 3D-printed dropout, however all new bikes are shipping with the T-Type compatible version.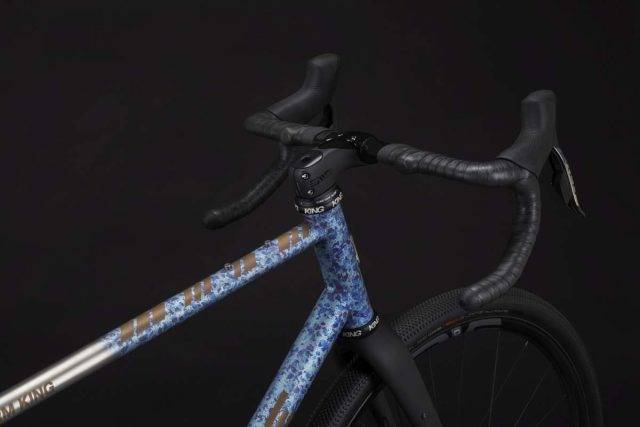 We'll also have our upcoming PDXCX cyclocross bike reboot, which gets some of the same updates as the Storm King, including increased tire clearance, 3D-printed sections, and stealth routing, and…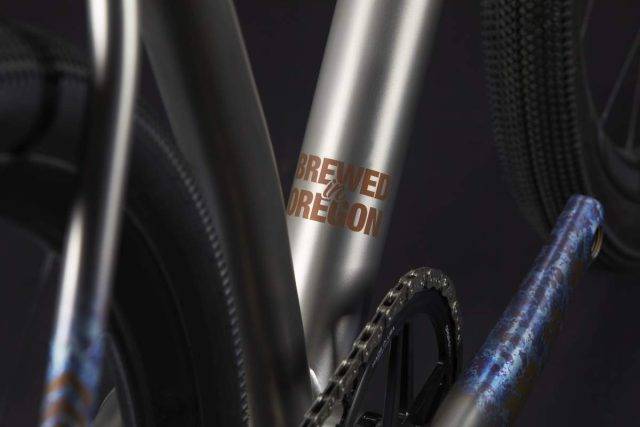 A SWEET blacked-out Barlow with the new Campagnolo Super Record Wireless group on it. This one's a showstopper, and you'll be the first to see it at the show!
Additional Photos