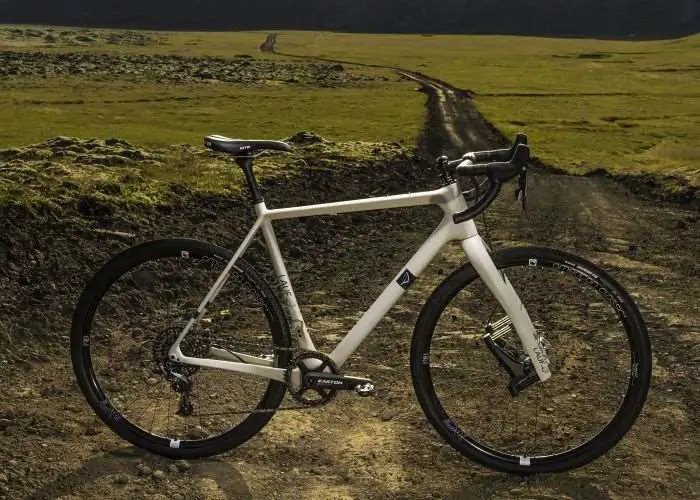 Lauf True Grit
Having spent the last few years studying gravel bikes and gravel riding, in a way, the Lauf True Grit is something that "just happened". In the beginning, it was a question of "How our Lauf forks could best complement gravel bikes?". That question soon developed into "What are the optimal parameters for our forks and gravel bikes to work together?". Which then eventually became "What would be the ultimate gravel bike?". In the end, we simply couldn´t resist making the gravel bike of our dreams.
We wanted our dream bike to be fast, but at the same time, stable and confidence inspiring (because you'll dare to ride faster on a bike that you are confident on). We wanted it to be light, but without compromising durability and ease of maintenance. We wanted it to go cleanly about things. Be confidently designed towards clear goals. Of course, it should have a bottle opener!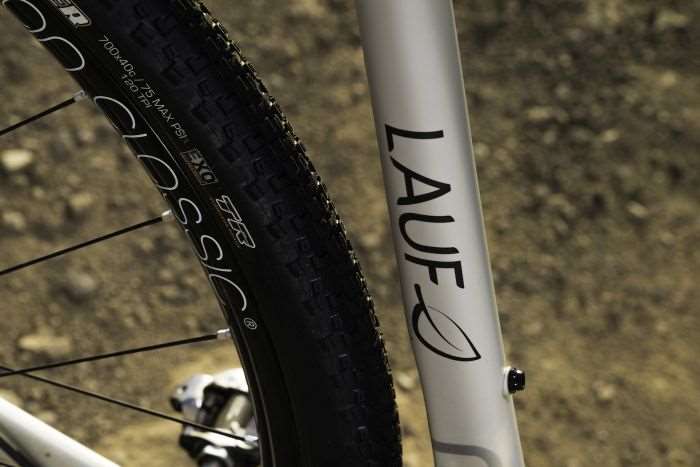 We wanted it to be a no-compromise long-distance race-oriented gravel bike. A bike that would also become a rider's first pick for all his "usual" everyday riding; paved roads, gravel, singletracks and everything life throws at us as cyclists (unexpected potholes, snow, ice, etc.).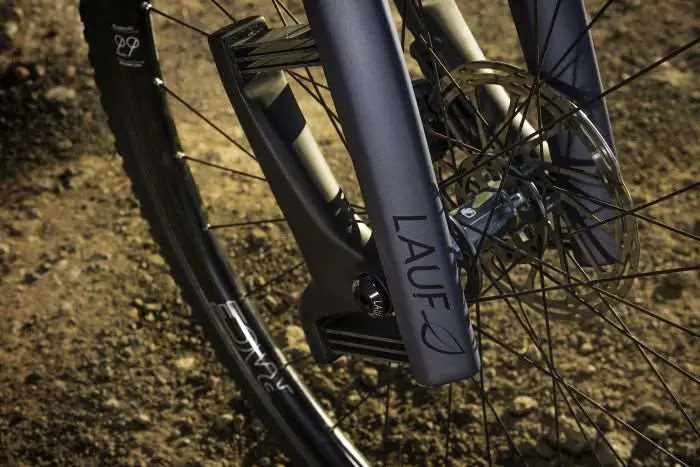 As we were no longer designing just a fork, but a bike and a fork together, we made a True Grit specific redesign of our beloved Grit fork. We also used the opportunity to take advantage of our latest break-through developments in spring design, which allowed us to use 7mm shorter springs with no impact on (the endless) durability or performance. The result is the new Grit SL. It has an integrated 1.5" crown race and has gained further lateral- and fore/aft stiffness, while also losing around 50g. The new Grit SL will accompany the existing Grit fork in the Lauf product family.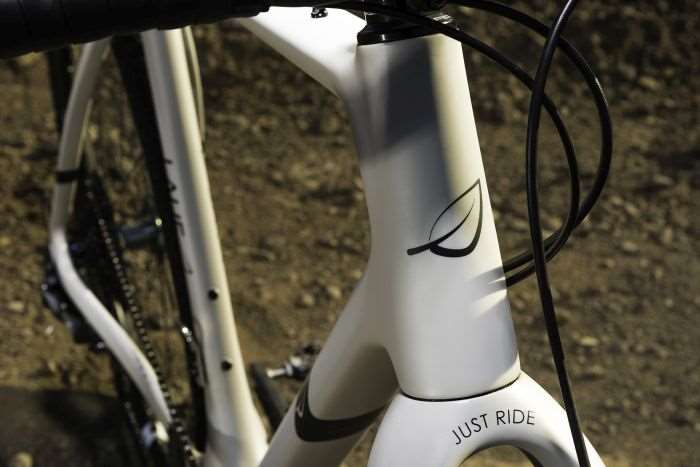 Lauf Grit Carbon Frame
By using advanced molding and layup technologies, bonded junctions were avoided and internal surfaces kept smooth. Resulting in longer continuous carbon fibers and less unwanted material overlap. Creating a light, yet strong frame. The bottom bracket is a threaded BSA. Yes, it's more expensive to make than press-fit bottom brackets and it may add a few grams. However, its durability and ease of maintenance make it worth it. At the rear, the True Grit boasts a 142x12mm through axle and a flat-mount for disc brakes. The headtube is tapered (1 1/8" to 1.5"). There are 3x bottle cage mounts and a mount on the top tube for a bento box. What does the frame weigh? 1070g for a size M frame in Midnight Blue, including front and rear derailleur hangers.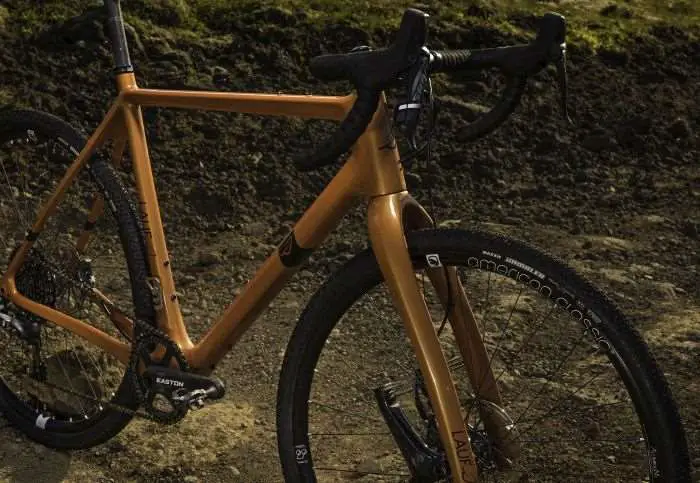 Long 4 Speed – Geometry
The long top-tube paired with a short-ish stem, low head tube, and a slack head angle gives you a low and aerodynamic position with great stability at high speeds and in rough terrain. Making you Long 4 Speed.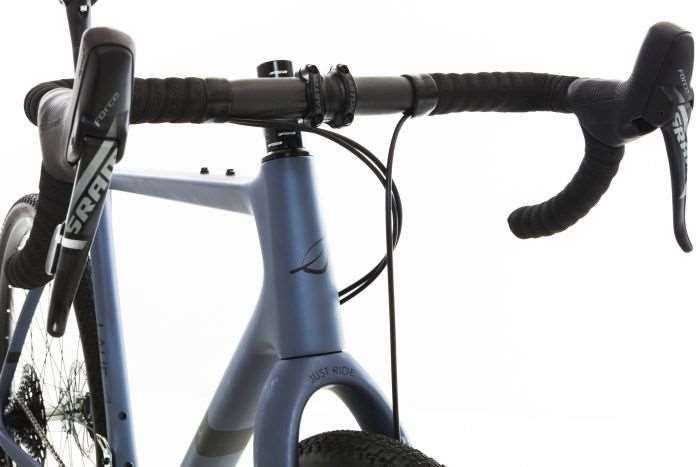 In-N-Out Cabling
With In-N-Out Cabling, the rear derailleur cable and rear disc brake hose have entry points at the headtube, then they miraculously pop out at the optimal locations. No hassle and no annoying rattling inside the frame. Some might call it voodoo but we call it Lauf'ing Out Loud engineering.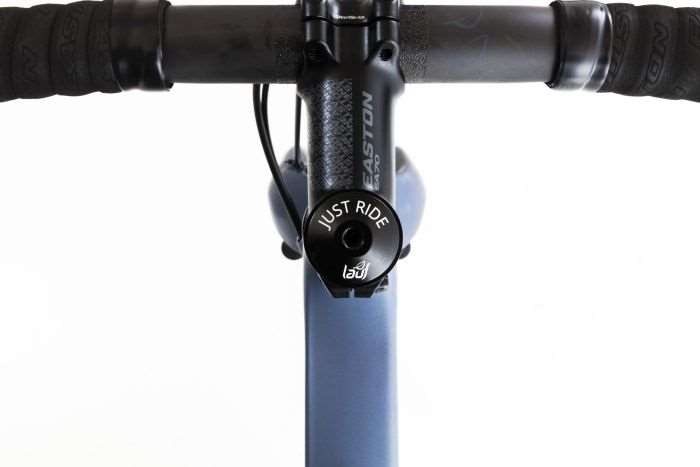 Beer or Gear
The Beer Or Gear front derailleur design opens up endless possibilities. Most True Grit riders are going to want the mechanical robustness and simplicity of 1×11 drivetrains. These riders will get a bottle opener where a front derailleur would otherwise be. However, there will be some road-biased True Grit riders that want to get the classically tight gear spacing of a road bike (while the gear range of a 1×11 and 2×11 is actually almost the same). These riders have the option of using SRAM eTap 2×11 drivetrains.*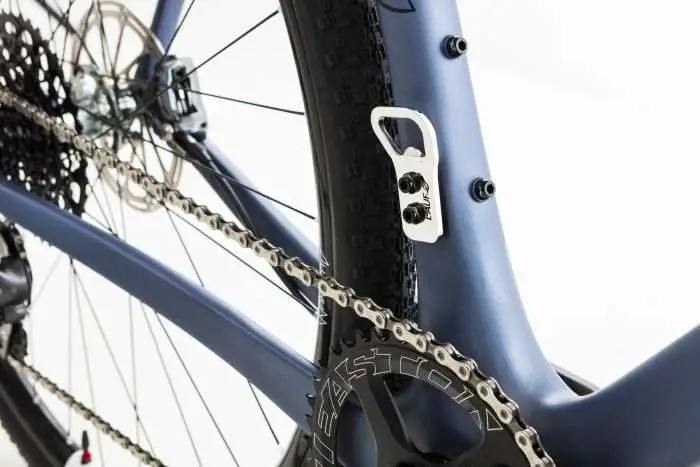 *Our cyclist behavioral studies show that riders longing for tight gear spacing are least likely to have an après beer, so they'll probably not even notice that they are missing a bottle opener. They are also not likely to ride unsupported across Siberia, so we don't worry about dead shifter batteries. Hence, the True Grit has no cable routing for a front derailleur.
JOM of Gravel Cyclist says: Guys at Lauf, the bottle opener is a fun idea, but not drilling a hole for a front derailleur cable, mechanical or electronic is a major faux pas. This forces buyers to use only one 2X drivetrain on this bike, SRAM Etap. Riders like choices. How long before someone drills their own hole for Di2? 🙂
Right Amount of Clearance
The True Grit can take up to 45mm 700c tires* – with ample room for the elements. That's a whole lot of rubber when things get dirty. We call it the right amount of clearance, and we managed to achieve it with our preferred 425mm chainstay length, without intruding on the space for the crankset.
*Bikes with eTap front derailleurs are limited to 40mm tires at the rear, due to battery/tire clearance.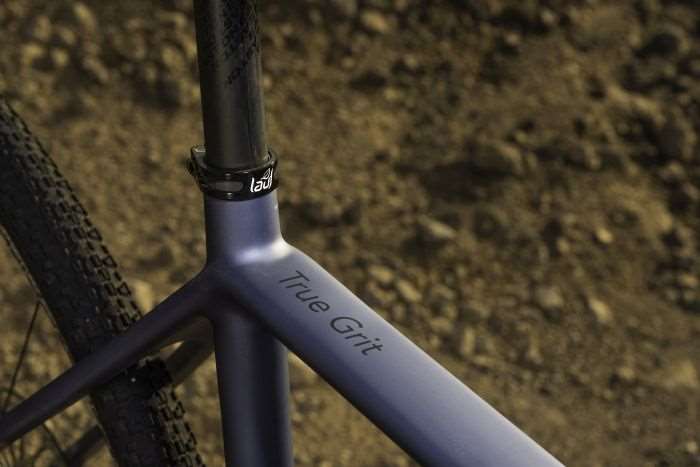 Lauf Grit SL Fork
At the core of True Grit is the Lauf Grit SL, with its 30mm of front suspension – the thing that changed how gravel riding is perceived, now taken to the next level. It's more compact, lighter and stiffer (laterally and fore/aft) than the standard version. Grit SL has superb small bump performance and maintains traction and control like no other. Making the ride more comfortable, with zero maintenance.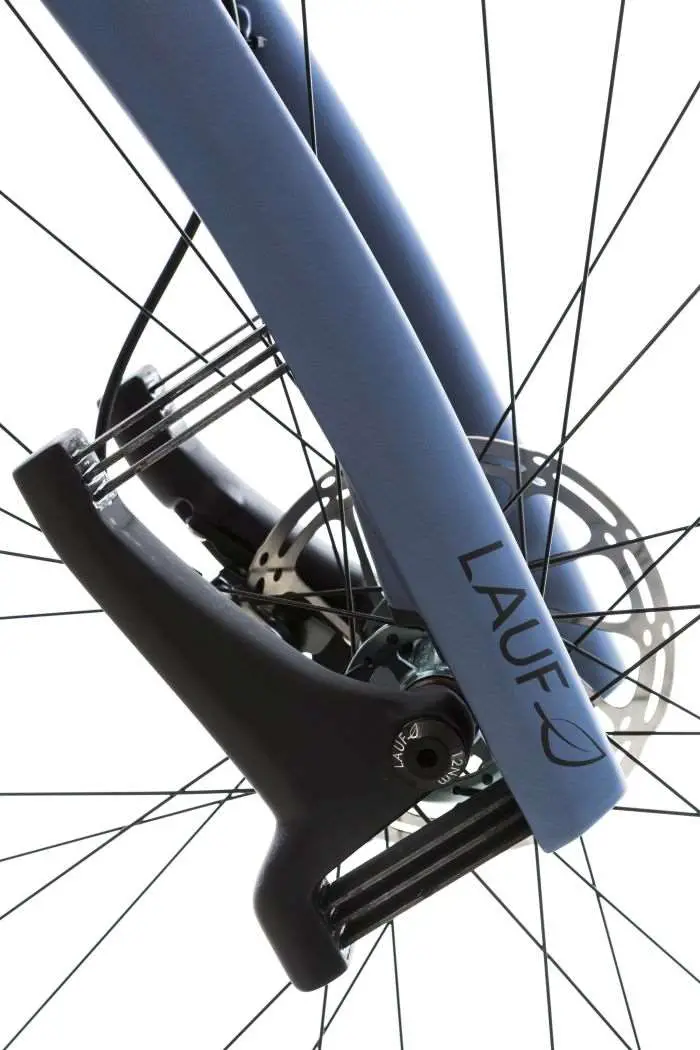 Below – Grit SL Fork Tech Update from our friends at BikeRumor.com
"Updated construction of the individual leafs themselves, which Lauf was able to shorten by 7mm while maintaining their almost infinite durability, actually drove the ability to straighten out the legs. Shortening the leafs meant they also ever-so-slightly changed their angle of attack to be a bit steeper as well to maintain the same 30mm of travel. The result on the suspension action is a fork that somehow both resists moving in the early travel & still eats up the little bumps. And at the same time it keeps the progressive spring rate of the original for a bottomless feel (as much as 30mm can feel bottomless)."
"Together with a move to 1.5″-1.125″ tapered carbon steerer tube, the shorter leafs helped the new fork to be stiffer both laterally and fore/aft. The bigger steerer taper also allowed for a lower profile crown that bumps tire clearance up to 45mm."
"A side benefit to all those little updates is that the new Grit SL lives up to its super light moniker by dropping 50g to a claimed 850g."
"The Grit SL retains the same 30mm travel and 47mm rake. It grows 3mm taller with a sag corrected axle-to-crown measurement of 412mm. The 1.5″ tapered steerer with an integrated crown race can still be adapted to fit 1 1/4″ (or 1 3/8″) frames thanks to a spacer/reducer that adds ~6mm more stack."
"In the forks on the True Grit framesets, Lauf has changed their paint scheme to match the fork legs to the frame, while leaving the leafs & unsprung element of the fork black to disappear from the eye. We expect similar color options as shown here for aftermarket, plus an all-black color."
"In the end the new Grit SL fork might be bigger news than the True Grit frame itself, as it has broader applications. Sure, a bunch of people are going to buy the new True Grit complete with the fork, but once it is available to OEMs & aftermarket, I'd guess that the Grit SL will end up on a lot of other bikes too."
"That said, Lauf were a bit hesitant to talk concretely about OEM or aftermarket availability of the new fork right away or even pricing on its own. For now their focus is on the new True Grit frameset including the new fork. And for sure they want to prioritize consumers who want to buy the frame & fork combo direct from them."
"But the separate Grit SL suspension gravel fork is coming, most likely with individual fork availability at the end of 2017. It will cost a bit more than the $790 Grit, but isn't likely to run much more than their mountain bike forks."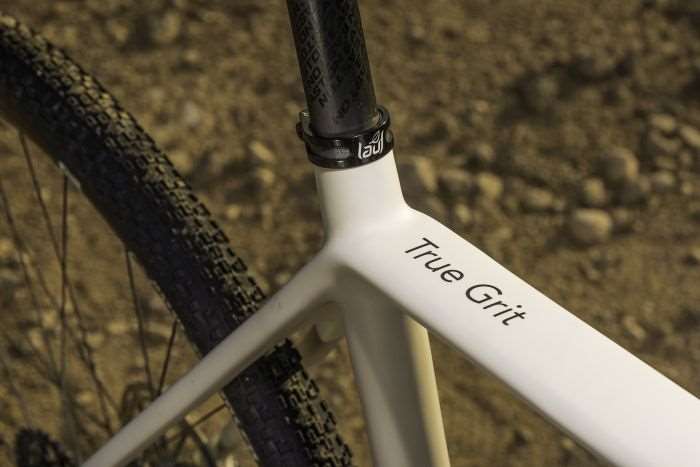 Bikes:
The Lauf True Grit is available in three build kits:
Weekend Warrior 1 x 11
Race Edition 1 x 11
Race Edition Wireless – 2 x 11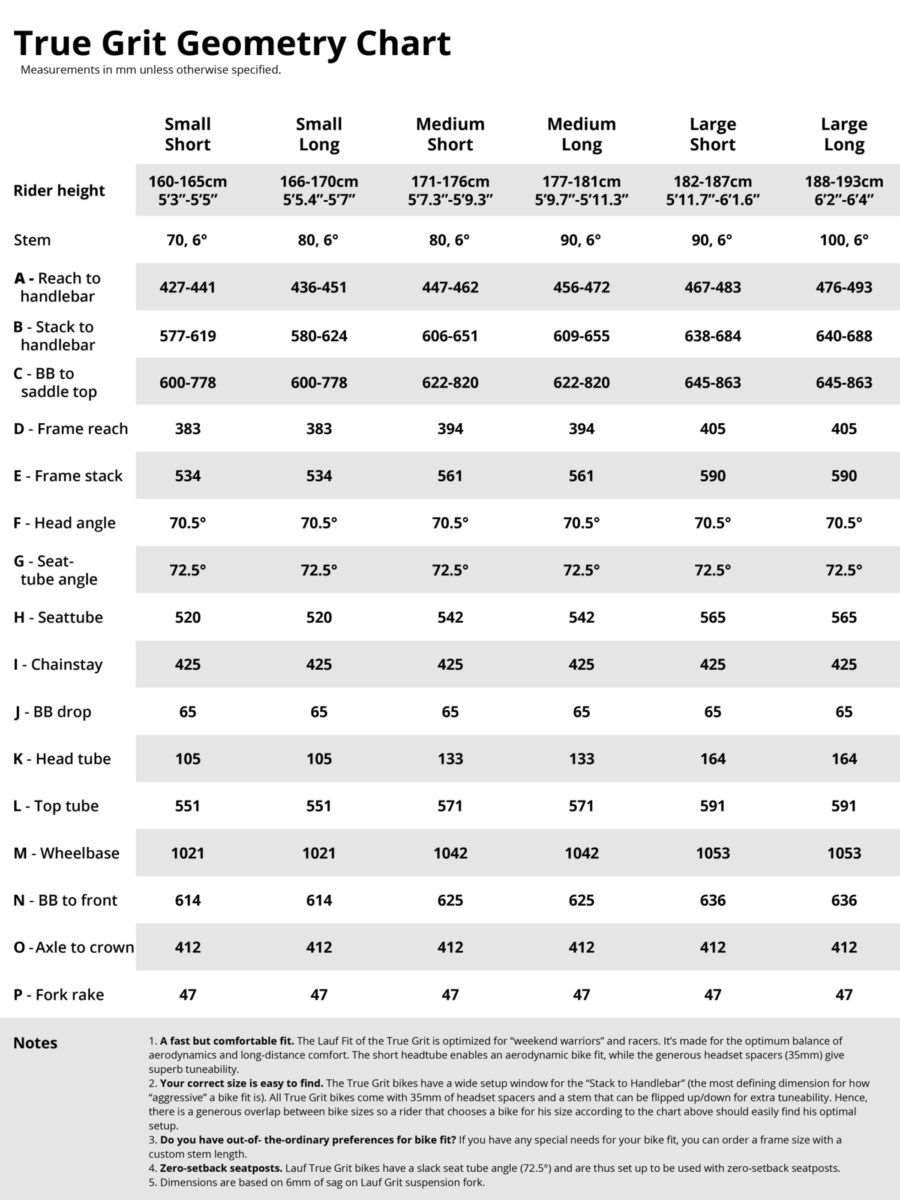 Five colors to choose from, so there should be a bike just for you!
Pricing and further details can be seen on Lauf's website.