ENVE has announced an update to their popular compact carbon Road Handlebar, now plumbed for internal wiring, compatibility with Shimano's bar-end junction boxes and offered in additional 38 and 46mm widths. Handlebars are a very personal choice, but this handlebar is capable of tackling a road race, or knocking it out all day for 200 miles at Dirty Kanza.

"The ENVE Compact Road Handlebar features shaping that can be defined as functionally ergonomic; there are no round sections on the bar except for the clamping zone, yet the subtle shaping on top and in the drops of the bar provide comfortable hand positions and confident handling on the road. It maintains the same popular geometry as its predecessor with a short 79mm reach and shallow 127mm drop, offered in 38, 40, 42, 44 and 46cm widths, center to center at hoods." – ENVE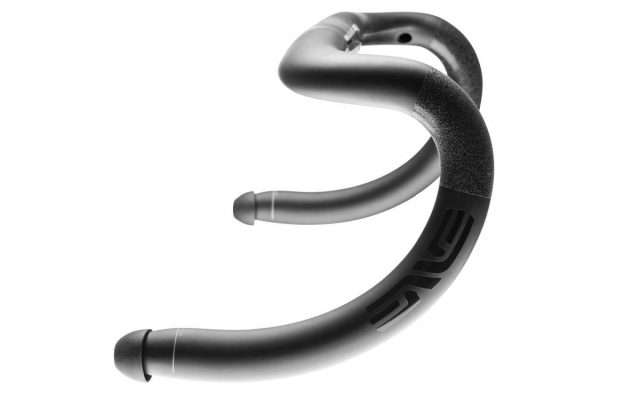 Technical Details:
Width C to C in drops: 40, 42, 44, 46, 48
Reach: 79
Drop: 127
Clamp diameter: 31.8
Weights:  212g, 216g, 220g, 229g, 230g
MSRP: USD $350
Don't forget! If you're looking for a purpose-built carbon drop bar specifically designed to improve the off-road drop bar ride experience, check out the ENVE G-Series Gravel handlebar – Link to G-Series Gravel handlebar press release.
Further images provided by ENVE