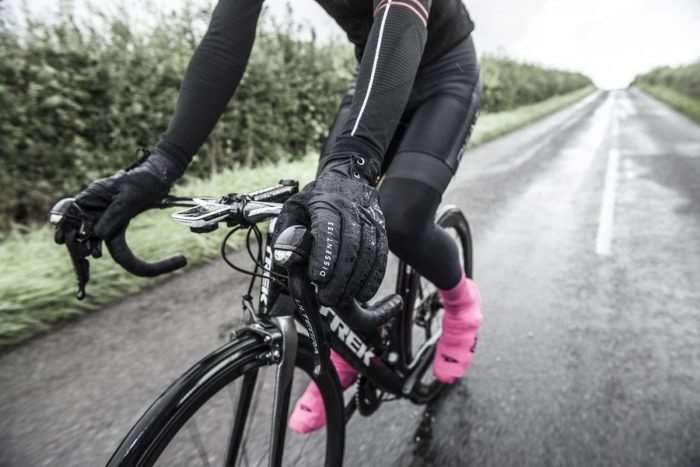 Just think how you prepare your body for a cold / wet weather ride – gravel or otherwise. Layering. Dissent 133 introduces the concept of glove layering, the same way any rider would consider layering on their upper body; base layer, thermal mid layer, windproof or waterproof jacket. All of which combine a possible 11 combinations depending on what layers are needed for the weather conditions. This concept isn't new, but Dissent 133 bring a fresh take on an old idea.
Technical Details
The outer gloves feature a unique closure system that provides one-handed tightening, extra width at the knuckles for easy fitting/removal mid-ride, and all with full coverage (no hole/slots for the weather to get in). The outermost layer provides a waterproof rating of 10,000mm and breathability of 20,000g/m2. It is also durable thanks to the woven Schoeller external face fabric.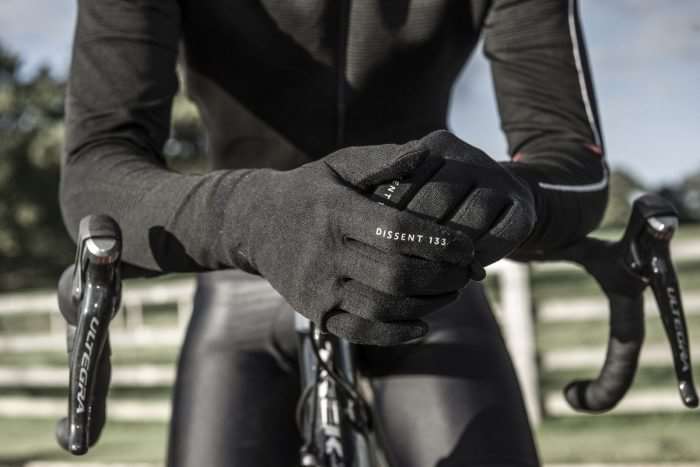 The OutDry membrane technology is owned by Columbia Sportswear and allows for a highly flexible breathable membrane that is pre-formed in the shape of the glove and then bonded to the Schoeller fabric with thousands of hot melt dots. This makes them 'as one' with a very strong join and no gaps between the fabric and membrane. Instead, the Schoeller Nanosphere DWR treatment and OutDry membrane shed water extremely quickly keeping the thermal layers completely dry and your hands warm.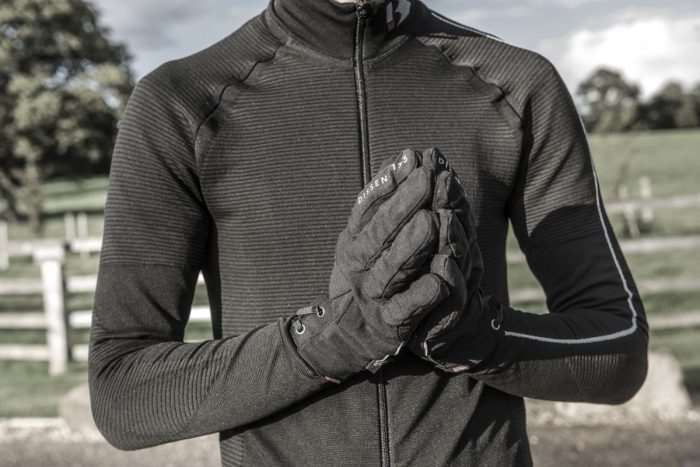 Key Features
Designed to fit over other gloves and provide water and wind protection.
Incredibly light and flexible construction; excellent dexterity for gear shifts and braking.
High Waterproof rating of over 10,000mm WPR (Water Permeability Rating),  thanks to patented OutDry® technology.
Excellent breathability; more than 20,000g/m2/day WVP (Water Vapour Permeability).
High and permanent elasticity, owing to high tensile strength.
Lightweight but durable, thanks to Schoeller fabric, ideal for easy packing in your jersey pockets.
Secure tightening through the v-shaped Velcro waterproof opening, with a loop to allow for easy access, whether on the bike or off.
Nose wipe on thumb.
Touch-screen fingertips for easy use of mobile device.
Reflective side strip.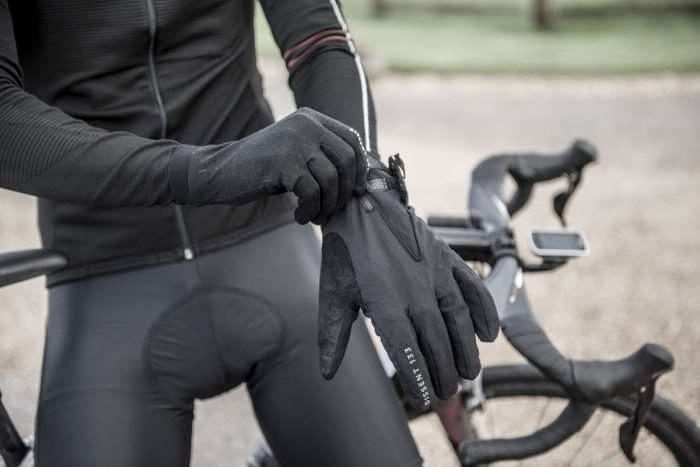 The unique Dissent 133 OutDry®Lite waterproof cycling outer glove is an innovative concept, and the most technically advanced of the three layers, itself featuring several key parts.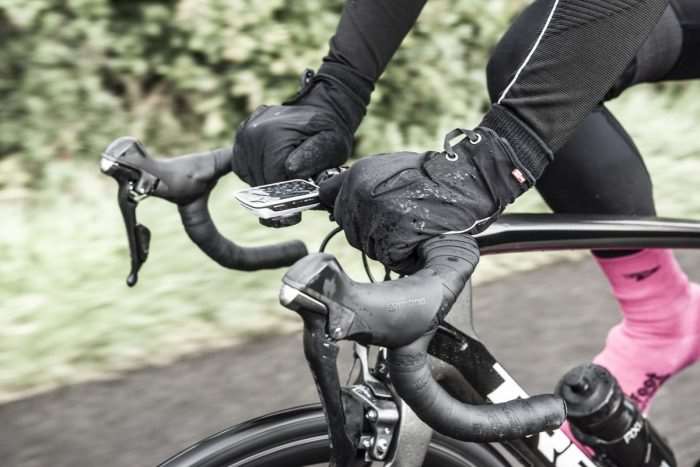 The innermost face of the outer shell is a highly durable super-light 2-way stretch, super high-gauge material, with antimicrobial and anti-odour treatments. The result is flexibility and low-bulk.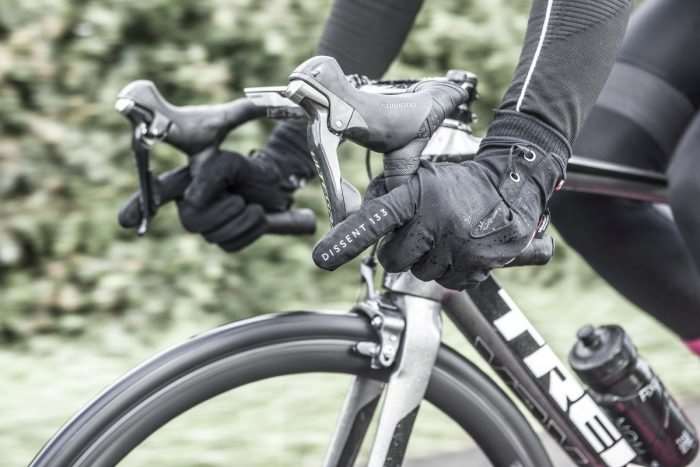 Bonded to this is the flexible, seamless fully waterproof, and yet highly breathable, patented OutDry® membrane, as used in award-winning Alpine Mountaineering boots. The bonding between the materials uses thousands of tiny glue dots delivering a strong construction, very low bulk and excellent dexterity for easy gear shifts.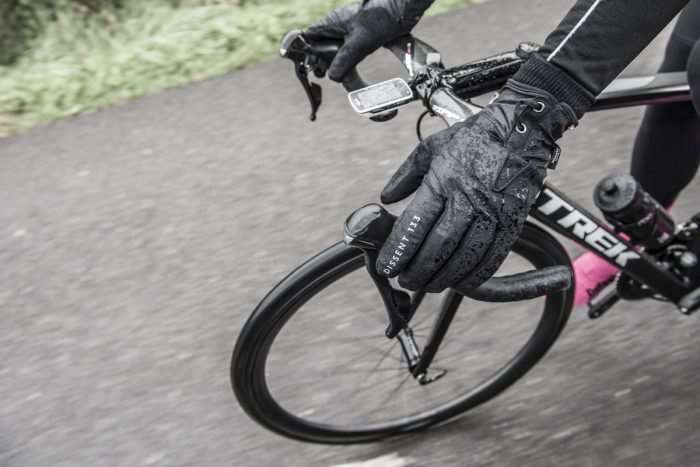 The outermost part of the waterproof glove features a cutting-edge material woven by the Swiss company Schoeller® and is treated with their Nanosphere® technology, which results in a self-cleaning effect on the textile surface. This is similar to how the leaves of certain plants always stay clean, because dirt cannot adhere to their finely-structured surfaces. Raindrops wash the dirt particles off easily. Thanks to Nanosphere®, this self-cleaning property is permanently transferred to textile surfaces making them water, oil and dirt repellent. Any residue can be rinsed off with a little water.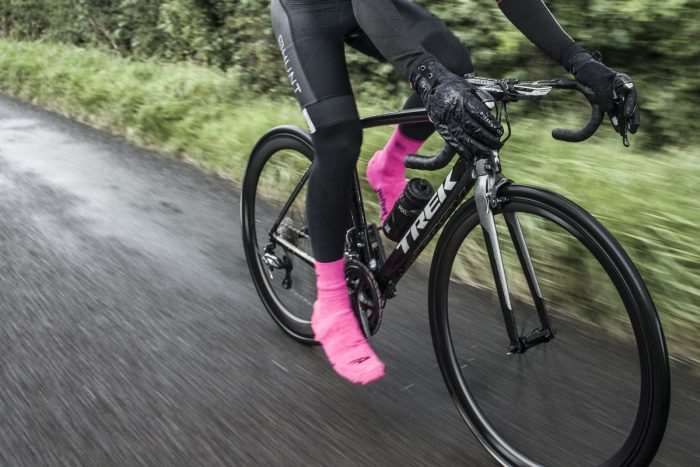 Using a unique heat-moulding technique, the waterproof Outdry® membrane is expanded and bonded to the Schoeller® fabric, producing a glove with no leaky stitching, no bulky taping, and no compromise on protection from the most adverse weather conditions.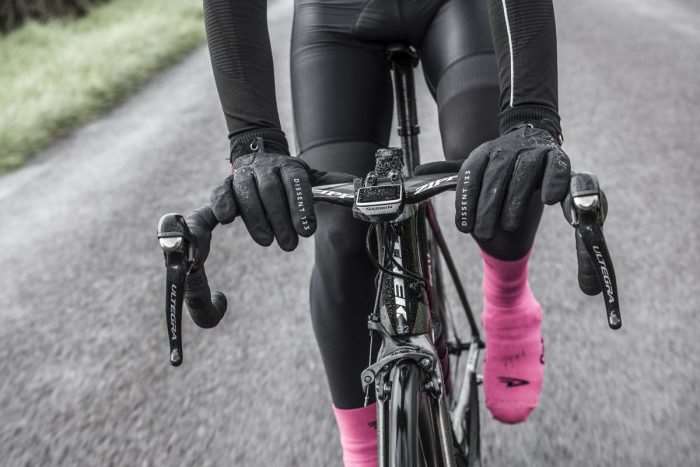 When combined with the other layers: a thermal layer provided by the already proven Defeet DuraGlove and a silk base layer for wicking away moisture, the OutDry Lite Glove is fully waterproof, very light and packable so you can remove it mid-ride if the conditions change. This is something never seen before in a cycling glove (according to Dissent) and is key to making the layering system work.
Expect a review of this product in the future.