"Cargo Cage fits two & three bolt mounts and is joined by a downtube-optimised Cargo Cage Pack." – Apidura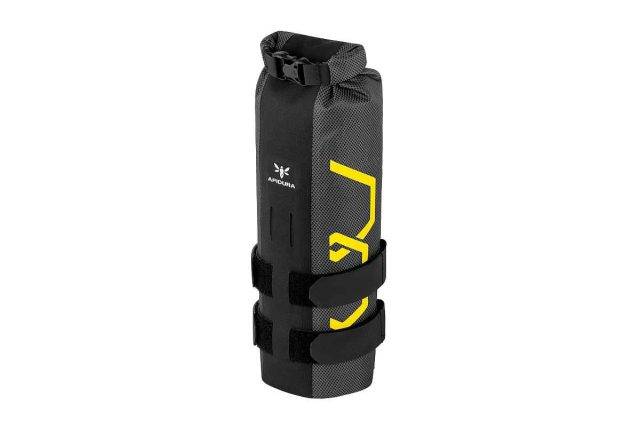 Apidura launches new Innovation Lab Cargo Cage with modular foot for compatibility with two and three bolt mounts carrying small or large loads. 

The Cargo Cage is joined by a new Expedition Cargo Cage Pack, optimised for limited clearances, including downtubes and providing 1.3L of secure storage.

The Innovation Lab Cargo Cage's optional foot allows the cage to be run on two bolts with or without the foot or three bolts with the foot, creating compatibility with the widest range of bikes and use cases possible.

The Innovation Lab Cargo Cage is compatible with Apidura Expedition Fork Packs, Cargo Cage Packs and all common straps and attachment systems, such as Voile Straps.

The Expedition Cargo Cage Pack is made from

Trilon

, a lightweight and waterproof three-layer laminate fabric that was developed specifically for Apidura, and features reflective graphics for 24 hour visibility

Available from 6 December 2022.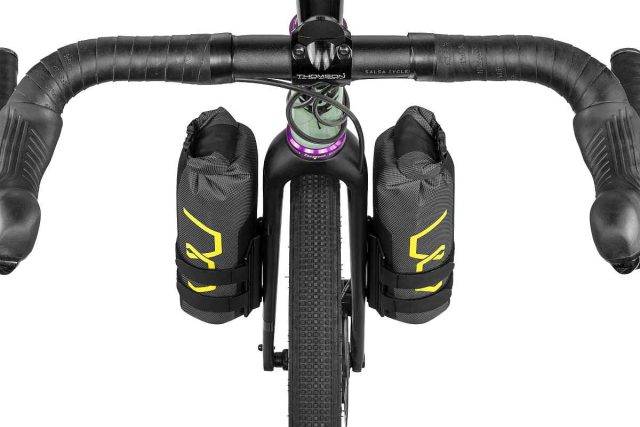 "With bikes offering an increasing number of accessory mounts, it can be challenging to identify what size of cargo cage or attachment system is needed. It's not rare to end up with multiple different cages for different bikes and different loads, creating clutter and confusion. Apidura's new Innovation Lab Cargo Cage aims to remove the mystery and decrease clutter by offering a single, straightforward modular cage for all bikes and applications."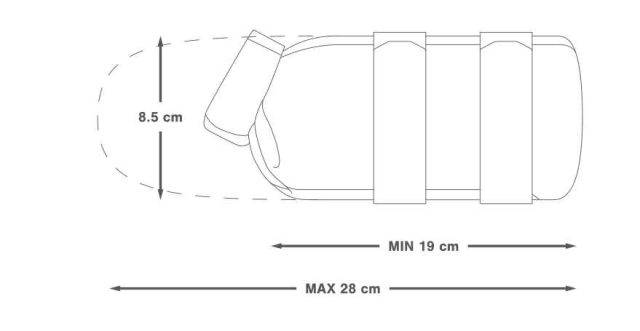 "The Innovation Lab Cargo Cage comprises a two-bolt plate with an optional foot that can extend the cage to fit three-bolt mounts and add extra carrying capacity. The same cage can be used to carry a spare inner tube on a two-bolt mount on a mountain bike one day and a Fork Pack on a three-bolt fork mount the next."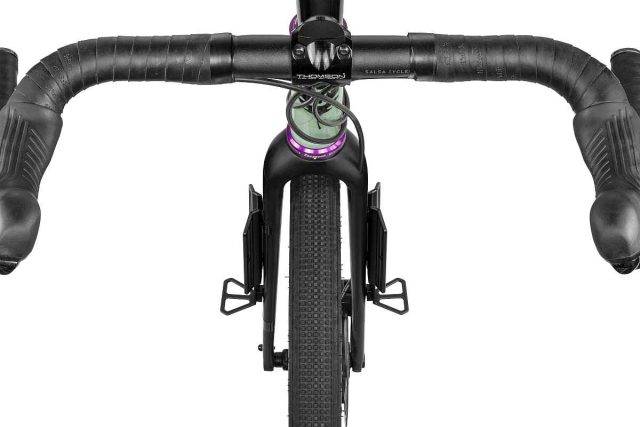 "The Cargo Cage is precision crafted from ADC12 aluminium alloy and anodized for a corrosion resistant finish. A universal strap attachment system creates maximum versatility whether using an Apidura Expedition pack, Voile Straps or webbing and buckle systems. The slender profile of the cage ensures compatibility with most accessory mount locations and provides clearance for cranks and chainrings."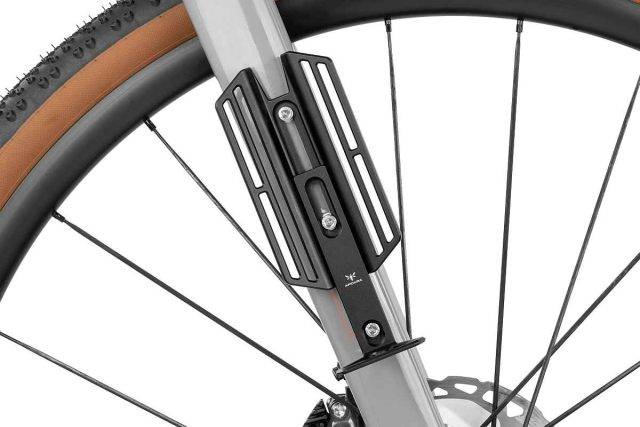 "The Expedition Cargo Cage Pack has been optimized to fit in areas with limited clearance, such as downtubes, providing 1.3L of secure storage for adventures long and short. Weighing in at just 70g, the Expedition Cargo Cage Pack is lightweight and offers a hands-free air release valve for easy compression. Built from a lightweight laminate developed specifically for Apidura, the pack is waterproof and highly resistant to abrasion and tears."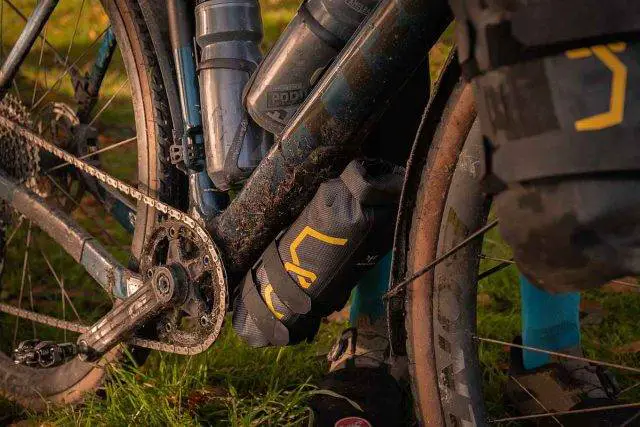 "The attachment mechanism, unique to Apidura and featured on the Expedition Fork Pack, ensures that the straps (included with purchase) do not wrap around the fork or frame itself. This makes removal and attachment easier and allows for access to contents without removal of the pack. While the pack has been designed to complement the Innovation Lab Cargo Cage perfectly, multiple attachment loops and the ability to cut the straps to length ensures that the pack can be fitted to any cargo cage."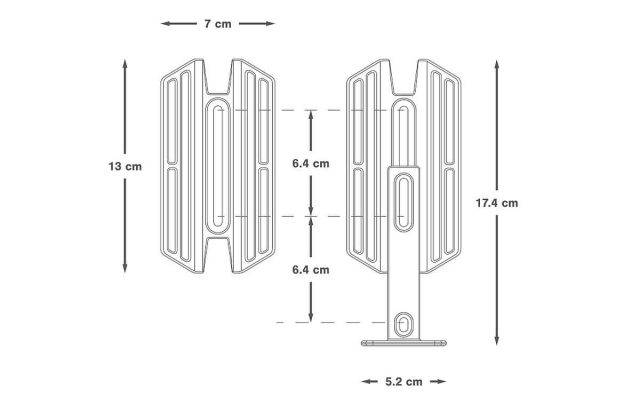 While accessory mounts provide utility, we know they can also create confusion. Two bolts, three bolts, forks, downtubes and myriad other options; it can be hard to know what cage you need and until now it's been easy to end up with a collection of cages for different, and often quite specific applications. The Innovation Lab Cargo Cage removes the complexity, offering a single cage for every mount and application. The innovative modular foot and base plate mean no more guessing and no more doubling up on cages.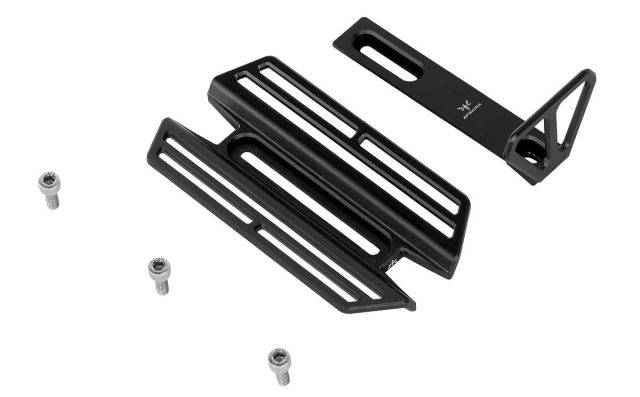 The new Expedition Cargo Cage Pack complements the versatility of the cage, offering a streamlined storage option for areas with tight clearance, such as under downtubes. It joins the Expedition Fork Pack in making the Expedition Series the most modular and versatile packing system on the market – George Huxford, General Manager, Apidura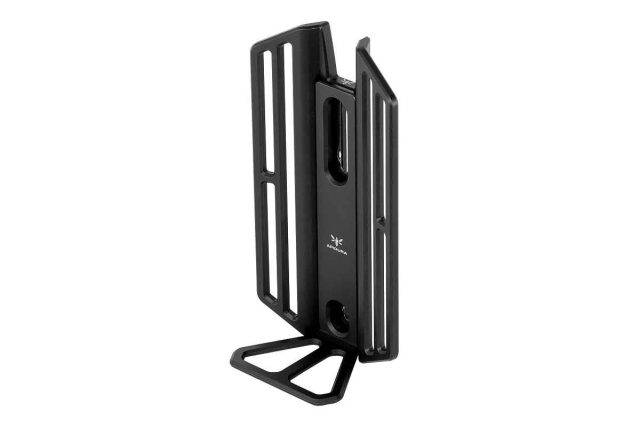 Link – Apidura Innovation Lab Cargo Cage
Available from 06 December, 2022   
Link – Apidura Expedition Cargo Cage Pack (1.3L) 
Available from 06 December, 2022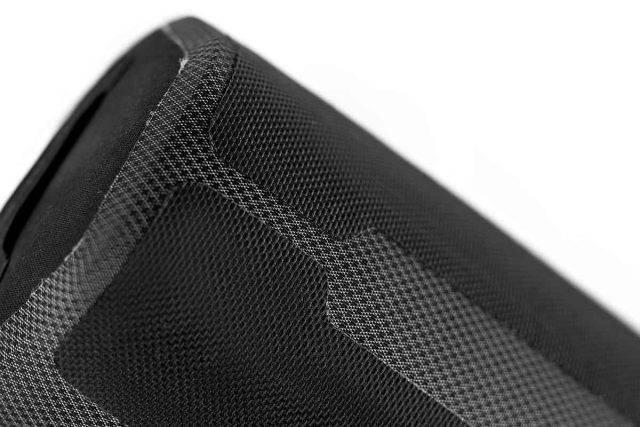 Further details available at the Apidura Website