"absoluteBLACK introduces premium Gravel – Road 110/5 oval chainrings in Sub-compact (super compact) sizes to improve your climbing and cadence. Increased Cadence is key to reducing perceived effort." – absoluteBLACK.cc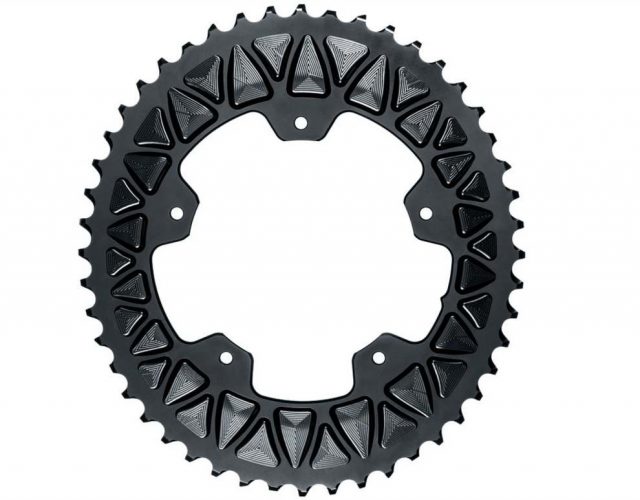 "With 48/32T chainrings you can ride anywhere and climb anything. Alpine climbs will never be that difficult anymore. These special super compact chainrings are compatible with majority of 110bcd / 5 bolt cranks making absoluteBLACK the only company on the market offering such sizes. 32T chainrings allow you to climb on your own terms with improved cadence and efficiency. 10/11/12spd compatible."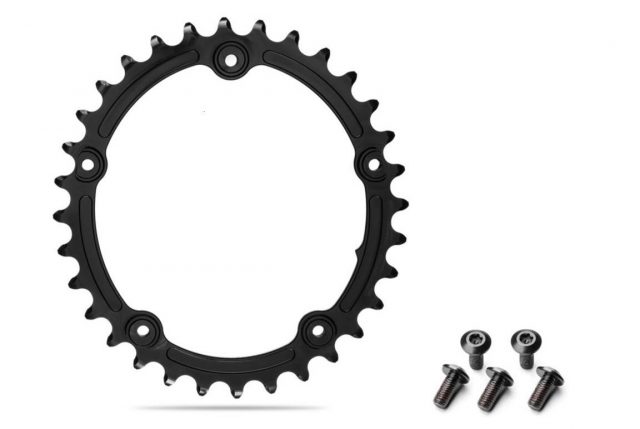 What's the take-home message here? No need for a proprietary crankset or the need to switch to a direct-mount type crankset!
These chainrings work with standard 5-bolt and SRAM 5-bolt.
Specifications
Size (Mass +/-1g): 32T (32g), 48T (115g) Smaller rings are not possible in 110/5bcd
Color: Black, Grey, (inner ring in black only)
Compatibility: Shimano Dura-Ace 7950, Ultegra 6750, Shimano 105- 5750, Tiagra 4650, FSA, Rotor 3D & 3D+, S-works and many older cranks. Fits Sram Force and Red. ALSO fits Sram cranks that have 1 hidden chainring bolt like Force22, Rival22 but they need to have removable spider. Compatible with Di2.
Bolts: Special bolts are included with 32T (5xM5 TI)
Material & Finish: CNC machined 7075 Txxx Aluminum. Long-lasting construction. Type II anodizing
Ovality: Optimized to each size separately. 32T – 8% ; 48T – 10.9% ; Timing of 108 -110.5° after TDC (top dead center) – Ideal for climbing.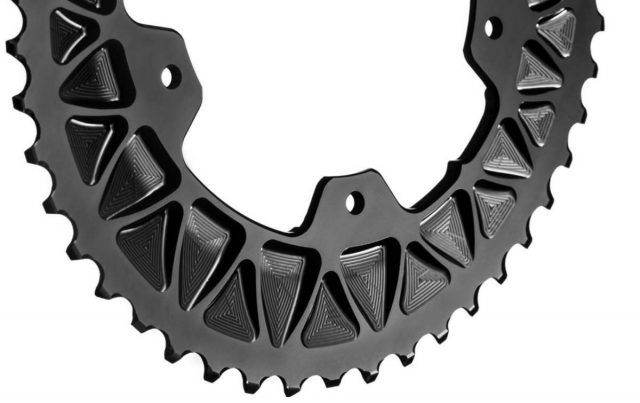 Pricing
48T ring – $US 124.00
32T ring + bolts $94.50
Available now. Visit absoluteBLACK by clicking on through the link below.
Finally be sure to check out Gravel Cyclist's long-term video review of absoluteBLACK's Shimano 4-bolt 46/30 chainring pairing.