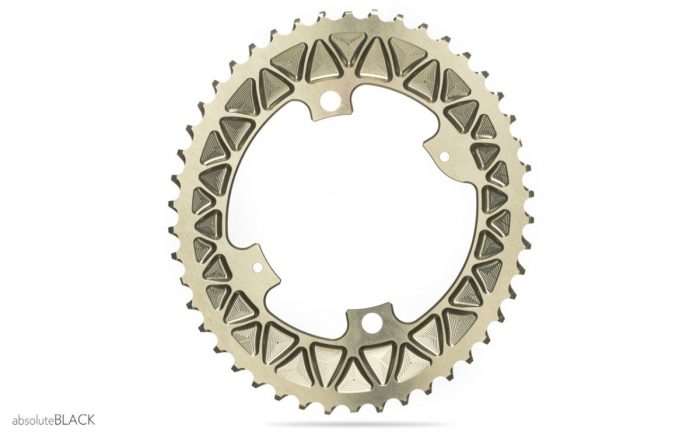 "absoluteBLACK is a cycling company devoted to extraordinary design, European manufacturing and production of parts that not only perform great, but also last a long time."
"We believe anything out there can be made better, including chainrings."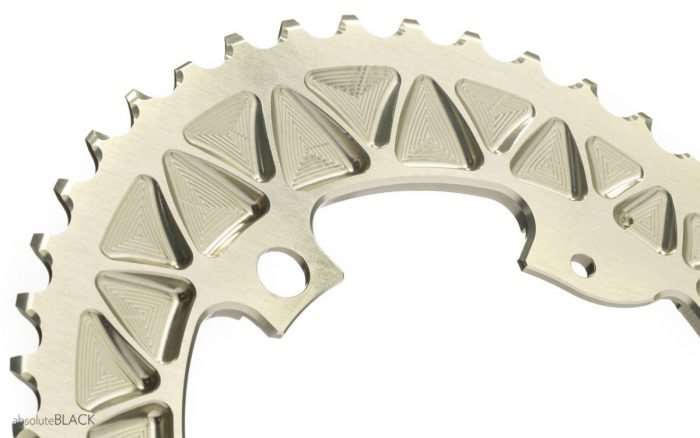 absoluteBLACK Sub-Compact 48/32 and 46/30 Oval Chainrings
"As a manufacturer of chainrings, absoluteBLACK receives requests and questions on daily basis for unusual chainring combinations such as;  52/32, 50/30, or 53/32T, which are not going to work well due to component limitations (namely front derailleur), nor are good for keeping a good cadence across both rings and minimize shifting."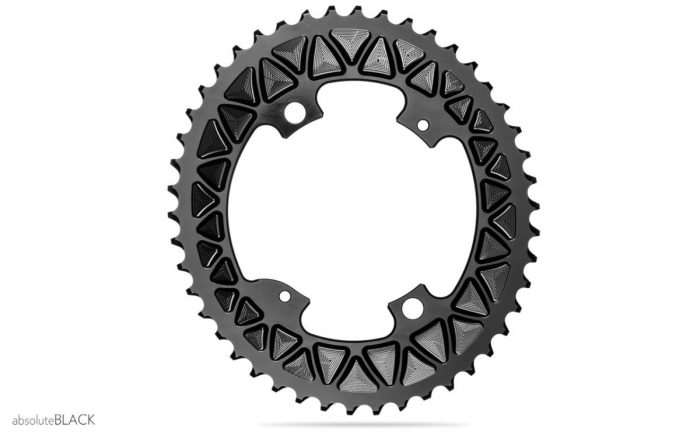 "absoluteBLACK are launching a range of 'Sub Compact' oval chainrings in 48/32 and 46/30T that can be mounted to any 4-bolt Shimano crank, including models like Dura-Ace 9100, Ultegra 8000, Dura-Ace 9000, Ultegra 6800 and lower groups. It gives virtually anyone a chance to adapt one's gearing to their abilities."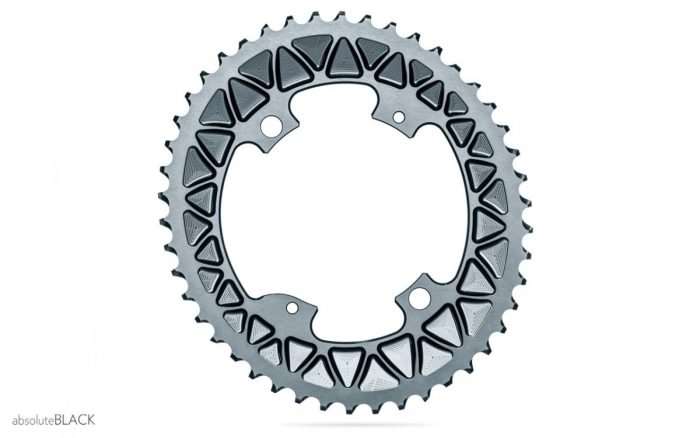 "30 and 32T chainrings hugely improve the cadence and smoothness of pedal stroke while riding long/steep climbs, and therefore have significant, positive impact on overall performance. Additionally, 46 or 48T still allow for a high gear output on daily and group rides." – Referring to road / pavement / bitumen-oriented rides.
"48 x 11T @90rpm gives 50km/h (31mph) and 46 x 11T results in 47.6km/h(29.6mph). Pedalling @100rpm it is 5km/h faster. At absoluteBLACK we believe It's more than needed for a vast majority of riders who, like us, treat riding as pleasure and not as a job."
Chainring Concept
"Configuration of 'Sub Compact' chainrings was considered impossible to manufacture on regular 110/4bcd crank spider, because 32 or 30T chainring teeth lay below mounting hole circumference. Therefore, these sizes were not available in the mainstream for years. However, thanks to absoluteBLACK patent pending "offset chainring" solution, it now becomes a reality."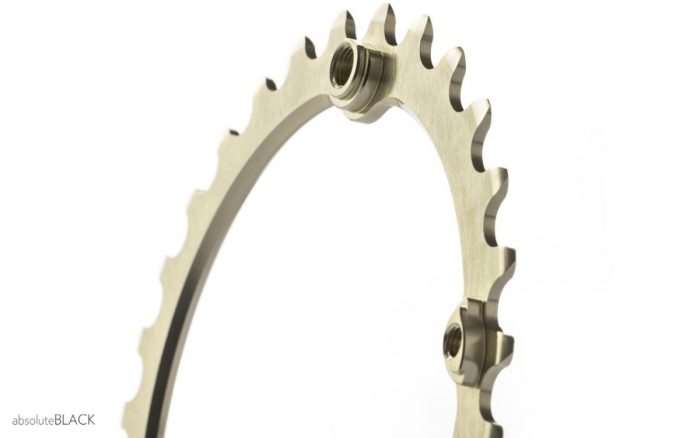 "The small (inner) chainring was re-positioned closer to the frame by 2.5mm using small threaded tabs (a solution similar to the absoluteBLACK 30T 104bcd chainring). This allows the chain to freely clear the mounting tabs of the crank."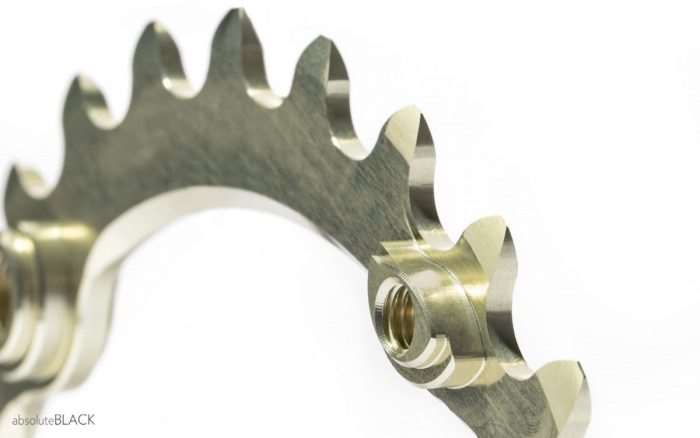 "To keep the same distance between chainrings, which is necessary for proper shifting, the big (outer) chainring was also moved by the same distance using special recesses around the mounting holes. All these offsets on both chainrings and the use of custom bolts make it possible and also allows for easy assembly of the chainrings."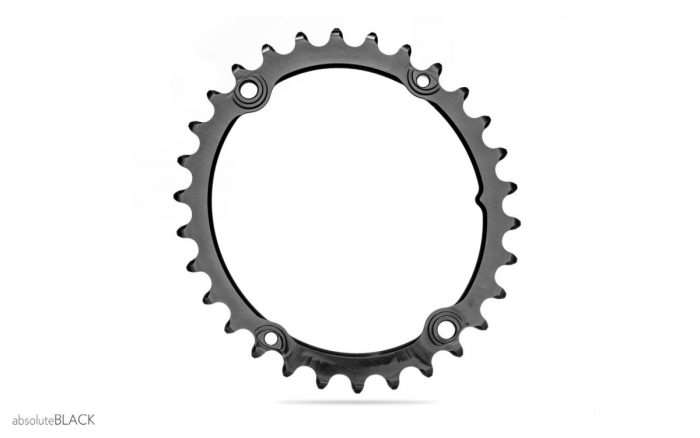 absoluteBlack state their solution does not require any modifications to the rest of the drivetrain. Additionally, they claim an improved chainline for the gears that are used most frequently, which theoretically lengthens drivetrain life.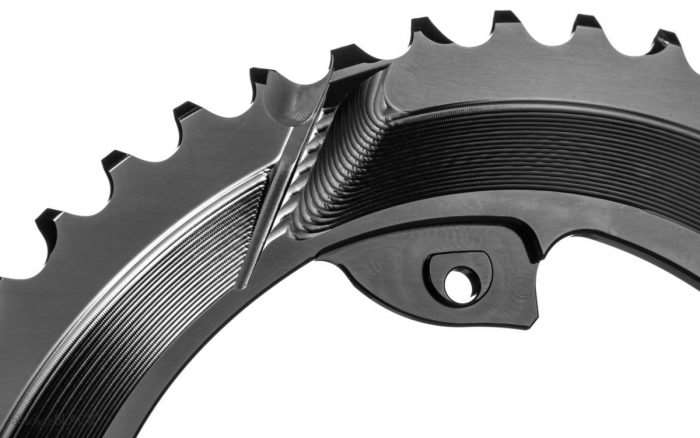 "Both 30 and 32T chainrings have threaded mounting tabs. The 30T requires two special M5 Ti bolts and two M7 aluminium bolts, whilst the 32T is fixed with four M7 bolts. Both chainrings are fixed together with the bolts from the front, making it possible to mount them without removing the crankset from the bike."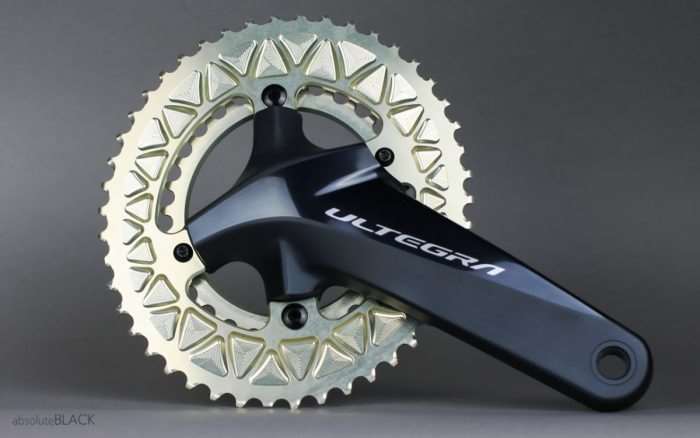 Front Derailleur Setup
"48/32T chainrings require exactly same setup as regular compact chainrings. That is, a 1 – 1.5mm gap between tooth tip and derailleur cage. The only exception is the "L" bolt which has to be opened completely since chainrings are positioned closer to the frame."
"46/30T is setup in almost the same way as the 48/32. However, as almost every frame manufacturer never predicted the use of a 46T chainring on road bikes, the front derailleur braze-on mount is generally positioned a little higher than is desirable. absoluteBLACK advises in this situation to set up the front derailleur as low as your braze-on allows. This should leave an approximate 5mm gap from the tooth tip to cage edge. 46T shifting ramps were specially designed to accommodate such a distance, thus front shifting remains crisp and quick."
In the case of cyclocross and many gravel bikes, they were designed with smaller chainrings in mind, so the limitation with lowering the front derailleur may not apply.
Chain Limitations
"Due to precise tolerances, clearances and special design of the chainrings, absoluteBLACK only recommends using Dura-Ace CN-9000 or Sram Eagle 12-speed chains. Both of these can be used in 10 or 11-speed drivetrains and result in quiet and precise running."
"Chainrings are sold separately, but can only be used as combinations of 46/30 and 48/32T. No other chainring combination is possible due to specifics in the chainring's design."
Pricing
46T / 48T chainrings are €105 / £95/ $US 124.00.
30T / 32T chainrings are €76 / £67 / $US 87.50. Small chainrings include the required bolts in their price.
---
absoluteBLACK Premium OVAL ROAD 2X chainrings for DA9100 & Ultegra 8000
Riders seeking bigger gearing options for their gravel or road bikes, absoluteBLACK has released a line of chainrings starting at 50T / 34T that cater to Shimano's latest Dura-Ace 9100 and Ultegra 8000 road cranksets.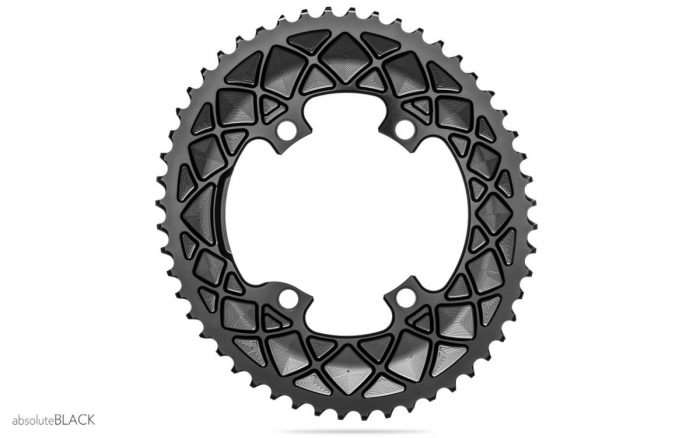 "In addition to the Shimano's 9100 / 8000 series of cranksets, our new OVAL ROAD design is also compatible with the previous generation Shimano Dura-Ace 9000 and Ultegra 6800 series cranks, which share the same 110mm BCD/4 arm specification."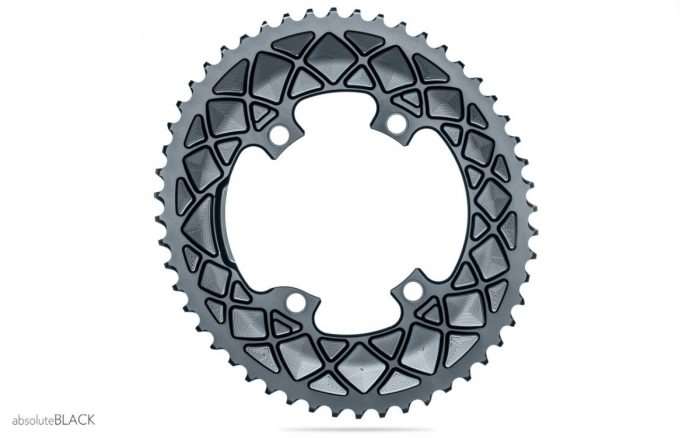 "The new Shimano 9100/8000 specification Premium OVAL ROAD outer chainrings continue to feature visually stunning and intricate CNC machining to carefully reduce their mass to a minimum, without sacrificing any performance or strength and an attractive, durable hard anodised finish."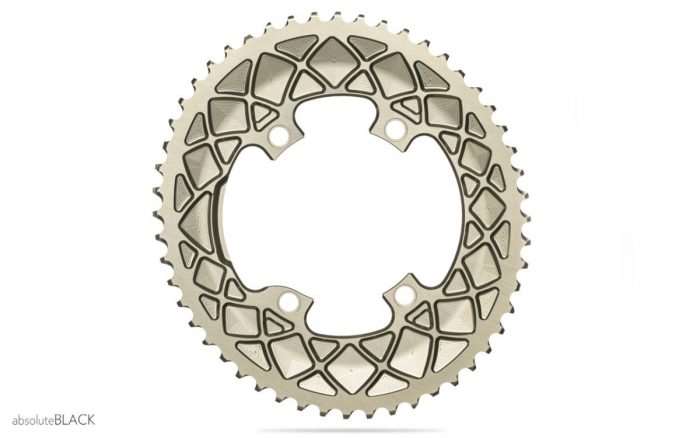 "The new Premium OVAL ROAD rings feature an updated and improved integrated ramp design. The new CNC machined ramp profile has proven, through heavy testing, to deliver even faster and more precise front gear shifting performance than before."
Chainring Sizes and Colours
Premium ROAD OVAL outer rings are available in Black, Grey and Champagne, while the Premium OVAL ROAD inner rings are available in black only.
Inner OVAL ROAD rings: 34T (31g), 36T (37g), 38T (41g), 39T (42g).
Outer OVAL ROAD rings: 50T (120g), 52T (137g), 53T(139g).
Pricing
Outer OVAL ROAD chainrings are €105 / £95/ $US 124.00.
Inner OVAL ROAD chainrings are €47.50 / £53.95 / $US 61.95.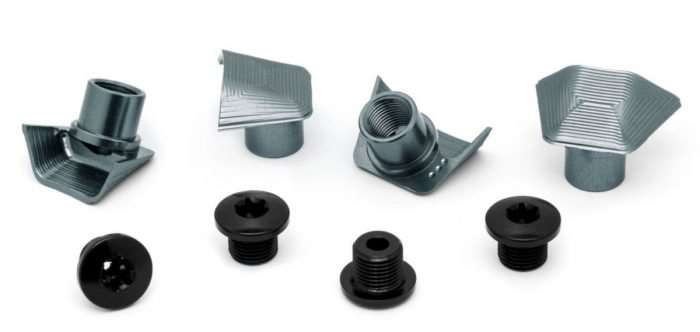 "Not completely necessary for full function, AbsoluteBLACK recommends fitting our additional CNC machined aluminium bolt covers to create the smooth 'flush fit' appearance between the Shimano 9100/8000 crank arms and our Premium OVAL ROAD rings. Our CNC machined bolt covers cost €47 / £41.50 / $US 52.00 and are available in either Black or Grey."
"As ever, we recommend swapping both outer and inner chainrings to our Premium OVAL ROAD rings, though we also remind you that it is possible to combine either of our inner or outer ovals with your existing round rings."
JOM's Thoughts
Stating the obvious, ovalized chainrings are not for every gravel or road cyclist. If absoluteBLACK produced their innovative chainrings in a standard round design as well, I'm certain they would sell many more units. With that said, I did ride a competitor's ovalized chainrings this past weekend (21st of January, 2018) during a 106 mile / 170 kilometre roadie oriented ride. As I pedaled along, I could tell no discernable difference from the round chainrings I've been using for well over 25 years of cycling. Your experience may differ.
The other thing I am curious about is chainring clearance. Shifting the inner chainring closer to the frame by 2.5mm may cause issues on some frames?
I expect to receive samples of absoluteBLACK's sub-compact chainrings for review, soon. Watch this space!