Van Dessel Cycles was founded in 2000 by Edwin Bull, a former professional cyclist from Belgium. Nowadays Edwin is based in New Jersey, and the brand he founded is well recognized in cyclocross, particularly in the northeastern United States.
The brand is known for its well received cyclocross bikes such as the Full Tilt Boogie. However, the Gravel Cyclist was interested in perusing Van Dessel's Whiskey Tango Foxtrot at Interbike 2015. Not a new rig in their line-up, the WTF has been around a little while, but received upgrades to keep it in line with various bicycle industry standards.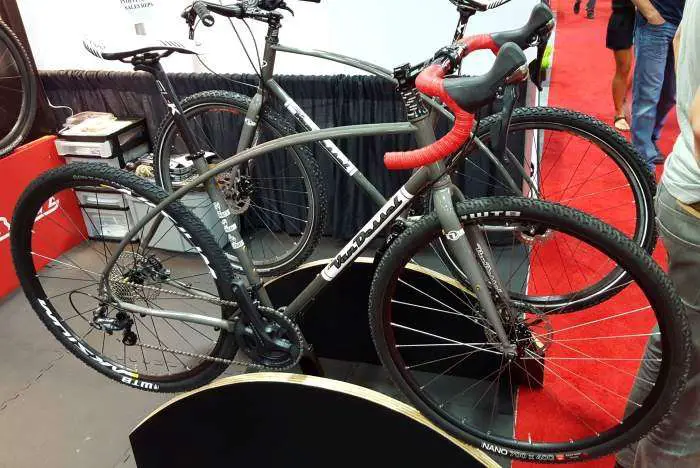 The WTF's double-butted steel frame is treated against corrosion, and flexible in that it can run drop bars, straight bars, chain or belt drive, with the power of disc brakes.
Additionally, the WTF offers killer tire (tyre) clearance of 2.1″ in a 29'er size! Brilliant! Can you say Monster Cross bike? A 46 / 36 chainring combination will clear the driveside stay nicely, so no worries about a great spread of gear ratios.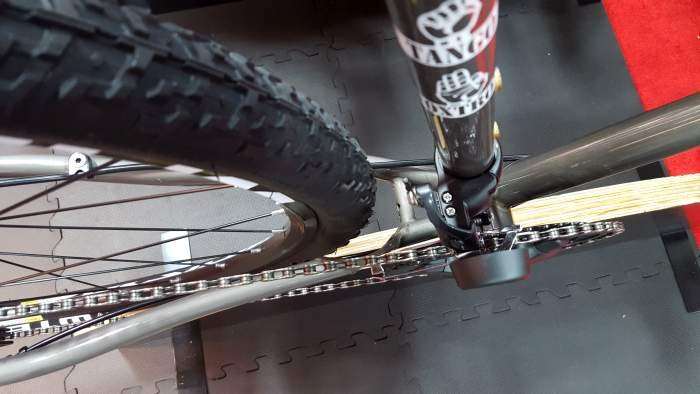 The WTF's frame geometry is configured towards cyclocross, but as readers know, cyclocross bikes make perfectly good gravel rigs. Van Dessel's Whiskey Tango Foxtrot is available in five sizes, ranging from an effective top tube length of 53cm, 55cm, 57cm, 59cm and 62cm.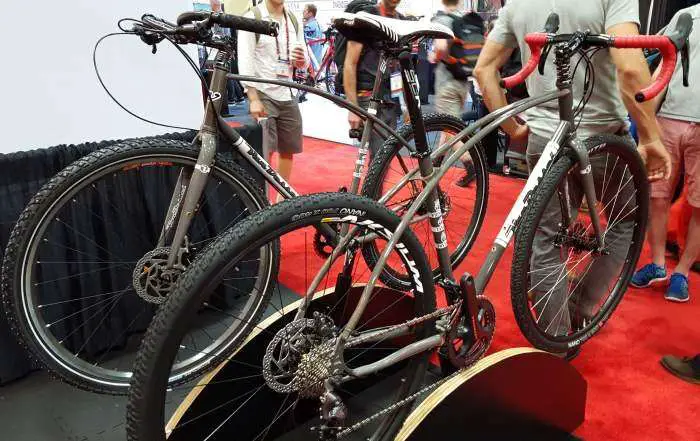 Van Dessel offer the WTF in a huge array of built options, ranging from Shimano Alfine, SRAM Force CX1 hydro, SRAM Red 22 Hydro, Shimano 105 Hydro, up to the premium offering of Shimano Dura Ace Di2 disc brake hydro.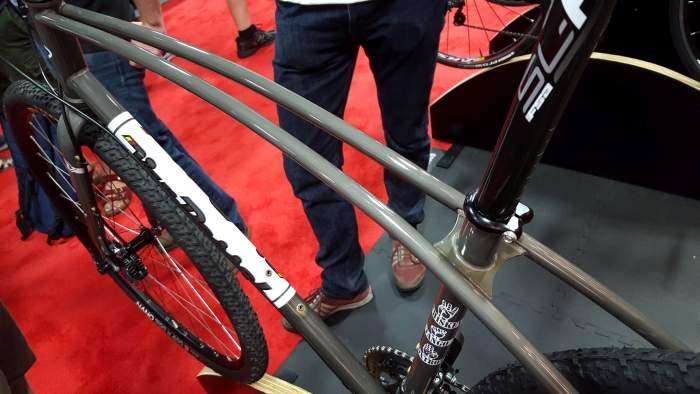 Single speeders aren't forgotten about – the WTF is single speed / IG hub compatible with a PF30 eccentric bottom bracket.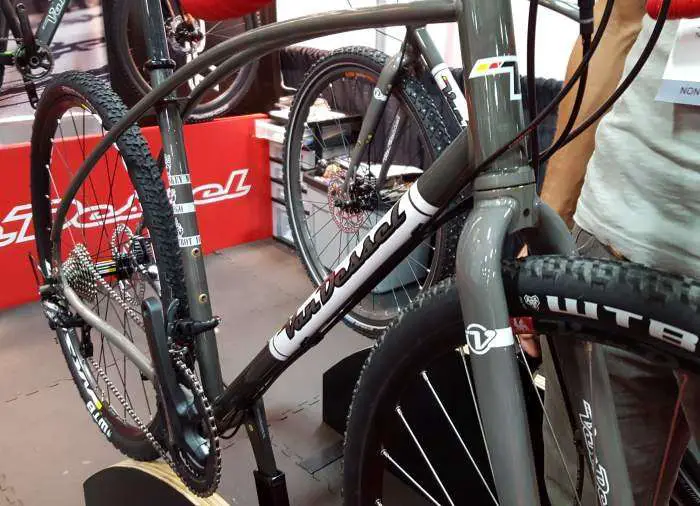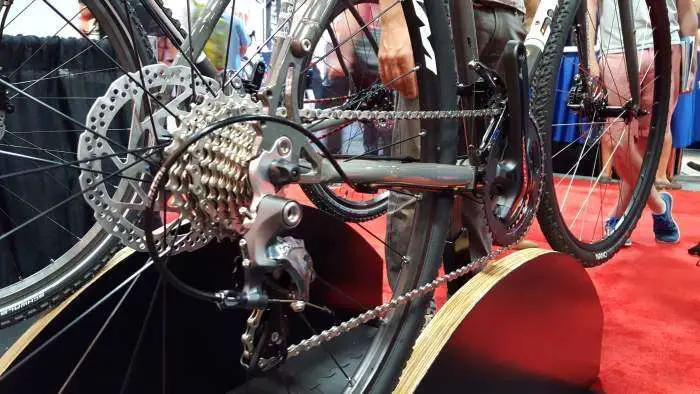 We love the WTF's split top-tube, which swoops to the rear of the frame, to complete the rear triangle.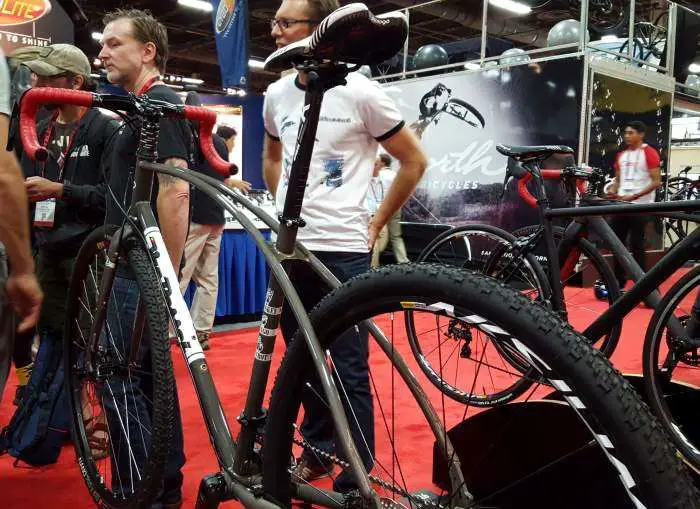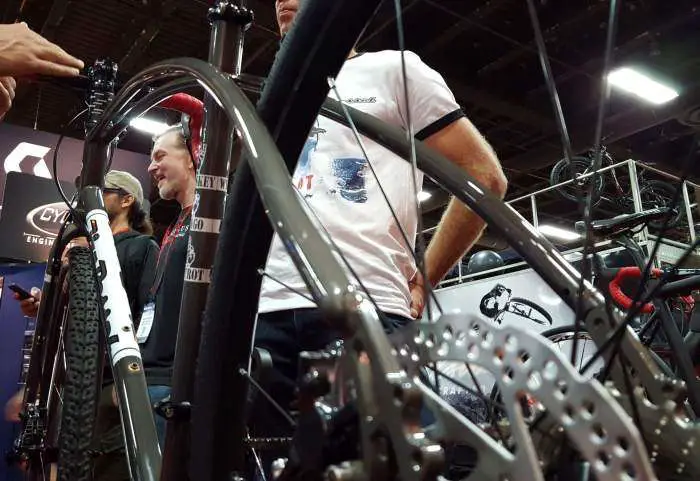 The WTF is a smoking deal at $US 699.00 for frame, fork and headset, and worth investigating if you're looking to build a sweet Monster Cross bike!
Finally, do check out the sweet Whiskey Tango Foxtrot build assembled by our friends over at Bike Rumor.