The next installation of our Interbike gravel tire (tyre) articles, this time around we examine Vittoria and Challenge.
Challenge Handmade Tires
Proudly manufactured in Italy, you know a manufacturer is serious about the gravel cycling genre when they incorporate the name "gravel" into a product, or name one of their products after a long-standing gravel event.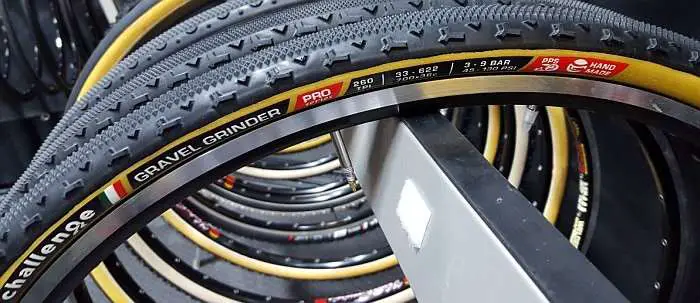 The Challenge Gravel Grinder tire isn't new, is fairly well known and comes in two variants – the Gravel Grinder Plus and Gravel Grinder Race model. The difference between both models is weight and threads per inch count – a higher count  of threads per inch typically means a tire is lighter and may have lower rolling resistance, but possibly more susceptibility to punctures, etc.
Gravel Grinder Plus – 395 grams, 38mm, 60tpi.
Gravel Grinder Race – 375 grans, 38mm, 120tpi.
What the Challenge website doesn't officially announce is the new PRO version of the Gravel Grinder tire, as indicated in the photo above, measuring 700c x 36mm, 260 TPI and skinwall (gumwall). Some people eschew skinwall tires, but some of us love them. They add a classy look to a bike, and we hope to acquire a set of these for testing soon.
Incidentally, the Challenge Gravel Grinder tire converts well to tubeless with the appropriate rim. Gravel Cyclist's "Headmaster" is using our sponsor's wheelset, the American Classic Race 29'er with the Gravel Grinder Race tire configured tubeless.

Challenge's Almanzo, named after the Almanzo 100 event, is recommended for hardpack dirt surfaces and not-so-heavy gravel. Narrow at 33mm by the standards of many gravel tires, we know it to be a fast rolling tire with excellent ride qualities and a very high TPI count. But as the manufacturer states, this one isn't for heavy gravel use – probably best suited to events like Rouge Roubaix, Darby Roubaix, Bromont B7 100, etc. Unknown if the Almanzo works well configured as a tubeless tire. The Almanzo is also available in a skinwall variant, model # 00524 – model #00525 for all black.

Challenge's Strada Bianca is marketed towards rough roads, cobbles, "big riders" and hard packed dirt. Measuring 30mm with a TPI count of 260, this would probably be the fastest of Challenge's lineup for pure "Roubaix" type tires. As alluded to earlier, some of us love the skinwall look.
This tire would certainly look fabulous on a cyclocross / gravel bike lined up for an event where one can use a fast rolling, big tire casing mostly suited to hard packed, non-gravel surfaces. Definitely not tubeless compatible, the Strada Bianca is marketed as an "Open Tubular" aka a clincher, which is designed for higher pressures, but lacks the necessary bead for tubeless use.
Vittoria Tires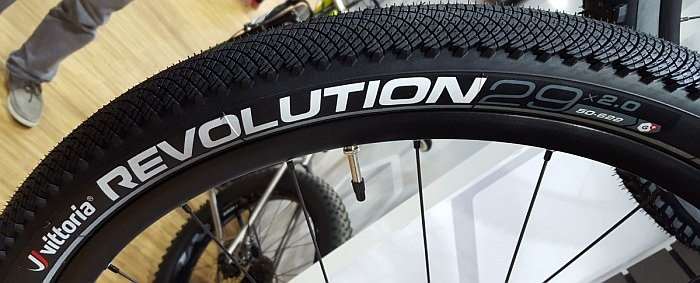 Marketed by Vittoria as a "City" tire, I (JOM) was informed this is a very fast rolling tire, and may do well as a training / budget tire for hardpack and gravel type surfaces.
Unfortunately, weight specifications were not available, but this tire comes in a big variety of sizes and widths. 26″ x 2.0″, 27.5″ x 2.0″, 29″ x 2.0″, 700c x 28mm, 700c x 32mm, 700c x 35mm and 700 x 38mm. We suspect the 2.0″ variants will convert to tubeless nicely, along with the 700 x 38mm size. At the time of writing, there are no details available on Vittoria's website.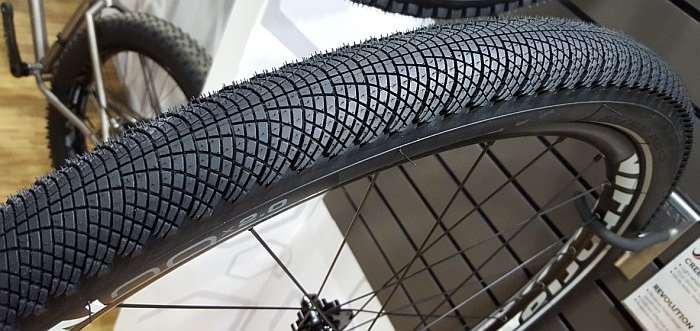 More gravel tires (tyres) from interbike coming soon, thanks for reading!