For the final installment of our Interbike gravel tire (tyre) articles, we check out offerings from Kenda and Panaracer.
Kenda Tires
Kenda have been in the tire business for over 50 years, and have been manufacturing tires for the gravel and cyclocross genres for the past couple of years. At Interbike 2015, we spotted an old Kenda favourite, as well as completely new tire, named in honor of a certain gravel race in Kansas.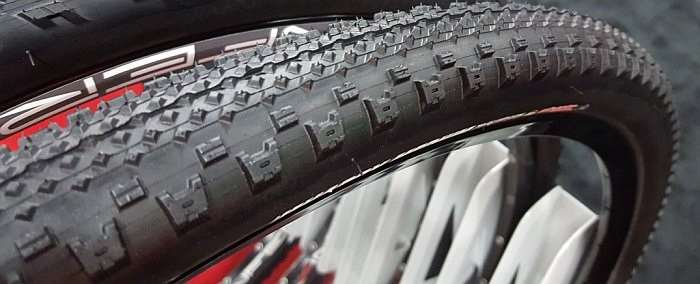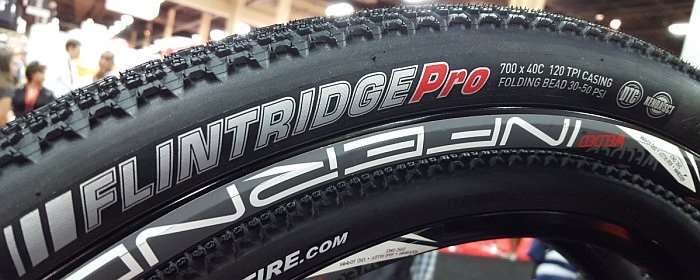 Kenda's new Flintridge Pro, named in honor of the Dirty Kanza, is available in two widths, 700c x 35mm (480 grams) and 700c x 40mm (520 grams). Additionally, it is available in 60tpi (threads per inch) and 120tpi, and is tubeless ready.
As its name suggests, this tire was specifically developed for races like the Dirty Kanza. This is a sign of great things to come, when you consider a tire giant like Kenda is producing gravel specific tires. Kenda informed us expected delivery is sometime around November / December of 2015.

Panaracer Tires
Founded in 1953, Panaracer initially manufactured rubber products for a variety of commercial and consumer applications. In 1978, the company began manufacturing bicycle tires. To this day, they continue their production in Japan, and for 2015 have introduced some new gravel tire options.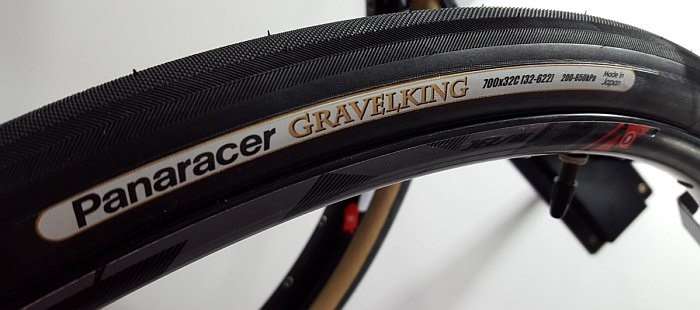 This version of the venerable GravelKing, marketed for less aggressive dirt and rough pavement riding, has been available in standard road widths of 700c x 23mm, 700c x 26mm and 700c x 28mm.
For 2015, Panaracer have released a 32mm version of this tire, which we expect tips the scales around 300 grams. While not tubeless compatible, it would be a fine tire for Roubaix type events, where the dirt road surfaces are well packed, with a minimum of marbly or chunky gravel.

The other version of the Gravel King, now referred to as the Gravel King SK, is still available in its original 700c x 32mm size, and a new-for-2015 size, 700c x 40mm. The 40mm version is tubeless compatible and features the same distinctive tread pattern as its narrower 32mm brother. From Panaracer, "Tread blocks have been adopted to deliver good gravel performance."

Weight of the 40mm GravelKing SK is 490 grams, and rated at a maximum inflation pressure of 60psi.
To quote Panaracer directly – "Gravel road riding is all the rage at the moment. Its great for cyclists who want to leave sealed roads behind and enjoy the freedom of cycling on unpaved roads."
We at Gravel Cyclist think that gravel cycling is more than a passing fad, but we do like Panaracer's statement on the subject.
Thanks for reading!