Founded in 1988 in Eugene, Oregon, Co-Motion Cycles is a name many associate with tandem bicycles. However, the company has a full range of single bicycles, some of which may not be so well known. To this day, Co-Motion still makes everything by hand from their Oregon headquarters.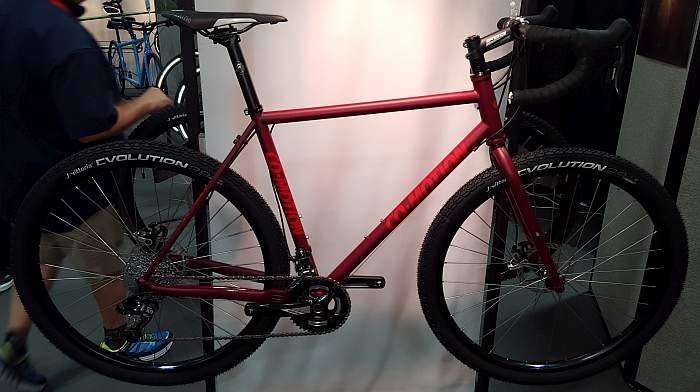 Co-Motion's Divide has been around for several years, but is not so well known in the world of gravel cycling. Designed for big tire (tyre) 29'er wheel use, the Divide offers plenty of clearance. Spec'd with Vittoria's 1.9″ Revolution tire, there is ample room for 2″ tires on this rig.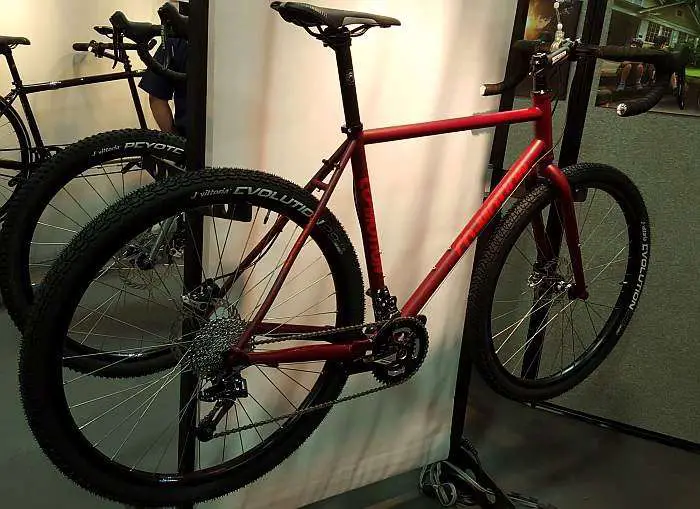 For the drivetrain, Co-Motion rely on the Boost 148 format – 148mm rear axle on 29'er size wheels versus the recently established 142mm rear axle standard – yes – another standard.
Because the rear axle is widened by 3mm either side, cassette position is affected, which also affects one's chainline. While the Q-factor on a Boost compatible crank remains the same, the chainring spider moves 3mm outward, for a chainline of 52mm.
Smart crank designers with themselves sorted would allow for a replaceable Boost-specific spider. On their stock build, the Divide relies on an FSA Boost 148 42/28 MTB type crankset.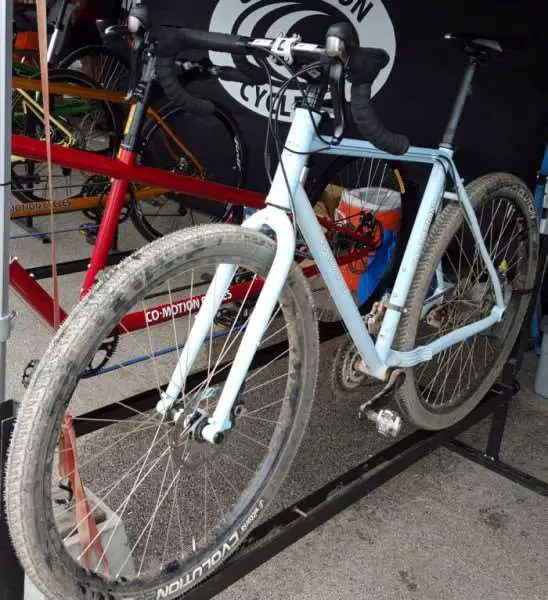 Moving along, the Divide features tough Reynolds 725 steel tubing, rack and fender mounts, and three bottle mounts. While touted as a touring geometry type rig and probably not the lightest machine going, we are sure the Divide would be fab for long and distant sorties onto your local, or not-so-local dirt and gravel roads.
Priced at $US 1,995.00 frame only, or with a nice build kit including wheels at $US 3,695.00.
---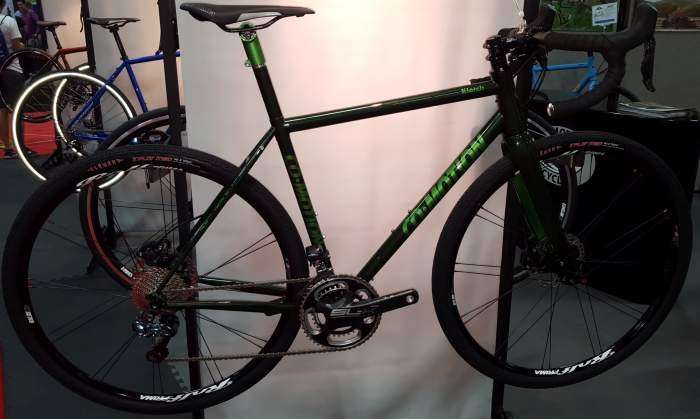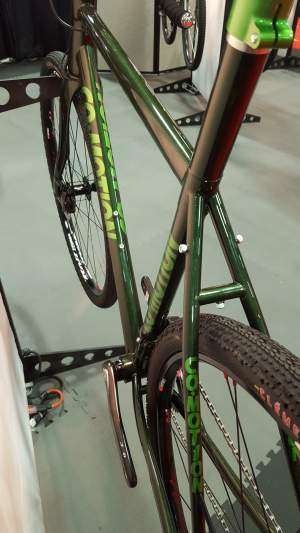 Co-Motion's Klatch is their gravel racing rig and features more steel-is-real construction with Reynolds 853 steel tubing.
Other highlights include:
Provision for 700c wheels fitted with 40mm tires (tyres).
Rear rack mounts along with three bottle mounts.
Tapered head tube with TRU thru-axle tapered carbon cyclocross disc fork.
68mm English thread bottom bracket shell. We love this.
Rear thru-axle, 142mm x 12mm standard.
Disc brake and hydraulic-ready cable routing.
Frame upgrades for BB30 bottom bracket, Di2 internaliz(s)ed wiring and the CS3 option (integrated carbon seatmast and True Temper S3 tubes).
Due to the lighting situation at the Co-Motion booth, and the fact I used a Samsung Galaxy S6 camera phone for these photos, justice is not served for the quality of paint on these Co-Motion rigs. Definitely best to see in person.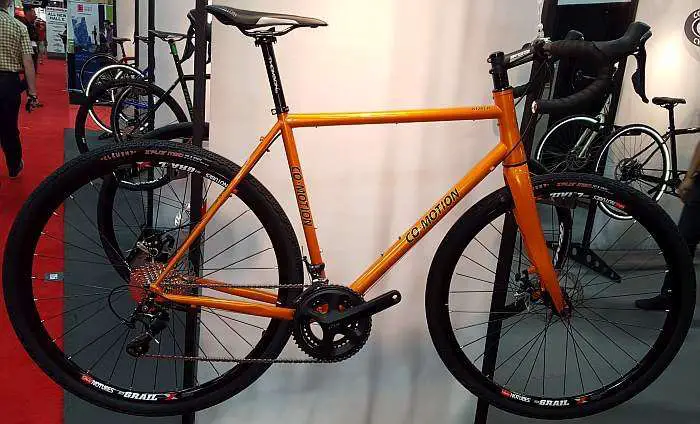 The Klatch is available as a frame only, for $US 2,095.00. Other build options include:
Klatch Sport Kit, featuring a mostly Shimano 105 11-speed groupset with TRP Spyre mechanical disc brakes and Stan's NoTubes Grail Comp wheelset – $US 4,195.00.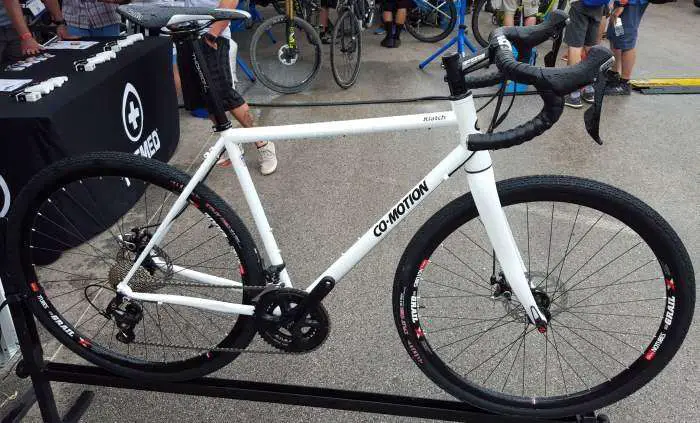 Klatch Elite Kit, featuring a mostly Shimano Ultegra 11-speed groupset with TRP Spyre mechanical disc brakes and Stan's NoTubes Grail Comp wheelset – $US 4,895.00.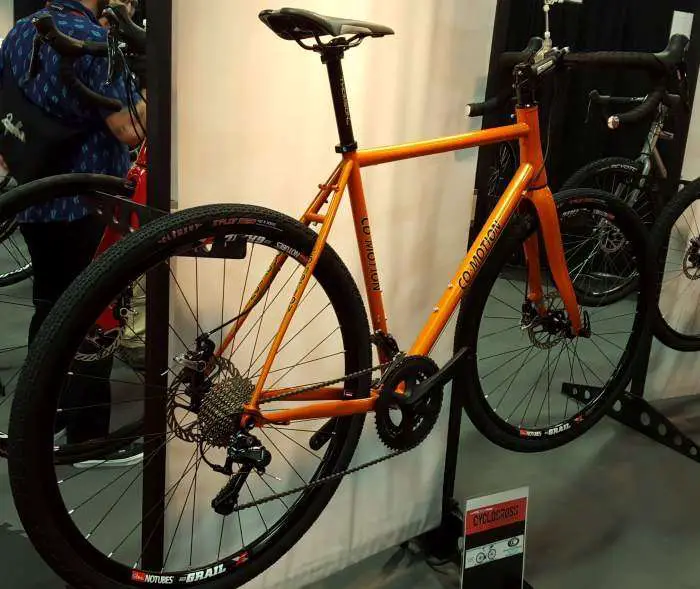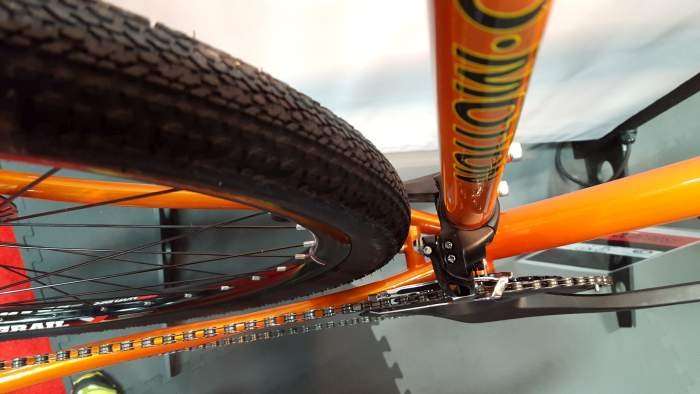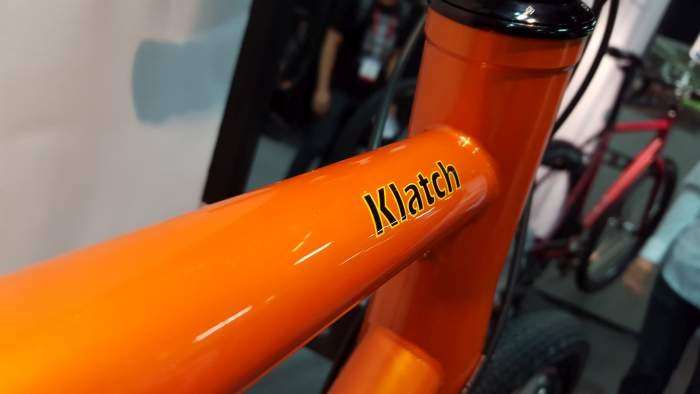 Not mentioned on Co-Motion's website is the "spec'd to the gills" build with CS3 option, as shown on the dark metallic green bike in these photos. That machine features Shimano's Ultegra Di2 groupset with Shimano's killer hydraulic brakes, priced at $US 6,995.00. Not everyone can swing the cash for hydraulic Di2, but if you can… and the green paint… mmmm.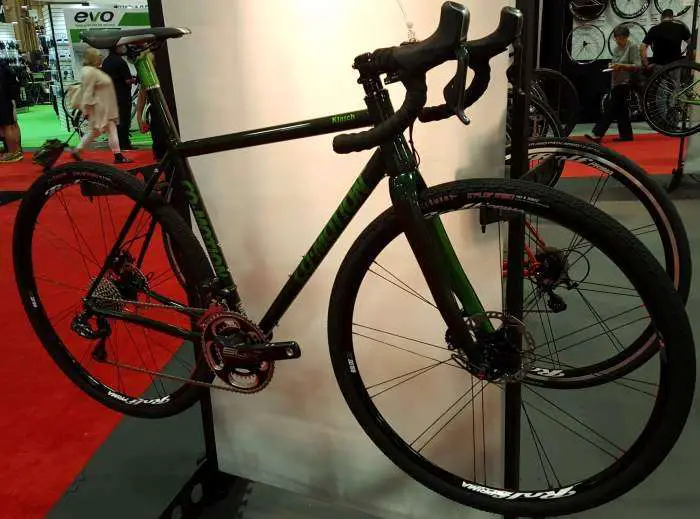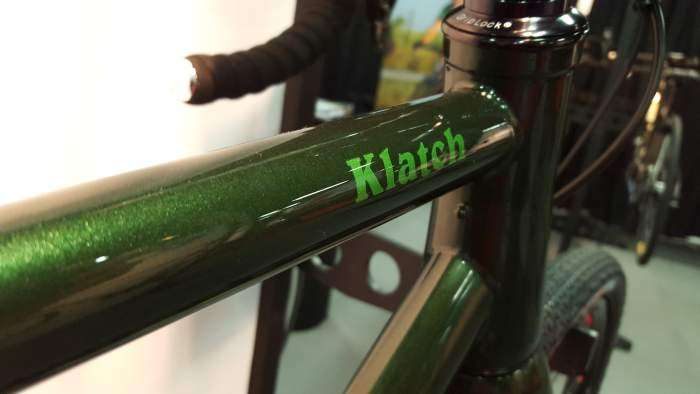 Co-Motion Cycles would love to build you a bike – American Made – Oregon Made – Handmade. Check them out.