"Giant, the world leader in cycling technology, is introducing an expanded collection of off-road footwear with high-performance lasts and other key advancements targeting pedaling efficiency, fit and comfort both on and off the bike. The new lineup includes six models, from entry-level to pro-level, aimed at trail riding, enduro, XC and gravel." – Giant Bicycles.
Each of the new models was designed and developed under Giant's Dynamic Cycling Fit program, which uses the most advanced engineering and testing methodologies to analyze, research and create innovative gear and apparel. DCF products are developed in partnership with Giant's pro teams and athletes, with the goal of producing gear that performs best while in motion.
The new off-road models include the Charge series (Charge Pro and Charge Elite) for XC, gravel and cyclocross, plus the Shuttle Flat, Line, Transmit and Flux for trail, enduro, park and DH riding.
The Charge series, Line, Transmit and Flux shoes all feature Giant's Motion Efficiency System, which combines a stiff and efficient pedaling platform with just enough torsional flex to reduce pressure and strain in the lower leg. The result is a more natural foot movement during the pedal stroke to optimize comfort and power transfer. Previously available in premium models only, MES has now been extended across the lineup, allowing more riders to experience its benefits.
XC MODELS (fab on Gravel)
The new Charge Pro was developed and tested with XC and gravel racers from the Giant Factory Off-Road Team including veteran Carl Decker, a five-time winner of the Downieville All-Mountain Worlds in California. Decker used the revamped Charge Pro to win the Lost Sierra Triple Crown competition last year, a three-race series that includes XC and endurance gravel events in Northern California.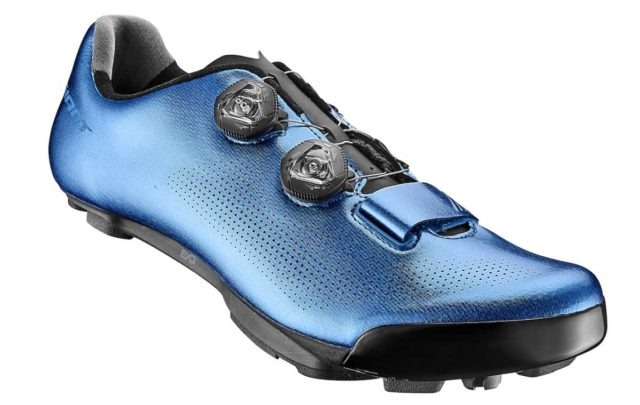 An evolution of the original Charge shoe, the new Charge Pro has an updated version of the Motion Efficiency System, called MES 2.0, that features the ExoBeam outsole and ExoWrap foot closure. The ExoBeam is a unique "beam" sole design that combines stiffness in the forefoot, where most of a rider's power is applied, with strategically engineered flex zones that reduce tension and strain in the lower leg by allowing the foot to move in a more natural way. New this year, ExoBeam technology has been optimized for off-road performance with a rubber-covered dual-beam design in the mid-foot area. This offers more stability and traction when the rider is unclipped from the pedal or walking.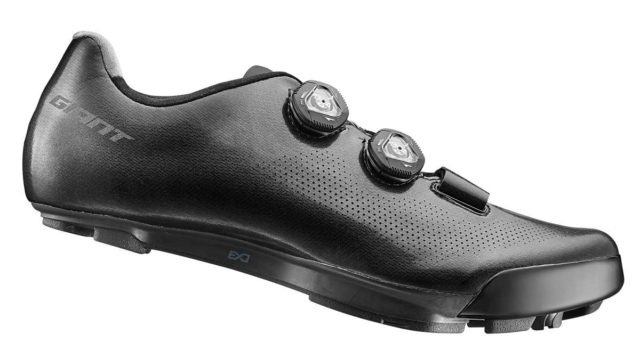 The ExoWrap works in harmony with the ExoBeam to produce a 360-degree enclosure of the foot. While most shoe closures simply pull the foot down toward the sole, ExoWrap fully supports the foot by also pulling up. Both the Charge Pro and Charge Elite use MES 2.0, which also includes a new plate design and last that offers a wider forefoot area to improve support and power transfer.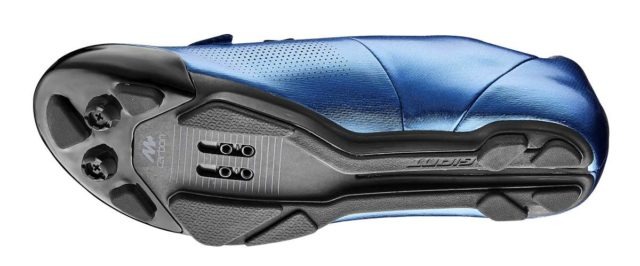 "The differences between the new Charge Pro and the original shoe are significant," said Decker. "This was an efficient shoe from day one, but now it feels more stable, more supportive and more comfortable—both on and off the bike. It's exactly what I want for going flat-out in an XC race or pushing my limits in a 100-mile gravel grinder."  
Additional features on the Charge Pro include ultralight carbon fiber material in the ExoBeam; a high-density, water-resistant polyurethane upper with laser-cut micro-perforations for venting; and a BOA LP1 reel to dial in the perfect fit quickly and easily.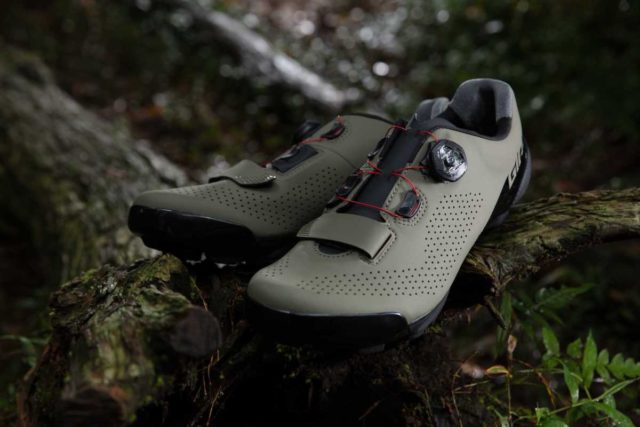 The Charge Elite offers a similar fit and feel, but with a different ExoBeam material that uses a carbon/fiberglass blend.
Our Sea Otter Video Covering the Entire Range
TRAIL/ENDURO MODELS
Also new to the lineup this year is the Shuttle Flat, the first high-performance off-road shoe from Giant made specifically for flat-pedal riding. It's designed for riders who prefer the comfort, confidence and versatility of flat pedals on terrain ranging from aggressive DH or gravity riding to daily trail rides.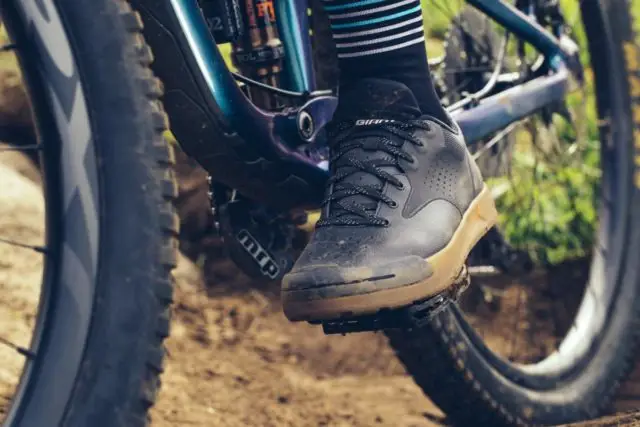 The Shuttle Flat is derived from the original Shuttle DH shoe, and it was created with input from Giant riders including ambassador Adam Craig. A retired XC and enduro pro racer, Craig now spends most of his time riding with friends and building trails in the Pacific Northwest. He says the Shuttle Flat is the perfect all-day trail shoe.
"You can put these on in the morning, hit the bakery, go enjoy some trails and hang around the campfire in them at night," Craig said. "It has a stable, intuitive feel on the pedals and is super comfortable for hiking, working on trails, or whatever your ride day activities might include."
The sole of the Shuttle Flat is made with GRIPR rubber on the pedal contact area and high-abrasion rubber in the heel and toe. This combination offers grip and control when riding plus off-the-bike traction and comfort. It has a number of trail-specific features including a reinforced toe guard with extra heavy stitching and a quick-drying, breathable upper to keep your feet dry and comfortable.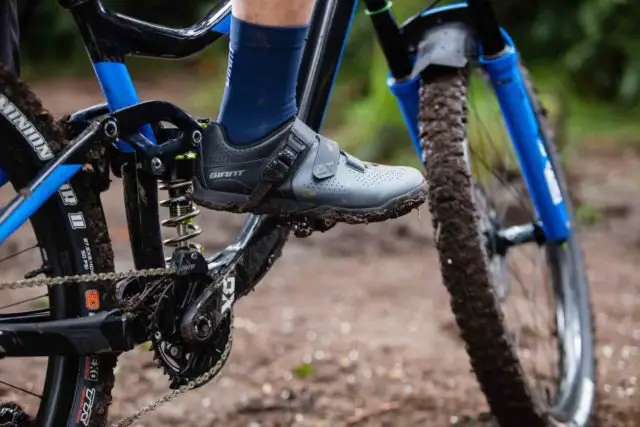 The Line trail shoe was introduced two years ago and quickly became a favorite among Giant's pro enduro racers and gear editors from mountain bike publications worldwide. For 2019, the Line gets updated with an all-new closure system and new color options. The QuickFit upper now has a single ratchet buckle plus two Velcro straps for fast, secure closure and adjustment.
Beyond the new buckle, the Line also features an integrated ExoBeam sole to combine pedaling efficiency with comfort and stability when riding or walking aggressive terrain. It's made with a ventilated hydrophobic upper that sheds water and mud while keeping the rider's feet cool, dry and comfortable in variable conditions. A rugged rubber sole provides stability and traction on and off the bike, and a reinforced toe box adds protection against trail obstacles. The Line is also now available in two color options: blue/black and gray/black.
Two new models join the trail riding collection this year. The Transmit (shown in the video above), made for aspiring off-road riders, features much of the same MES technology as the Charge series including the ExoBeam plate. The closure is designed with a protected ratchet buckle and reversed front strap for a secure, comfortable fit.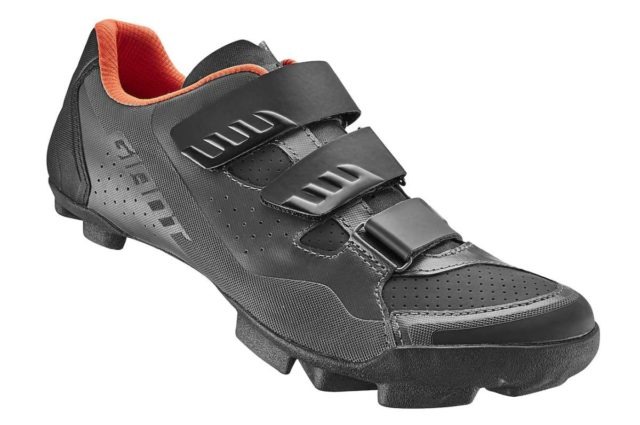 The Flux is designed as an entry-level off-road shoe that combines the efficiency and control of ExoBeam technology with the comfort and convenience of a two-strap closure.
For more information and the complete lineup of Giant's latest performance footwear, go to www.giant-bicycles.com/footwear.