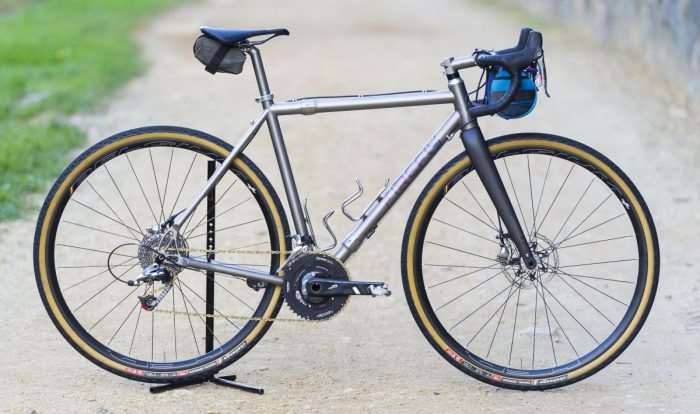 About Firefly Cycles
"Our work draws on decades of experience designing, crafting, riding, and racing custom bicycles. Before Firefly, we helped shape some of the most revered small frame builders in the world, and, in the process, we helped to shape national and international cycling and bike culture. When we started Firefly, we had a clear vision of our ideal custom bicycle company, and we have maintained that vision ever since. Our focus is not only on building the best bikes in the world here in Boston – a city steeped in cycling tradition – but also on fostering a deeper connection between the rider and their bike by welcoming them into the process of designing and building it. Only custom can offer that connection."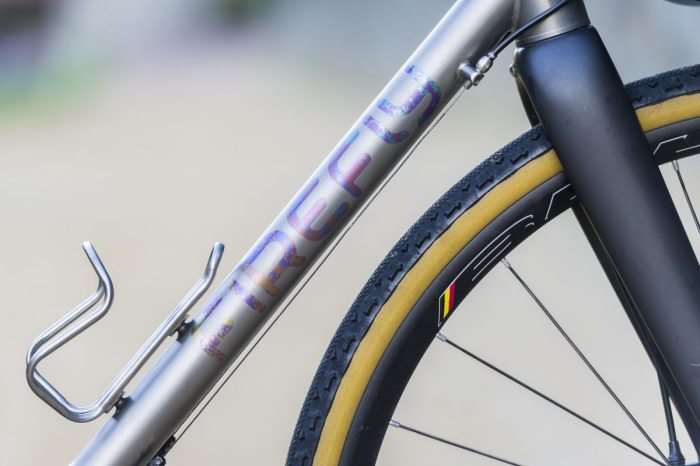 "All-Road riding can be virtually anything you want."
"To us, it's about exploring roads and trails in your neighborhood that you never knew existed, turning into the trail head you've always wondered about just to see what it's like."
"All-Road is about finding a whole new level of joy through the versatility of your bike. We love building all-road bikes because of how incredibly capable they are."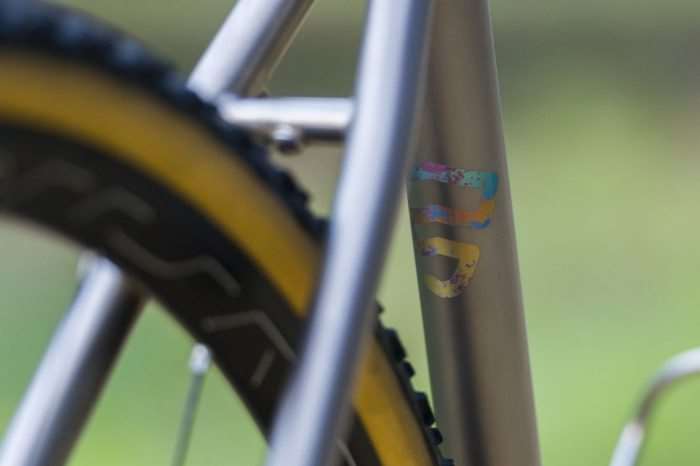 This beautiful Firefly All Road belongs to Patricia Ledesma. I had a chance meeting with Patricia at the 2017 Rebecca's Private Idaho, which led to a conversation about her bike, and ultimately, her bike being featured in this article.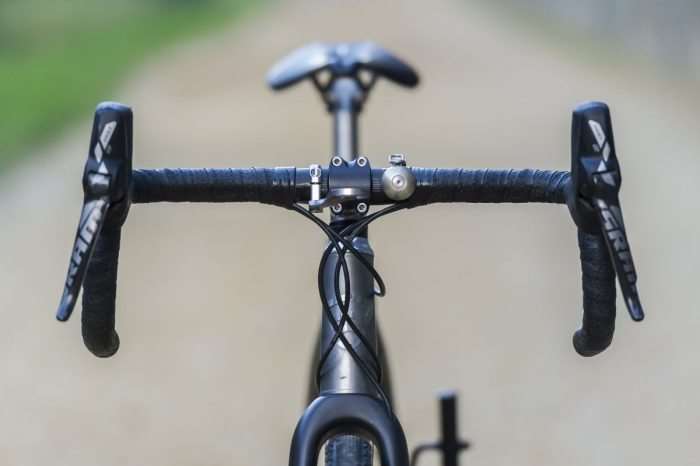 Patricia had lusted after a Firefly for more than a year before she pulled the trigger in the second half of 2015.
Her requirements were as follows:
A travel bike that she could take to gravel rides and maybe an occasional cyclocross race. For example, visit Michigan for the Lowell 50 gravel event and race cyclocross the next day in Chicagoland. Then, fly home.
Because of the travel objective, stay away from carbon components and electronic shifting, except for the fork.
Fender and rack mounts for light touring, should that be an interest later on.
Finally, Patricia desired some special custom touches to the frame that I'll cover later in this article.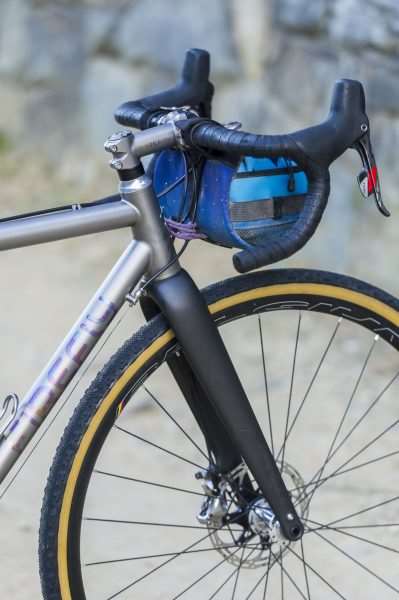 Above, an Ornot handlebar bag adorns the front end of Patricia's Firefly.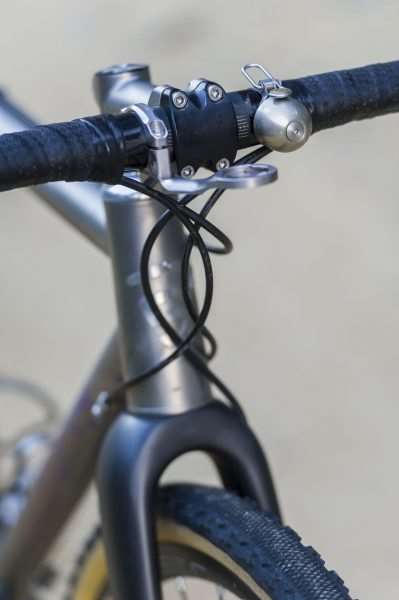 Matt Moore, owner and mechanic at District Cycle Works in Washington, D.C., is the man who orchestrated much of the work that went into this gorgeous machine. District Cycle Works is a small bicycle studio specializing in expert and personalized service, bespoke bicycle builds, and experienced consultation on all bicycle-related matters.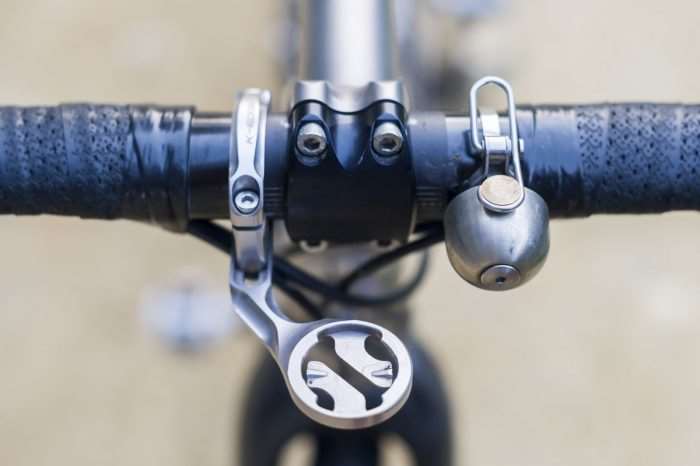 If you find yourself in Washington D.C., do yourself a favor and visit Matt's studio, located at 2603 P Street NW, Washington. The studio also hosts a Wednesday evening ride on the Chesapeake & Ohio tow path canal, the Lights! Gravel ! Action! ride (L!G!A!).
At the time of writing, the LGA rides are suspended, but shoot the folks at District Cycle Works an email for updates about that – studio at district cycle works dot com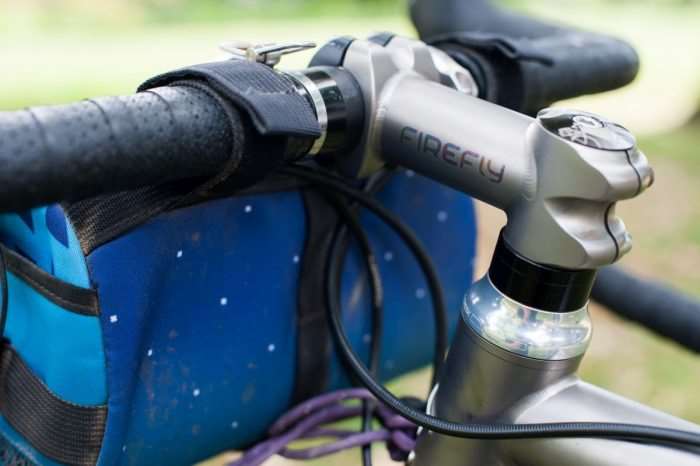 On the subject of the C&O tow path canal, many of these photos were taken there and at Rose Park, a popular local spot for riders to get in some quick cyclocross practice after work. For the unaware, the C&O tow path canal is an amazing gravel resource, stretching some 184 miles between Georgetown and Columbia, Maryland. It is on your editor's list to ride in 2018.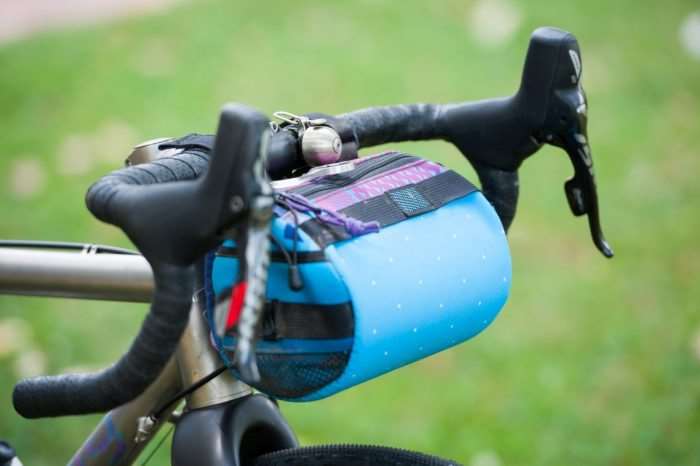 Ornot handlebar bags are cut and sewn in the United States. Visit the Ornot website to learn more about their product line.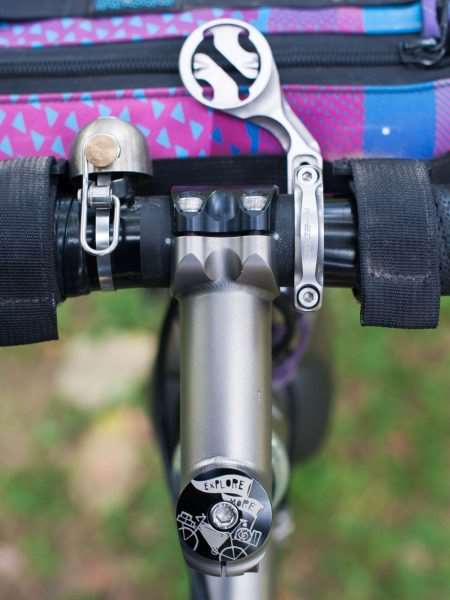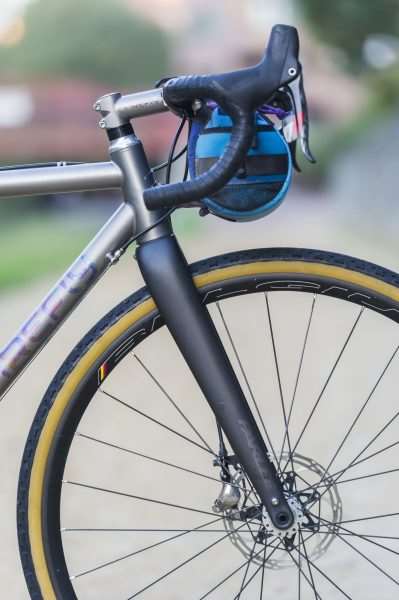 Above, the solitary carbon component on Patricia's Firefly All Road – a Parlee gravel / cyclocross fork.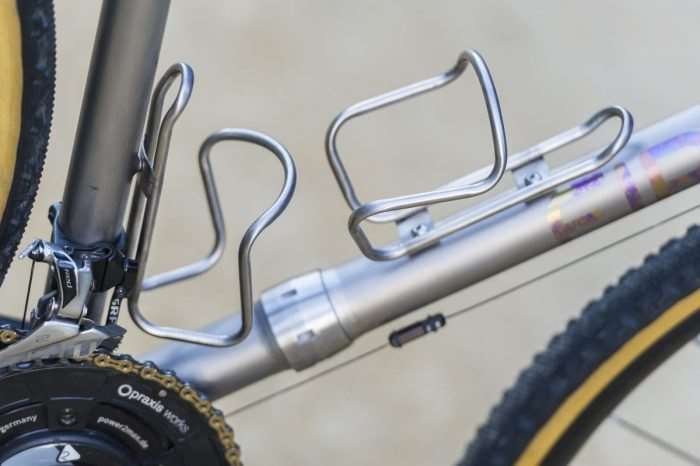 In the photo above, one of the S&S couplers that splits/joins the frame can be seen. Complimenting Patricia's Firefly is a set of King Titanium bottle cages, the best you can buy. You will never lose a water bottle riding these cages.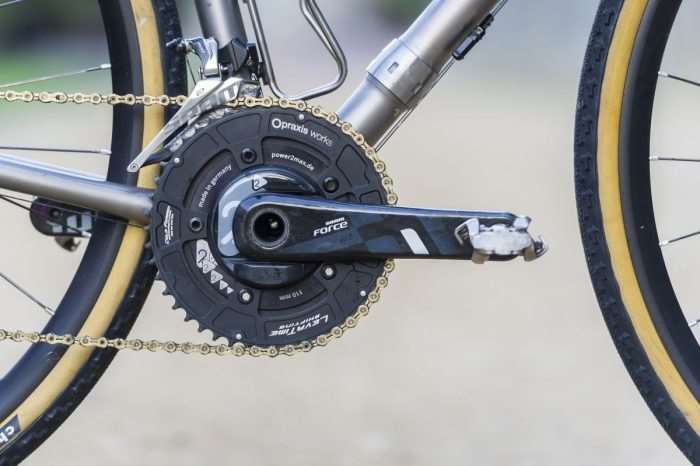 This quote from Patricia had me laughing – "Why a power meter? My FTP is ridiculously low but I manage my watts like a hedge fund manager on long rides. 🙂 (plus I like to be able to do interval workouts on any bike I own)."
Fitted to the SRAM Force crankset are Praxis 46/36 chainrings and a Power2Max German-made power meter. Power2Max power meters aren't common, but they are seen on the World Tour team bikes of Movistar.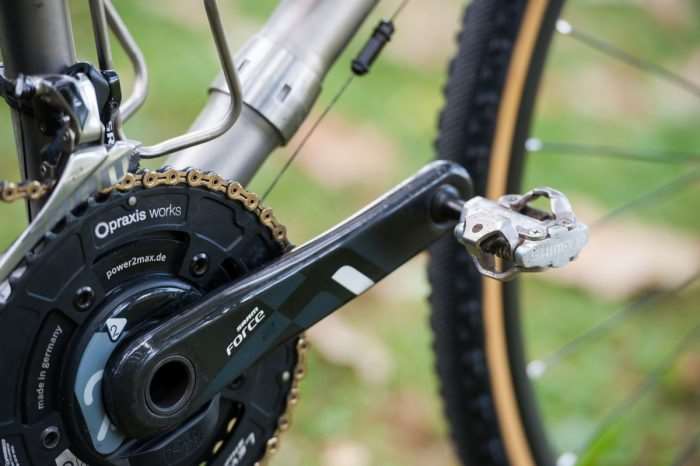 Shimano's PD-M424 pedals are a budget item, but get the job done.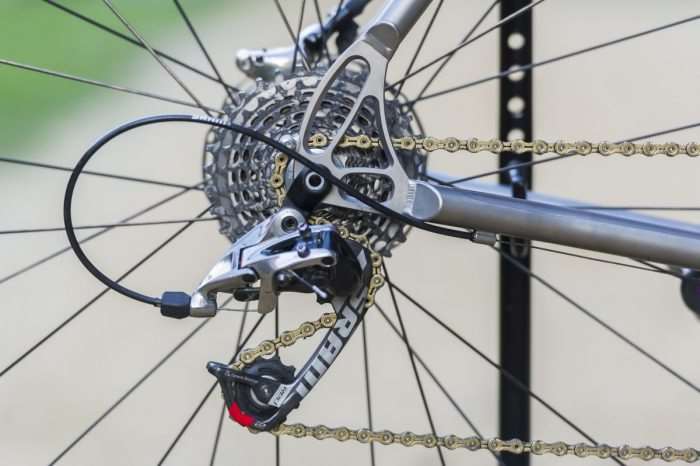 SRAM's Red 22 WiFli mechanical rear derailleur is a solid and reliable performer. The cassette is SRAM's top-tier Red 22 model in the 11-32 ratio. This cassette is mostly one solid chunk of heavily machined steel, and seriously light in weight. It's also a wee bit pricey.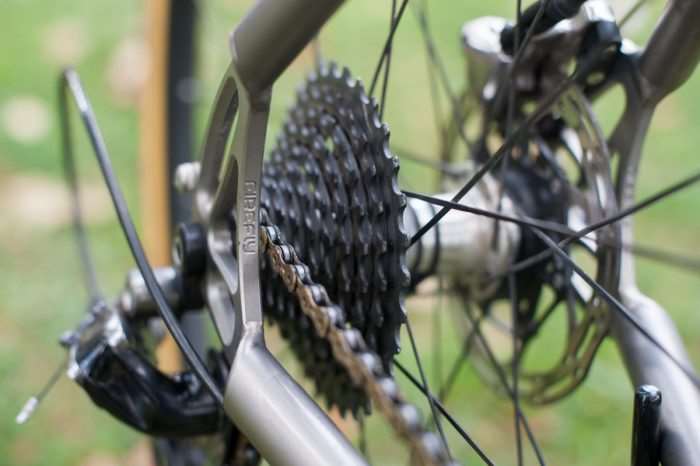 The Firefly dropouts are pure art. This level of detail is what separates a Firefly from your run of the mill titanium frame.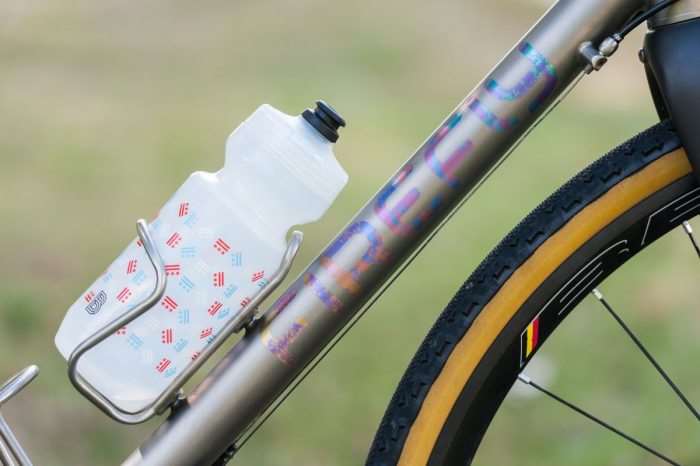 The sweet "202" bottles in this image are produced by Bottles and Bar Tape. As the company name implies, they also produce some very cool handlebar tape designs – you have to love the Curious Cat bar tape design! Bottles and Bar tape is local to the Washington D.C. area.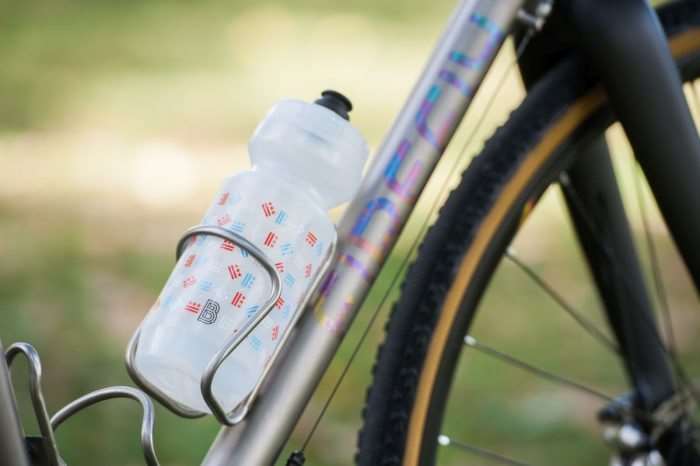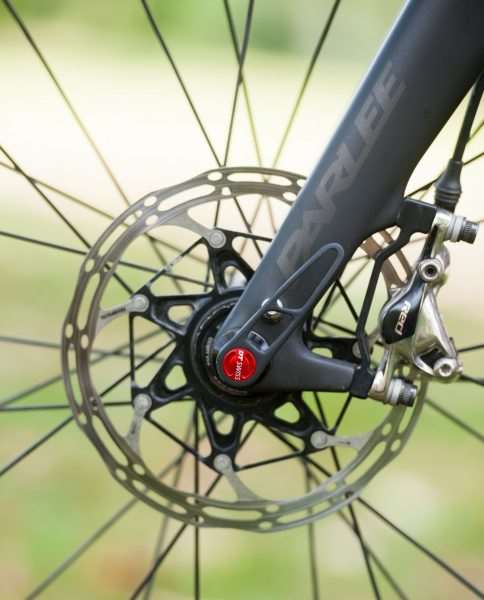 Parlee gravel / cyclocross fork and SRAM Red 22 hydraulic post-mount brake calipers paired to a SRAM Centerline 160mm rotor. A DT thru bolt keeps the front wheel safely attached to the fork.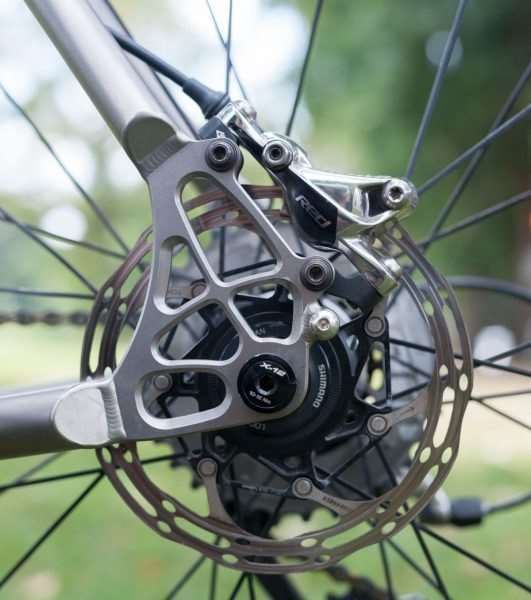 Another view of the stunning Firefly dropouts. On the rear of the bike, Patricia has chosen to save a few grams with a 140mm SRAM Centerline disc brake rotor.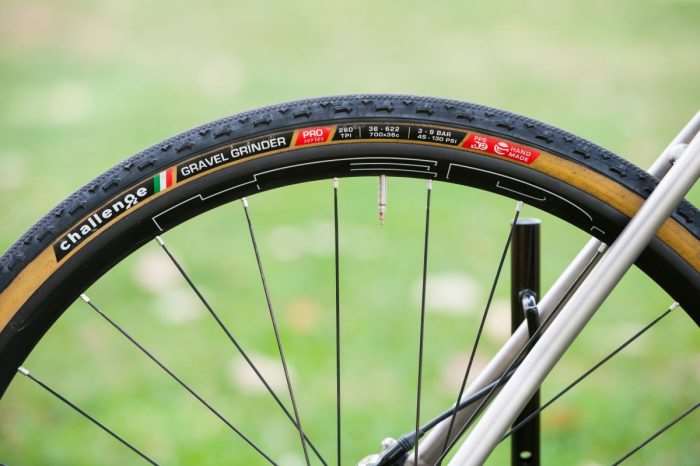 Tan sidewalls add a touch of class to any bicycle they are fitted to. The same goes with the Challenge Gravel Grinder Pro tyre in 700c x 36mm. Not designed as a tubeless-ready tyre, they convert to tubeless quite nicely.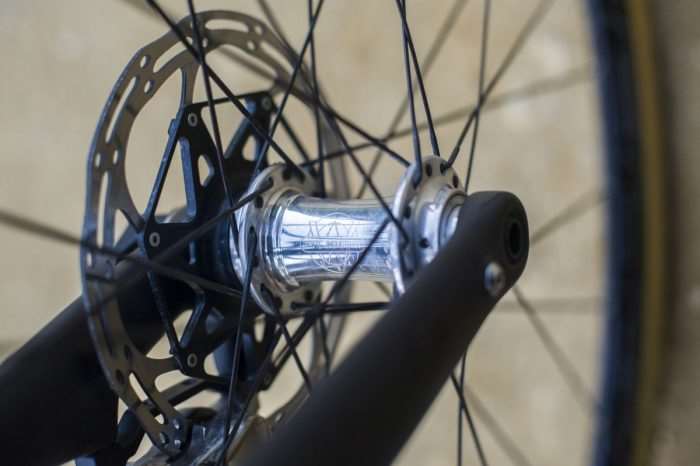 The wheelset on Patricia's Firefly features HED Belgium rims laced to White Industry hubs. The wheelset was built by Matt of District Cycle Works (see more about his studio earlier in this article).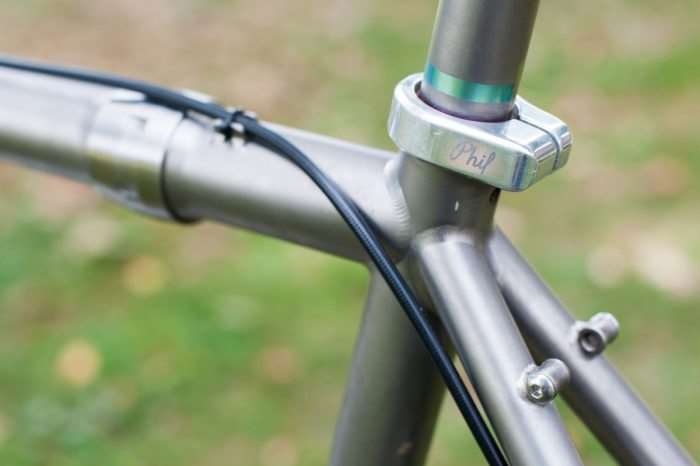 Note the anodized band on the Firefly's titanium seatpost. Patricia requested two such horizontal bands when she placed her order; one band marks her saddle height for regular, everyday riding and the second, her position for cyclocross. Very classy and no ugly electrical tape. Brilliant!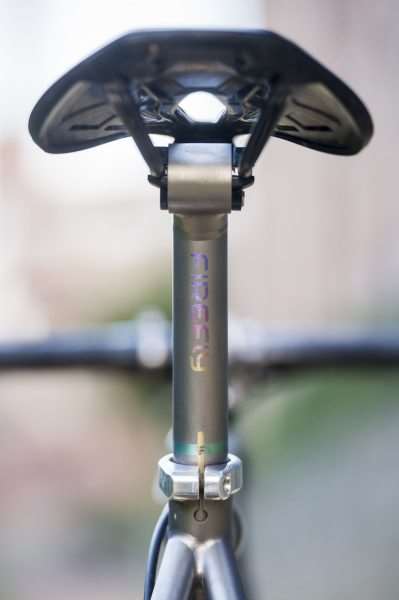 With attention to detail like in the photo above, it is no wonder there is a long wait list to purchase a bicycle from Firefly.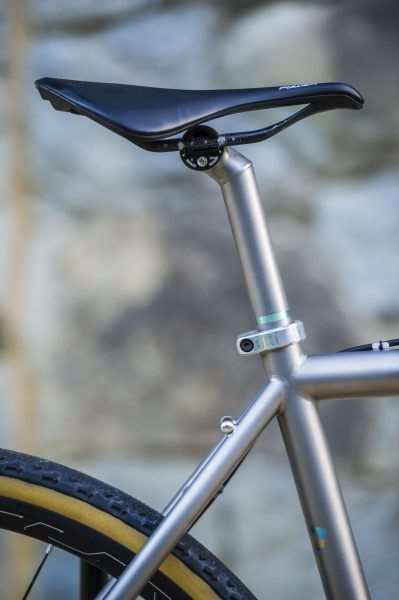 The Firefly custom-built seatpost is topped by a Specialized S-Works Power saddle.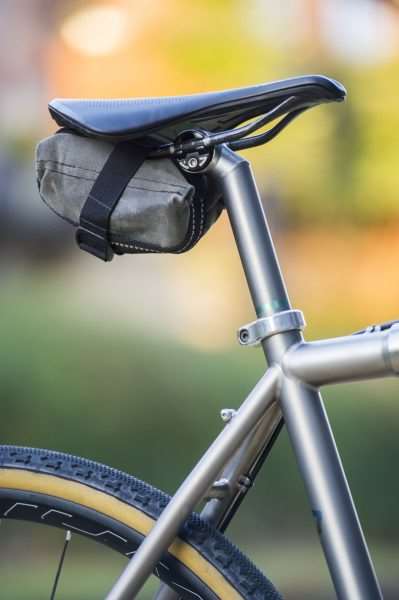 Above, a Silca seat roll by Yanco, a very hard to find item these days.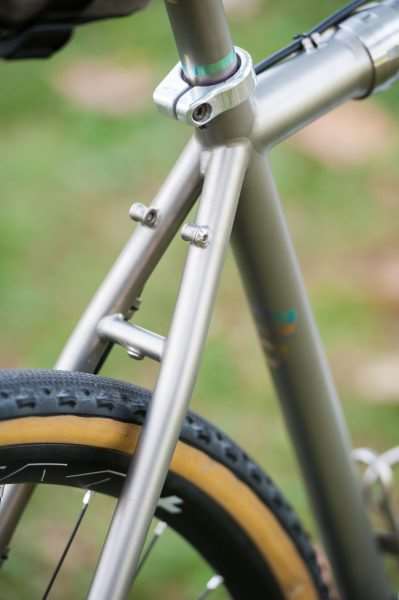 Fender and rack mounts are ready to go, should Patricia decide to take her bike for some light touring.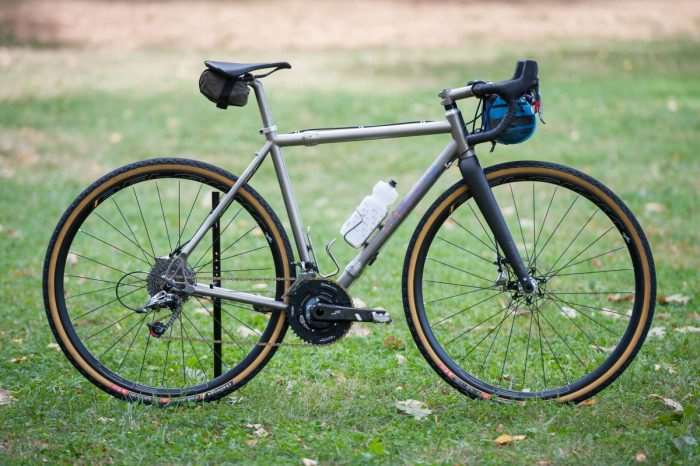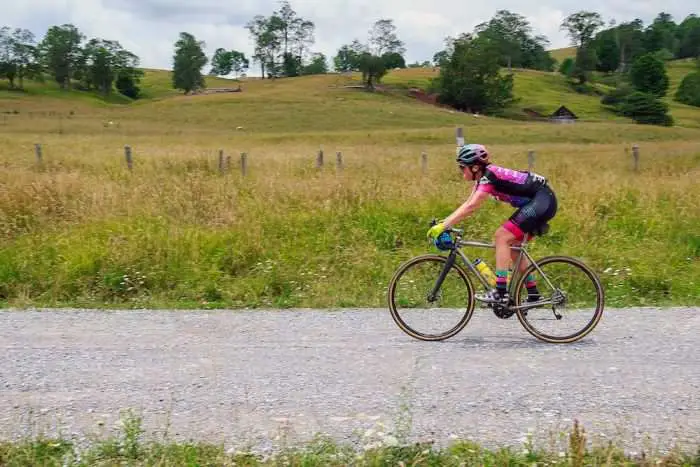 Patricia's Firefly doesn't sit around looking pretty. This photo of Patricia and her Firefly was taken at the 2017 Gravel Race Up Spruce Knob – Photo by R.J. Morrison Photos.
All other photos in this article by Soo Won Lee.
Patricia Ledesma's Firefly Bicycles All Road with S&S Couplers:
Frame: Firefly All Road Titanium with S&S couplers.
Fork: Parlee gravel / cyclocross disc brake fork.
Headset: Cane Creek 110.
Stem: Firefly custom titanium.
Handlebar: Zipp Service Course SL 70 Ergo.
Bar Tape: Fizik Superlight Tacky.
Brakes: SRAM Red 22 hydraulic, post-mount.
Brake Rotors: SRAM Centerline 160mm front, 140mm rear.
Brake / Shift Levers: SRAM Red 22 hydraulic/mechanical 11-speed.
Front Derailleur: SRAM Red 22.
Rear Derailleur: SRAM Red 22 WiFli.
Cassette: SRAM Red 22 11-speed 11-32.
Chain: KMC X11 SL Gold.
Crankset: SRAM Force 22 with Power2max Type S power meter, 46/36 Praxis Works chainrings.
Bottom Bracket: SRAM Red.
Pedals: Shimano PD-M424.
Wheelset: Custom built by Matt of District Cycle Works – White Industries CLD hubs laced to HED Belgium rims.
Tires: Challenge Gravel Grinder Pro, 36mm.
Saddle: Specialized S-Works Power.
Seatpost: Firefly, custom titanium with two anodized bands marking saddle height – one for regular riding and one for cyclocross.
Seat Collar: Phil Wood.
Bottle Cages: King Titanium.
Many thanks to Matt of District Cycle Works and Patricia – for the informative emails that went back and forth sorting out this article 🙂
If you own a unique gravel bike you'd like to see featured on Gravel Cyclist, please contact us.