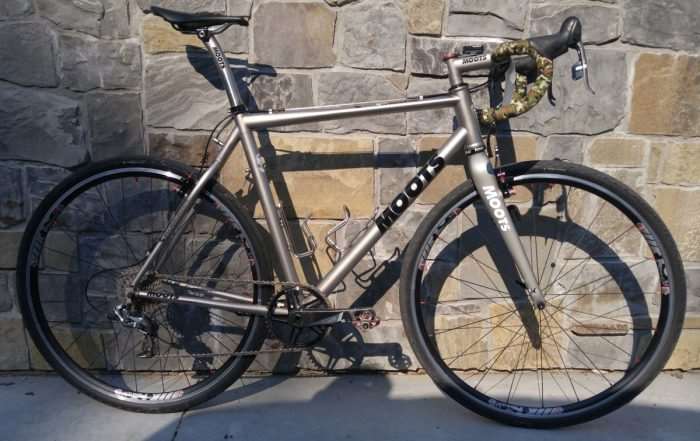 About Moots
"Moots Cycles has been handcrafting bicycle frames in Steamboat Springs, Colorado since 1981. The company is known for building the finest quality titanium road, mountain, cross, and specialty bicycle frames, and select components from its facility in the Rocky Mountains."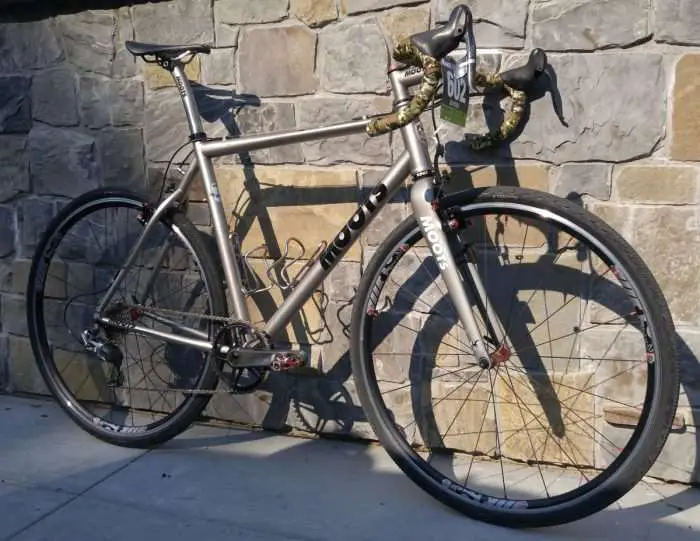 "In recognition of Moots' business leadership, product innovation and corporate / environmental responsibility Moots has been recognized as a Colorado Company to Watch."
The very first Moots, a custom steel road frame, rolled out the front door in Steamboat Springs, Colorado, in 1981. Since that time, the company has become renown for its production of titanium bicycles covering all genres of cycling.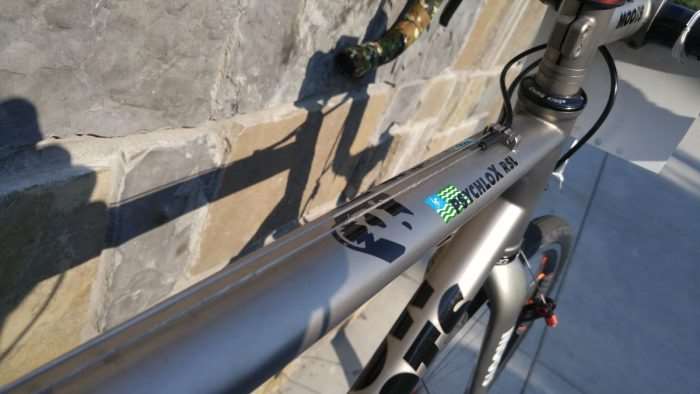 The Moots PsychloX RSL cyclocross bike made its first appearance in pre-production form at the 2011 Interbike trade show. Jon Cariveau, Moots' marketing director, rode his prototype PsychloX RSL to a fine second place finish in the Men's 45 – 49 age group at the 2012 USA Cycling National Cyclocross Championships.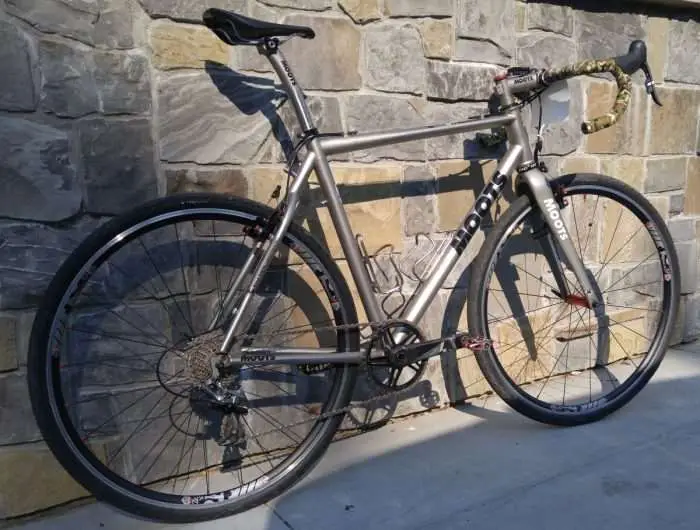 Moots utilize US-made seamless 3/2.5 titanium tubing in the construction of the PsychloX RSL. The tubing is heavily manipulated to drop the frame's weight to about 3lbs / 1.36kgs.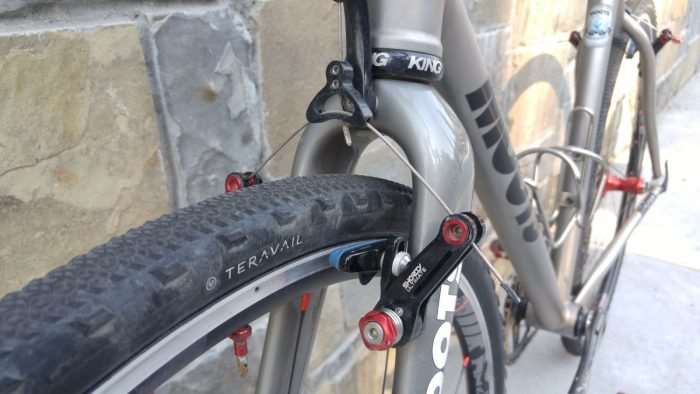 Disc brakes are across the board on virtually every new cyclocross and gravel bike circa late 2017, but this particular Moots PsychloX RSL came from a time period (just five years ago!) when disc brakes weren't quite mainstream in these genres.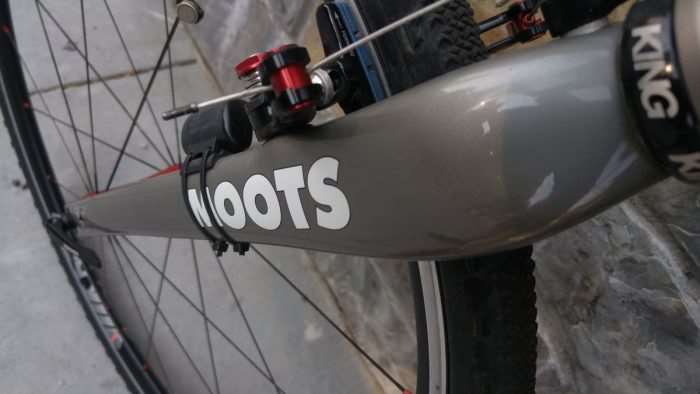 If you're new to the Gravel Cyclist website, you might be thinking:
Hang on a minute. How can you possibly use a cyclocross bike as a gravel bike?!
This Moots PsychloX RSL has cantilever rim brakes? Don't they suck? What the eff?
Your answer to those questions and more can be seen in our video, using a cyclocross bike as a gravel bike (real world experiences).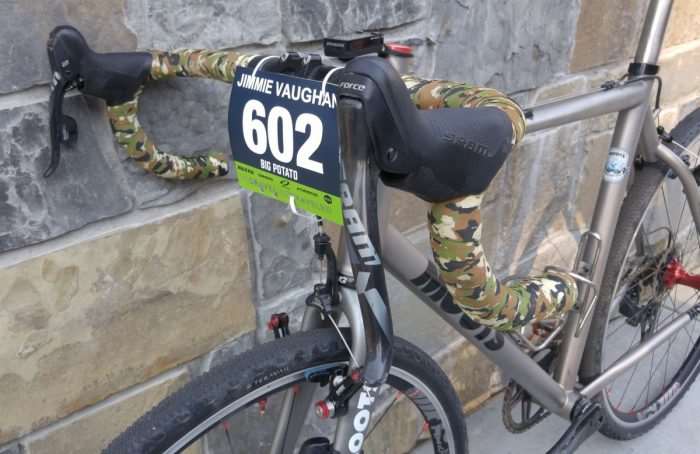 This example of the Moots PsychloX RSL belongs to Jimmie Vaughan of San Antonio, Texas. Jimmie rode this bike to greatness at the 2017 Queen's Stage Race – a pilot event at the 2017 Rebecca's Private Idaho. Be sure to check out our videos from that event – Stage 1 and 2 – Stage 3 (The Big Potato).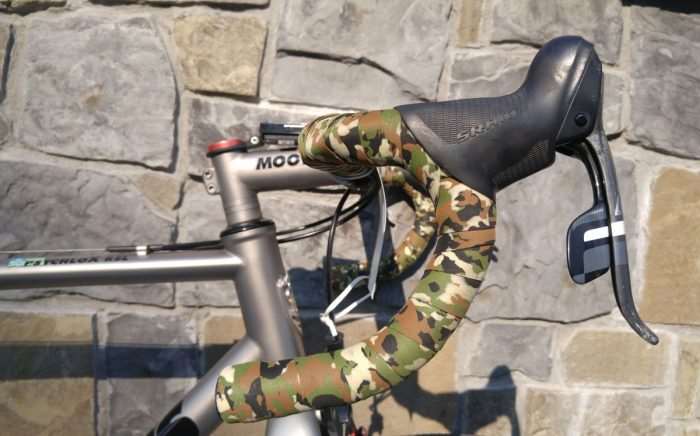 Starting at the front end, Jimmie's bike features a relatively traditional type drop handlebar – not flared – not compact drop – but just a little bit ergonomic. The duties of shifting are handled by SRAM Force 22 11-speed mechanical shifter / brake levers.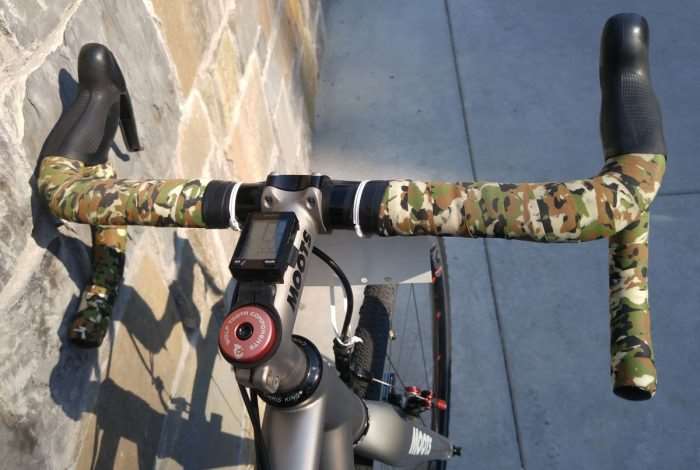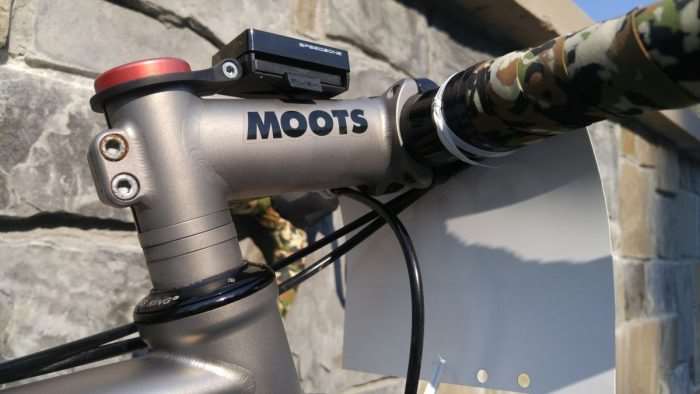 Everything about Moots is beautiful. Note the use of Moots titanium spacers beneath the stem (yes, we can see the rust on that stem bolt) that perfectly compliment the frame and stem.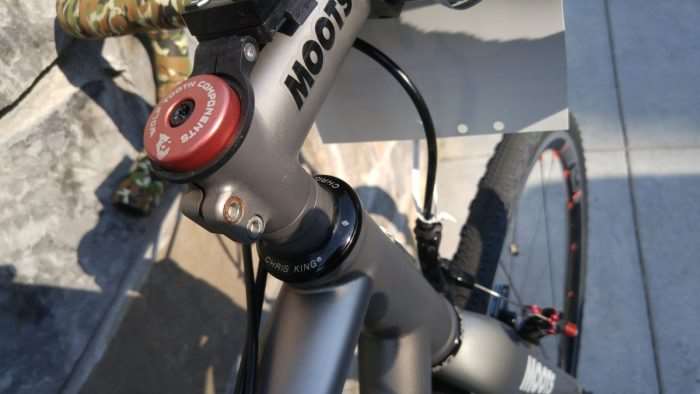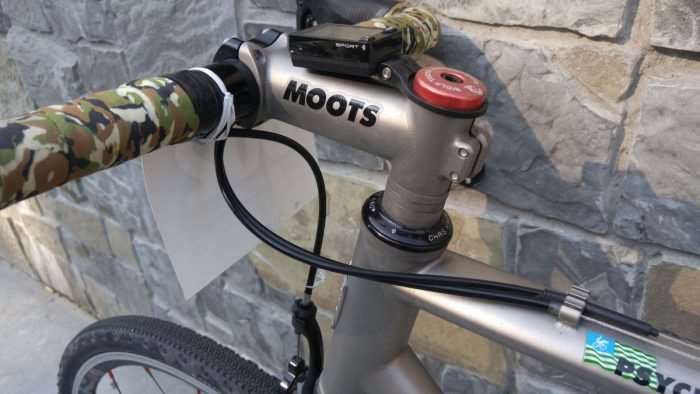 Because this Moots PsychloX RSL is now considered an older cyclocross bike where external routing was the norm – and still is in some cases – the rear brake and rear derailleur cable (no front deraillur, this bike is a 1X) are routed across the top of the top tube. This keeps cables away from mud and grime and allows for easier shouldering of the bike.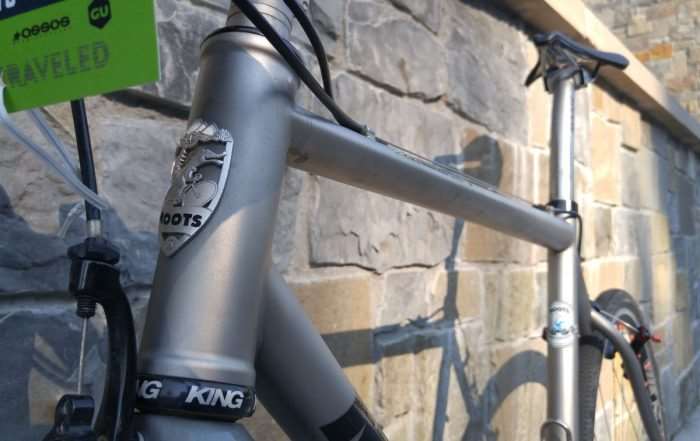 Note how the top tube flattens out towards the headtube.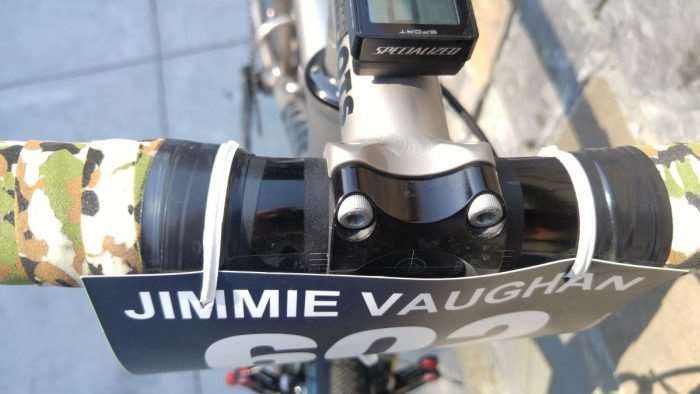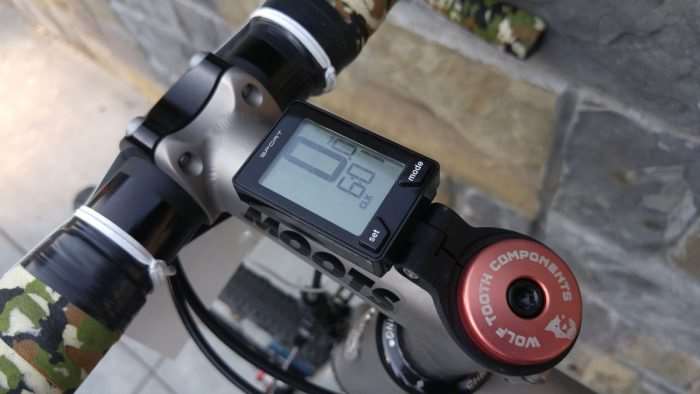 Jimmie eschews fancy Garmin computers or other devices for navigation. A simple Specialized Sport wireless computer keeps tabs on the important stats.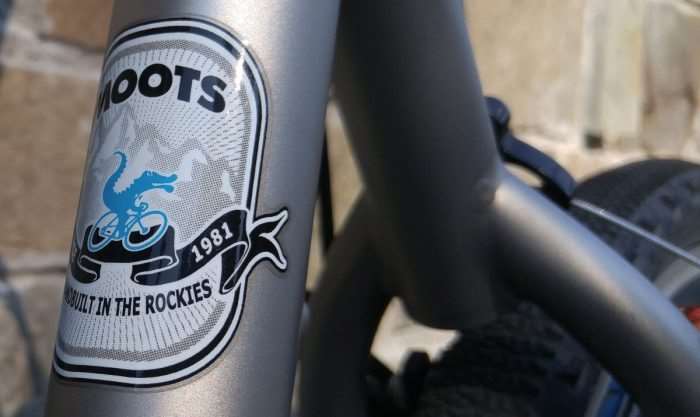 Thirty-six years is a long time to be in business, especially in the cycling industry.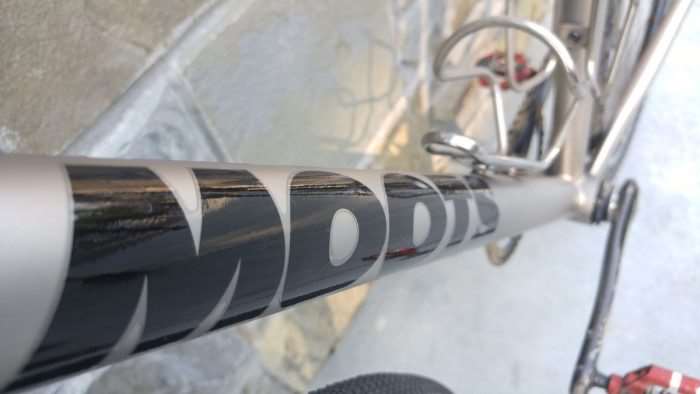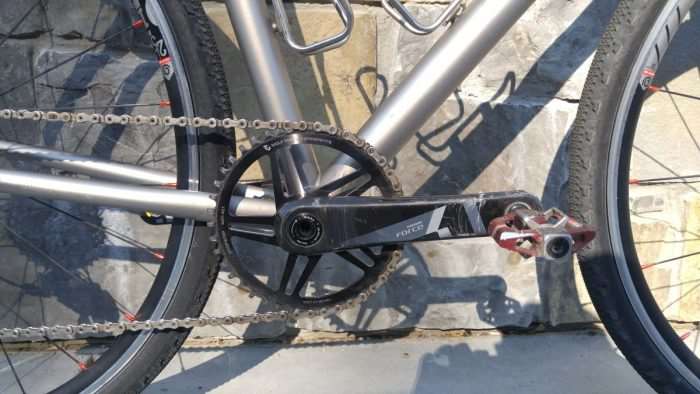 Love them or hate them, 1x / single chainring drivetrains are here to stay. Check out our video where JOM of Gravel Cyclist canvassed a bunch of random people at the start line of the 2017 Rebecca's Private Idaho on that subject. 1x or 2x drivetrains for gravel?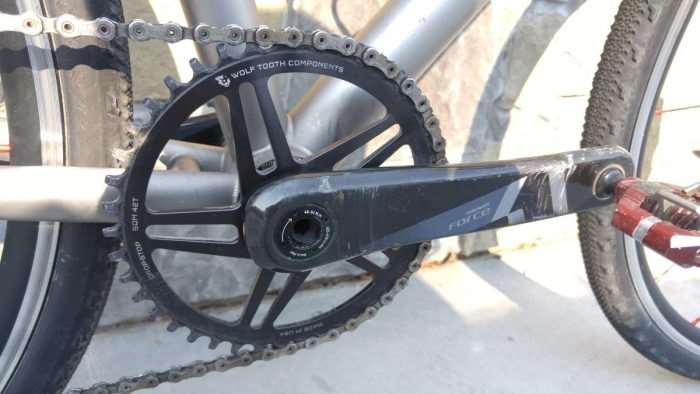 SRAM Force crankset and a Wolf Tooth Components Dropstop 42 tooth chainring.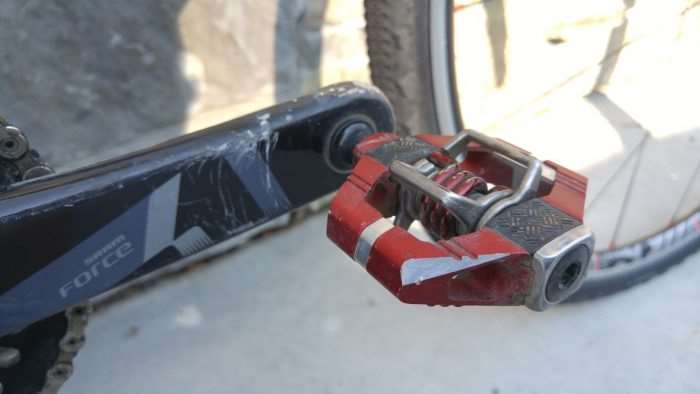 Crank Brothers pedals are relatively uncommon on cyclocross and gravel bikes.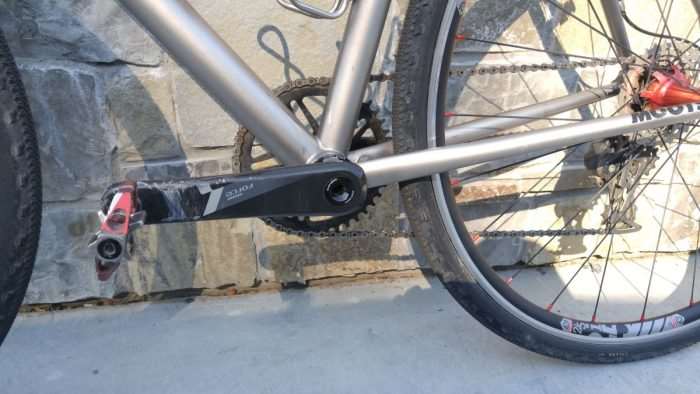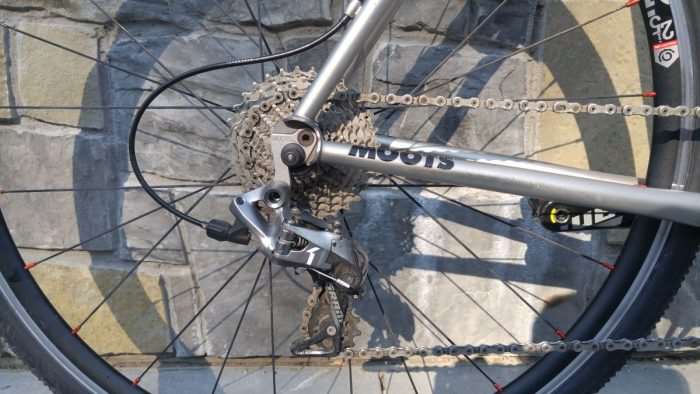 SRAM's Force 1 rear derailleur with clutch paired to a PG1170 11-32 11-speed cassette.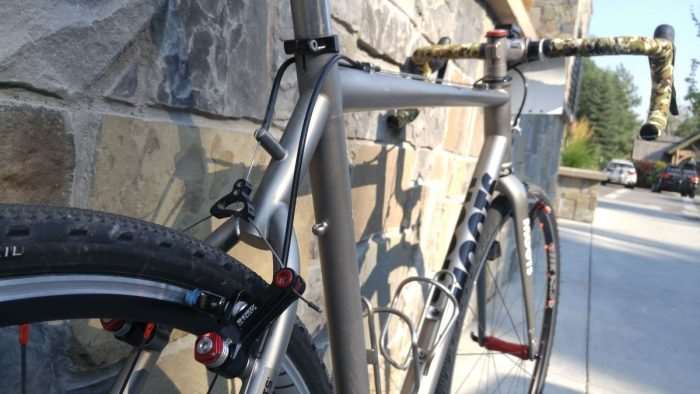 Above, the rear derailleur cable is routed along the right side rear seat stay.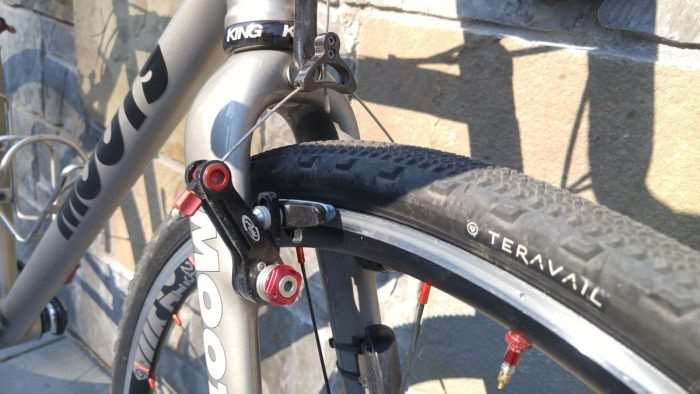 Properly configured, the Avid Shorty Ultimate cantilever brake has a ton of stopping power, excellent feel at the lever and good modulation. Don't believe us? Check out this video of the 2017 Crusher in the Tushar, where JOM of the Gravel Cyclist crew descends the Col de Crush and more, riding these same brakes.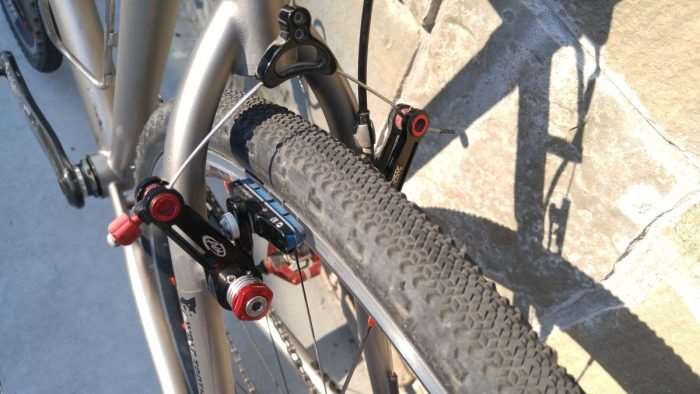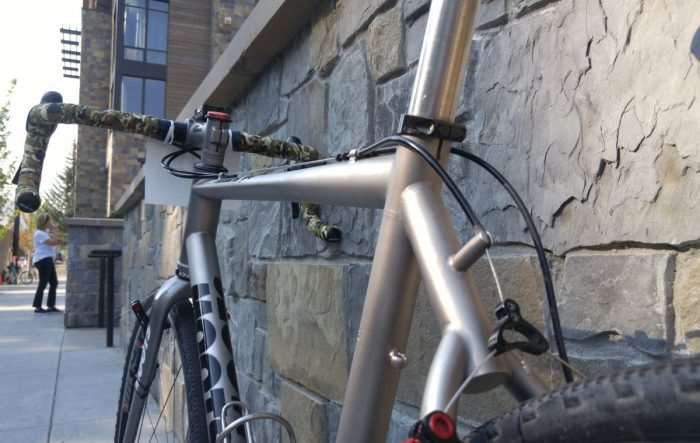 Another view of the Moots PsychloX RSL's flattened top tube and rear brake cable guide.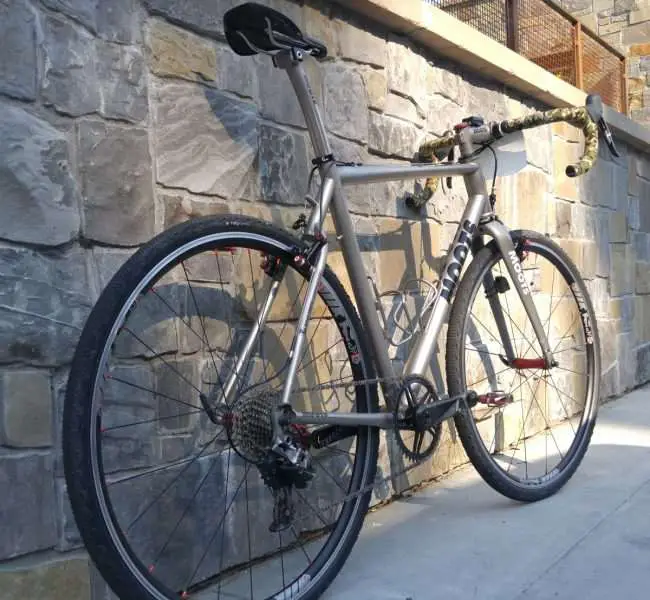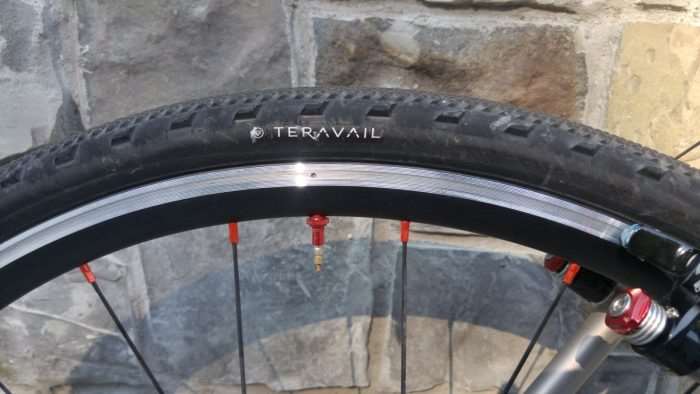 To the best of our knowledge, the Teravail Galena tubeless tyre is no longer produced. The Premium version at 120tpi (threads per inch), is relatively narrow by gravel standards at 700c x 32mm.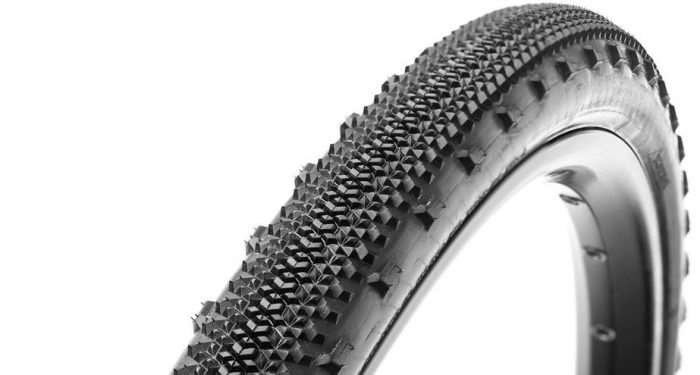 The Galena's tread pattern is optimized for fast and hard-packed gravel roads.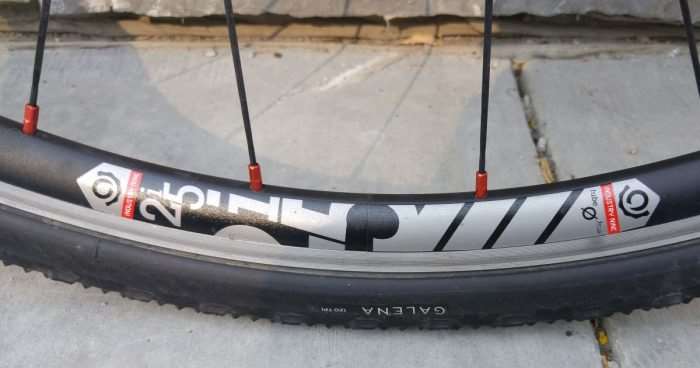 Rolling stock for Jimmie's bike is Industry Nine's I25 tubeless compatible, rim brake road wheelset.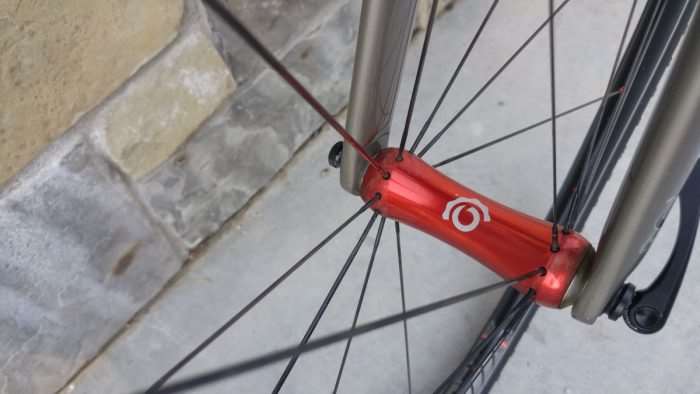 The Industry Nine I25 wheelset utilizes straight pull spokes and regular quick releases.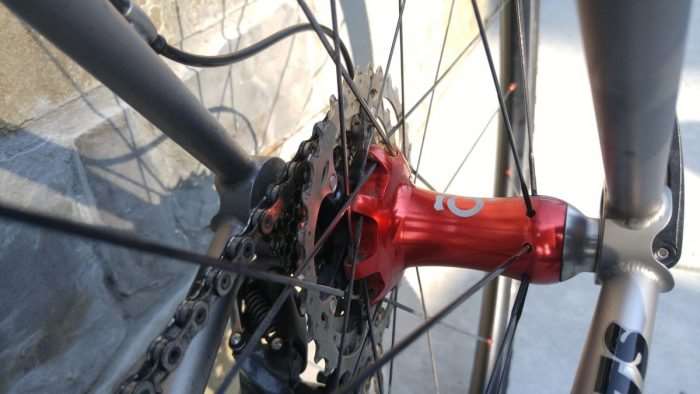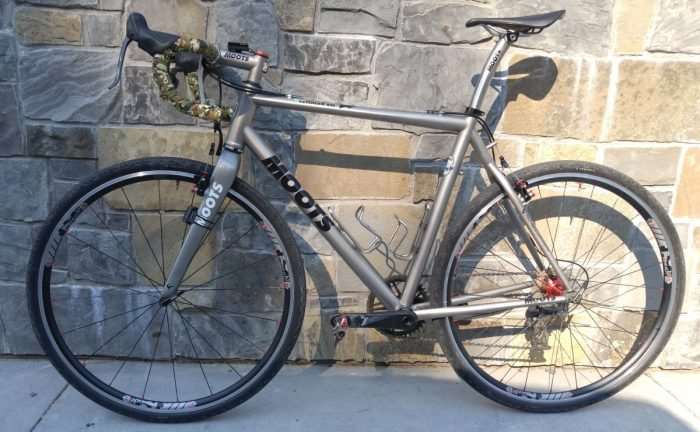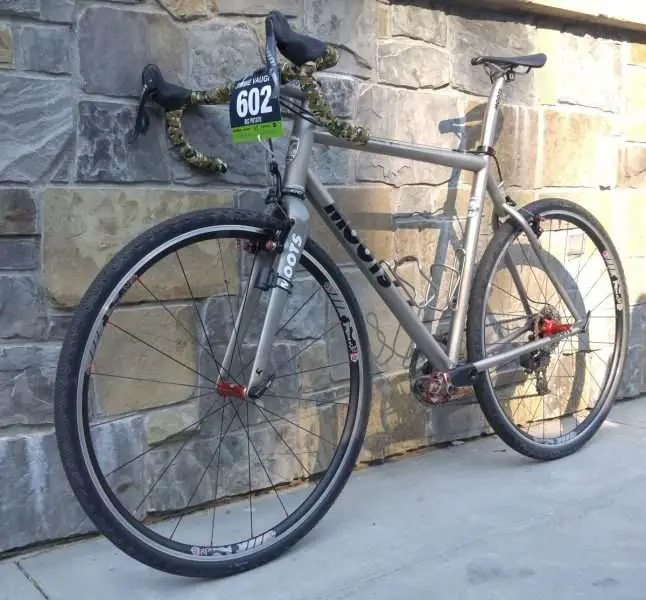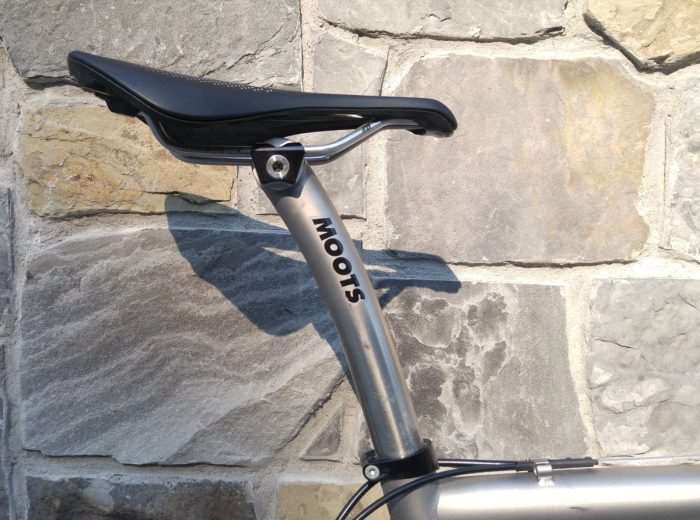 Note the subtle setback on the Moots titanium seatpost.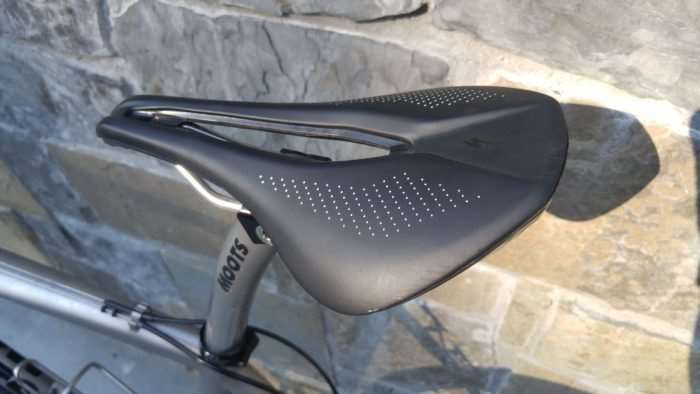 Above, the Moots seatpost is topped by a Specialized Power Expert saddle.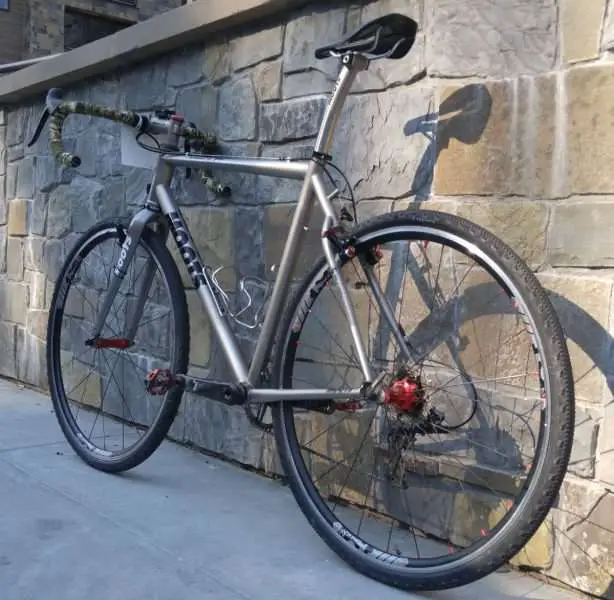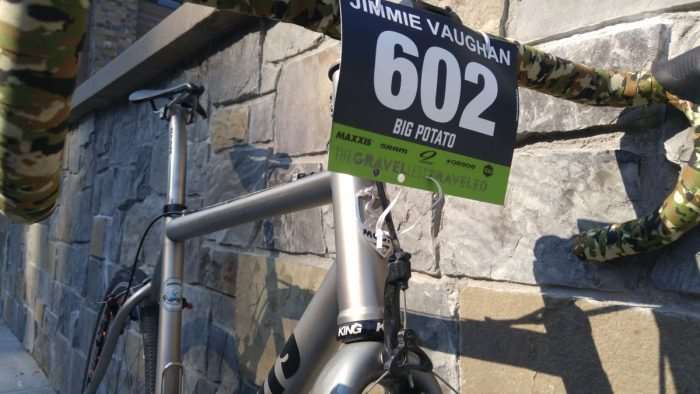 Jimmie Vaughan's Moots PsychloX RSL Titanium Cyclocross / Gravel Bike:
Frame: Moots PsychloX RSL.
Fork: Moots tapered carbon cyclocross fork.
Headset: Chris King.
Stem: Moots titanium.
Handlebar: Unknown.
Bar Tape: Unknown.
Brakes: Avid Shorty Ultimate cantilever.
Brake Rotors: N/A.
Brake / Shift Levers: SRAM Force 1 mechanical 11-speed.
Front Derailleur: N/A.
Rear Derailleur: SRAM Force 22 11-speed.
Cassette: SRAM PG1170 11-speed 11-32.
Chain: SRAM.
Crankset: SRAM Force with Wolf Tooth 42 tooth chainring.
Bottom Bracket: SRAM PF30.
Pedals: Crank Brothers.
Wheelset: Industry Nine I25 rim brake.
Tires: Teravail Galena 120tpi 700c x 32mm.
Saddle: Specialized Power Expert.
Seatpost: Moots titanium with setback.
Seat Collar: Moots.
Bottle Cages: King Titanium.
If you own a unique gravel bike you'd like to see featured on Gravel Cyclist, please contact us.