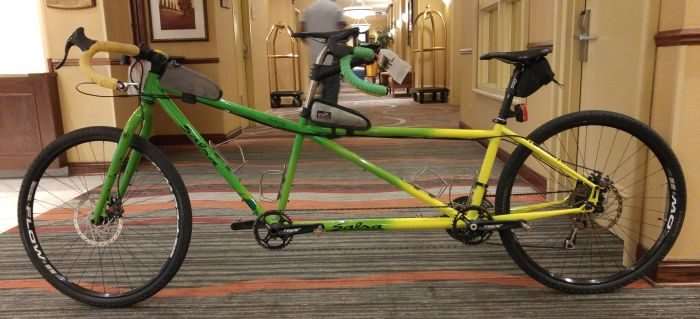 Salsa Cycles, originally a California-based mountain bike brand, was purchased by Quality Bicycle Products (QBP) in 1997. If you're not aware, QBP is the biggest distributor of bicycle parts in the United States. They sell their products to the thousands of bicycle shops that are dotted throughout the country.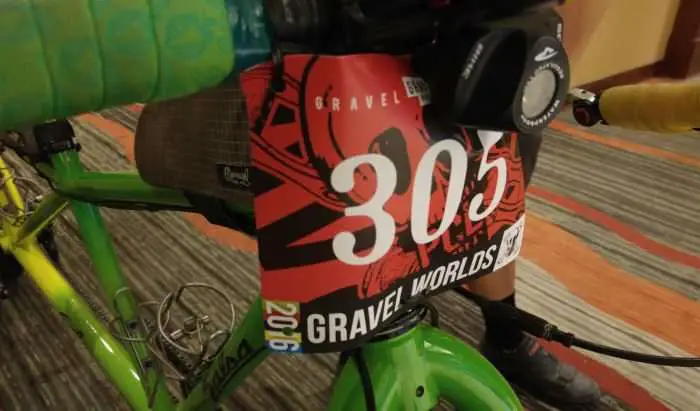 "Powderkeg is our 29'er tandem mountain bike. There are a myriad of ways in which to put Powderkeg to good use. Those feeling truly adventurous will take on a twisty singletrack trail and glean new appreciation for cooperation, communication, and teamwork. Gravel races and rides will be more attainable than that for most, but offer up a thrilling way to spend a day with a friend. Or just go out, together, on whatever road it is you wish to explore." The Salsa Powderkeg frame features 4130 CroMoly tubing.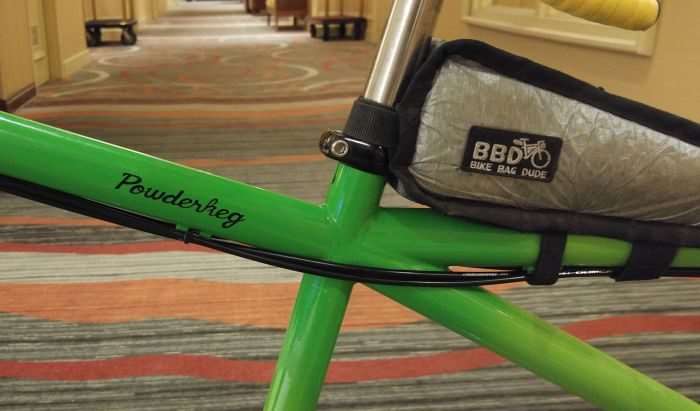 We interviewed Jay and Tracey briefly at Gravel Worlds, but ran into them again as they were checking into the race hotel the night before the race. Jay was kind enough to allow JOM of the Gravel Cyclist crew to snap a few images of what would ultimately be the winning tandem – hail Jay and Tracey Petervary as the 2016 Tandem Gravel World champions!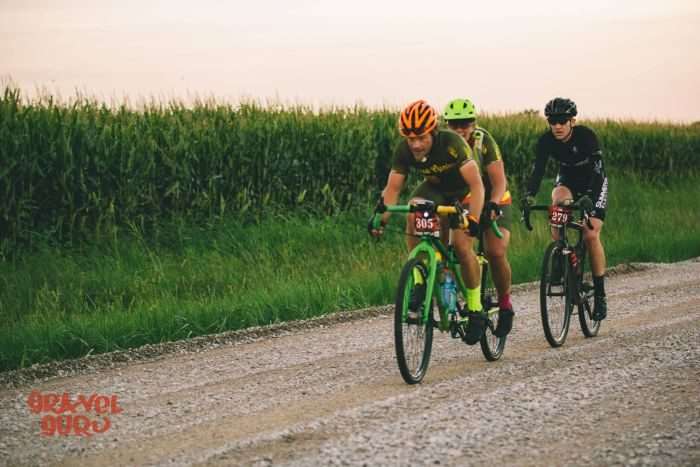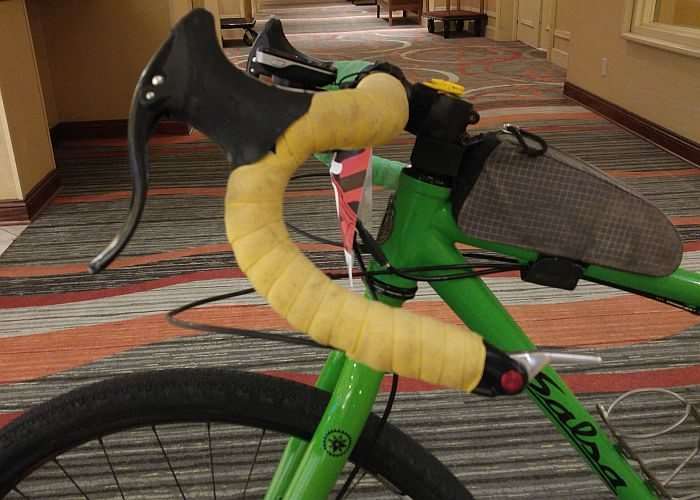 The stock build for the Salsa Powderkeg is your typical flat-bar MTB type setup, but Jay has switched to drop bars for both he and Tracey.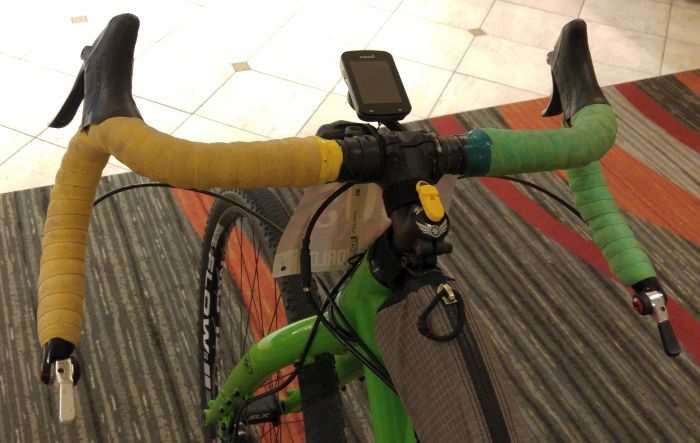 Salsa's Cowchipper bar with time-proven indexed bar-end shifters take care of the shifting duties.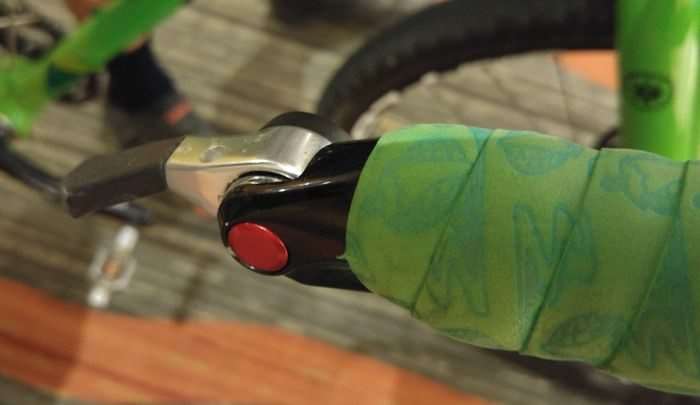 Before the prevalence of integrated brake / shifter levers, bar-end shifting was a popular method of shifting for 'cross racers. One's hands remained close to the handlebars versus reaching for a downtube shifter.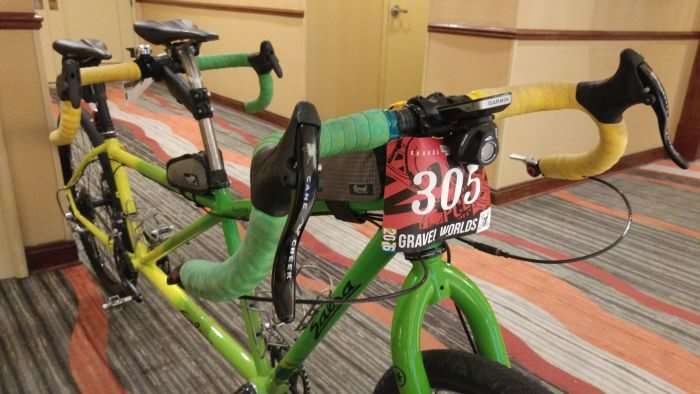 Jay and Tracey's bike has Garmin 520 computers front and rear.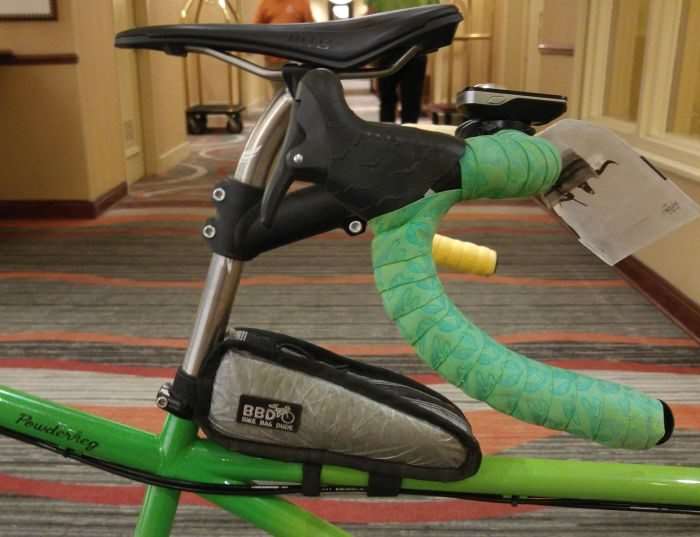 Salsa Cowchipper handlebars for the Captain and Stoker positions. We're unsure of the seatpost Jay is using, but it looks to be a Titanium post with setback. The design is reminiscent of a Moots seatpost.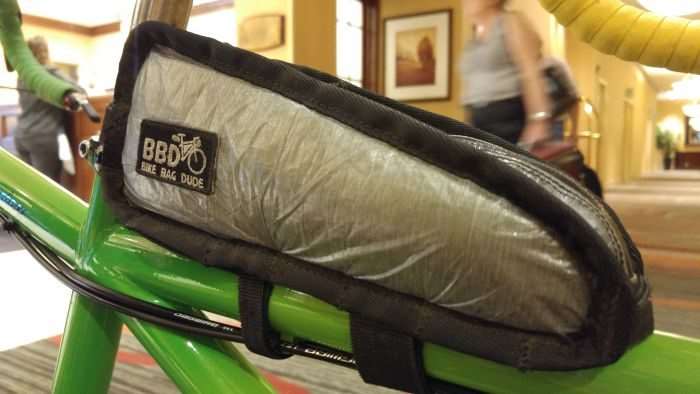 Tracey relies on a TT (top tube) Garage bag by Bike Bag Dude out of Mount Hutton, New South Wales – Australia.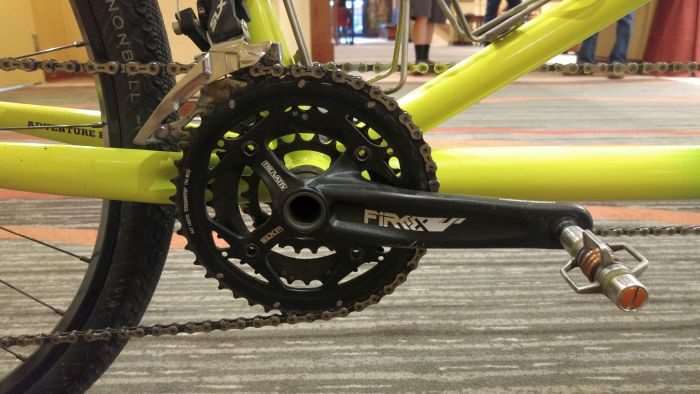 Jay keeps the stock crankset on his Salsa Powderkeg – Truvativ FC Firex TD triple with 44 / 33 / 22 chainrings – and Crank Brothers pedals. Shimano's SLX HDM 10-speed front derailleur handles shifting duties between the three chainrings.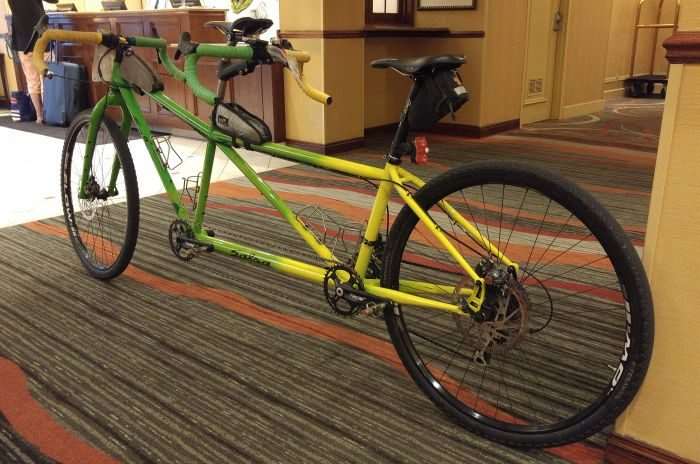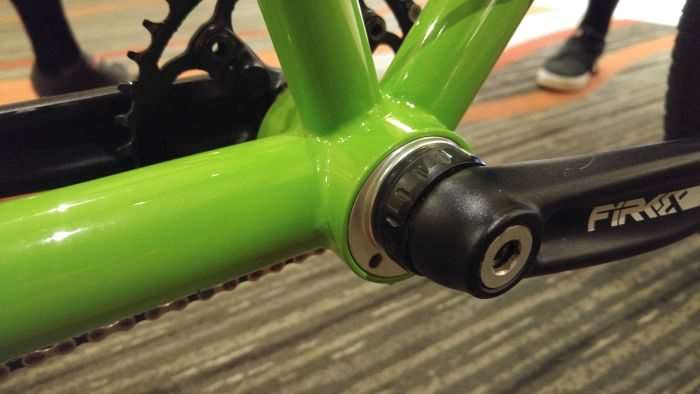 The timing chain on the Powderkeg is tensioned with a pinch-bolt eccentric bottom bracket.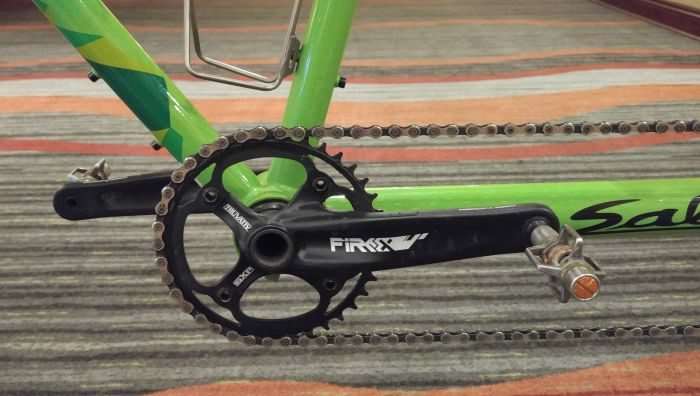 Front crankset runs a 38 tooth chainring.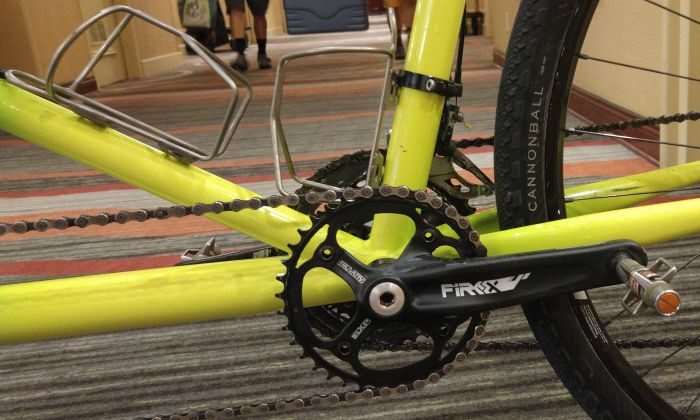 Likewise, the Stoker's crankset runs a 38 tooth chainring.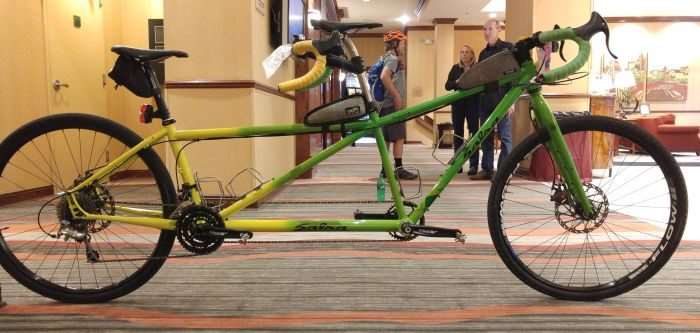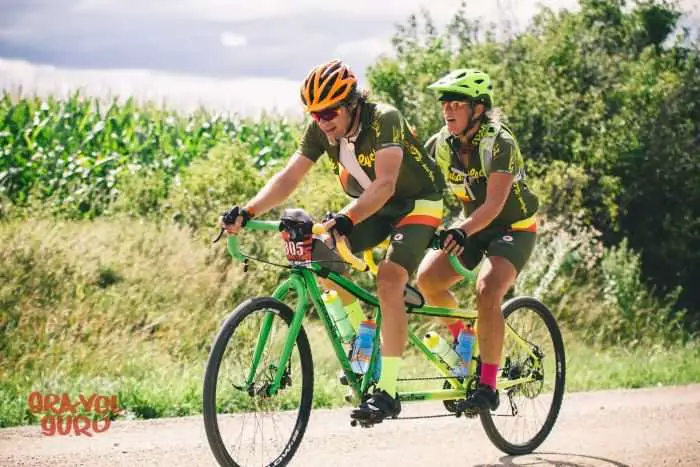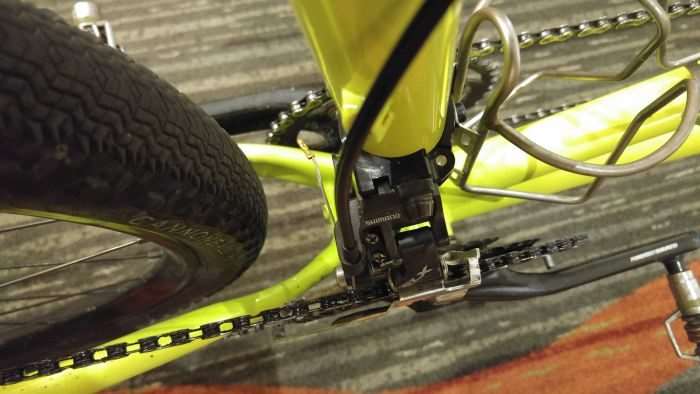 Another view of the Shimano SLX derailleur and the Powderkeg's generous tyre clearance – A 29″ x 2.4″ tyre will fit.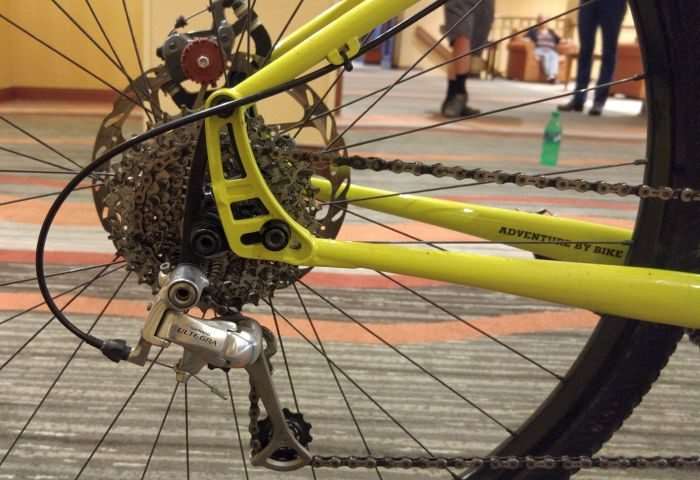 The stock SLX derailleur has been swapped for a mid-cage Ultegra 10-speed mechanical unit, matched to an Shimano SLX 11-36 10-speed cassette. Salsa's Alternator dropout provides versatility – single speed, geared, quick release, thru-axle, freehub or Rohloff.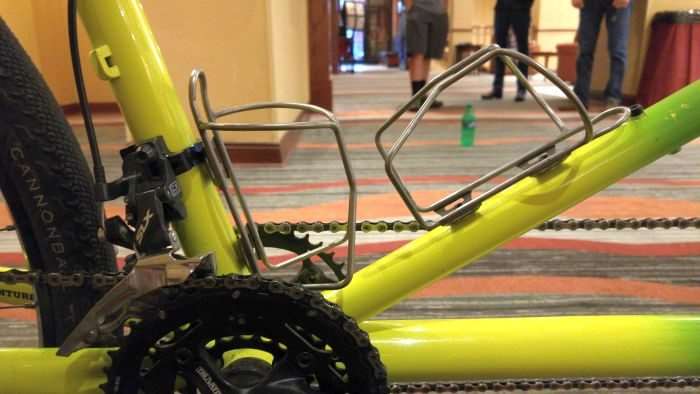 Uncertain of the bottle cages in use: perhaps Jay, Tracey or a reader will chime in?
Avid's venerable BB7-MTN mechanical brake provides the stopping power on a 200mm Avid steel rotor. Thru-axles feature front and rear on Jay and Tracey's Powderkeg.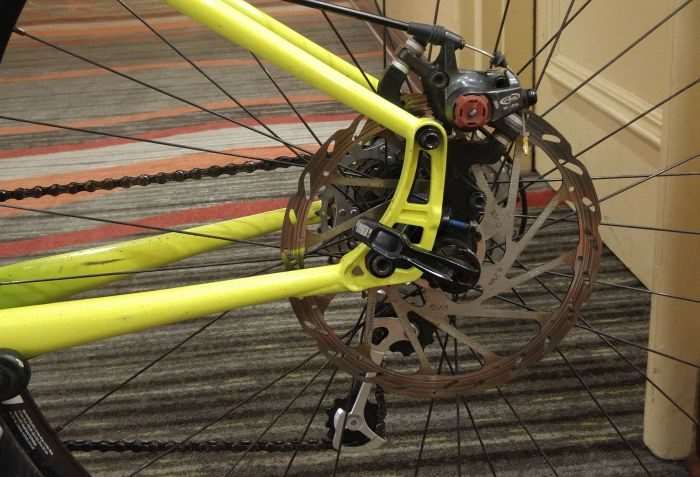 Avid 200mm steel brake rotor on the rear.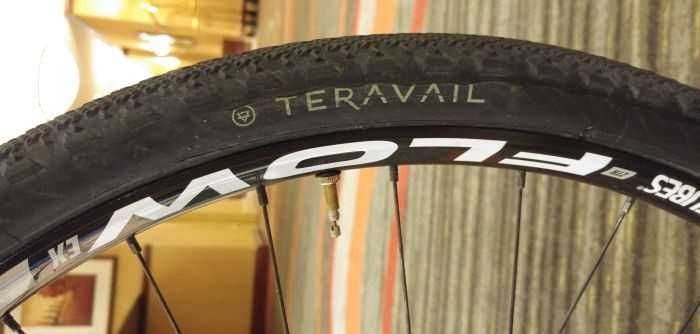 Teravail Cannonball 700c x 38mm tyre mounted to Stan's NoTubes Flow EX rims.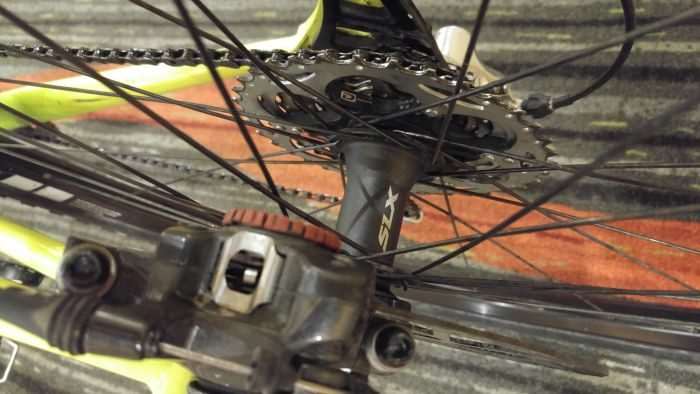 Shimano SLX thru-axle hubs front and rear, with 32 DT Swiss Champion straight gauge spokes.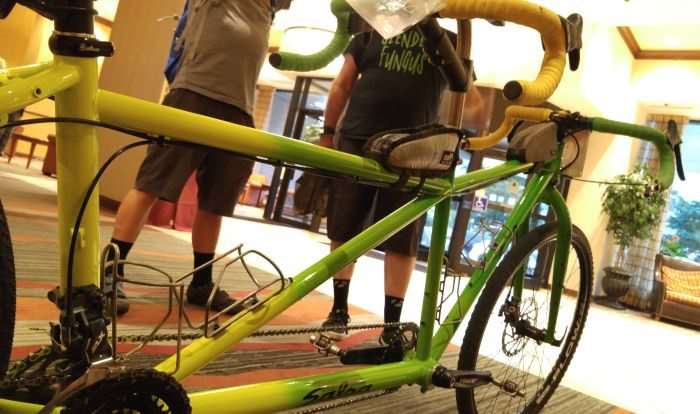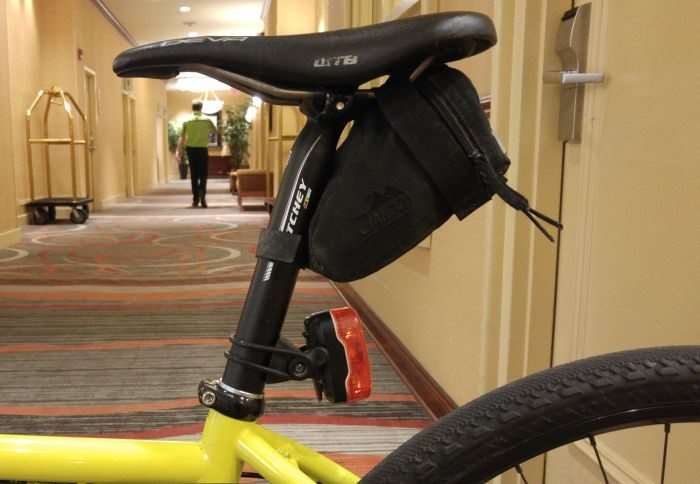 Ritchey WCS single-bolt seatpost for Tracey.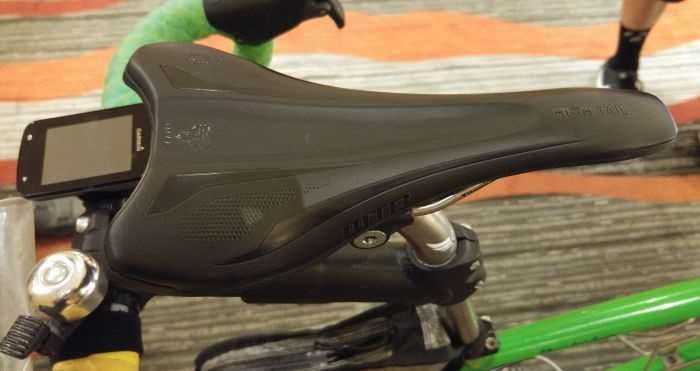 Jay perches on the WTB High Tail saddle. Note Tracey's Garmin 520 computer.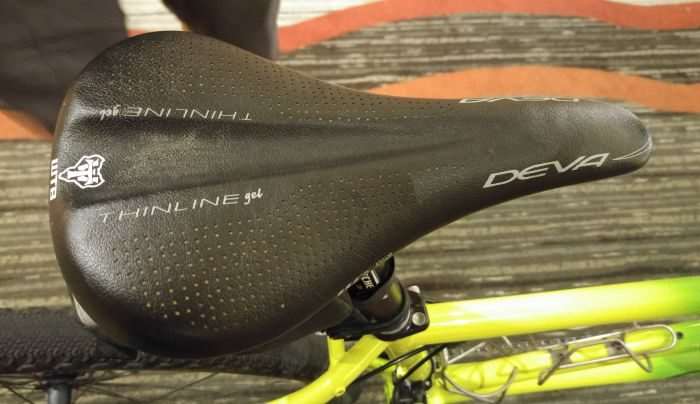 Tracey's saddle of choice is the WTB Deva Thinline Gel.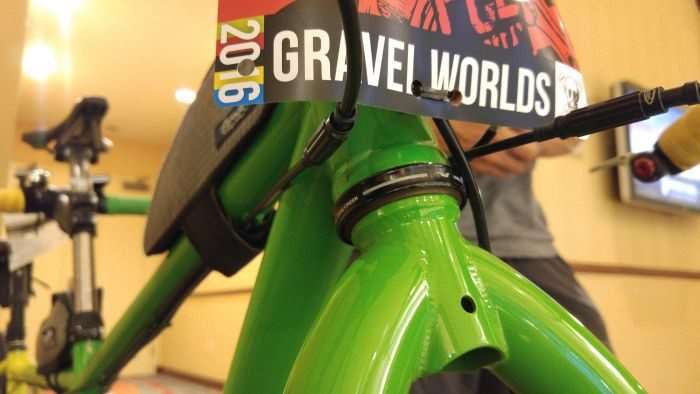 Cane Creek headset holds the beefy, Powderkeg 4130 CroMoly fork in place.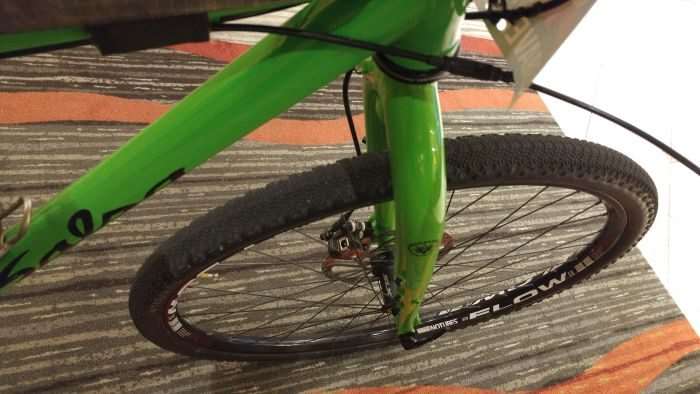 The Powderkeg's 4130 fork features a tapered steerer tube – 1 1/8″ to 1 1/2″.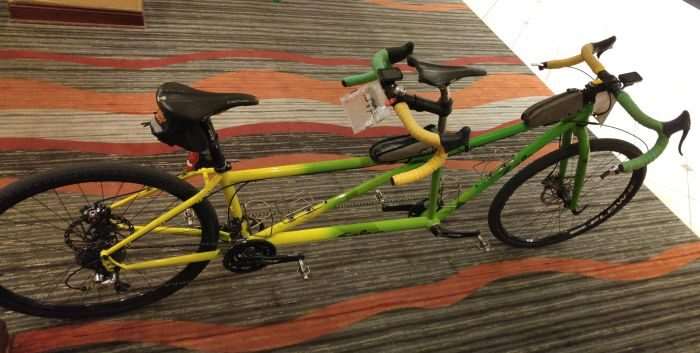 In case you were wondering, Jay managed to squeeze the Powderkeg tandem into the elevator – only after the front wheel was removed and the tandem carefully angled in.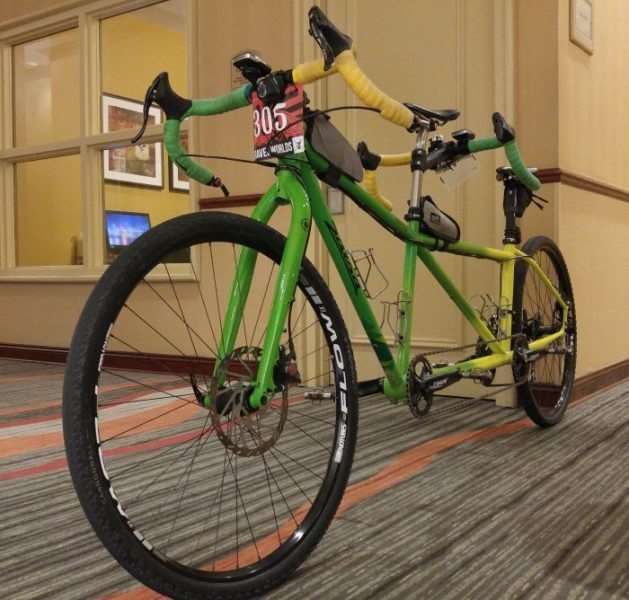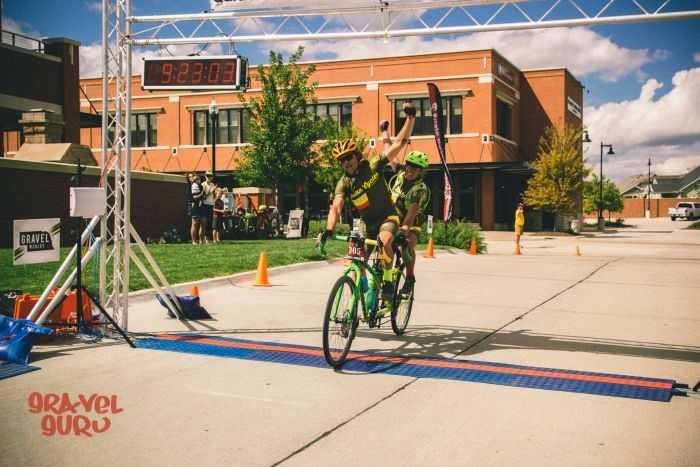 Frame: Salsa Powderkeg Cobra Kai 4130 CroMoly, size Medium / Small.
Fork: Powderkeg tandem 4310 CroMoly steel, tapered 1 1/8″ to 1 1/4″ steerer tube.
Headset: Cane Creek 1 1/8″ to 1 1/4″ integrated – ZS44/28.6 upper, EC 44/40 lower.
Stem: Salsa Guide front, Zoom ajdustable tandem rear.
Handlebar: Salsa Cowchipper front and rear.
Handlebar Tape: Salsa Gel Cork tape.
Front Brake: Avid BB7-MTN mechanical disc.
Rear Brake: Avid BB7-MTN mechanical disc.
Shift / Brake Shift levers: Cane Creek brake levers, Shimano 10-speed indexed bar-end shifters.
Front Derailleur: Shimano SLX HDM triple, 10-speed.
Rear Derailleur: Shimano Ultegra 6700 mid-cage 10-speed.
Cassette: Shimano SLX 10-speed, 11-36.
Chain: SRAM PC-1090R 10-speed.
Crankset: Truvative FC Firex TD 44/33/22 chainrings front, Truvative FC Firex TD 38T rings for Captain and Stoker.
Bottom Bracket: Salsa Eccentric.
Pedals: Crank brothers for both riders.
Wheelset: Shimano SLX thru-axle hubs (15mm front, 12 x 142mm rear), laced to Stan's NoTubes Flow rims, 32 DT Swiss Champion straight gauge spokes. Brake rotors are Avid's in 200mm.
Front Tyre: Teravail Cannonball 700c x 38mm filled with unknown sealant.
Rear Tyre: Teravail Cannonball 700c x 38mm filled with unknown sealant.
Saddle: WTB High Tail, WTB Deva Thinline Gel.
Seatpost: Unknown titanium for Jay, Ritchey WCS for Tracey.
Bottle Cages: Unknown steel.
Computer: Garmin 520 x 2.
Bike weight – Approximately 42lbs.