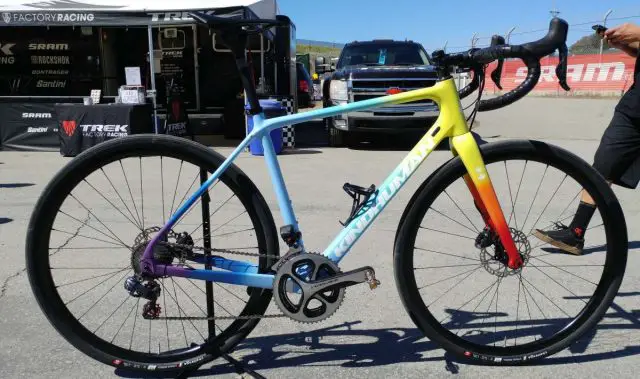 To say the Sea Otter Classic is a spectacle is an understatement. More than just a festival of bicycle racing over four days at the Laguna Seca Raceway, the show has grown into an important consumer and media show. Historically, the show has seen manufacturers release new bikes, components and related goodies.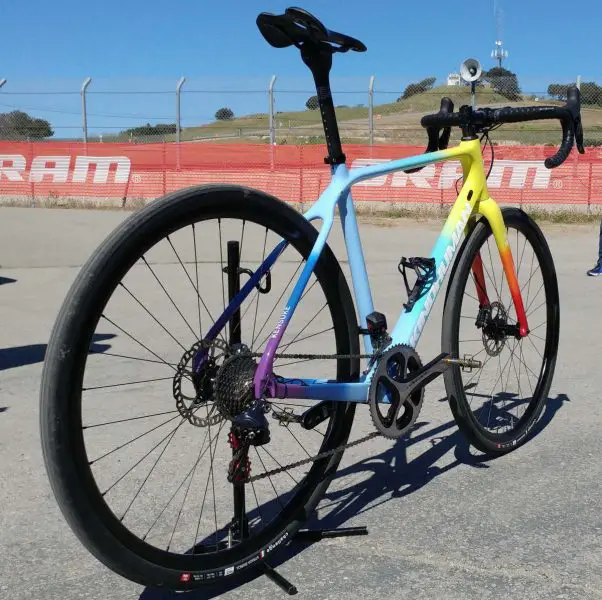 This article covers the bikes I didn't capture enough photos of due to various reason. But, some of these bikes may feature later here on GravelCyclist.com – aka, I have follow-up to do.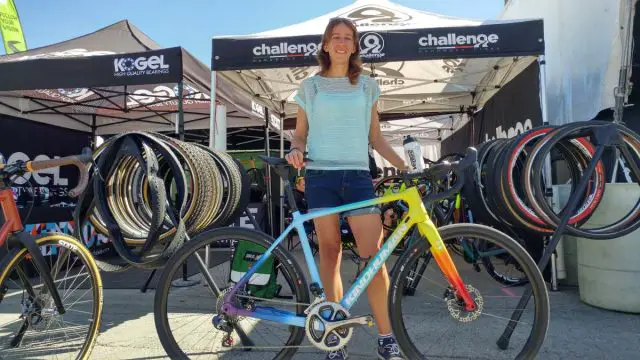 First up is the KindHuman Kensuke owned by a legend of Cyclocross, Helen Wyman.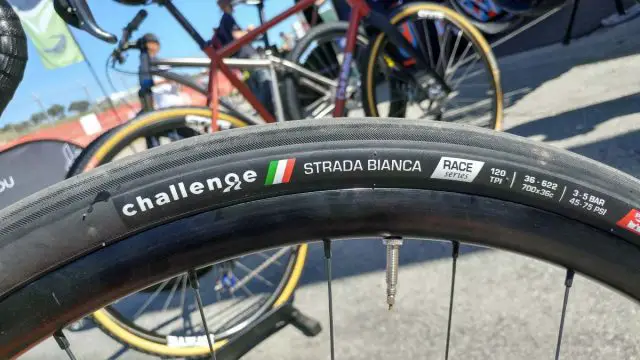 In these photos, Helen's bike is shod with Challenge's Strada Bianca tyre in 700c x 36mm, the same tyres she used at the 2018 Paris to Ancaster (link to JOM's 2017 video here).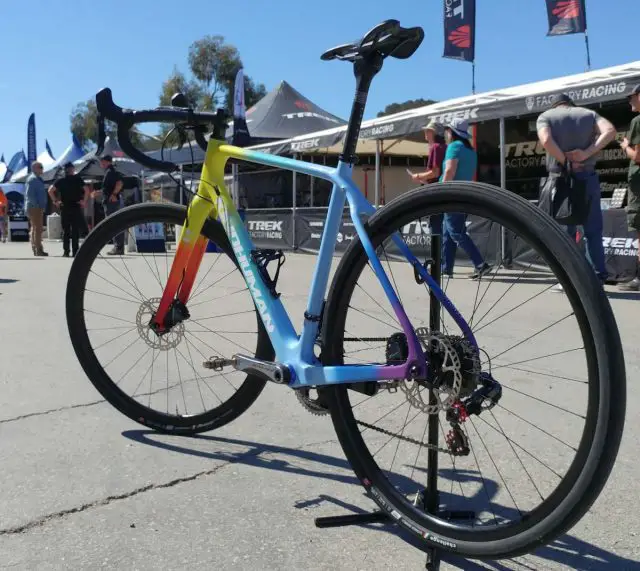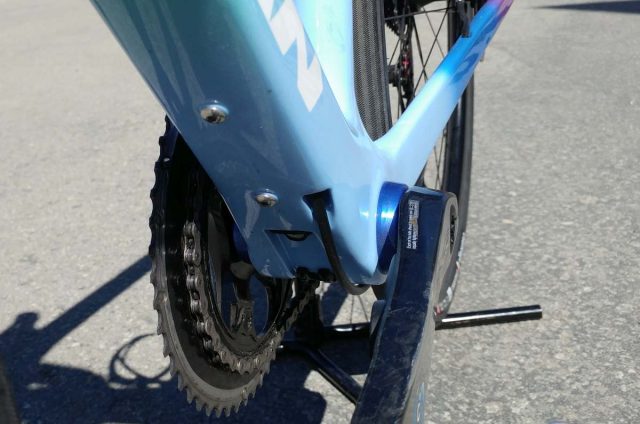 Above, Helen's KindHuman Kensuke is fitted with a bottom bracket by Kogel Bearings. Watch this space for a review of a Kogel Bearings bottom bracket in the near future.
3T Exploro with Custom Paint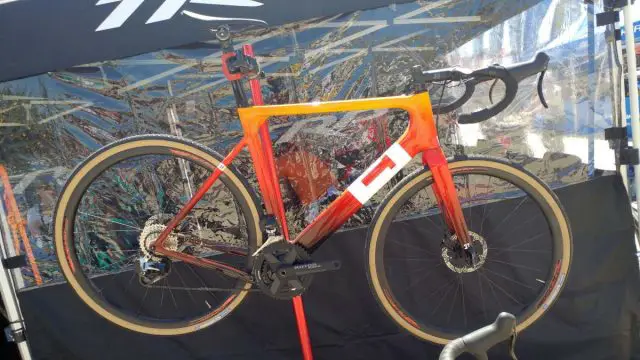 I have just one photo of this custom painted 3T Exploro, fitted with SRAM's eTap system, albeit with TRP hydraulic brake levers and SRAM blip shifters. Also of note is the new Rotor Aldhu crankset fitted to this bike; watch this space for a Sea Otter posting that will cover a good chunk of Rotor's product line.
NTP Custom Titanium Gravel Bike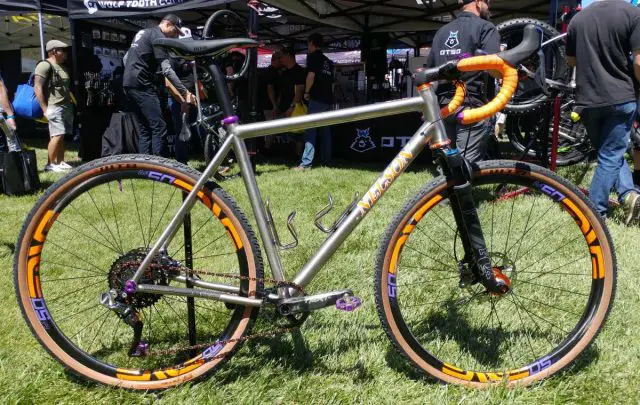 This beauty was spotted as I wandered about Sea Otter. NTP custom titanium bikes are the handiwork of Dan Nelson of San Francisco, California.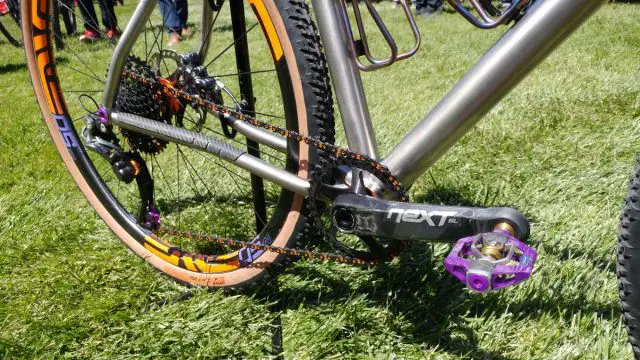 There are so many standout parts on this bike, most of which are centred around an orange and purple colorway.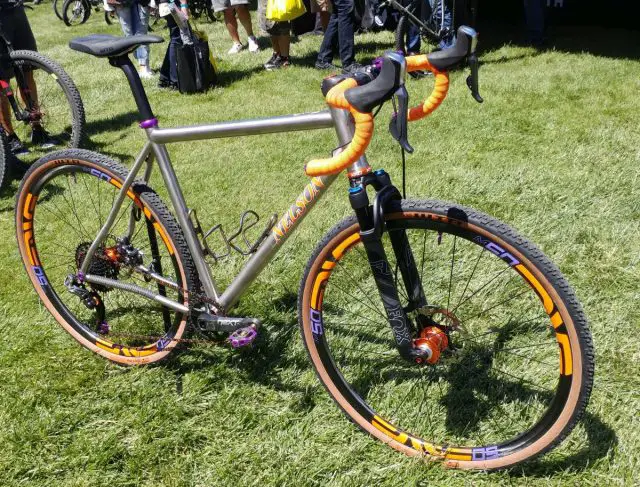 This bike features the seldom seen Fox AX gravel suspension fork, a more traditional looking suspension component, which can be locked out.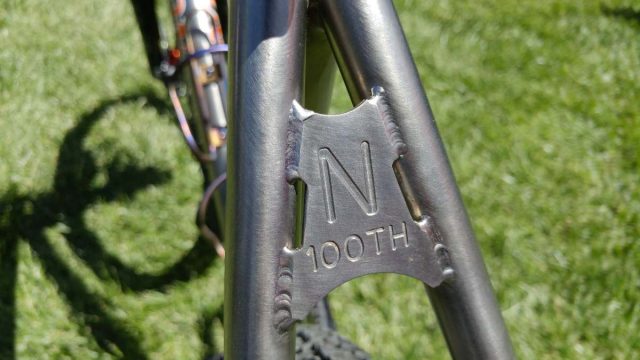 Rowie, the owner of this bike, has been in touch with Gravel Cyclist. We hope to feature this bike in all its glory soon!
Ren Cycles Ivan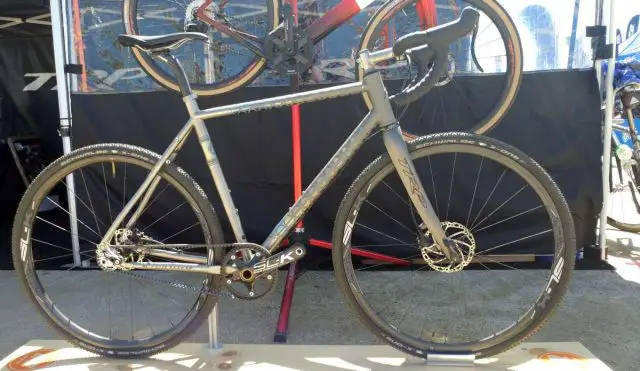 The uber-versatile Ren Cycles Ivan hails from Portland, Oregon.
"Bred to be the ideal weapon for the notoriously rough and muddy cyclocross courses of the Pacific Northwest, confirmed through extensive field testing by PDXTI. Having raced to the podium at events like Sea Otter Classic, Cross Crusade, Skull 120, and Cascadia Super G, our CX bikes take the tradition of excellence initiated by the Ti Cycles STEILACOOM race bikes of the 90s and 00s to the next level."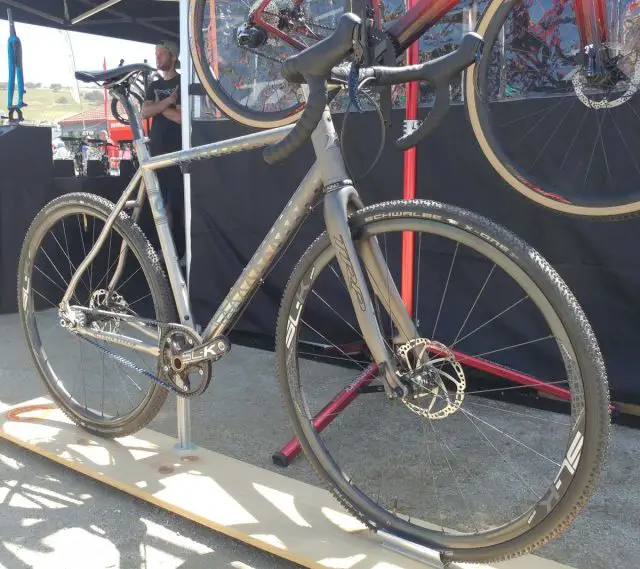 "Top tube routing for full housing cable runs to keep mechanical shifting optimal; Di2 compatible for flawless electronic shifting. Ready to run with 2×11 road/CX groups, drop bar or flat bar 1x, and it is even Gates Carbon Drive™ compatible for single speed ops. Roomy S-bend stays give clearance for big tires and muddy conditions; fits up to 700x40c with a fender or 27.5×2.0"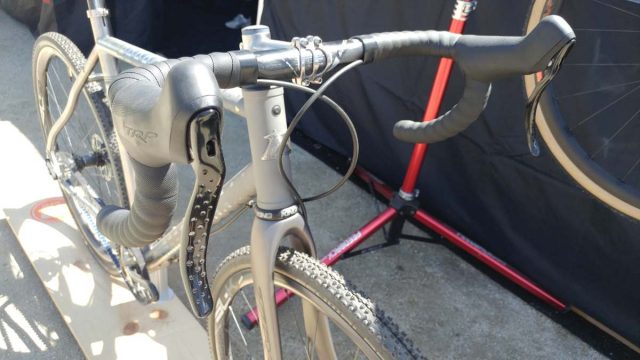 This Ren Cycles Ivan is currently setup as a Gates Carbon Drive single speed bike. If one were to spec this Ivan with Shimano's Alfine Di2 system, eleven electronically shifted internal hub gears would lay at your fingertips.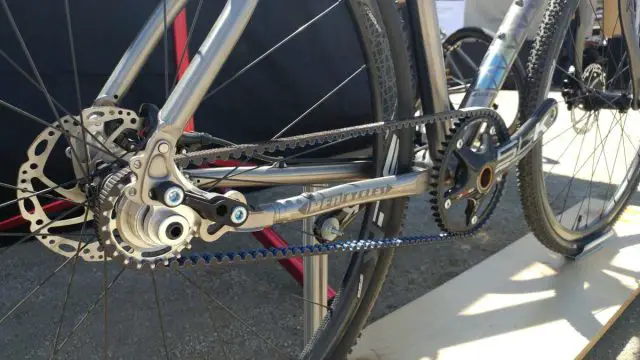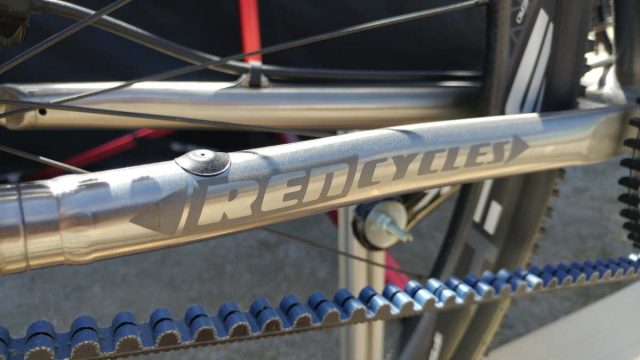 Above, a covered port on the chainstay indicates this bike is ready to roll for Shimano Di2.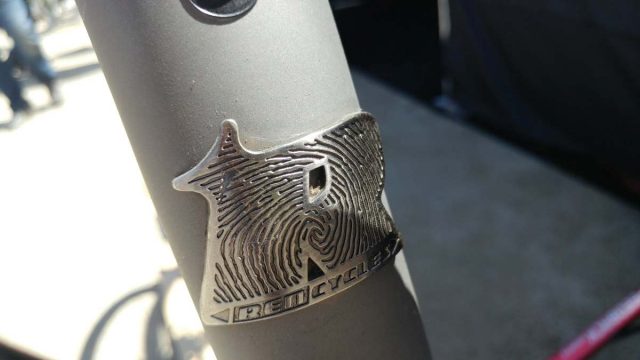 3Al-2.5V titanium tubes form the basis of this Ren Cycles Ivan frameset.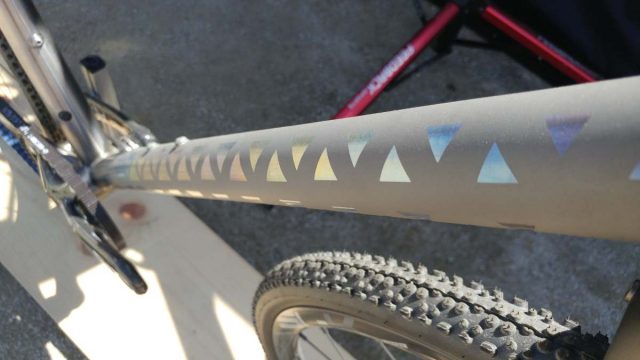 The anodized titanium triangles along the downtube look stunning in the sunlight.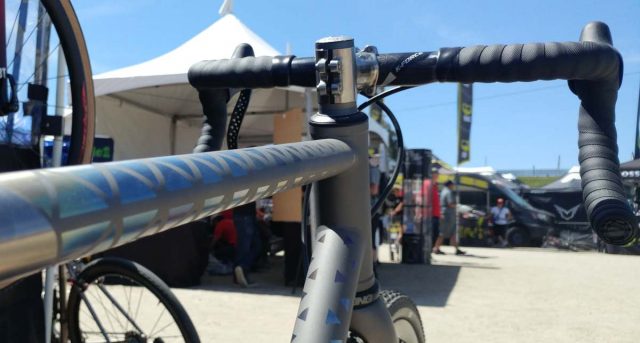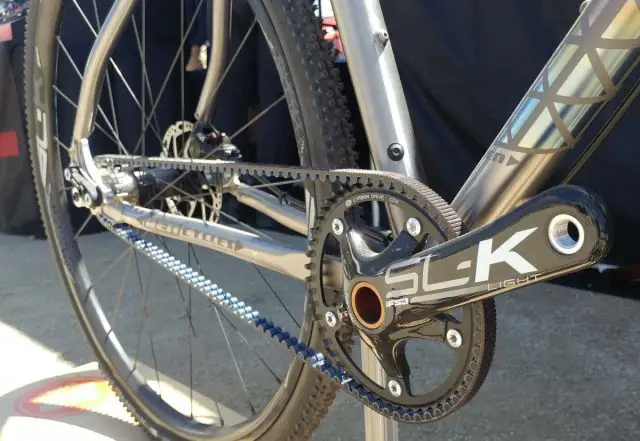 Another sign this bike can do virtually anything; note the covered port for an electronic wired front derailleur. The Ren Cycles Ivan isn't a single speed / single chainring one trick pony.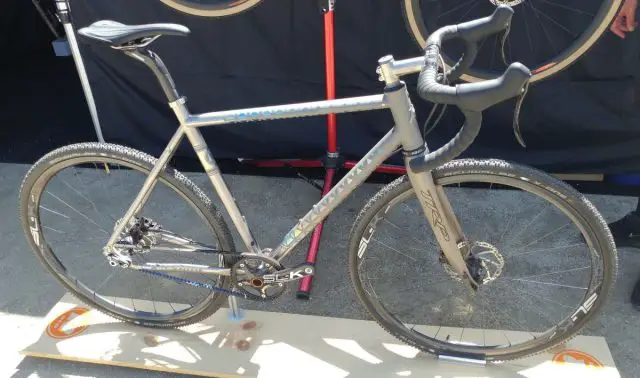 OPENxENVE Limited Edition NEW U.P.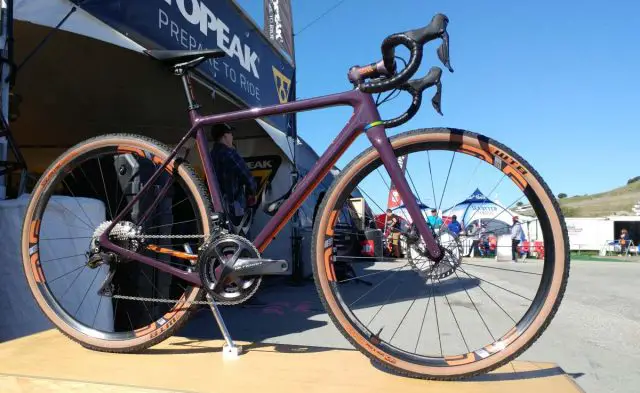 "Together with ENVE we offer a Limited Edition model, restricted to 50 units. And this one is really special, since it includes not just the frame but a host of custom painted parts".
– Custom painted NEW UP frameset
– Custom painted Enve compact dropbar, stem, seatpost
– Custom Brooks C13 Cambium saddle
– Custom ass-savers front and rear fender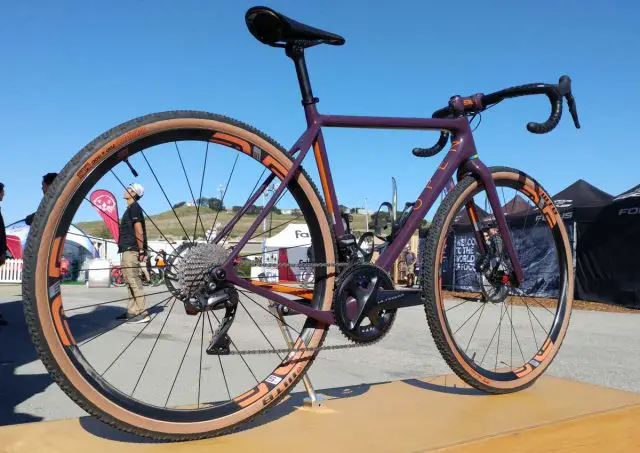 "In total 35 sets will be sold with the above, and we'll have an additional 15 framesets only (so without the parts). Available early June 2018."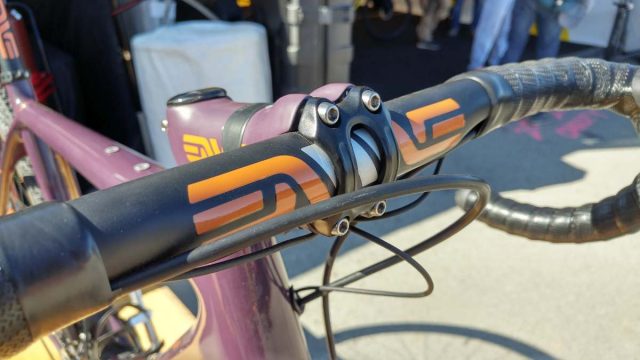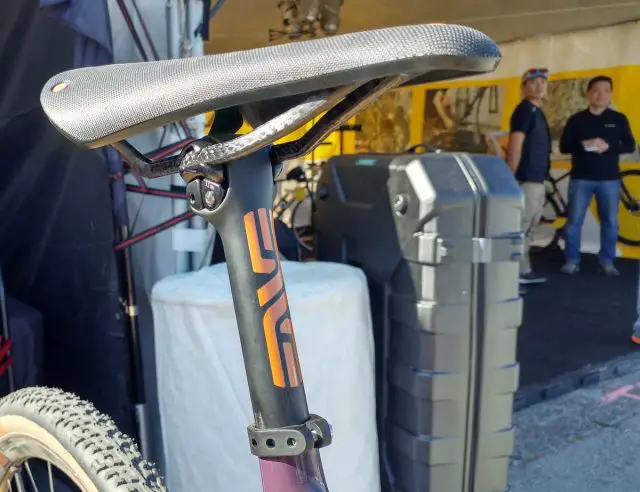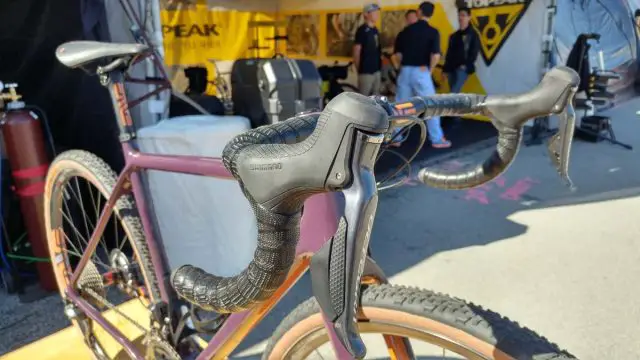 Observant readers will notice the new Shimano Ultegra Di2 hyraulic brake shifters. These new Ultegra brake levers / electronic shifters are significantly smaller than the original ST-R785 units that have been kicking around for a few years.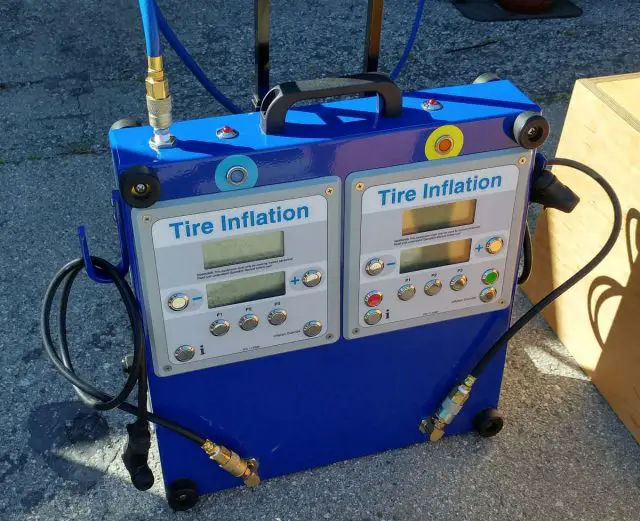 Also hanging around the Enve booth was this highly accurate tire / tyre inflation device.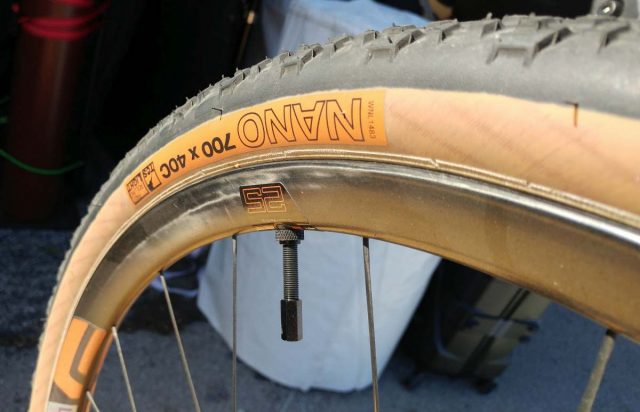 Enve's M525G carbon tubeless compatible wheelset began life as a wheelset designed for the rigours of world cup cross country mountain bike racing. Wide rims mate perfectly with gravel tyres, and compliment a gravel bike oh so well.
Watch this space soon for a full review of Enve's M525G carbon tubeless compatible wheelset, a collaboration with our friends at BikeRumor.com!