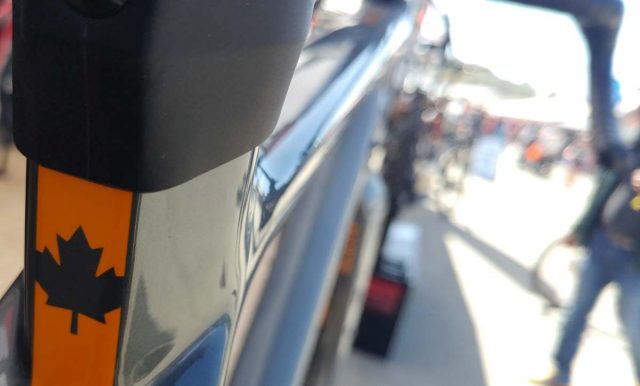 "We are Canadian"
"Bert Lewis founded Norco Bicycles in 1964 with a simple vision: build better bikes. From our humble beginnings operating out of a converted chicken coop in small-town B.C., we've grown into a global brand delivering more than 125 different models to cyclists worldwide. We are proud of the role we've played in helping to shape the industry and the sport over the past five decades."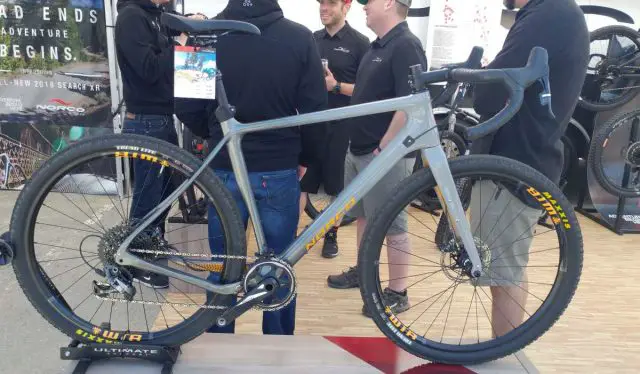 "The Search XR is simultaneously non-conformist yet familiar, pushing the limits of what you'd expect from a drop bar bike. With tire clearance up to 700 x 45c (or 650B x 2.1"), rack, fender and bottle mounts, and a lightweight carbon frame, the Search XR is an all-new breed of adventurer that takes you off the beaten path and allows you to ride every road and trail your heart desires."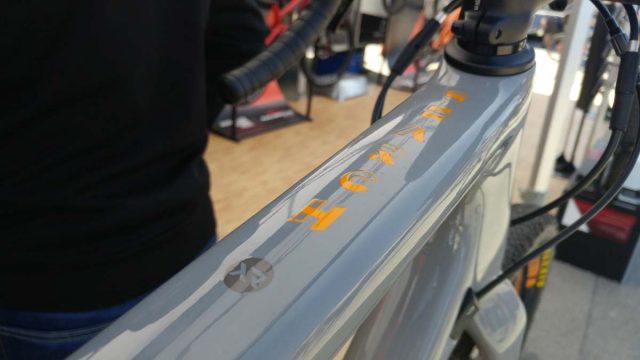 "Explore singletrack, bomb down fire roads, tackle a gravel grinder or load up for a bikepacking trip – better yet, check "all of the above". We designed the Search XR for all the adventures you can imagine, and for those you have yet to dream up."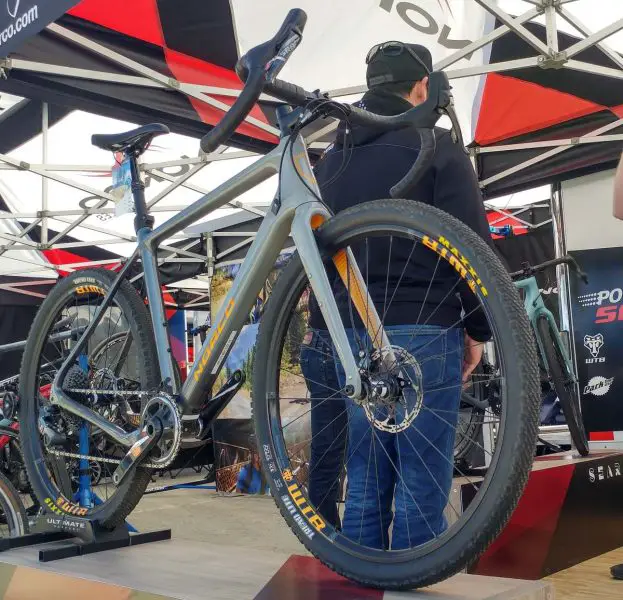 Size Scaled Wheels
"Size scaled wheels mean that all riders, regardless of height, can enjoy the same ride experience on the Search XR. We didn't want to compromise on the geometry of the smaller sizes, but we also didn't want smaller riders to have toe overlap issues."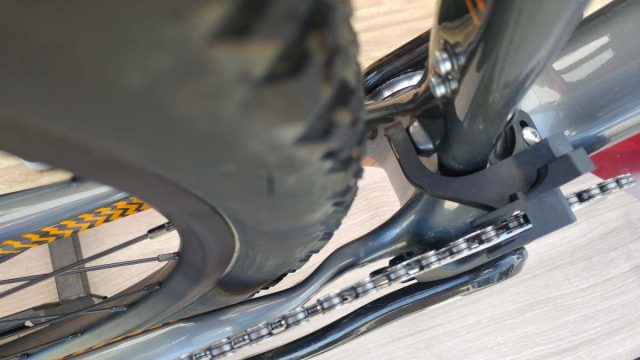 "By scaling down the wheel sizes for the 45.5 and 48 to a 650b from a 700c, (and 26" when a 650b wheel comes OE spec on the larger sizes), we can achieve the same angles we do on our larger frames, and our desired ride quality. It also means that the smaller sizes have lighter and faster-accelerating wheels that are more in proportion to the rider size."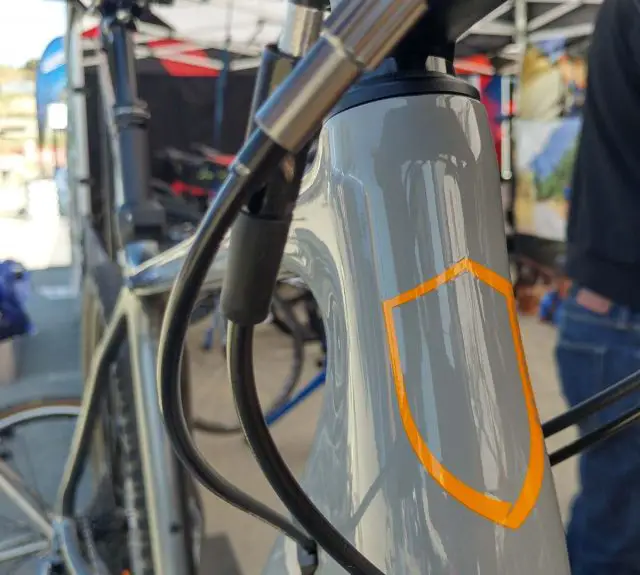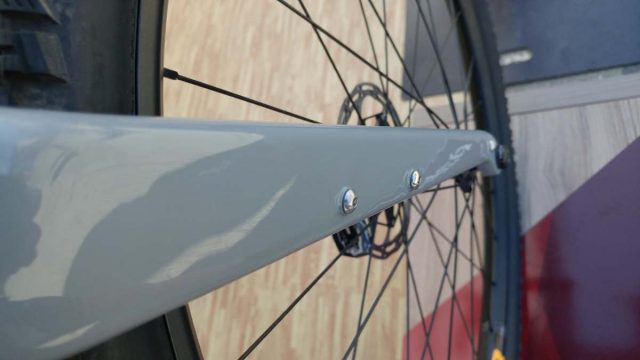 The Search's all-carbon tapered fork features some handy points of attachment.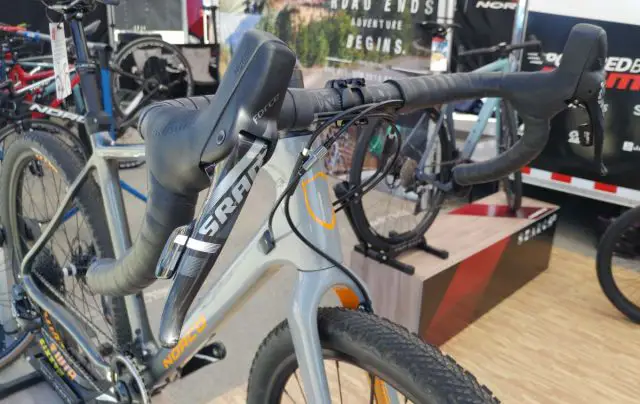 As the model name of this Norco Search implies, SRAM's Force 1 single chainring drivetrain kits out this example. But, observant readers may notice the left shifter appears to be functional, which is normally reserved for operating a front derailleur… in the case of this bike, the left shifter has been repurposed… more on that a little further down this article.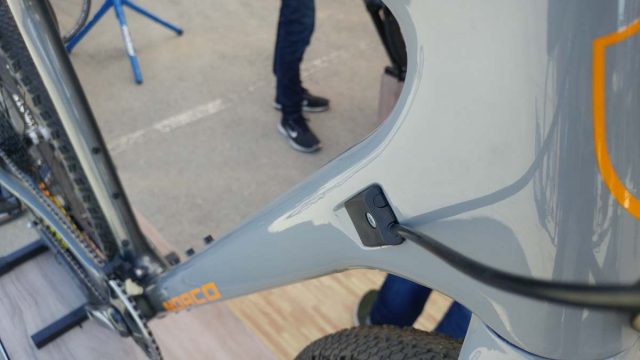 Above, brake and derailleur cable housings are neatly internalized, entering the frame just behind the headtube.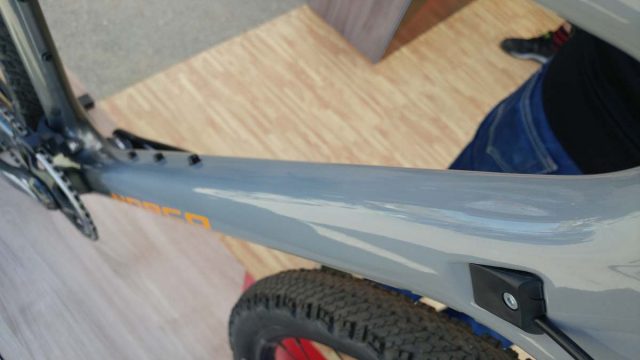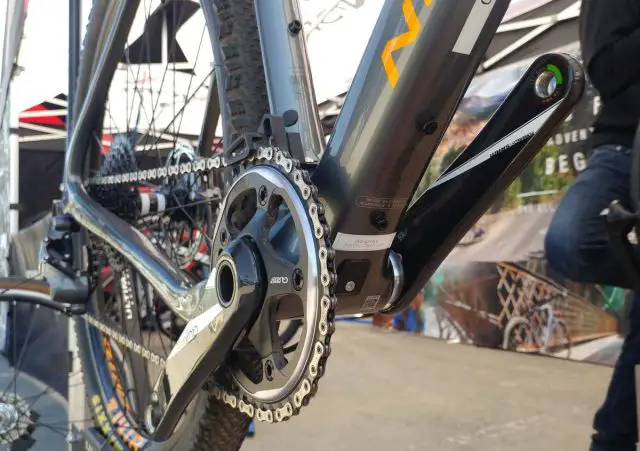 In the spirit of adventure and hydrating for big miles, the Search XR is fitted with a third bottle cage mount beneath the downtube.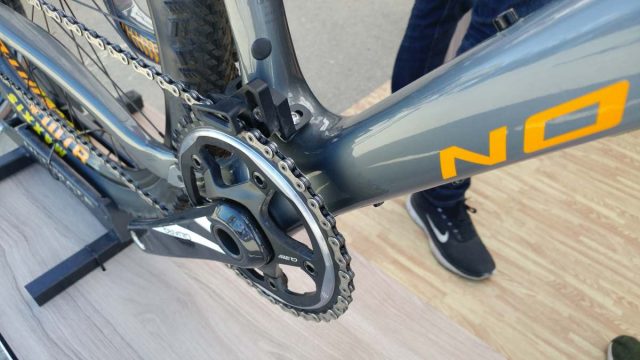 Above, a Quarq Prime Carbon 1x crankset is power meter ready and fitted with a 40 tooth chainring. Whilst this model may be setup for a 1x / single chainring drivetrain, 2x / double chainring aficionados haven't been left in the dark. The Norco Search XR frame does support a front derailleur and internalized shifting for electronic or mechanical drivetrains – the blocked off cable port above the 1x chain retention device is the clue.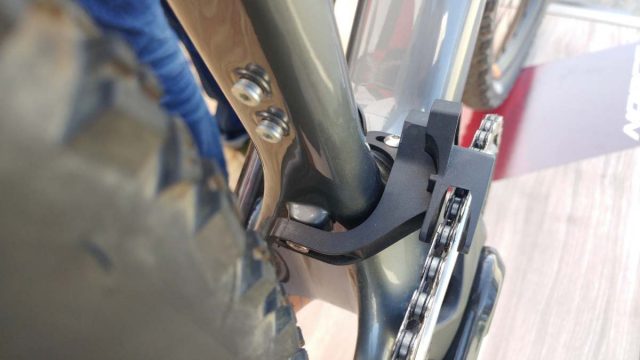 Above, note the fender mount behind the lower portion of the seat tube.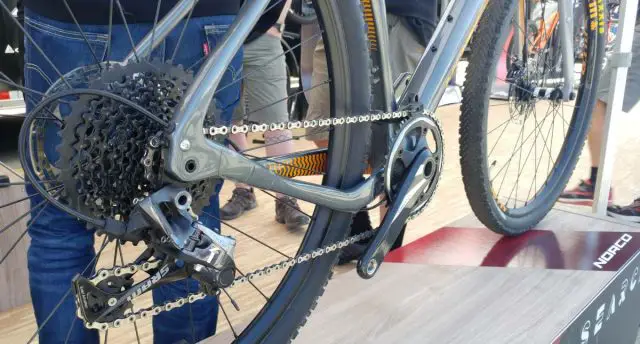 Like a few other designs on the market, the Norco Search XR utilizes the drop down drive side chainstay design, which provides good clearance for bigger tyres, shorter chainstays and provision for a double chainring should one decide to make that choice.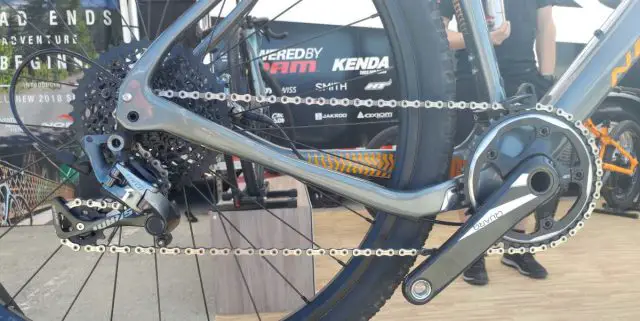 The cassette fitted to this build is a SRAM XG-1180 11-speed 10-42T unit. JOM of the Gravel Cyclist crew had the opportunity to ride this exact drivetrain albeit on another bike recently; 1x isn't for everyone, but this groupset performs flawlessly.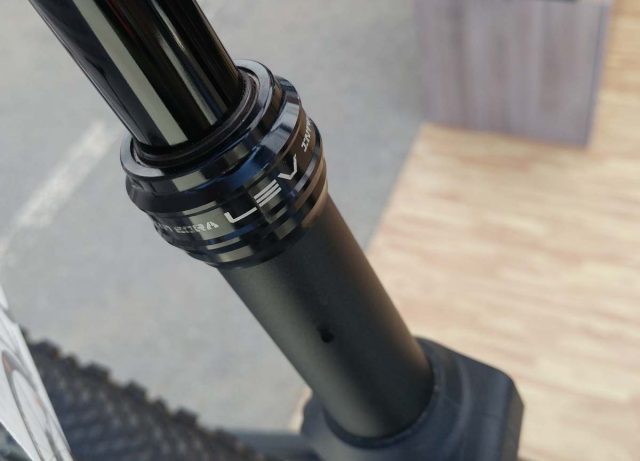 Above, a KS LEV Integra Dropper Post in 27.2mm. Dropper seatposts are finding their place on more and more gravel bikes nowadays. The action of this example is activated by the left shifter… very nifty!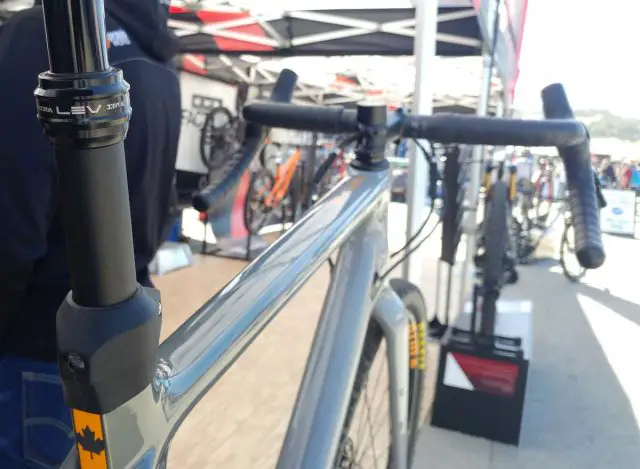 The "Das Boot" seatpost clamp cover prevents water and mud from entering the frame. The exposed bolt on the rear of "Das Boot" acts as an attachment point for a rack.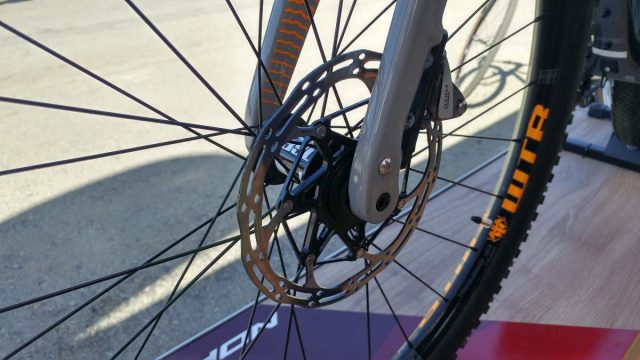 Flat-mount disc brakes feature front and rear, along with 160mm disc brake rotors. Thru-axle size is 12mm x 100mm.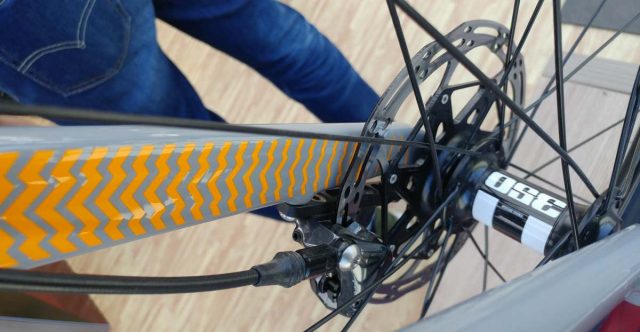 DT Swiss 350 hubs are solid performers, just a little heavier some of their 240 counterparts.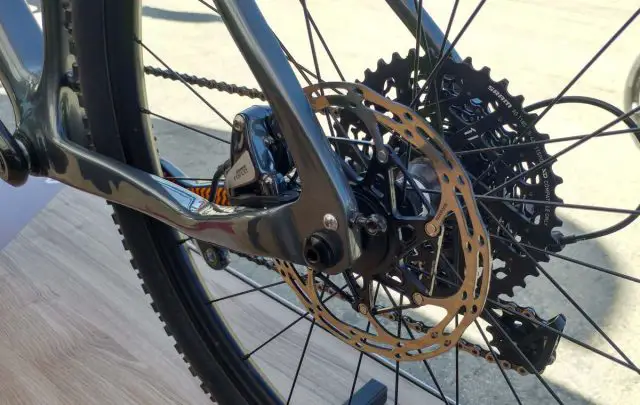 Thru-axle size on the rear, 142mm x 12mm.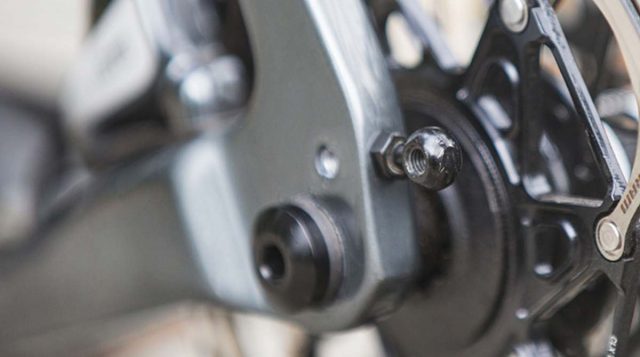 Above, "NINJA threaded inserts add another level of functionality to the frame, allowing full fender capability, while remaining inconspicuous when unused." – "Not Instantly Noticeable Junk Attachments".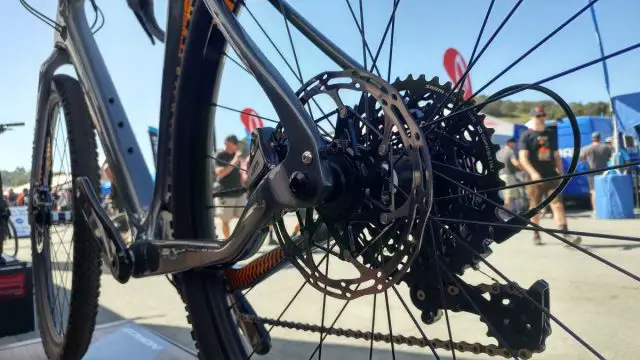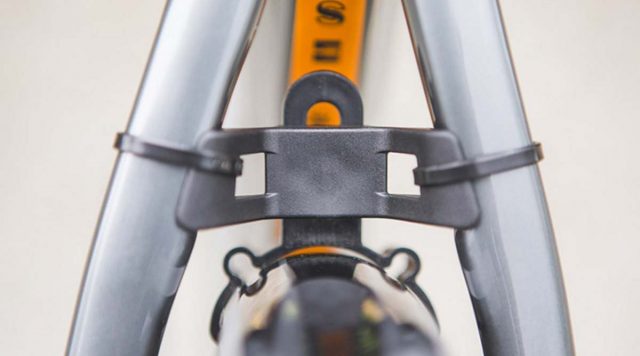 Not seen on the Sea Otter display bike is "SASSY", aka "Secretly Attachable Seat Stay Yoke".
"To make the Search XR more comfortable on long rides, we removed the seat-stay bridge. This helps increase vertical compliance and the bike's overall ability to absorb road chatter. Without a seat stay bridge however, we needed to find a new way to mount fenders on our most versatile road bike. So we created the SASSY – a custom plastic bridge that fits into place to provide a fender mounting point when needed."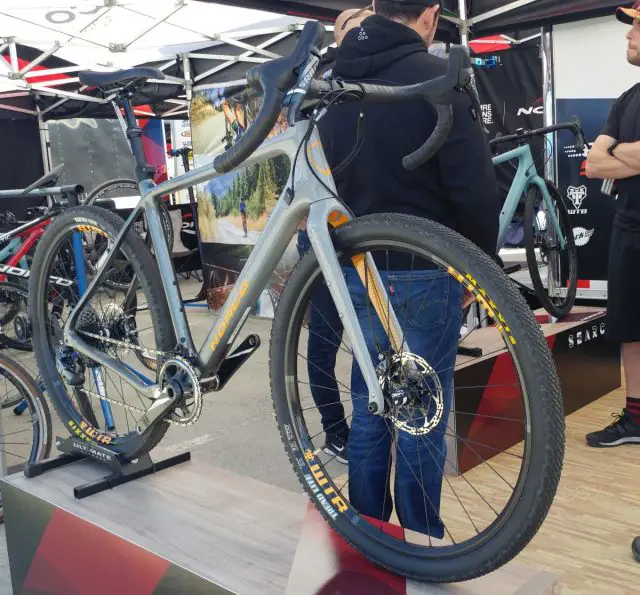 This top-flite variant of the Norco Search XR is priced at $US 4,199.00, but Norco has a few other builds to suit your budget. For those who desire to build a custom Search XR, Norco also offer a frame / fork option.