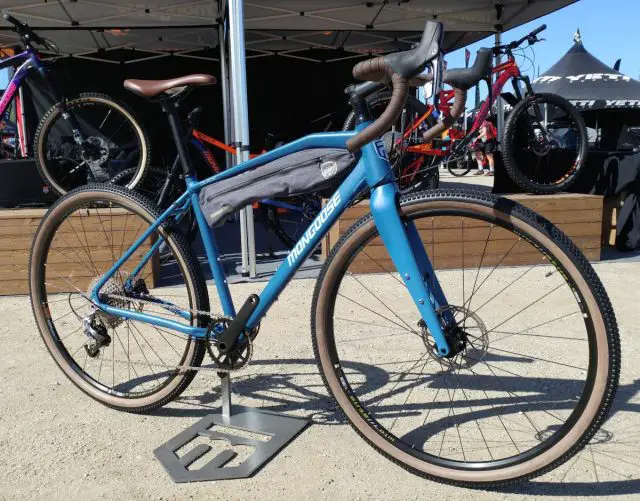 "For almost 40 years, Mongoose has been in the dirt, on the trails and off the ramps. Founded in 1974 in a Southern California garage, Mongoose has always been an aggressive brand with products that push the limits of what a rider can do. From the biggest hits on the mountain or in the park to the urban jungle, Mongoose is an authentic brand that produces durable products built for real riders."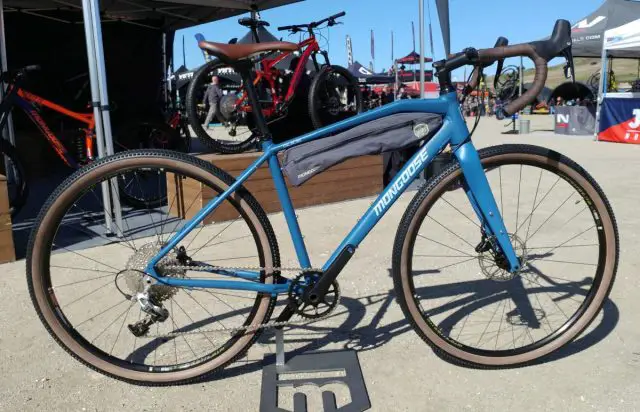 "From the first products – to our current crop of BMX, Mountain and pavement bikes, Mongoose is synonymous with bikes that perform on the smoothest single track to the biggest drops and riders looking for trails that never end and keep the party going."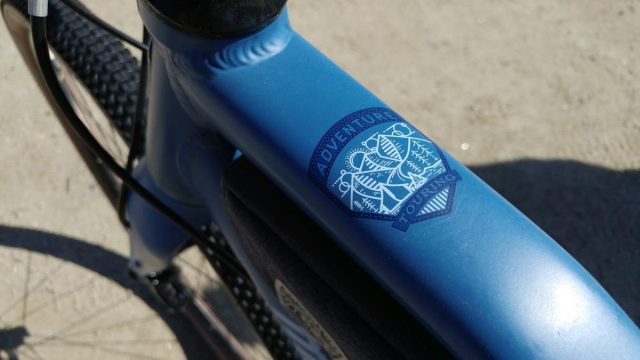 Mongoose released this bike late in 2017, but Sea Otter 2018 was my first opportunity to see the Guide Expert in person. With that said, this bike is likely a 2018 / 2019 spec, as it differs from what is currently on the Mongoose website.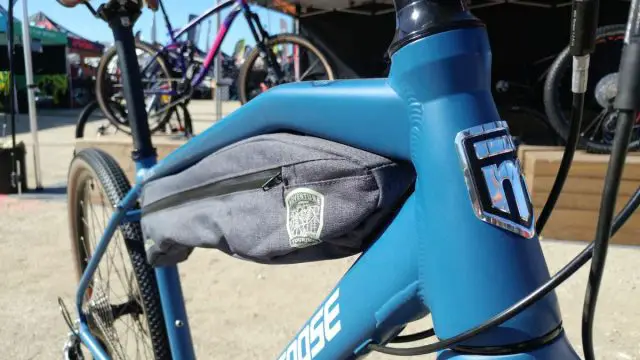 "Adventure begins where the pavements ends, and the Guide is ready to go wherever the ride may take you. An evolution of the Selous, the Guide features a more relaxed, upright geometry for more comfort whether you®re commuting to work or bikepacking across the country."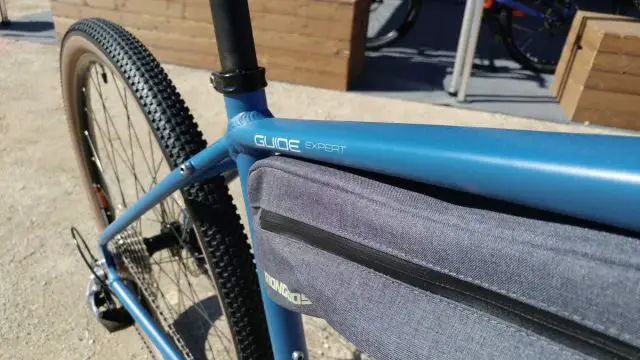 Two things that caught my eye about the Mongoose Expert Guide; One, the neatly executed sloping top tube. Two, manufacturer supplied frame bag. According to the Mongoose representative I spoke with, the included bag will hold three cans of beer. Good to know 🙂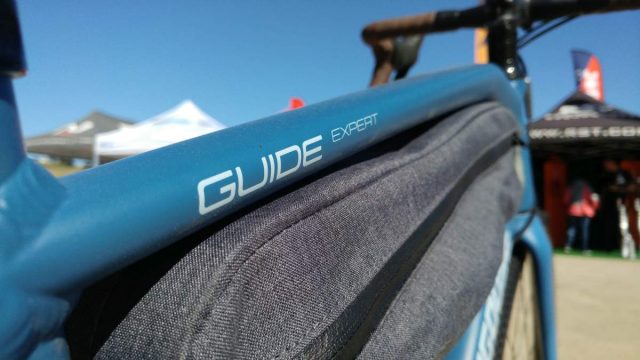 The Guide Expert frame is built from "Tectonic® T2" aluminium and is paired with an all-carbon fork with support for 12mm x 100mm front thru-axle, and 142mm x 12mm on the rear.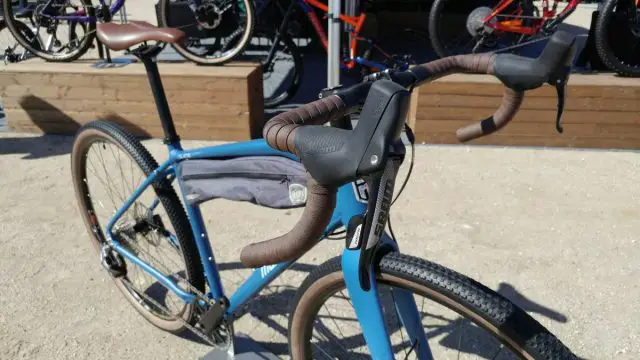 SRAM's excellent Rival 1 x 11 groupset with hydraulic braking handles the chores of shifting.
Pictured above, a Samox branded crankset is fitted with a single 38 tooth chainring.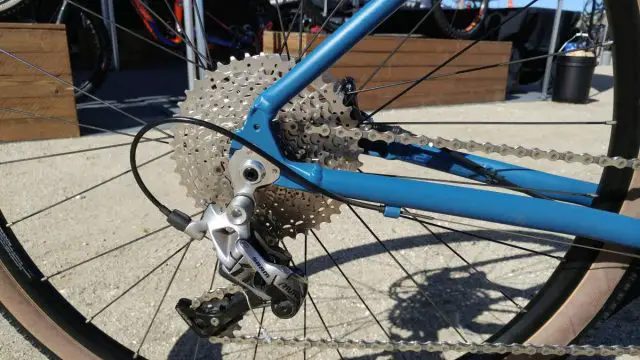 Matched to a SRAM 11-36 cassette and Rival clutch rear derailleur, the Mongoose Guide Expert is geared low enough to tackle most climbs one may encounter.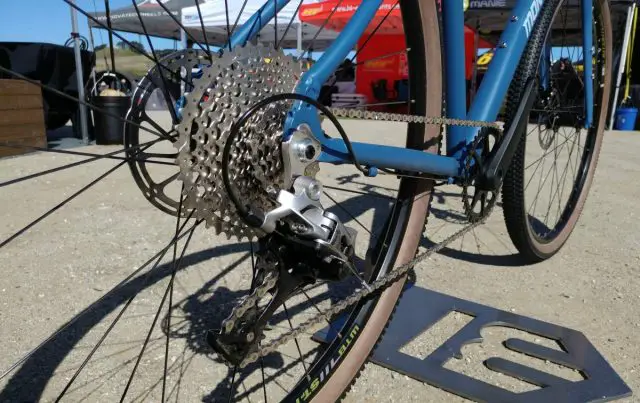 Wheelset is WTB's STp i19 29'er, which is tubeless compatible.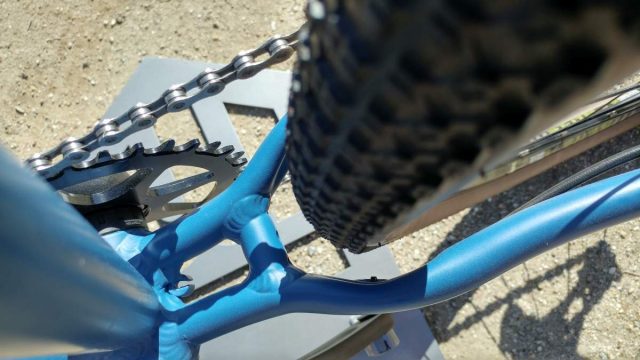 Tyre clearance on the Guide Expert is superb. This example is fitted with WTB's 700c x 45mm Riddler tyre, and as you can see in the photo above, there is gobs of room around those 460mm chainstays. Well played Mongoose!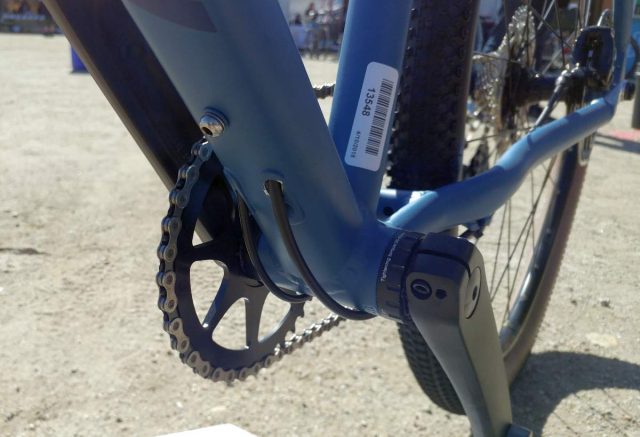 Internalized cables exit just above the bottom bracket junction, and run to the rear derailleur and brake.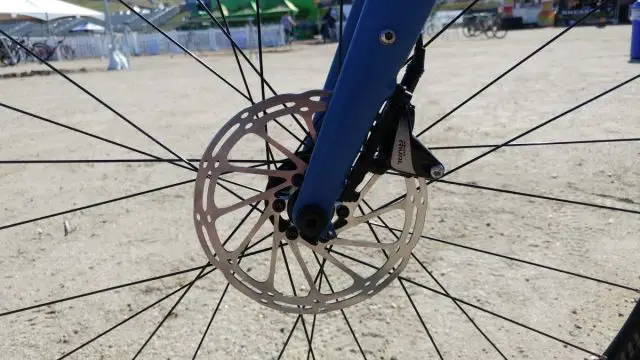 Mongoose wisely spec the Guide Expert with 160mm rotors front and rear, and stick with SRAM's excellent Rival hydraulic brake calipers.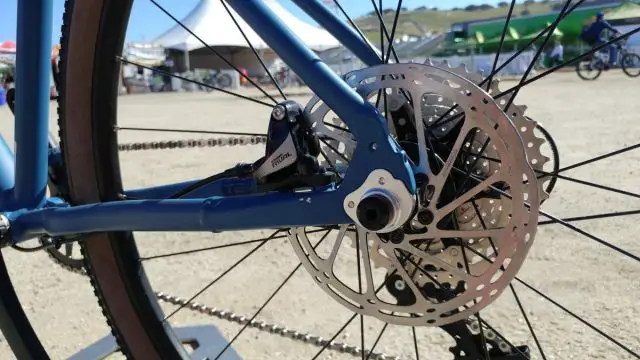 Unfortunately, pricing is unknown at this time on the well-spec'd Mongoose Guide Expert.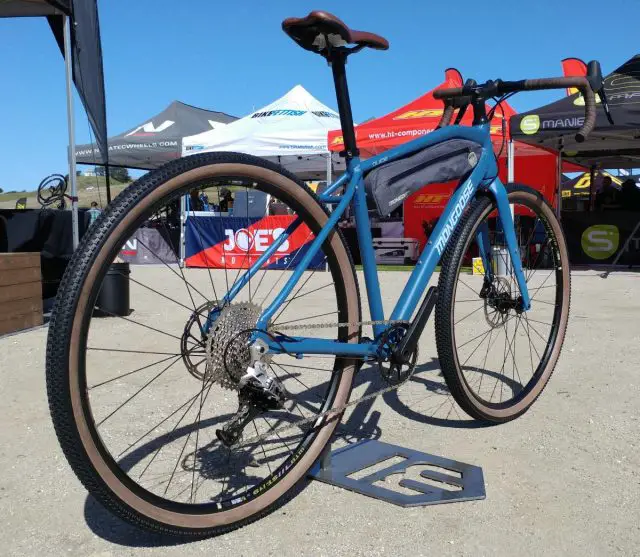 More to come from Sea Otter 2018, watch this space!