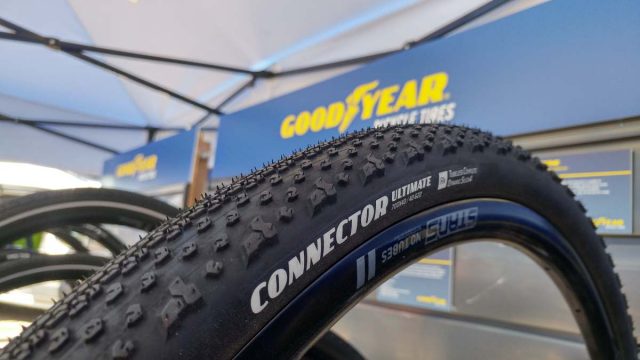 Goodyear Tires, a household name synonymous with the Goodyear Blimp and the tires that are possibly worn by your vehicle, has introduced a new line up of tires that cover the whole gamut of cycling; road, gravel, touring and mountain bikes. 2018 / 2019 doesn't mark the first time we've seen the Goodyear winged sandle / foot on the sidewall of a bicycle tire. That honor goes to 1898, some 120 years ago!
Goodyear Connector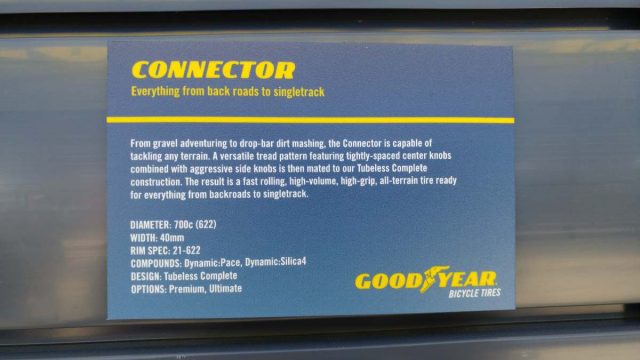 According to the handy info card seen above, the Connector, the brand's gravel tire, will handle everything from back roads to singletrack, and is available in two options, Premium and Ultimate.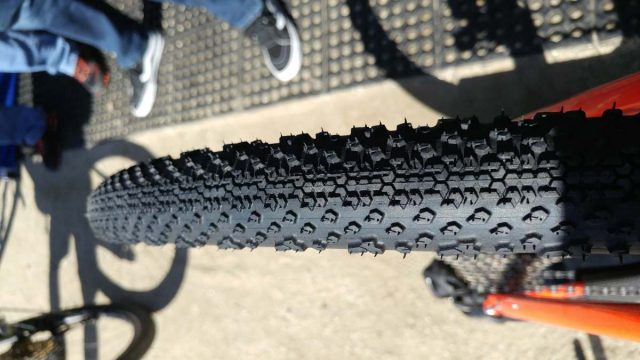 "From gravel adventuring to drop-bar dirt mashing, the Connector is capable of tackling any terrain. A versatile tread pattern featuring tightly-spaced center knobs combined with aggressive side knobs is then mated to our Tubeless Complete construction. The result is a fast rolling, high-volume, high-grip, all-terrain tire ready for everything from backroads to singletrack."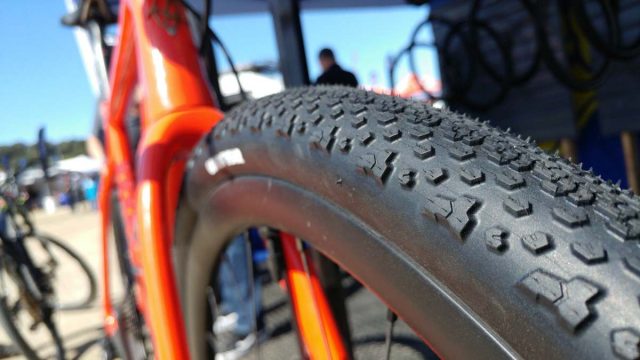 TPI count wasn't available when I inquired, nor can it be found on Goodyear's website (see link at the bottom of this article), but weights are 542 grams for the Premium Connector tire in 700c x 40mm and 463 grams for the Ultimate Connector tire, again in 700c x 40mm.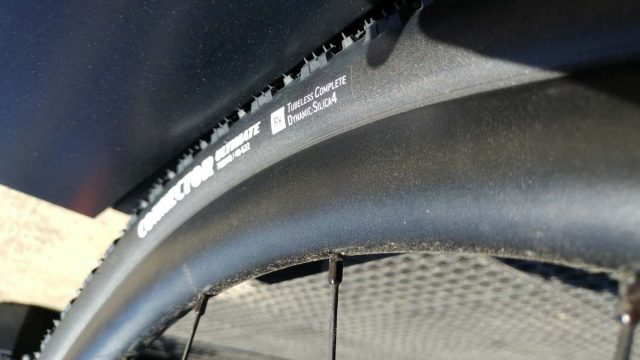 Both models are tubeless compatible and rated as handling between 35psi to 58psi. All of us at Gravel Cyclist would lean towards the lower end of those psi number for the purposes of inflation. More cush for the push, saves the tush.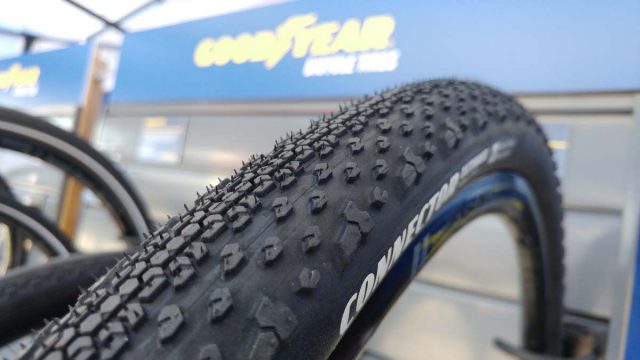 Gravel Cyclist will be receiving samples of the Goodyear Connector for review in the not too distant future, so be sure to watch this space!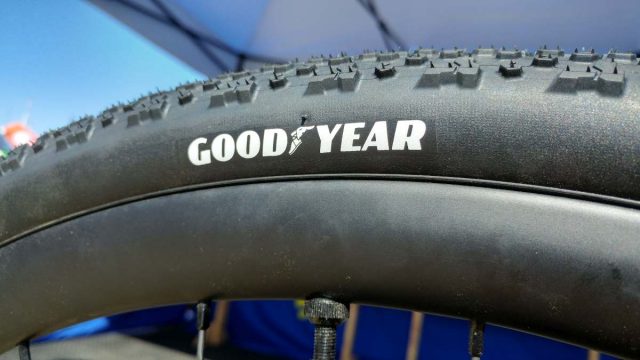 In the meantime, feel free to click on any of these images for a bigger, more fuller view.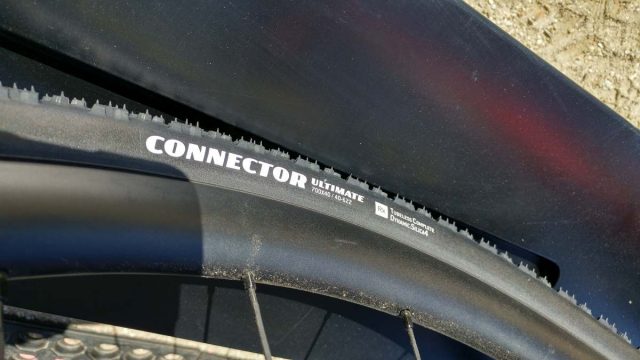 Goodyear County
Unfortunately, this tire wasn't at the Goodyear's Sea Otter booth, or I completely missed it (more than likely). However, thanks to Goodyear's up-to-date website, the following information was gleaned.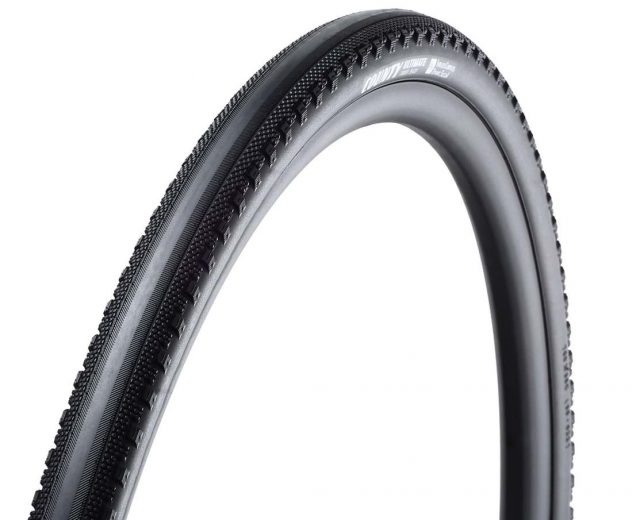 The Goodyear County tire features an "Efficient tread pattern with a high-volume robust construction."
This model is available in Premium (526 grams) and Ultimate (441 grams) models, in 700c x 35mm for both, with weight being the most obvious difference. I expect the weight differences, like the Connector shown above, are attributed to a higher / lower TPI count, and possible added puncture protection for the heavier variant.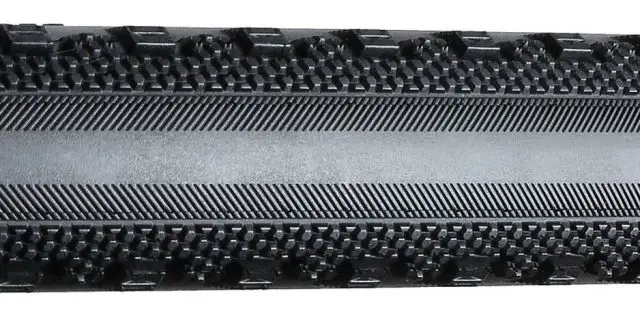 "Mating an efficient tread pattern with a high-volume and robust construction, the County is a versatile companion at home on any surface. Widely-spaced side knobs offer confidence on loose terrain while a smooth center tread minimizes rolling resistance. Goodyear's R:Wall sidewalls and Tubeless Complete construction ensure enhanced durability and fewer flats when the going gets rough."
Thanks for reading, still a ton more Sea Otter 2018 to come (hope you aren't bored yet).
JOM