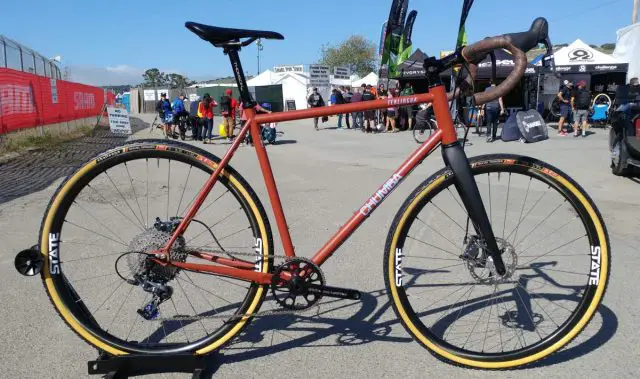 "Chumba USA is a Made in USA bike company focused on MTB, bikepacking, gravel/cx and now road bike designs. Our headquarters and fabrication facility is based in Austin, Texas surrounded by miles of MTB trails, gravel roads and thriving community of racers and riders. Come for a visit!"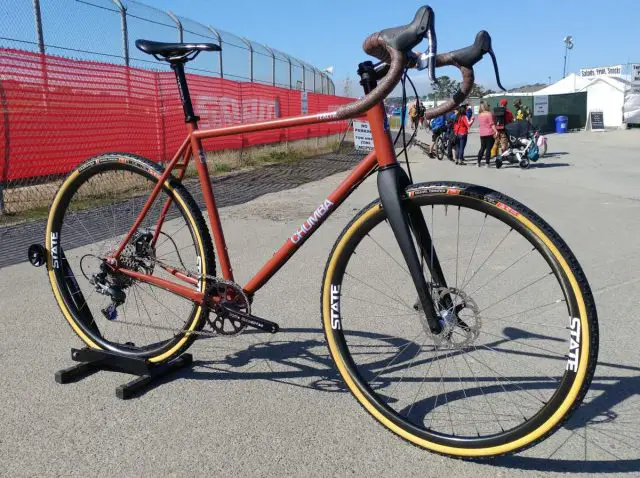 Chumba USA fabricates frames from Steel and Titanium and has a reputation for quality and stellar customer service, particularly when it comes to customized frame design.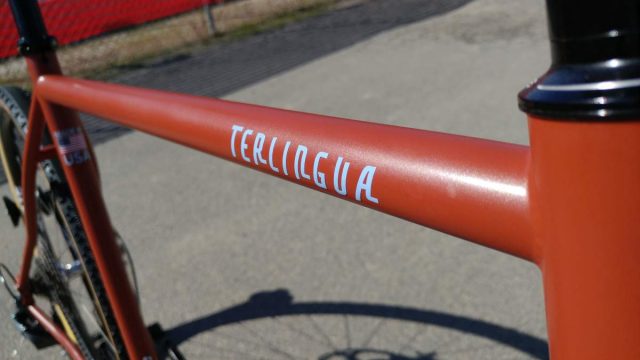 At Sea Otter 2018, Chumba Cycles exhibited the company's new drop bar gravel and CX bike, the Terlingua. Vince Colvin, Director of Operations and Product Design, took time from his busy day to give me the rundown on this lovely bike, and the chance for snap a photo or two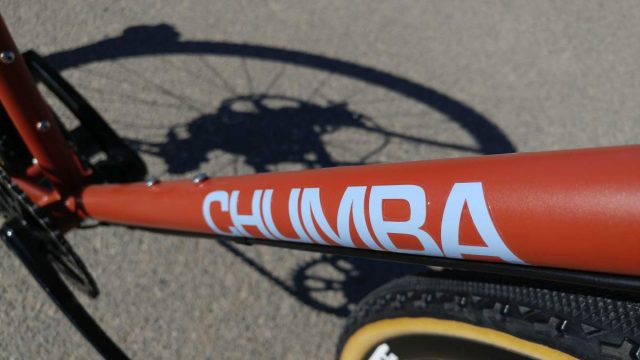 "The Terlingua is equally at home on long gravel rides, the CX course and with higher volume tires, bikepacking trips. The frame uses a thoughtful tubeset crafted of USA double butted 4130 with selected tubes heat treated for performance and power transfer. The design is meant to be stiff on acceleration and comfortable in the rough."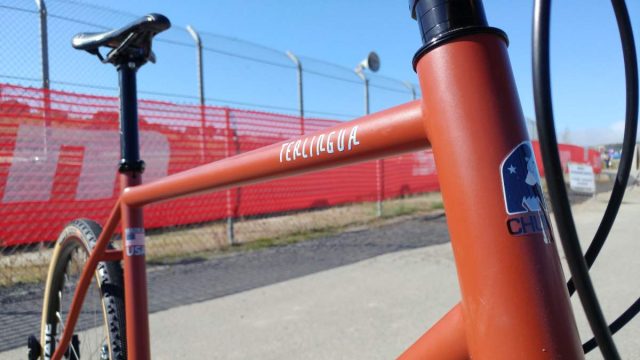 "Terlingua's headtube angle 0.5º slacker than a typical CX bike's geometry. This adds up to a more stable platform and keeps the frame from being 'twitchy' at high speeds."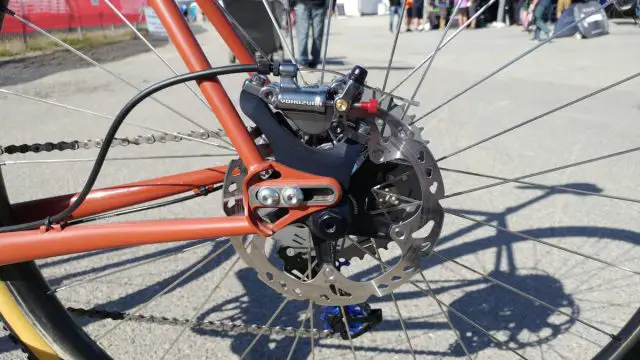 "However, when adjusted to the low end of the 425mm-445mm sliding chainstay, the same short wheelbase of a CX bike can be achieved. Or, when lengthened, the Terlingua can gain the stability needed for long distance gravel endeavours."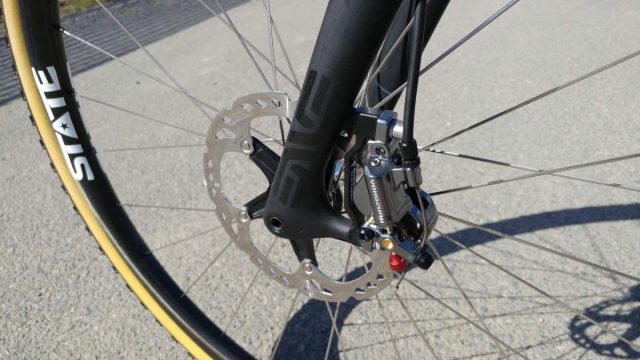 "The result is a Gravel bike that steers predictably through super loose chunky gravel and has the capability to do much more than most gravel rigs on the market. On the CX side it has a really forgiving termination point during aggressive leaning, but can still rip a corner with the fastest CX bikes. It is more at home at higher speed CX racing."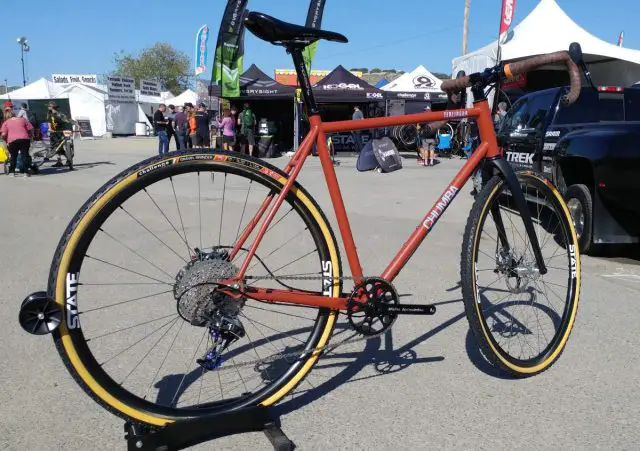 Above, this example of the Chumba Terlingua is fitted with SRAM's proven single chainring / 1x drivetrain, but with a White Industries crankset. Keeping the theme of American made alive, White Industries also supplies the hubs at the center of the State Cycling wheelset. Tyres are Challenge's Gravel Grinder tyre in 700c x 36mm and classy tan sidewalls. Challenge has a new tubeless specific gravel tyre coming to market soon, more on that tyre in another post.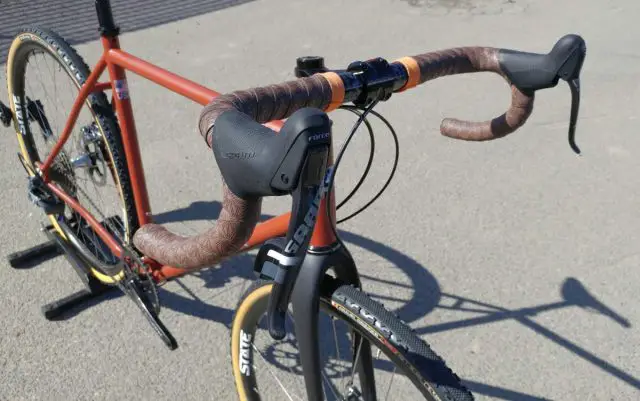 Frameset Compatibility:
Tires: 700c 30mm to 50mm tires or 650b Road Plus.
Chainring: Fits 52/36T and 46T 1x rings.
Cranks: Fits Narrow Q factor cranks like SRAM Red, Dura-Ace, Easton Carbon cranks.
Head tube: fits all forks tapered and straight. Oversized ZS44/EC44.
BB: BSA 68 English Threaded, best paired to Kogel's suite of Ceramic BSA BB's.
Rear Axle Width: 142×12 or 135xQR.
Routing: Easy customized external routing with PMW Alloy guides, 3 bottle cage positions. Cable-free top tube and seatstays for easy shouldering.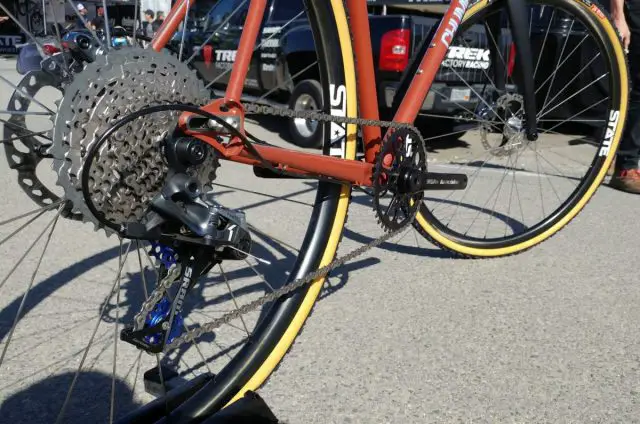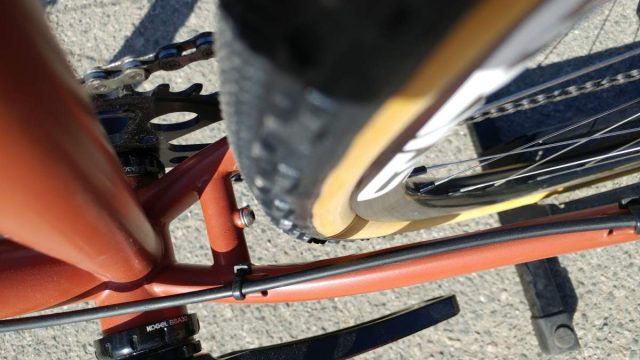 Above, a simple chainstay design with a good amount of clearance for mud and other nastiness.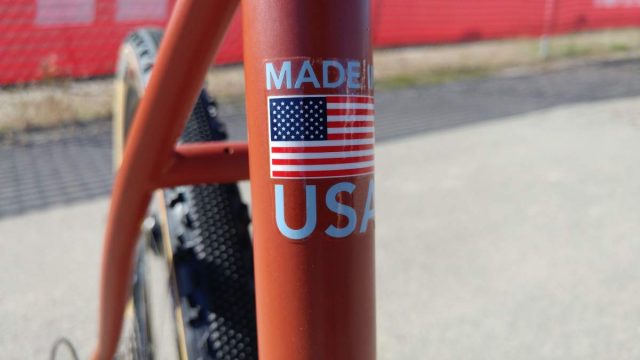 Chumba's Terlingua, proudly made in the USA.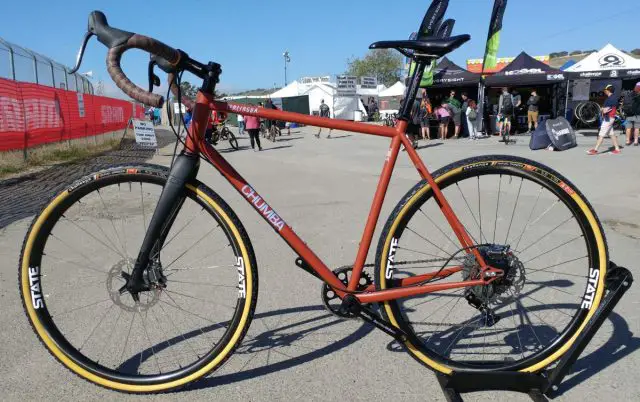 Frame Design:
Dropouts: Stainless Steel Hooded Paragon Machine Works dropouts. Stainless steel means these drops are super strong and will not go out of true. The sliders allow you to fine tune the ride to fit different road/course conditions. The axle can be moved back for stability and comfort, slammed forward for speed and manoeuvrability.
BB Height: Chosen per size to allow optimal balance point for the rider and bike, paired to size-specific crank arm lengths. The bottom bracket is positioned for both stability in loose terrain and power transfer at races.
Geometry: Designed to optimize the front center of the bike to lessen or eliminate dreaded toe overlap common with other frames in the category, while not forgetting how best to dial rider position on the bike.