A mountain biker's road bike, or a roadie's mountain bike?
Regardless, it rips. Wholeheartedly.
"It happened. We never thought it would, almost hate ourselves for it, yet can't shake ourselves from it: Evil's gravel bike. But before we seemingly come up with excuses, we need to clear the air with our experience on road bikes."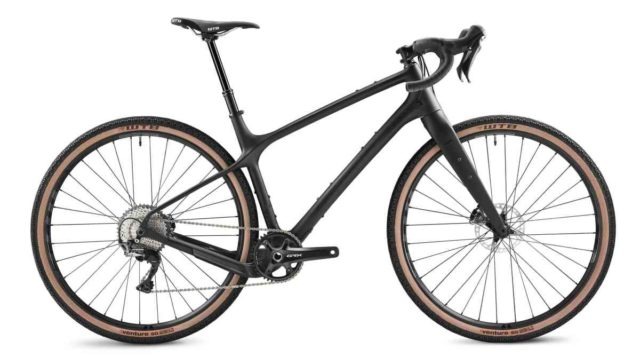 "It's been… well… less than pleasant. With dirt still caked and crusted over us, we can't shake our thirst for speed and cornering—yesterday's grin doesn't wear thin. But road and gravel bikes are made for speed, right? Right, except that as soon as it should get more fun—terminal velocity—it gets worse. Bikes get that nervous sense of indecision at speed, as though they're shivering along their insecurities through the frame to you, the cooped-up, speed-poised, lawn-dart of an unsuspecting descender. So, we solved it." – Evil Bikes
Solution
"We went the other way. Most companies start with road and conservatively relax things for gravel—just enough to not stir any feathers. Not us. We went from full-blown mountain bike and sorta, but not really, roadied it out. We borrowed a few moves from our mountain bikes playbook, notably a short stem happily complementing a lengthy top tube, and we took a long, hard look at toe overlap woes. We already know that the longer the wheelbase, the steadier at speed. And we know that a centered riding position puts power directly over the pedals while allowing slight positioning shifts to create direct effects—lean back, you're in a manual, lean forward, you're engaging a corner; press your weight and positioning forward, you're doing that roadie thing, attacking a climb. From a centered position a bike is wieldy, versatile, and reactive—we know this."

So…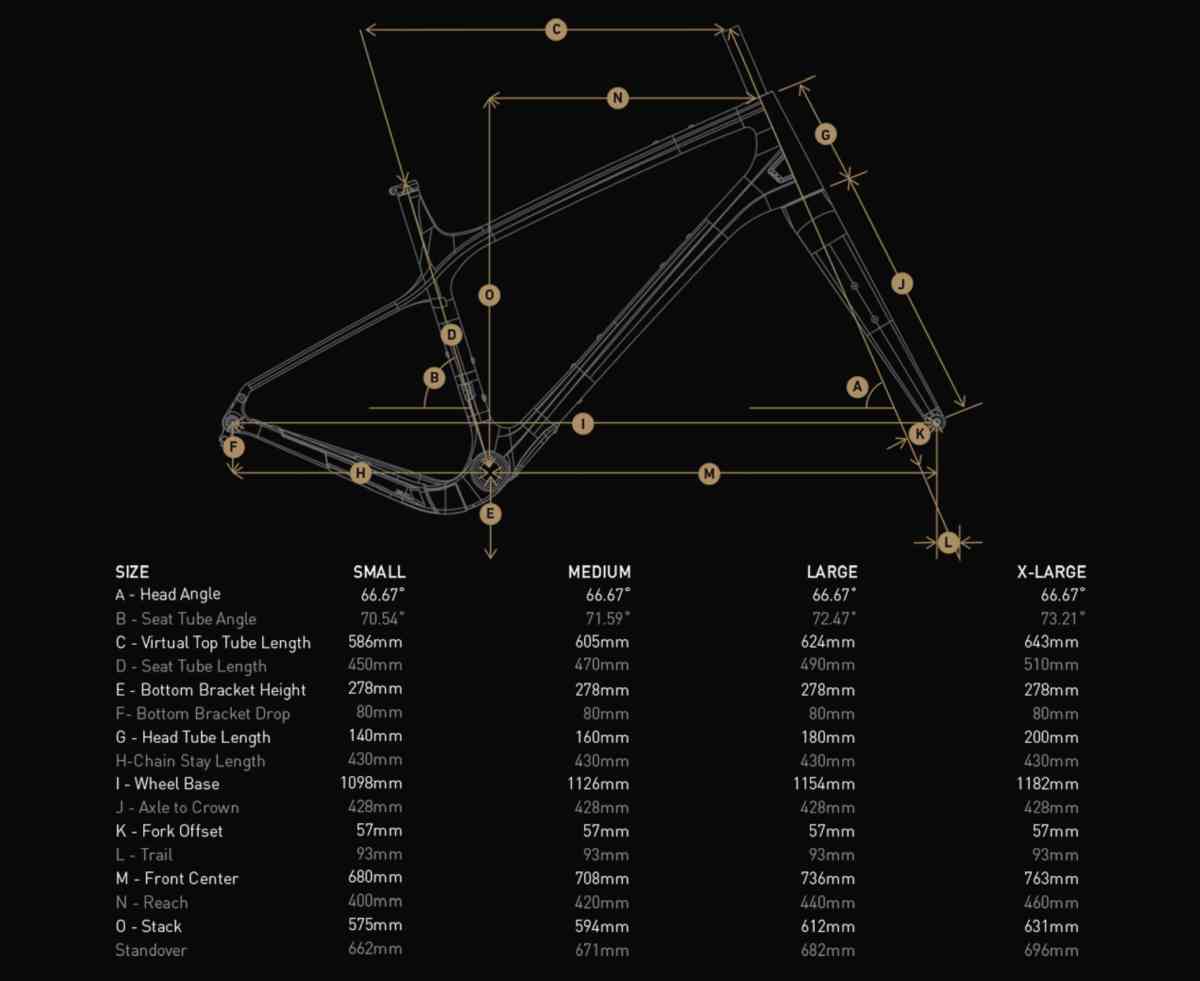 "Numbers junkies rejoice. Yes, 66.67 degrees across all sizes—that's now a gravel headtube angle. And a 50mm stem across all sizes too. And, those with an affinity for detail will notice the seat-tube angle, it increases across the size range. This is the opposite of the norm. It centers riders regardless of height—often cramped small frames have room while big frames don't cantilever riders over the harsh and punishing rear axle—no need to take a rear axle to the, err… rear."
Say Hello to Standover
Look at "cutting edge" marketing-word-here/energize/synthesize/vitalize/KOM-isize bikes racifying gravel and look at the Chamois Hagar (that's the name, mind you) and what do you see? Five inches. That's the minimum difference between straddling the Chamois Hagar and a normal gravel bike. And we all know what to do with increased standover.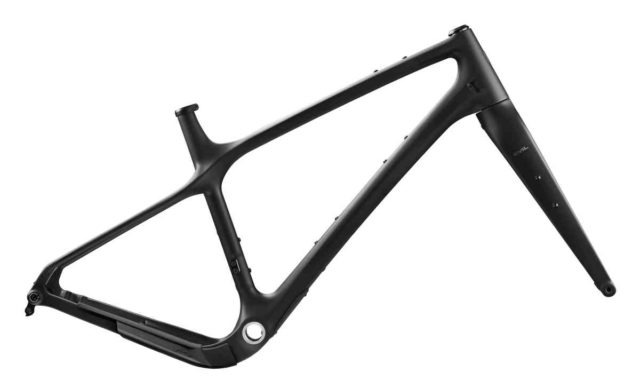 Add a long dropper. Chamois Hagar's ship with 125mm-185mm droppers. Along with a healthy dropper comes a slanting—like really slanting—top tube. Lean, sear, corner, incise. Trails are for the hungry, and a stable wheelbase's never felt so sporty.
The Things You're Already Curious About
It comes in two builds, both offering 1x options. You can run 2x, you just use the braze-on front derailleur adapter that comes with each frame, but both builds are 1x. Each build is a different take on gearing. 
One option is the AXS of Eagle and gives you big range out of X01 and Force bobbing and weaving. Everything's electronic—even the dropper—so things are immediate and crisp. If you ride mountain, you'll appreciate the breadth of gearing (38t x 10-50t) and probably won't be bothered by the larger gaps between each gear. This laser symphony goes for $5899.
Option two provides tighter gearing and a mechanical GRX setup. Think smooth, tight steps where no effort's wasted during high-cadence moments shifting gears. And as a result, the gearing is slightly higher and narrower (40t x 11-46t). Throw down, road warrior. Close-ratio gearing runs you $4799.
You can run big (700 x 50mm) tires and you can run 700 x 40s with fenders. The fork—100 x 12mm, flat mount with a 57mm offset—has a hidden fender mount and another resides stealthily behind the seat tube. Also hidden from the Hagar's lines are rack mounts—dirt touring, bikepacking, shred commuting, bike-to-work packing, it's ready.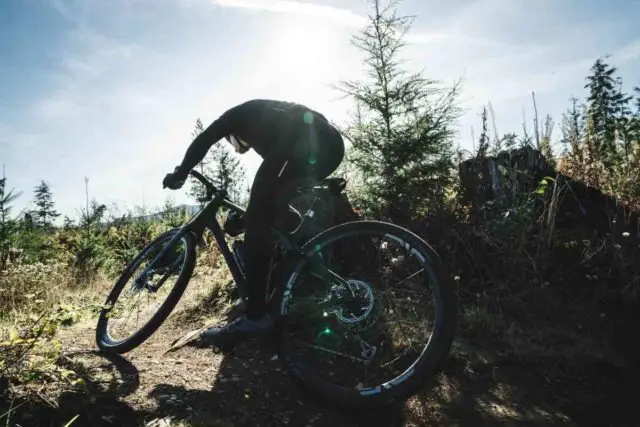 One thing you can't run is road plus (650 x 47mm). We went with 80mm of bottom bracket drop, and this would mean too many pedal strikes. If you're looking to get speedy and paved, we recommend 700 x 34mm or larger.
The Chamois Hagar uses a 12 x 142mm rear thru-axle and runs a flat-mount brake setup. If you're inclined to run a flat handlebar (we see you, tru mountain rider), you can, you either run flat mount 140 to post mount 160 adapters, or you buy some of those new UCI XC World Cup Euro-style flat-mount mountain brakes. Yep, that too is a thing now—we're definitely not responsible for Euro-ifying mountain.
Hydration. There are seven bottle cage mounts on the MD/LG/XL bikes (three within the front triangle) and six on the SM bikes (two within the front triangle). You can fill the bottles with whatever you choose, it's your life. Tequila will provide enough party for a small family of moderate drinking tolerances or one Evil rider.
The Important Part
Let go of the brakes, let go of worries. Finally it's fun to descend on a suspension-free setup. There's an eerie glee to reaching terminal velocity as the Chamois Hagar just gets smoother, smoother smoother as you go faster—it's almost like it slows down as you speed up, while still feeling delightful: nice bouquet, good body.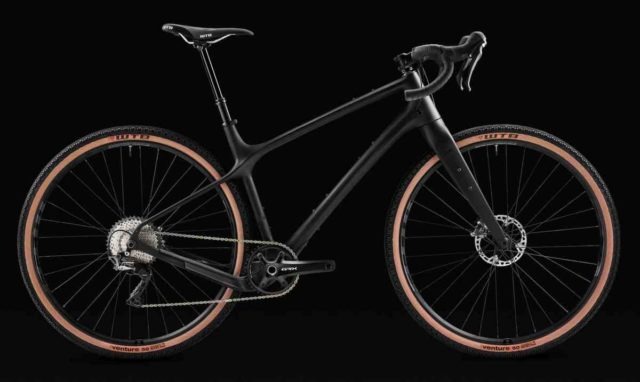 Wine jokes aside, there's not much to whine about here. This is a light, fast bike. You can hang with—or drop—Stravaists on a high-paced, hurtful road ride. You can demolish unmaintained fire and gravel roads. You can easily throw the steady wheelbase around with a centered stance, full-size dropper, and proper standover. You can pedal harmoniously for hours into nature's remote recesses with everything strapped to your mobile home. You can wheelie to work. You can do everything, and you can now do it with shred-tested, Evil-approved geometry.
So, yes, we've brought shred to gravel with the Chamois Hagar. And while we were borderline embarrassed at first, it's pretty damn fun. And you just might think so too.
Best part? It's available now.