Recon, the Specialized shoe sans numerals following its name, is the nomenclature reserved for the top-flight off-road shoe offering from the company, the S-Works Recon. S-Works anything from Specialized represents the epitome of weight, style, efficiency and stiffness but budget-friendly, not so much. Remember the old adage, cheap, light or durable, pick two.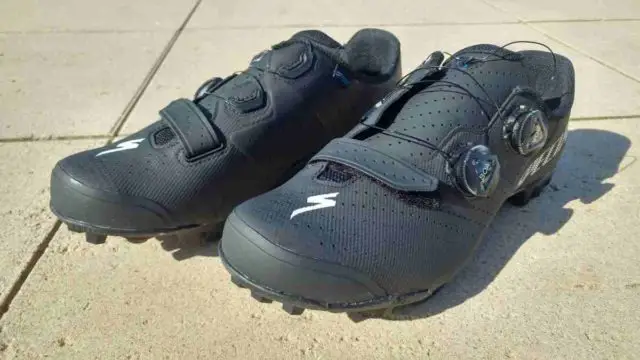 This isn't a bad thing, but the average mountain biker or gravel cyclist may not have the coin to drop over $US 400 for a pair of spanky S-Works Recon shoes, have a desire to race, or they have zero need for a shoe whose carbon plate technology measures 13.0 on the stiffness index. I've no idea how Specialized calculates or measures a shoe's stiffness index, but in my mind, turning up the volume to 13.0 can only mean walking around on a plank when you hike-a-bike, or post-ride loading up the car.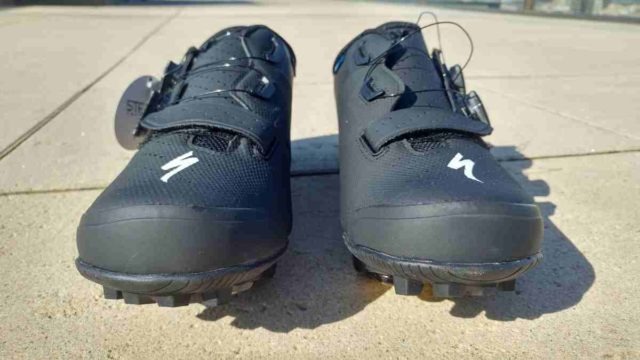 This is where the Recon 3.0 trickle down helps. Taking pricing cues from other versions of the shoe, Recon 3.0 was designed not just for the cross country mountain biker, this shoe does double duty crushing on gravel roads. Specialized have taken the good points of S-Works Recon – power transfer, comfort, lightweight and style, and stuffed it into a package that isn't as stiff or expensive.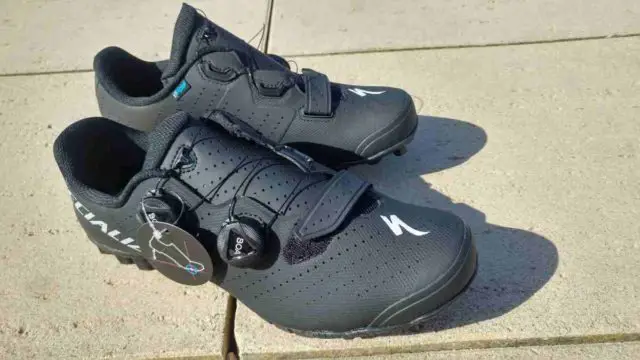 The problem with shoes possessing a high stiffness is they are bloody awful to walk about in. I'm a lazy bugger at times, which means you'll sometimes find me clomping about the grocery store post-ride wearing MTB shoes… along with driving and shifting gears in a car with three pedals. Specialized takes the stiffness down a notch with Recon 3.0. Sure, the performance is still there, but the carbon isn't quite as high zoot and the stiffness index is a more reasonable 10.0, which has felt plenty stiff enough. This isn't a review, but I've got at least three decently long gravelly rides on the Recon 3.0 shoe thus far.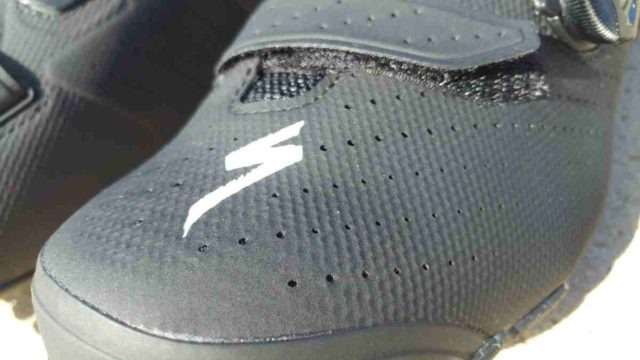 Gravel Cyclist types are known to favor activities such as hike-a-bike more than their MTB brethren, not because we like it, it's part and parcel of riding on gravel roads. You reckon trying to ride through sticky red clay roads in Georgia, USA is a fun experience? The red stuff completely knackers your drivetrain, frame clearance with mud build-up and more, often resulting in you having to hoof it.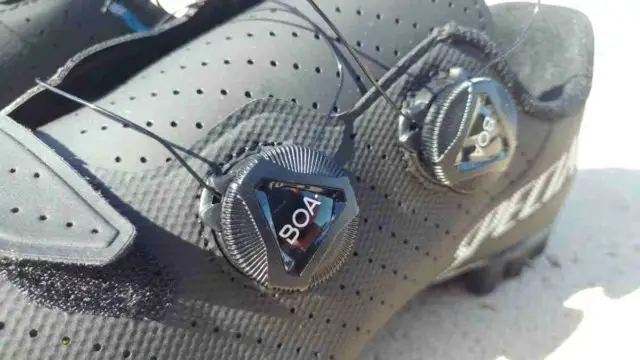 The same can be said for gnarly steep gravel roads. Some parts of the world see 20+ percent grades on gravel roads, so low gears and the ability to walk / drag your bike along is a legitimate requirement.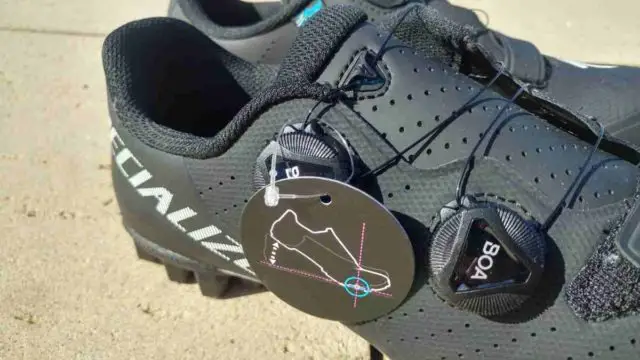 Specialized wasn't born yesterday, their field experience sees them build some excellent features into Recon 3.0. This shoe mates a carbon outsole with a Pavé-inspired glass fiber forefoot to create Specialized's Stride toe-flex, which allows your foot to function naturally whilst strolling along off the bike. Ever notice with a stiff MTB shoe how the toe box area doesn't flex at all? Recon 3.0 provides that functionality so the toe box area does flex, just like a running / walking shoe, perfect for scaling any kind of terrain off the bike. This technology makes a huge difference for those times when you have to go walkabout.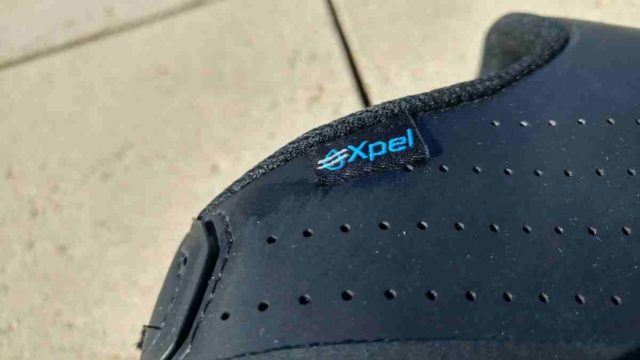 Recon 3.0 gets "XPEL Mesh" which creates a comfy fit and sheds water at the same time. A dry shoe is a light shoe, but any water logging will dry quickly, according to the engineering boffins (really smart people) at Specialized. That smart thinking extends to the outsole of the shoe with the "Slipnot" compound. As my photos show, the full rubber coverage makes for excellent traction on almost any surface with open tread to eject mud.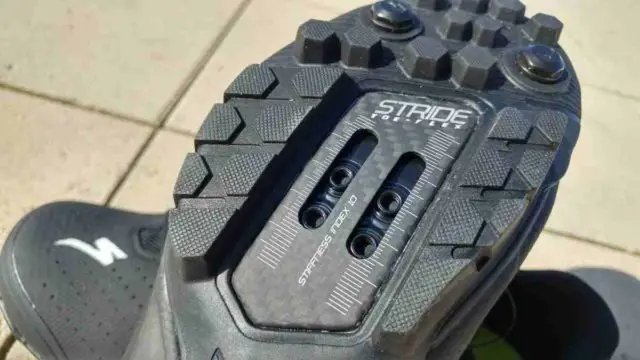 Topping it off are dual Boas and velcro forefoot enclosure, all of which can be adjusted out the yin-yang. Easy on-the-fly adjustment is key, nobody wants to stop and fiddle about with shoes, particularly when the weather turns to $hite.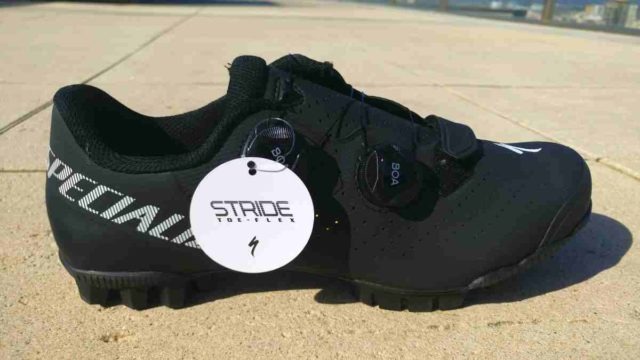 Key factoids courtesy of Specialized:
Body Geometry sole and footbed are built with purpose and backed by science to boost power, increase efficiency, and reduce the chance of injury by optimizing hip, knee, and foot alignment.
Carbon STRIDE toe-flex technology allows for natural toe movement off-bike but remains stiff for pedaling: Stiffness Index 10.0)
Fully-welded upper reduces seams for superior step-in comfort.
Two-bolt cleat pattern fits all major MTB pedals.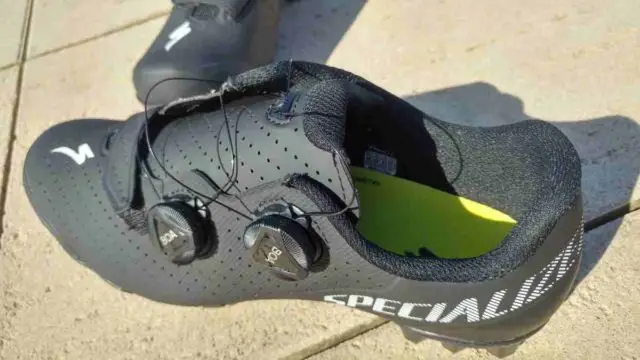 The other important tidbit is the weight of each shoe, which according to Specialized is 355 grams per shoe, assuming size 42. Compared to the flagship S-Works Recon, this is an 85-gram weight penalty per shoe, but your wallet will be significantly lighter too.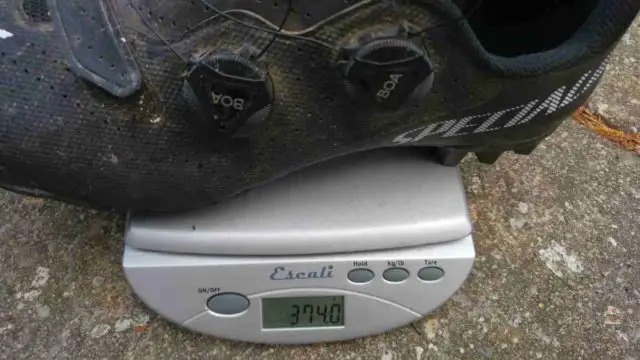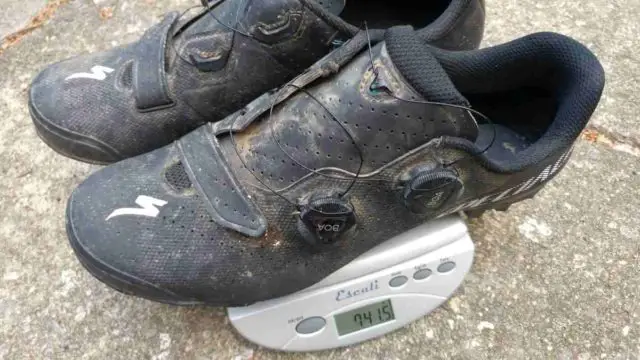 Stated earlier, this isn't a shoe review, but sizing shoes can be difficult for product, review samples and so on. I liken this process to ordering shoes over the internet. You don't really want to visit your local bike shop, try on the shoes you really want, and buy them online… that isn't cool. So, you make a choice and hope for the best. In my case, I hover between Euro size 42.5 and 43 depending on the shoe brand. I typically choose size 43 as I'd rather have a little wiggle room than none at all. With that said, the Recon 3.0's did fit a little loose in size 43, so I'll be making a mental note about Specialized shoes in the future…. order size 42.5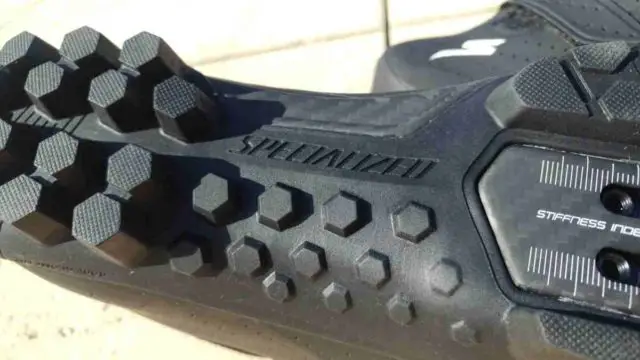 Additional shoes in the Recon line include the 2.0, which features one BOA, and the 1.0, which features three velcro strap closures.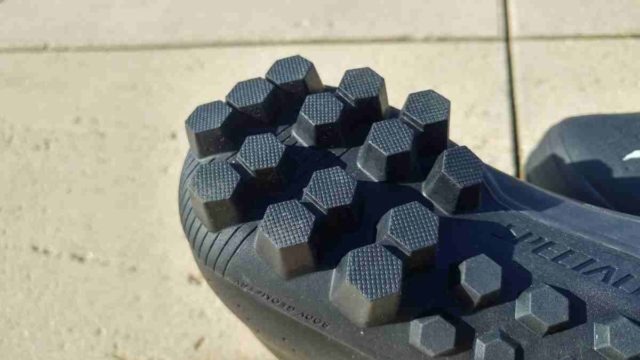 The Recon 3.0 is available now for $US 225 in Black and Red, in sizes 36 to 49, with half sizes from 38.5 to 46.5
More information is available by visiting the Specialized website.