The world's lightest gravel groupset (2,385 gm): reliable, durable & fast.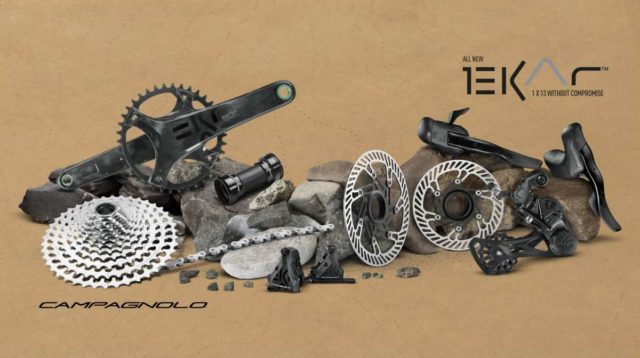 "Born hard so you can ride easy"
"Born on Mt Ekar: Just as Campagnolo's ground-breaking first quick-release lever can trace its origins to the Passo Croce D'Aune climb, the innovative new gravel-focused Ekar groupset was born on another cima local to today's Campagnolo headquarters: Ekar."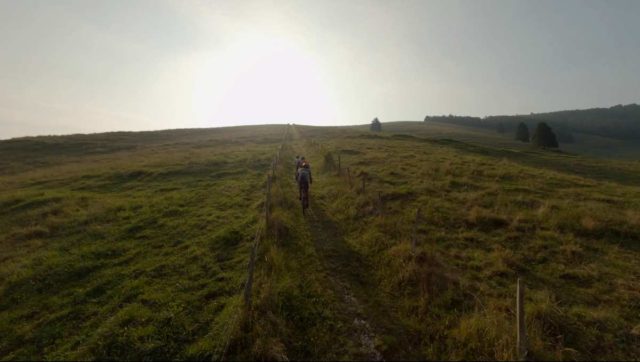 "With its asphalt giving way to tracks and trails, climbs and descents present surfaces and characters that evolve season-by-season and change, ride-by-ride, Ekar™ epitomises the special challenges of Italian gravel. But Mt Ekar's influence goes beyond physicality; it represents the spirit of riding gravel, of adventure, and of freedom."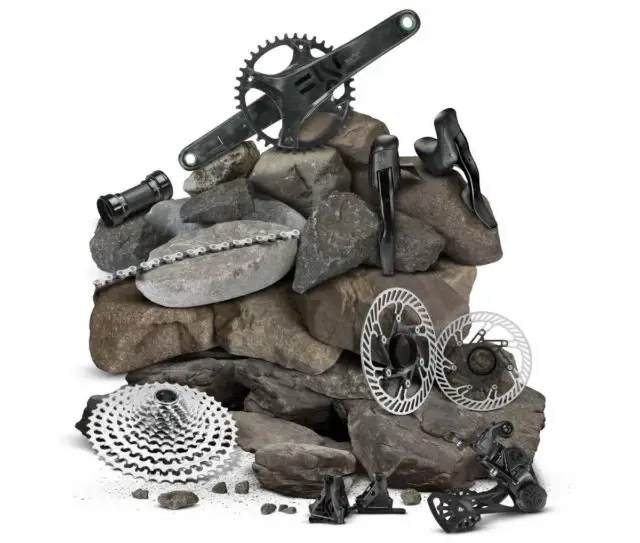 "Ekar™ delivers a 1×13 transmission the way it should be: wide range, close-ratio, and no compromise."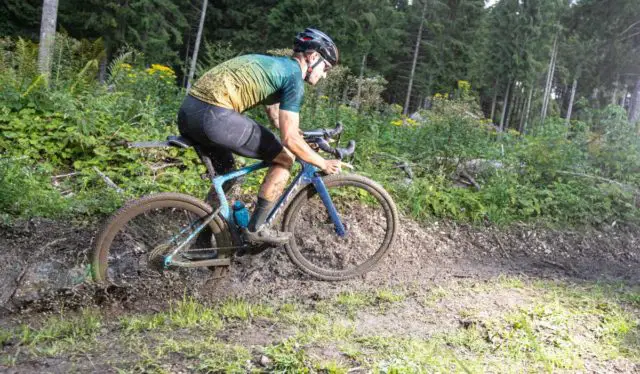 "Thanks to a 9 tooth sprocket, Ekar's unique and innovative gravel-specific 1×13 drivetrain delivers a full range of gear ratios with a smooth, natural gear progression for the perfect cadence, whatever your speed, and whatever your style of gravel riding."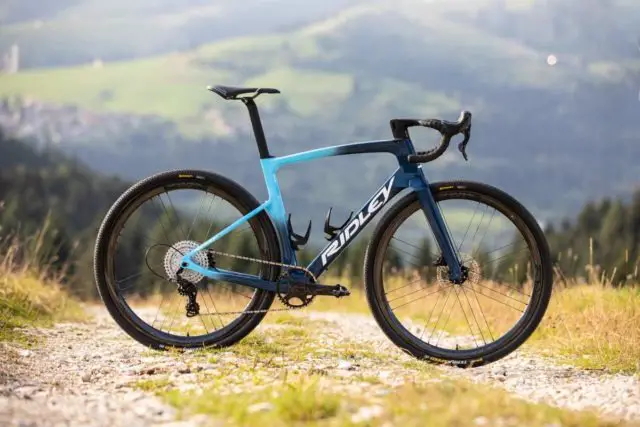 "With four chainring options – 38, 40, 42 and 44T – and a choice of three cassettes – 9-36T, 9-42T and 10-44T – Ekar is ready for however you ride and wherever your adventures take you!"
Gravel Cyclist should be taking delivery of a review bike with Campagnolo Ekar™ in the near future, watch this space…
Campagnolo Ekar™ Promotional Video
Campagnolo Ekar™ Rear Derailleur
"The Ekar™ rear derailleur's all-new design has been specifically created for gravel."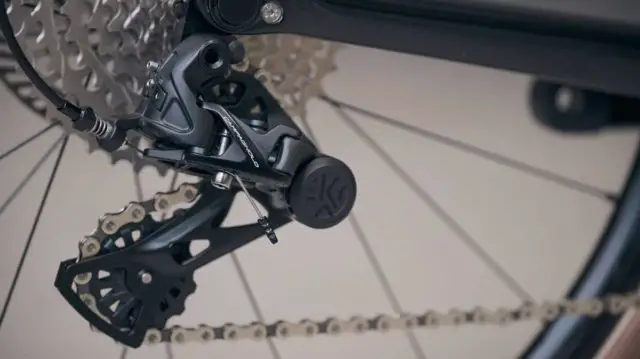 "The highly effective 1×13-speed drivetrain has a full gearing range with short, evenly spaced shifts for well-maintained cadence levels, with the strong and durable yet lightweight and efficient derailleur at its heart."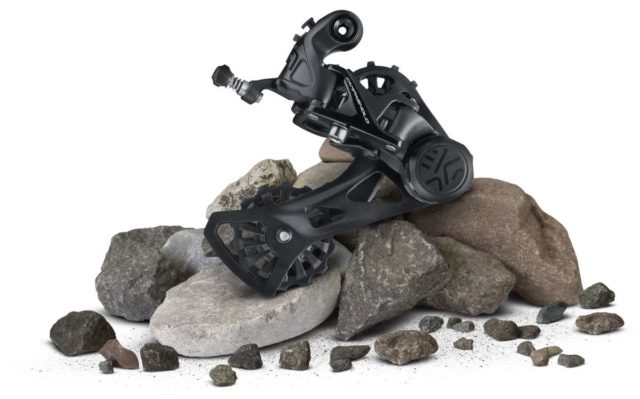 "The combination of more than 70 moving parts lovingly crafted in carbon fiber, carbon-reinforced polyamide and anodised 7075 and 6082 alloys – with stainless steel bolts – exceed the demands of all-road riding to combine quick, precise, reliable shifting with high chain security, and the toughness that only comes by being born on Mt Ekar."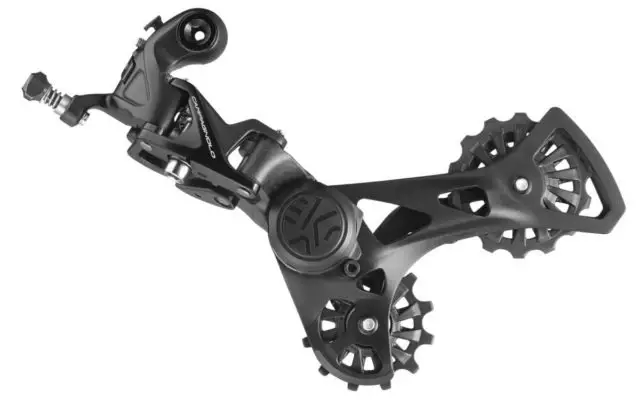 New design for 1x 13-speed system – gravel-orientated performance and build – specific clutch
2D parallelogram trajectory – precise mechanical movement for 13 sprockets
High-grade polymer pulley wheels (12T upper, 14T lower) – smooth chain running and secure retention
Carbon fiber-reinforced polyamide and anodised 7075 and 6082 alloys, for light weight, strength and durability
Stainless steel bolts – for strength and long-term resilience on gravel
Clutch lock – for easy wheel removal
One derailleur compatible with all three cassette options, easy to switch for gearing changes
Weight: 275 g
SRP: US $256 / €247 / £210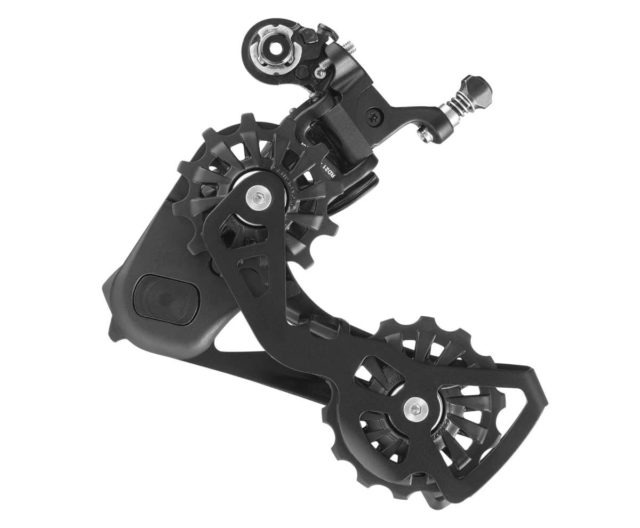 Campagnolo Ekar™ Cassettes
"Campagnolo's considerations behind the gearing ratios and cadence-managing shifts is fundamental to the design of Ekar's gravel-specific cassettes. And their tough, durable yet efficient build matches the clever maths perfectly to life on the gravel trails of Italy's Mt Ekar, and wherever in the world, your adventures will take you!"
Click to Enlarge
Click to Enlarge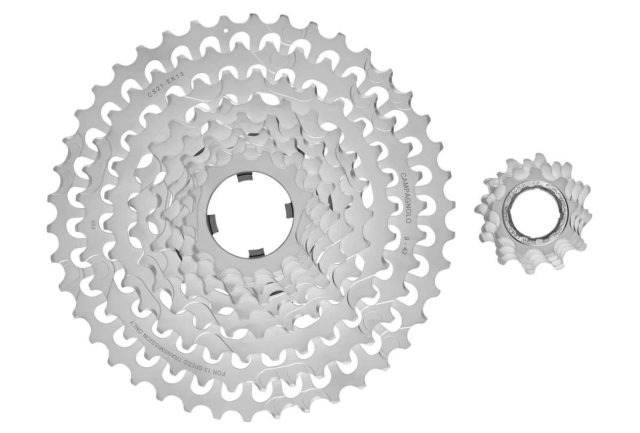 "13 sprockets make the logic of the 1x system possible. And what makes it work so perfectly for all-road riding, is our introduction of the 9-tooth cog. It means the wide range of gear ratios is not just possible, but that all the natural, progressive cadence-matching shifts create a uniquely satisfying ride."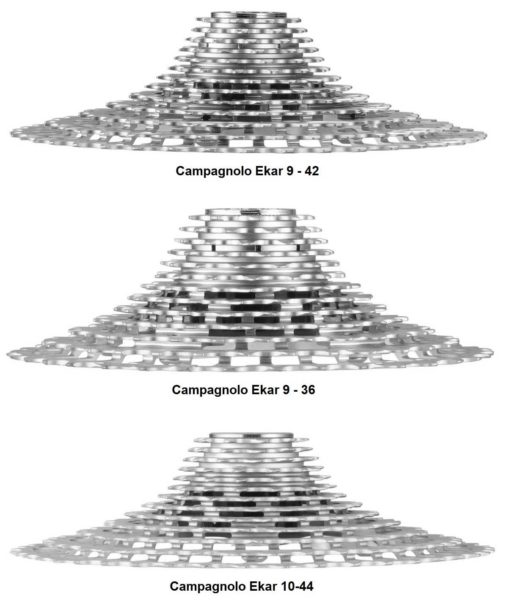 "With the new, lightweight and versatile N3W (Next 3 Ways) freehub and a 2-block design to combine steel strength and alloy weight-saving, the Ekar™ cassettes three gearing options of 9-36, 9-42 and 10-44 should suit the gravel cycling needs of every rider."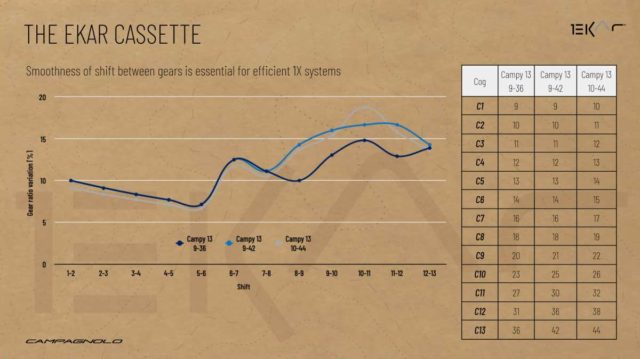 13-speed – full range to match or exceed any 2x systems, with no wastage
9-tooth sprocket – allows full range with zero drop in efficiency
Compact – narrow design with quick changes, lightweight, improved chain security
Durable – tough materials and design, with no weight penalty
Three range options available – for every gravel possibility
Closer low gear spacing – creating natural cadence progression
Wider higher gear spacing – creating top-end speed options
2-piece block – blends strength of steel with light weight of alloy
Works with the new N3W driver body – for great versatility and full compatibility
SRP: US $274 / €265 / £226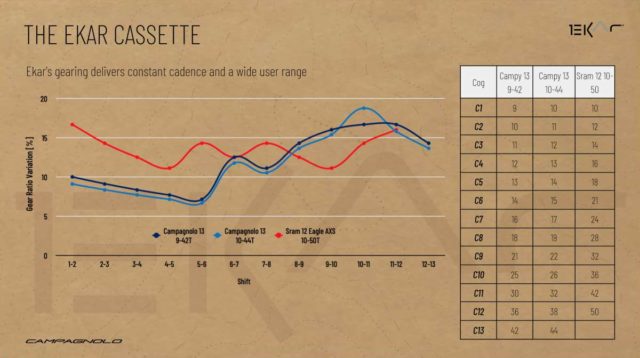 Weight:
Weight: 340 gr (Endurance 9-36T : 9-10-11-12-13-14-16-18-20-23-27-31-36)
390 gr (Gravel Race 9-42T : 9-10-11-12-13-14-16-18-21-25-30-36-42)
410 gr (Gravel Adventure 10-44T : 10-11-12-13-14-15-17-19-22-26-32-39-44)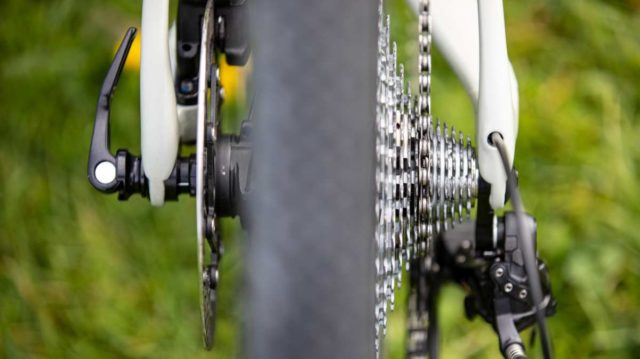 Next 3 Ways (N3W) Cassette Body
"N3W is our future: A single standard to manage all the Campagnolo Cassettes – Present, Past, and Future" – "One Ring to Rule Them All"
N3W has the same groove profile as the classic Campagnolo body but it is 4.4 mm shorter, making it lighter.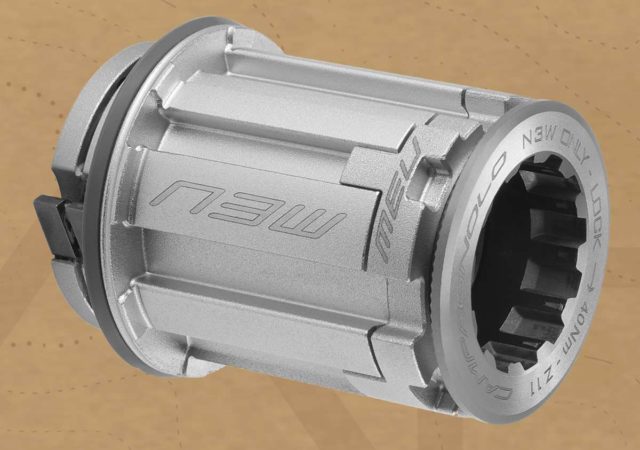 To make it compatible with ALL of today's cassettes with 11-tooth starting sprockets, simply use the N3W ring (kit ring + ring code AC21-N3W) which makes them the same length as the classic body.

N3W™ enables the use of Ekar's 13-speed cassette and provides compatibility with the current 12-speed and 11-speed cassettes using a spacer lockring
It's an open and a trademark-free license for companies complying with the technical specification and the terms of Campagnolo's mandatory signed agreement
The official technical specification was released alongside this July's launch of the first Campagnolo wheelset equipped with N3W™, the new Shamal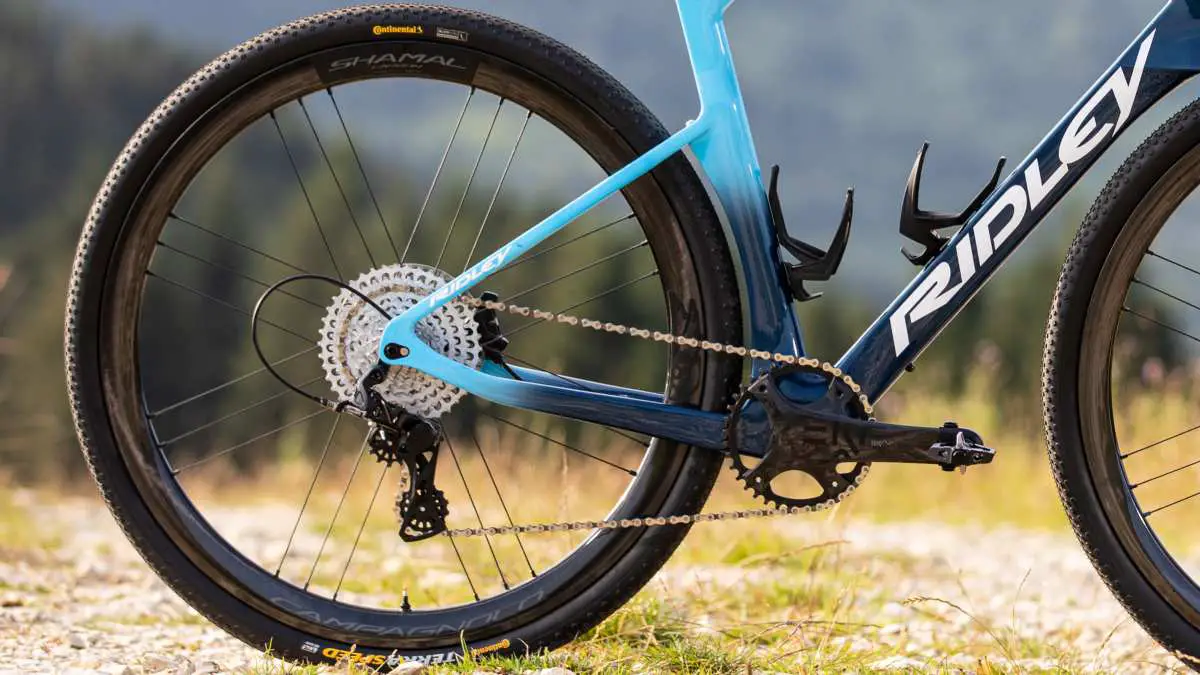 Campagnolo Ekar™ Cranksets
"The 1x crankset is a crucial element in Campagnolo's gravel-specific Ekar drivetrain design."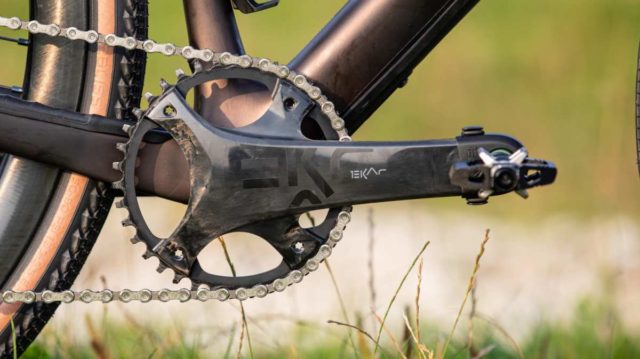 "Lightweight, secure and simple upfront, with no wasted overlapping gears or unnecessary moving parts to collect trail dirt – one chainring and no front derailleur is the way to go, whatever your off-road ambitions!"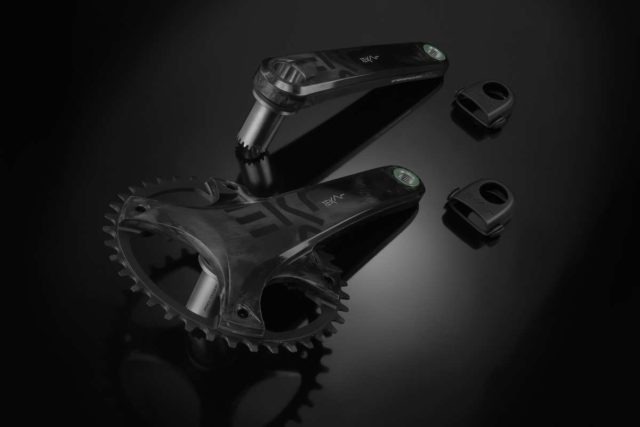 "But behind that apparent simplicity is a design to die for. Like the whole Ekar™ system, the cranks combine strength and lightweight materials. The 2-piece crankset features a strong, durable 630-grade steel alloy axle mated to a polyamide-carbon spider and beautiful UD
Carbon arms. New ProTech™ technology joins the two semi-axles inside the BB while oversized stainless steel bearings sit outside the shell, for smoothness, strength and easy access."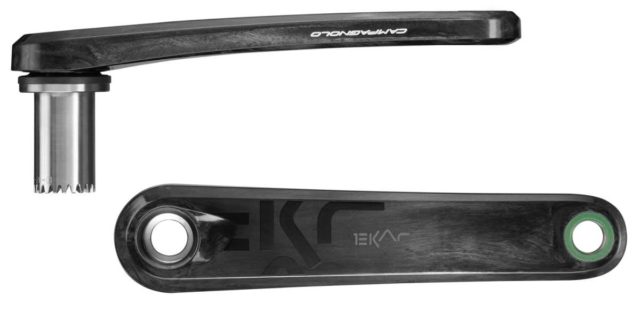 "Four chainring options of 38, 40, 42, and 44-teeth – combine with cassette options to ensure there's a gear range for every rider and every ride."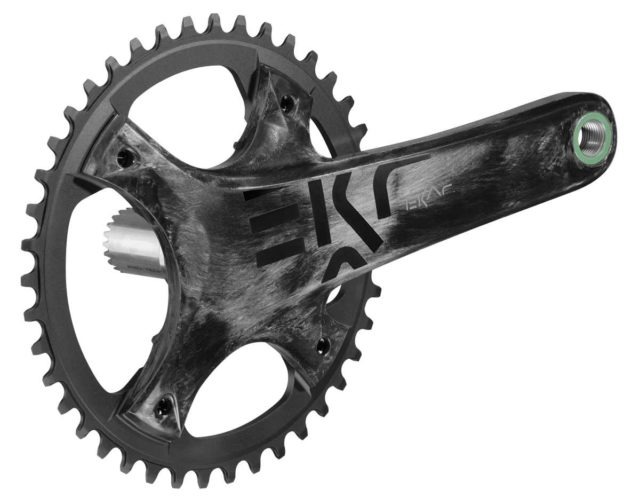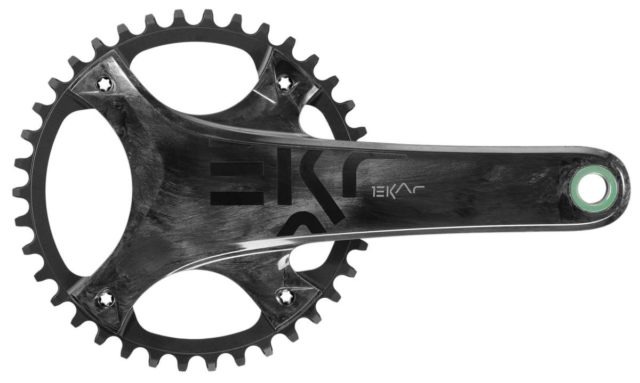 Lightweight, efficient, secure 1x Ekar™ system – perfect for gravel riding and racing
2-piece cranks: ultra-torque 630 steel axle & UD carbon arms – strong and lightweight
4 ring options – Adventure (38T), Pure Gravel (40T), Fast Gravel (42T), eGravel (44T)
Narrow-wide tooth design – efficient drive & maximum chain security
ProTech™ – strong, efficient, self-aligning Hirth joint semi-axles
Easy access to external crank bearings
Easily interchangeable alloy rings – no need to disassemble the crankset
4 crank arm lengths – 165, 170, 172.5 and 175mm
Narrow Q-factor – 145.5mm
Weight: 615 gr (172.5mm, 38T)
SRP: US $360 / €347 / £297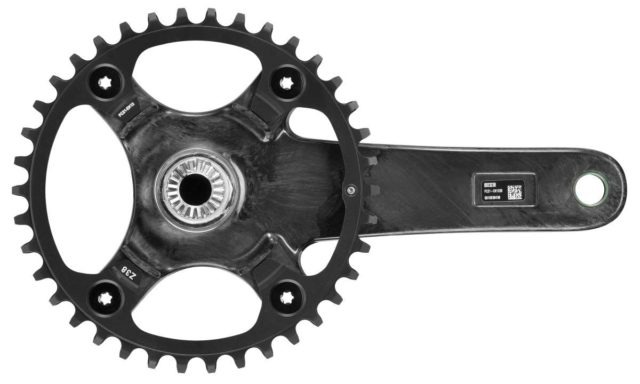 Campagnolo Ekar™ Ergopower Controls
"For the new gravel-focused Ekar™ drivetrain design, we've taken the best of classic Campagnolo controls technology and adapted it for the most pragmatic, natural gravel-riding experience."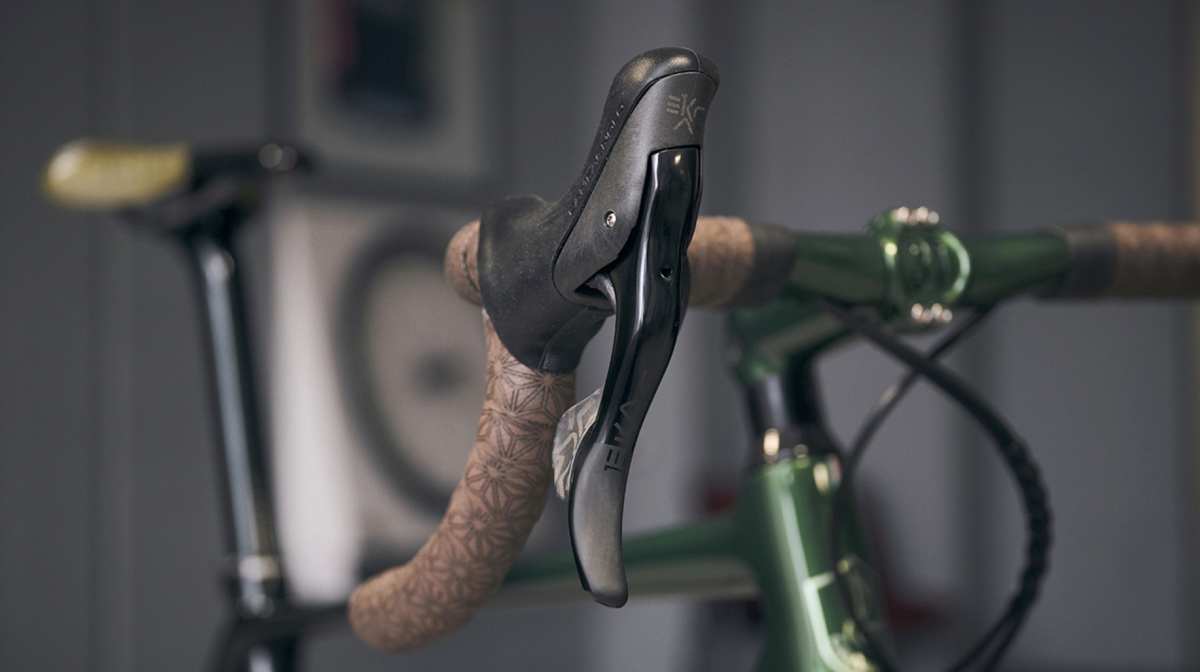 "They're the most comfortable shaped lever and hoods, with easily-adjusted reach size giving you precise, quick shifting and positive engagement – every time, at every speed, on every surface."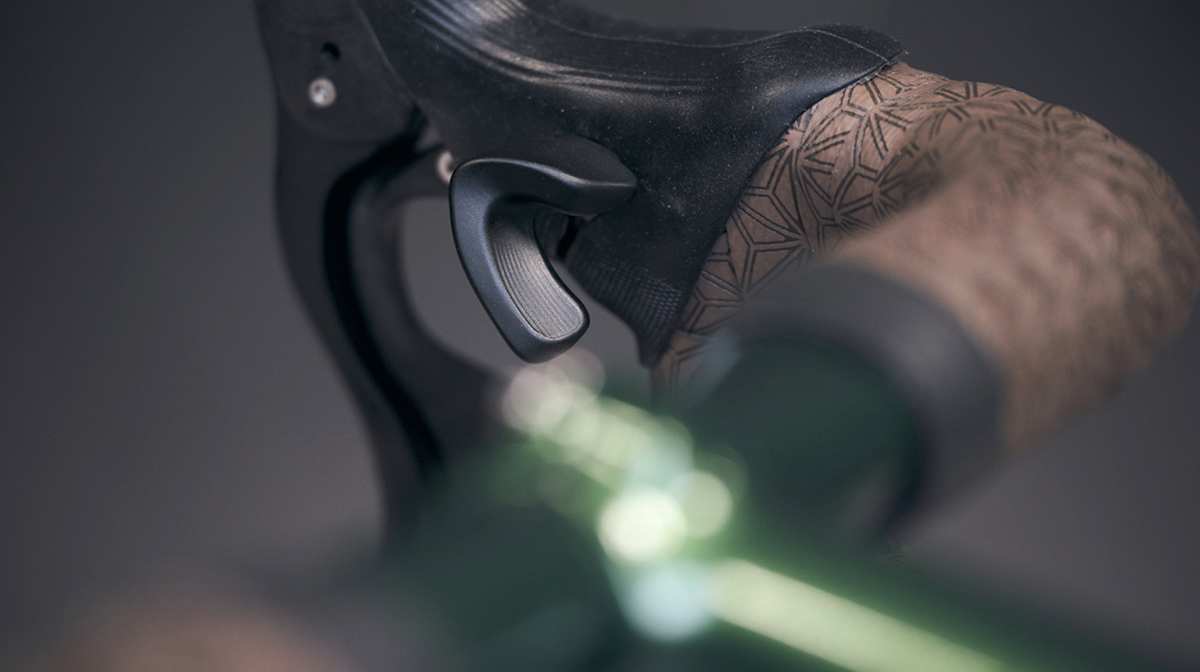 "A new Lever 3 design means it's easy and reliable to activate from the drops. Ekar™ Ergopower's all-new surface is easy to grip and easy to clean, and there's Campagnolo's signature quick 3-gear up-shift with Ultra-Shift™ – features that all gravel riders will appreciate. Insight and passion from its birth at Mt Ekar to wherever you choose to ride!"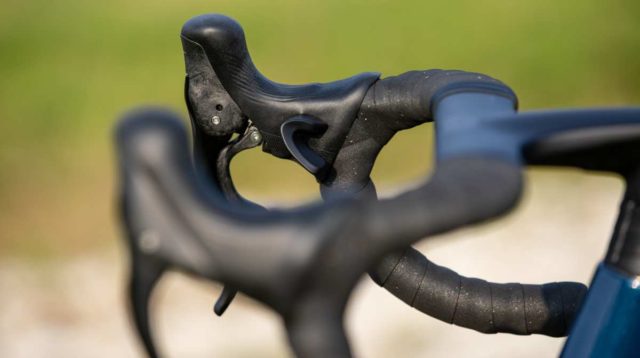 Comfortable support – Vari-Cushion™ hood provides a comfortable, safe grip in any riding position and any off-road conditions
Precise, quick-shifting – One-Lever-One-Action and positive engagement with the efficient 1×13-speed Ekar drivetrain means a perfect change every time
New 'Lever 3' design – easy to activate from the drops
Enhanced grip – additional laser-cut texture on lever blades and controls is sweat- and wear-resistant
Multiple action – up-shift 3 gears with Ultra-Shift™
Ergonomic adjustable-reach – to suit any hand or finger size
Weight: 420 gr per pair
SRP: US $395 / €382 / £326 (RH with hose, caliper and oil) – US $316 / €304 / £260 (LH with hose, caliper and oil)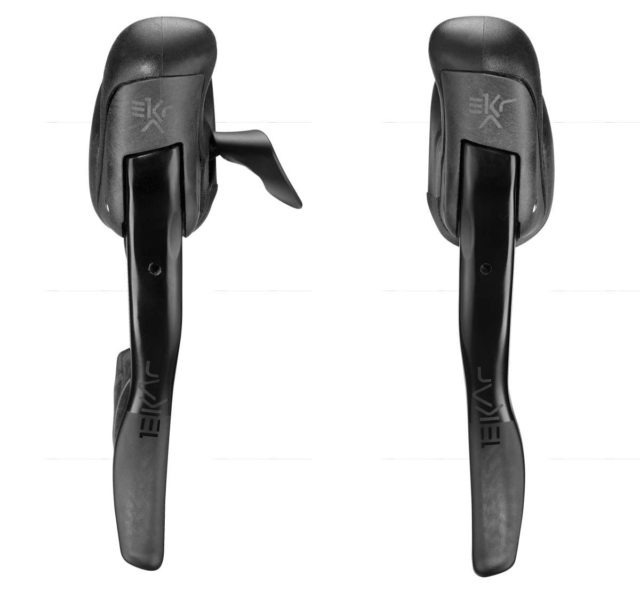 Campagnolo Ekar™ Chain
"A drivetrain – in fact a bike – is nothing without a chain to make it all work! And in our ground-up design of the gravel-specific 1×13 Ekar drivetrain, we kept that fundamental component front and center of our focus. But we didn't just want to chain to work – we knew it had to be a vital element in operating effectively and reliably in the toughest environments gravel riding can throw at you!"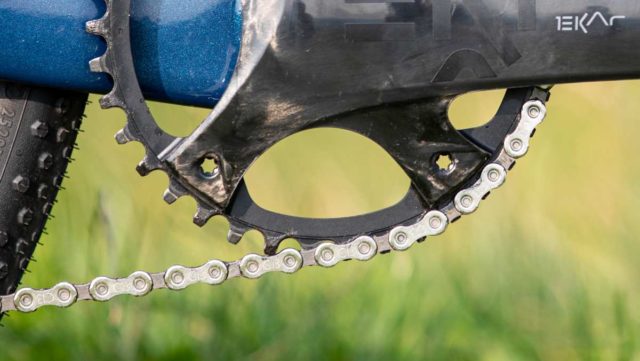 "The new Nickel-Teflon treated C13 chain is designed specifically to work efficiently and securely with the narrow-wide 13-sprocket system."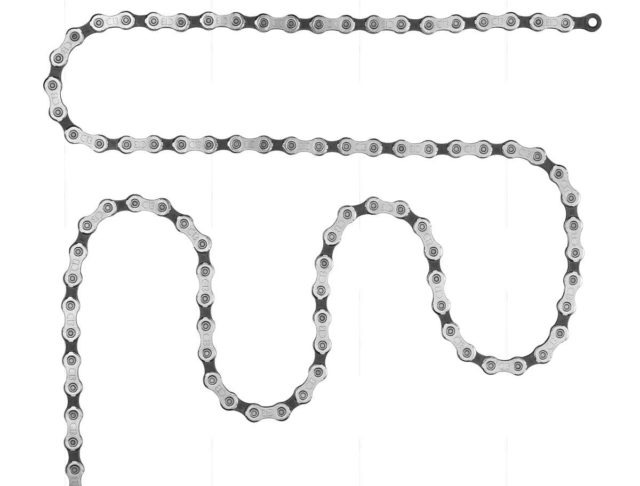 "Despite being our narrowest ever chain, it's also strong, light, durable, and amazingly efficient."
"The Ekar C13 chain comes in two options: Classic Pin and C-Link to suit every kind of gravel rider the world over."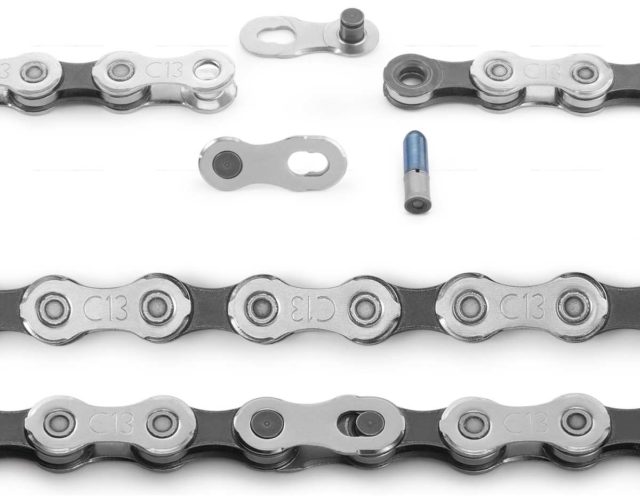 New C13 chain – developed specifically for Ekar 1×13-speed gravel system
Wide-narrow teeth design – for efficient drive, smooth shifts & high security
Narrow profile – light weight, strong & efficient
Strong, durable, links – with different grades of steel & coatings for strength and to withstand wear
Unique ultrasound bath lubrication impregnation system – for long-life efficiency
Classic Pin and C-Link™ options – options for every kind of gravel rider
Weight: 242 gr (117 links / C-Link)242 gr (118 links / Pin)
SRP: US $48 / €46 / £40 (117 links / C-Link)US $46 / €44 / £38 (118 links / Pin)
Campagnolo Ekar™ Bottom Bracket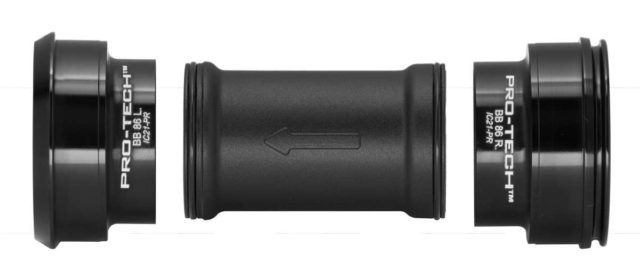 Designed specifically for gravel riding and racing – protected from harmful ingress of water, mud and grit
ProTech™ – a patented external sealing ring & strong fiberglass-polyamide tube
Large, protected external stainless steel bearings attach directly to crank arms for smooth, fluid performance
Full compatibility – all threaded and PressFit standards – BSA, ITA, BB86, BB30, BB30A, BB386, PF30, BB RIGHT, T47
Weight: 50 gr
SRP: US $33 / €33 / £28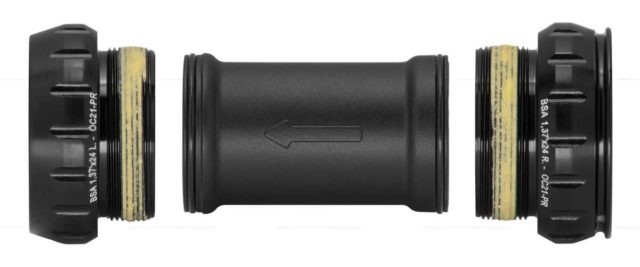 ProTech™
ProTech™ – a patented external sealing ring & strong fiberglass-polyamide tube
Setting a new standard for Campagnolo to follow within the rest of our range
Designed specifically for gravel riding and racing – protected from harmful ingress of water, mud, and grit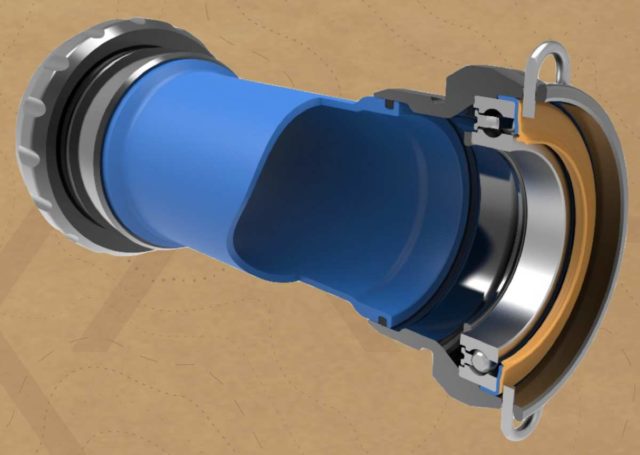 Campagnolo Ekar™ Brake System
"Stopping fast helps you ride fast, and knowing that your brakes are powerful yet sensitive, with a uniquely 'real' feel is a priceless riding confidence boost. Ekar brake's trusted modulation and progressive feel are perfect for all-road control, whatever your style and whatever the conditions."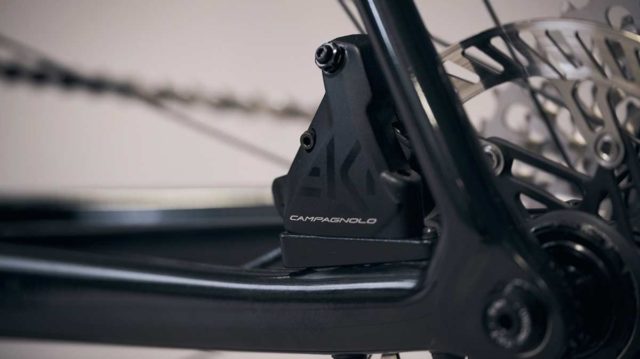 "Paired with Ekar's Ergopower controls, we shared the best technology of Campagnolo's high-performance hydraulic system's internals for the Ekar™ brakes – and fine-tuned them for gravel riding."
Ekar's hydraulic system internals are shared with Campagnolo's high-performance ranges – for proven performance
Trusted modulation and progressive feel – perfect for all-road control
DB310 pads unique organic compound – high braking performance & improved wear resistance in wet or dry conditions
Weight: 110 gr (Front caliper including adapter kit)95 gr (Rear caliper including adapter kit)
SRP: US $395 / €382 / £326 (With RH Ergopower, hose and oil) – US $316 / €304 / £260 (With LH Ergopower, hose and oil)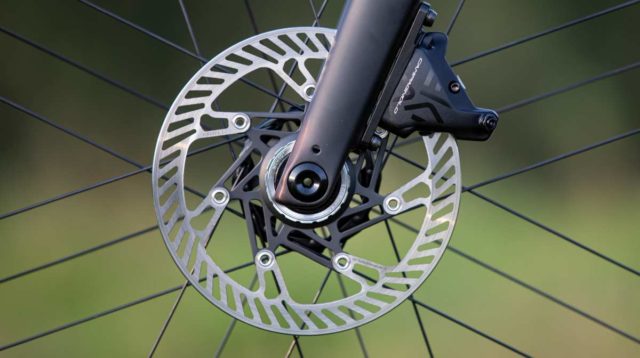 Campagnolo Ekar™ Brake Rotors
Ekar's rotors are strong 1.85mm thick stainless tempered steel – staying straight and true long-term even under heavy and sustained braking
Strong, durable, light & resistant to corrosion
140 and 160mm rotors – to suit your riding style and bike design
Road alloy carrier versions also available for additional weight reduction
Weight: 157 gr (160mm Stainless Steel Spider) – 123 gr (140mm Stainless Steel Spider)
SRP: US $41 / €36 / £31
Weight Comparison against Competitors

Assembly and Maintenance Tools

Campagnolo Ekar™ Accessories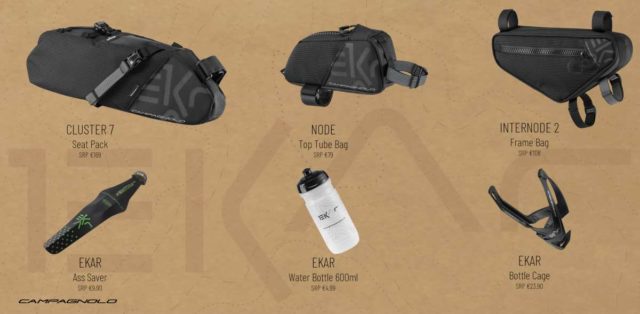 Campagnolo Ekar™ on Bikes / In Action