"The bike frame is a bridge on wheels, built to carry people over the ground."
Bridge Bike Works
BRIDGE was founded with a vision to create a better carbon bike. One that is designed, precision-engineered and built locally. One that is hand-crafted in North America by a team with an unparalleled passion for attention to detail, from product to experience. One that celebrates the relationship between rider and bike, the places you choose to ride, and the community that riders create.
Design.
Engineering.
Manufacturing.
Community.
Under one roof.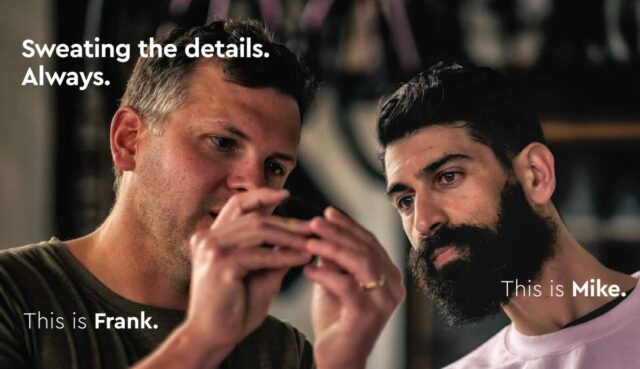 Two Paths, One Bridge
Frank Gairdner and Mike Yakubowicz, BRIDGE's founders, have followed different routes to end up in one place today…
Frank:
So, what does a guy with a Masters degree in Philosophy do when he graduates? He becomes an entrepreneur. At the age of 28, Frank started his first venture, Trigger Tech, a technology company that developed, manufactured a patented mechanism for the sporting and hunting industry. It was one of the fastest growing Canadian companies in 2020. From there, he led Carbon Marine as its first CEO, a high-performance, luxury carbon fiber powerboat builder where he was trained in carbon pre-preg production. His deep experience in starting companies and proven ability to launch commercial and OEM products internationally led him to create BRIDGE.

Mike:
A municipal lawyer with a Masters in Environmental Studies specializing in urban planning hops on a bike. What does he do next? Quits practicing law and opens one of the world's most distinguished custom bicycle design studios, Blacksmith Cycle. For over a decade, Mike has partnered with world-class brands from product ideation to launch, including being recognized by Campagnolo, Columbus and Silca at the North American Handmade Bicycle Show. His passion lies at the intersection between art and technology. BRIDGE is the perfect place to put that into practice.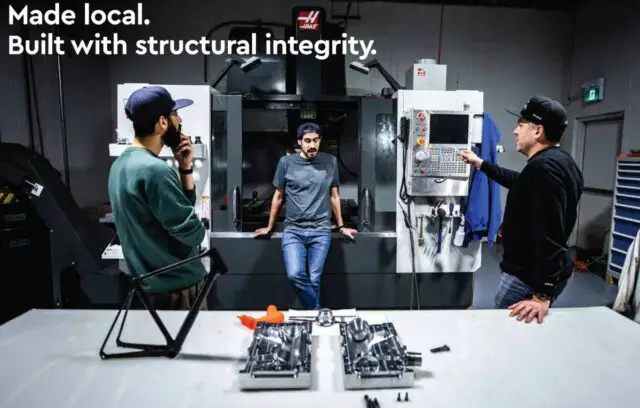 Our Difference
Engineer like the big boys.
Craft like the artisans.
Offer value to be true to who we are.
We are building a product that has the attention to detail and hand-built nature of boutique brands with the dedicated professional engineering, design and production of the big brands.
Our commitment to doing this at a world-class level, meant we needed to assemble an amazing team with proven experience with big brands
and boutique builders and create our own vertically integrated facility to make it happen.
Embedded Engineering
Our desire to build a better bike started with building a better team. With decades of combined experience working for major cycling brands, on some of their ground breaking projects, our dedicated team of in-house engineers means that we're starting with a significant advantage.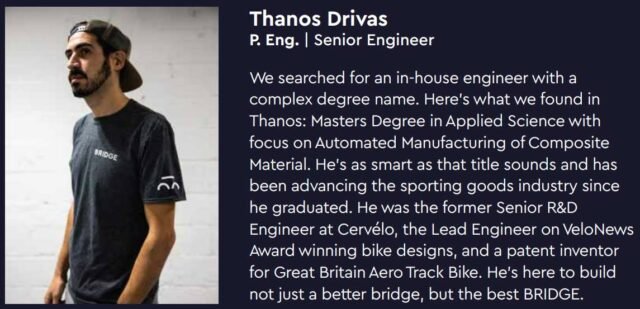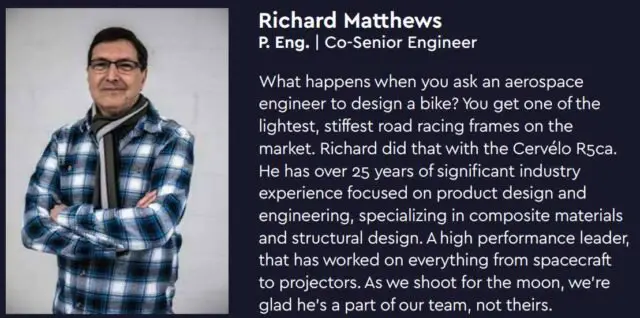 From design to prototyping to fabricating we have set a very high benchmark for ourselves
What does In-House mean to us?
We engineer from the ground up.
We cut our own tooling.
We design our laminate schedule.
We hand-lay our carbon fibre.
We finish and paint all bikes.
And we assemble and ship.
All from our Toronto facility.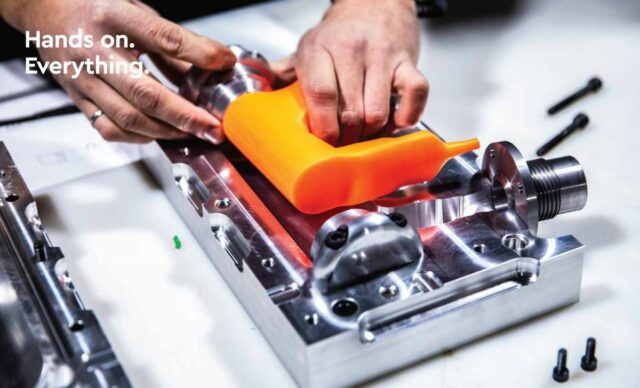 Our Process
All of our processes are completed in our facility. Our attention to detail is focused on each step of the way. We know your bike from the inside-out.
Our framesets are built with premium pre-impregnated (pre-preg) carbon fibre. Our proprietary layup schedule optimizes strength, weight and comfort and our carbon fork has two unique rakes to maintain ride characteristics across all 5 sizes.
We custom form latex bladders to produce consistent quality parts and every prepreg ply is precisely CNC cut on our Autometrix cutting table to maximize material usage and provide repetitive consistency. We wrap these plies around the bladder and insert the raw part into a tool that we mill in-house using our HAAS CNC. The tool with the raw part is then placed in our 50 ton heated press for precision curing.
This process can yield higher quality laminated parts than those typically seen in aerospace with the cured parts assembled and bonded together using aerospace grade epoxy.
All of this is done by us. From creating the mold to carbon cutting to all curing, assembly and painting, we control every stage.
SURVEYOR All-Road Bike
Bridge's debut model is an all-road bike designed to perform when you demand it and tackles multi-surface terrain with confidence, comfort, and speed. It is for the rider that wants versatility – play hard, ride hard, and push the limits of road and gravel.
We looked at the needs of modern road and gravel riders and created a bike perfect for 90% of the riding most of us do. An N+1 destroyer. Not a hardcore gravel bike, not a dedicated crit racer, but incredible for everything in between. All engineering and experience. No BS.
You could legitimately win a grand tour on a Surveyor. But you could also win Unbound on a Surveyor. That's what we set out to accomplish. A bike that excels on 28–40 mm rubber.
(Oh, and the "perfect" chainstay length? 417 mm. Tight enough for road racing, but long enough to house a 700×40 mm tire).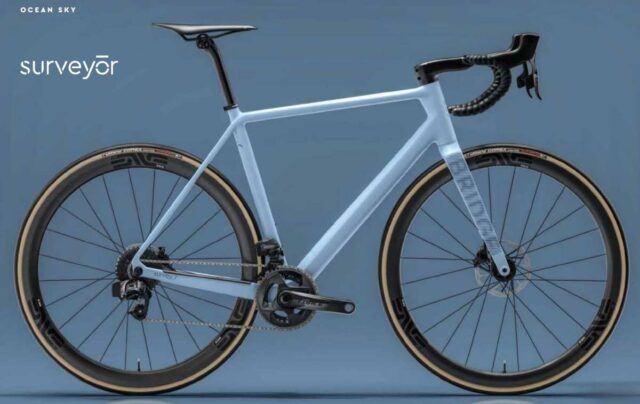 Stiff
The D shaped downtube is roughly 60mm in diameter, creating monstrous power transfer. Up front, the proprietary fork with tapered steerer was designed to rail without beating you up. Plus, our T47 bottom bracket design allows for a massive BB without any creaking.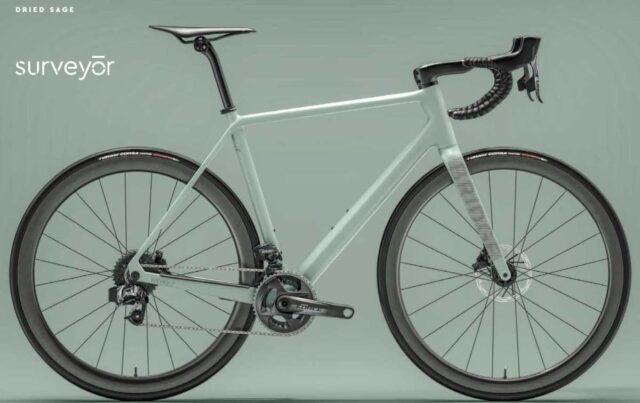 Comfortable
It's (almost) all about the seat-tube! We started with a sloped top tube (8–10 degrees) which allows for more seatpost exposure and thus more compliance. After much engineering and analysis we chose to use a round seat-tube for a 27.2 seatpost: it is lighter, more durable, but more than anything, it is MORE COMFORTABLE.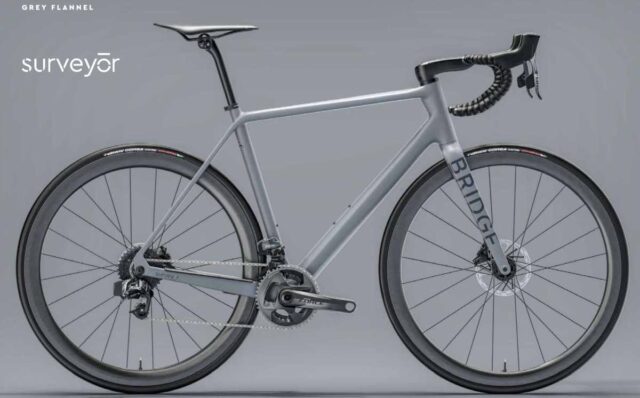 Aero
Why be slower if you don't have to? We don't give up comfort for our aerodynamics, especially since frontal aero is the key.
Fully internal cable routing
Wider fork stance for aerodynamics with bigger tires
D shaped downtube
Proprietary fork for ideal fork-to-frame transition
Unique headtube kink for improved airflow
Stack and reach within 5% of most race bikes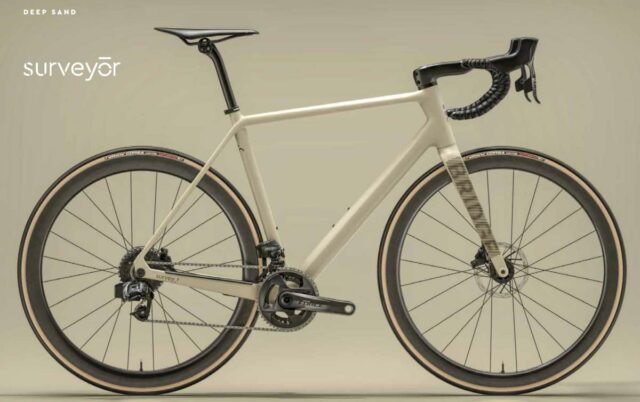 Light
At ~900 grams (no fork or paint) it is close to best in class for the all-road category. Because the Surveyor is handmade to incredibly high standards and quality controlled at every step – achieving light weights without sacrificing durability is a reality.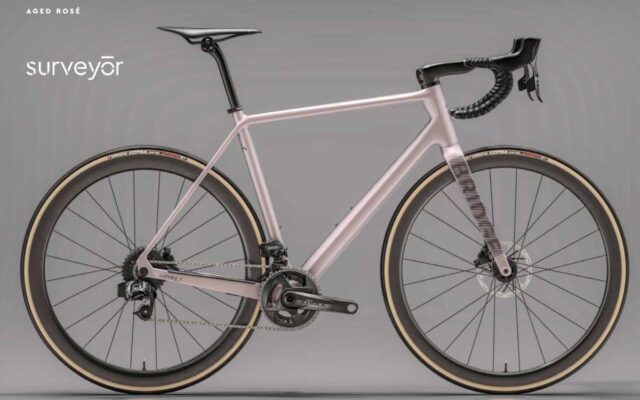 Versatile
BIG. TIRES. RULE. We promise. For most riding, from neglected Canadian roads to light gravel and dirt, a 30–35mm tire is pretty much perfect. So we kept it simple, we designed a race bike that will take massive tires. Up to 40mm… officially. Wink.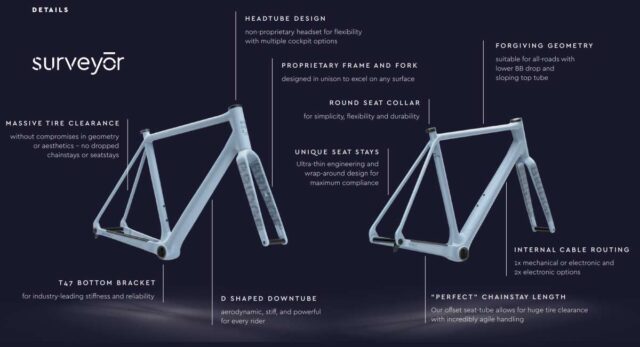 Geometry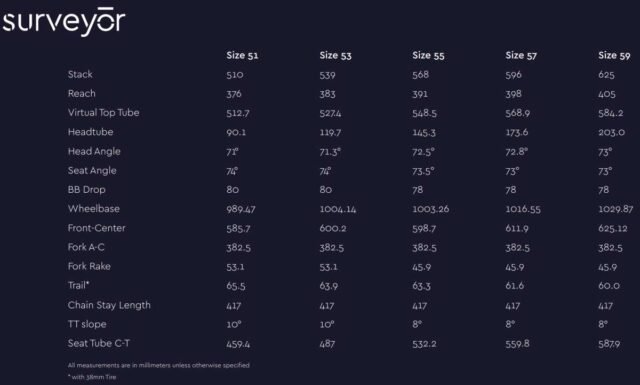 Road Racing? Gravel Rides? CX capable? Hell, Yes.
Engineered and built entirely in Canada, the creation of Surveyor is a testament to aiming for the very best.
Frameset only $4,999 CAD / $US 3,960
Complete Builds Starting at $7,999 CAD / $US 6,340
Ready-to-Paint Frameset: Retail price reduced $200 CAD
Crash Replacement: Frameset discount 40%