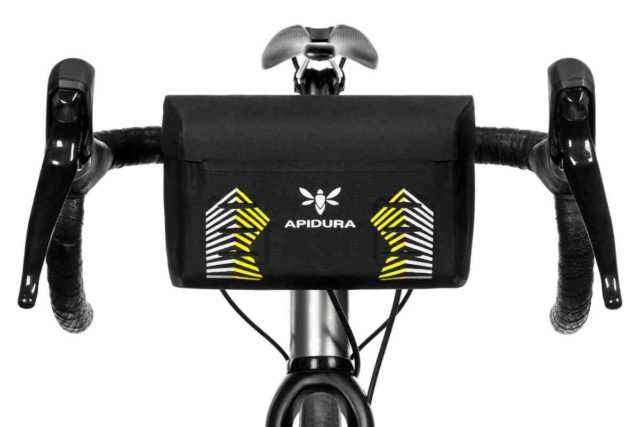 "Apidura creates ultralight, rackless packing systems that help us take our love of cycling further; giving us the freedom to cross cities, countries and continents in a way that maximises the experience of riding a bike. Our team is based in London, but we create products for riders, rides, and races all over the world." – Apidura.com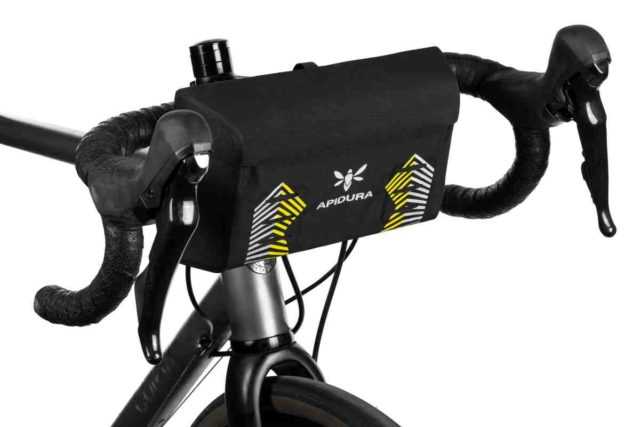 Apidura Racing Handlebar Mini Pack
An accessible waterproof storage space that attaches universally to any handlebar
Apidura launches Racing Handlebar Mini Pack for daily riding, with a unique full width one-handed opening that allows riders to access the entire contents while riding.

Attachment system fits any style and width of handlebar, with optional spacers supplied.

2.5 litres of storage.

Made from Apidura's bespoke waterproof and abrasion resistant fabric, Hexalon, the pack features an internal mesh pocket to keep the contents organised and our enhanced reflective graphics for 24-hour visibility. 

Available from 27 January 2020 (TBC).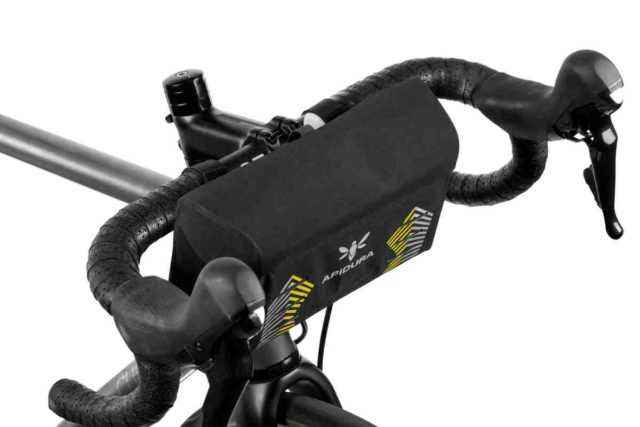 The Racing Handlebar Mini Pack is an ultralight waterproof storage space that attaches universally to any handlebar size or style. The pack is supplied with spacers to allow riders to customize their fit and make space for other handlebar-mounted accessories or keep the tops available for riding.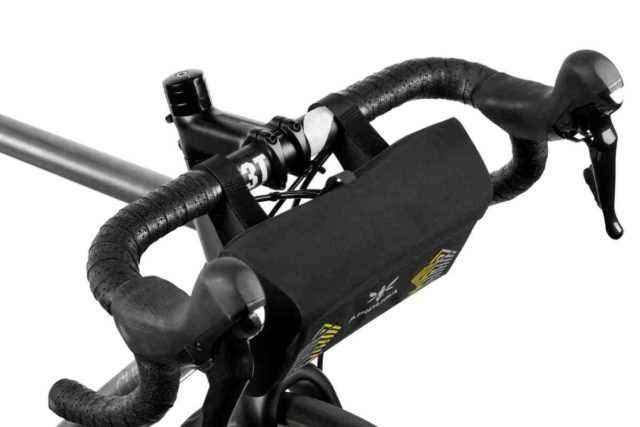 Weighing just 160g, the Racing Handlebar Mini Pack offers unrivaled storage space for its weight and is the only handlebar pack that features a full-width, one-handed opening for fast access to its contents while riding. Built from Hexalon, a fabric we designed, the pack is waterproof, and highly resistant to abrasions and tears. The pack also features our enhanced reflective graphics for 24-hour visibility.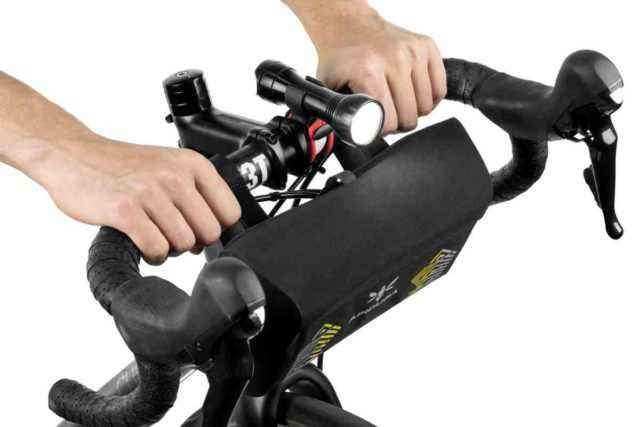 Ideal for storing daily riding essentials such as battery packs, snacks and phones as well as bulkier items like jackets, the 2.5l pack is extremely adaptable. An internal mesh pocket provides secure storage for smaller items. Forward-facing accessory mounting points provide further versatility, enabling riders to fit lights or lash items to the outside of the pack.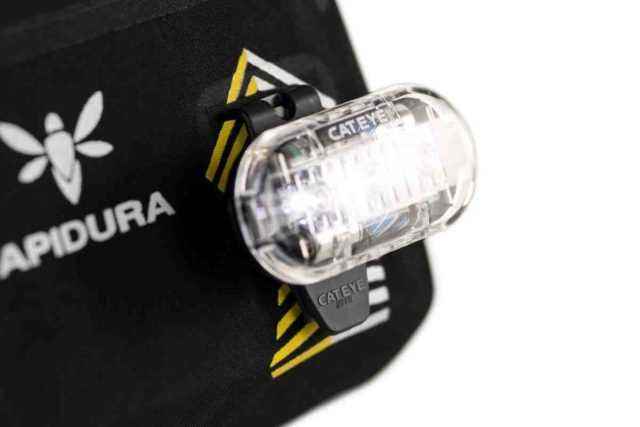 The innovative new opening, unique to Apidura, provides unrivaled on-the-bike access to the storage space. This makes accessing items on-the-go far easier and means riders can concentrate on the ride, rather than spotting safe places to stop and access their essentials.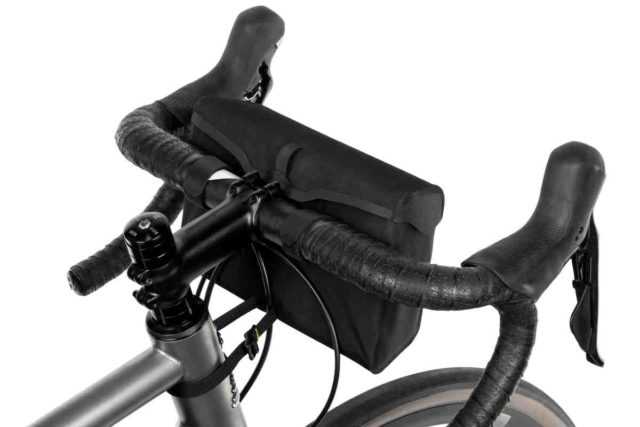 We learnt a lot from making our first Racing Handle Bar Pack, but wanted to address the needs of riders looking for a simpler product for adventurous road or gravel rides. More and more riders are using handlebar packs outside of bikepacking and we felt that we could offer them a lighter, more technically advanced product. Rather than copy existing shapes, we worked to produce a totally new design that allows rides to access the pack from the saddle and give them the ability to retrieve anything from the pack one-handed.

Betsy Seed, Product Development
Pricing:
£72

€84.50

$US 95

¥10,600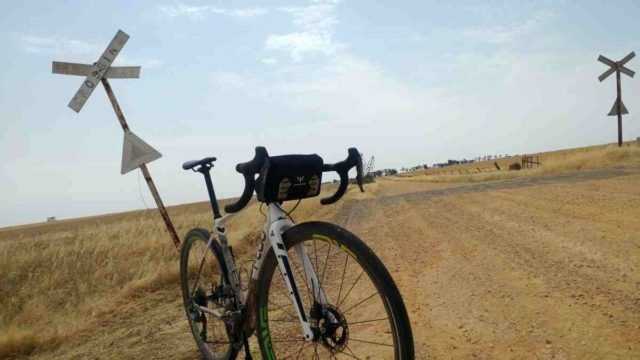 Apidura Racing Bolt-On Top Tube Bag
A fast and convenient waterproof solution for adventure bikes with top tube accessory mounts
Apidura launches Racing Bolt-On Top Tube Pack for gravel and adventure riding, bringing the convenience of the Racing Top Tube Pack's innovative magnetic entry system to a wider range of riders. 

Racing Bolt-On Top Tube Pack takes advantage of top tube accessory mounts common on adventure bikes, with two mounting position options available to suit different frame sizes and geometries. 

Made from Apidura's bespoke waterproof and abrasion-resistant fabric, Hexalon, and featuring

Racing Series reflective graphics for 24-hour visibility

.

Features a protected cable port, removable lining for easy cleaning and a foam base to protect contents.

Available from early March 2020.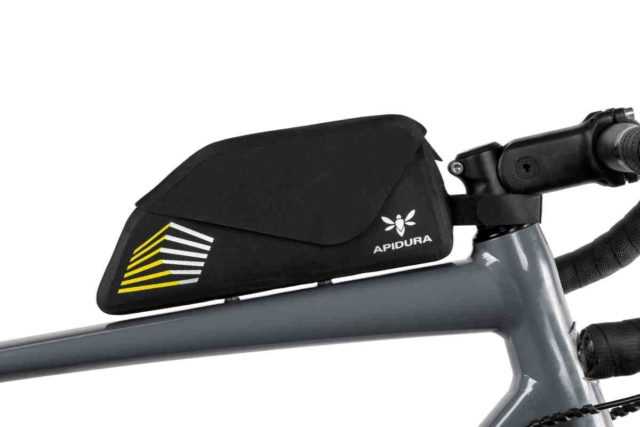 Riding against the clock, you need to find the right charging cable first time and get straight back on the road. The Racing Bolt-On Top Tube Pack brings the innovative magnetic entry system of our award-winning Racing Top Tube Pack to a wider range of time-conscious adventure riders and gravel grinders.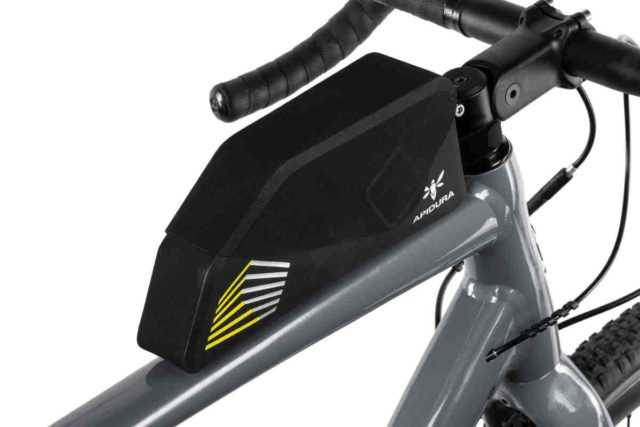 Large capacity and our widest ever opening make it easy to store and access bulky items, oddly shaped service station finds and resupply point goodies. The magnetic entry system is completely waterproof, easy to use and gives an unrivaled view of pack contents.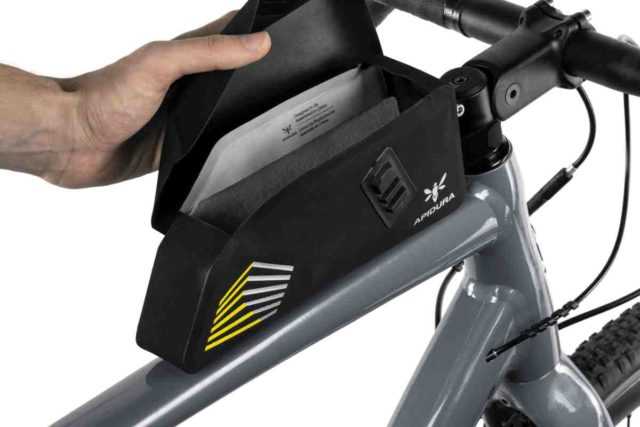 The durable waterproof fabric keeps race essentials dry and safe and, as part of the Racing Series, the pack is seriously lightweight. Like the rest of the Racing Series the pack is constructed from Hexalon, an ultralightweight waterproof laminate created specifically for Apidura. The lining is removable for easy cleaning and a foam base protects the contents from the attachment bolts.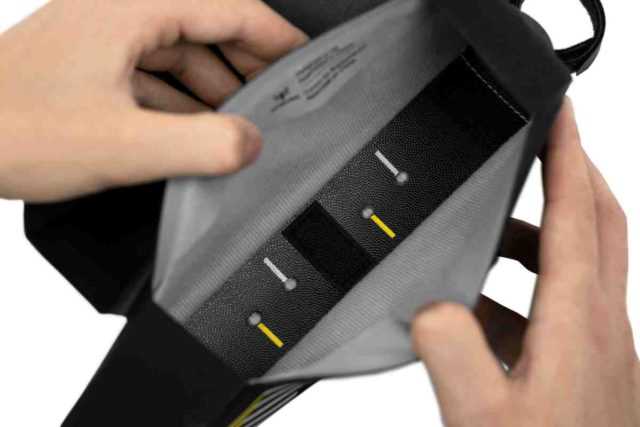 Ever since the launch of our Racing Top Tube Pack, riders have been asking about a bolt-on version – unaware that we've been quietly creating and testing precisely that. We've been working on ensuring that the bolt-on version keeps everything people love about the Racing Top Tube Pack, while also meeting the demands of gravel racing and off-road excursions. We've focused on stability, ease of use and ensuring the pack is compatible with as many frame sizes and geometries as possible, given the fixed mounting points and are excited to reveal the new Racing Bolt-On Top Tube Pack today. We are confident that it will more than meet riders' needs and expectations.

George Huxford, Marketing
Pricing: