It was almost a year ago that Knolly Bikes did something that no one suspected would ever happen: They brought to market a titanium gravel bike. A company known for helping define the all mountain/trail categories over the years with bikes built for aggressive riding and proper abuse, it seemed to many an odd decision to offer a titanium gravel bike. Others perplexed by the geometry that at the time, though now the norm, that was extreme with its long top tubes designed around short stems as well as its 74 degree seat tube. But as someone who first met Knolly in Fruita, Colorado around 15 – 16 years ago sitting around a fire in Over The Edge Sports founder Troy Rarick's backyard over beers, then almost every year after that ran into him, I knew the quiet Canadian engineer is pretty methodical. I decided to reach out to Noel to get the low down directly from the man whose nickname graces the down tube of this bike.
First off, Noel is really perhaps one of the nicest guys in the biz I've ever met… and there are some exceptional people I know in the biz. My experience over the years when I've asked about his suspension design, why they used aluminum almost exclusively, or any other of a number of questions has always been answered without a hint of defensiveness. You have a question, Noel genuinely will answer it because he genuinely does everything he does with a solid reason behind it. He puts a lot of thought into things, and does so with the intent of making a product he's not only proud to sell, but he's actually going to ride, and ride hard. Decisions are based off his engineering/physics background of his past life/formal education so there is nothing to hide and logical answers for every detail of his final product.
So, I thought I'd reach out to get answers to why the Cache was created and what was up with the geometry, custom tubes, and other features found in the Cache. Spoiler alert, like every bike in the Knolly line up, it came to market out of the needs of Noel and his employees.
So Noel, let's get down to the obvious question first. Why did Knolly Bikes, a gravity focused brand decided to make a gravel bike of all things?
Noel: Well first off thanks for asking. Yes, I suppose it does seem odd. But like all our bikes Knolly makes, it's because the Cache was something we actually wanted ourselves since most of us here at the office were riding road / gravel bikes. A lot of us commute on a regular basis and ride these kinds of bikes anyway. One day we decided to move forward with this project because what we really wanted wasn't available in the market and we felt we could bring out something unique. So we decided to do this bike the way we wanted!
So, why titanium and why bother with all the custom tubes and details, is it really necessary? I mean, aluminum is kinda what you're known for why not just make a frame out of aluminum?
Noel: Good question Jon, and yes, aluminum is a good material for our suspension bikes, but we all agreed pretty quickly here in the office that for gravel the logical choice was titanium for the best possible ride. Besides, Knolly has never been married to one material just the best material for a given application. We're known for our aluminum full suspension bikes, but for a rigid bike it's a different story and titanium is simply the most premium material available from a quality of ride standpoint. It's also the same reason that we've released a carbon fork for this bike: carbon is simply the best material for the fork.
Using Titanium allowed us to make a frame that could be compliant, yet stiff where we needed it. The material soaks up road chatter better than any other material yet can be made snappy when you get up on the pedals. Titanium has a bit of a reputation for being "whippy or noodly" but that's really down to tube diameter: we're using a lot of oversized main triangle tubes to keep the bike's handling and efficiency high. It's also something you'll have forever and could hand down to your kids 🙂
In regards to the custom tubing, well it certainly isn't the cheapest route by any means: for what we spent on the seat tube production tooling, we could have spent a similar amount of money and opened up a carbon frame mold: I don't know – maybe we spent more even more! It may sound funny, but you know we're really proud of how that seat tube turned out and there is nothing like it on any other titanium bike. Really, every tube is custom including significant butting, tapering, bending and forming. We spent quite a bit on this project (probably more than we should have!), but you know it was worth it in terms of product performance and we're really proud of how it turned out. Our manufacturer fought us a quite a bit on some of the custom tubes over the course of the project (and in particular the seat tube which took about 16 months to finalize), but I knew the tube shapes that we wanted were possible. In the end it was worth it as the final result was exactly the ride quality we wanted out of the bike. The vendor is pretty proud of it too as they learned quite a bit throughout the project. There isn't an off the shelf tube on the Cache: every tube is custom and we even have some size specific tubes.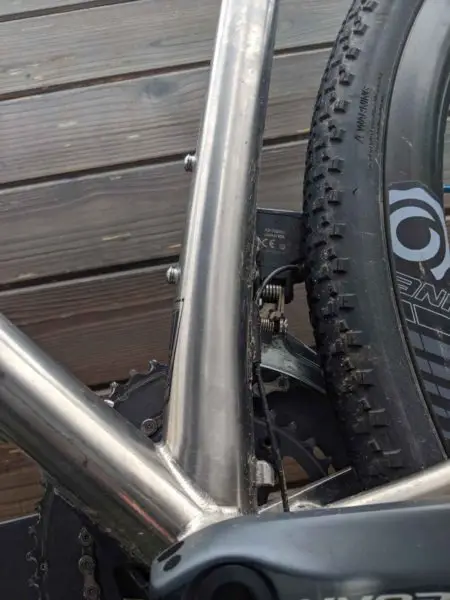 So all custom tubes, but the rest is stock dropouts and such right?
Noel: Actually we didn't stop with the tubes. The dropouts are hooded dropouts which themselves are not uncommon, but we needed our own design that allowed us to attach the seat stays back a touch farther (behind the rear axle) and this required that the hoods have a little more surface area than normal. This allows us to build in more rear end vertical compliance while still making it responsive when you get up on the pedals. We also have our own axle spec (DT Swiss RWS) and removable derailleur hanger that match our mountain bike frames. It also gave us room to add a no-nonsense mounting point for fenders and a rack. A lot of us commute so those things are nice additions.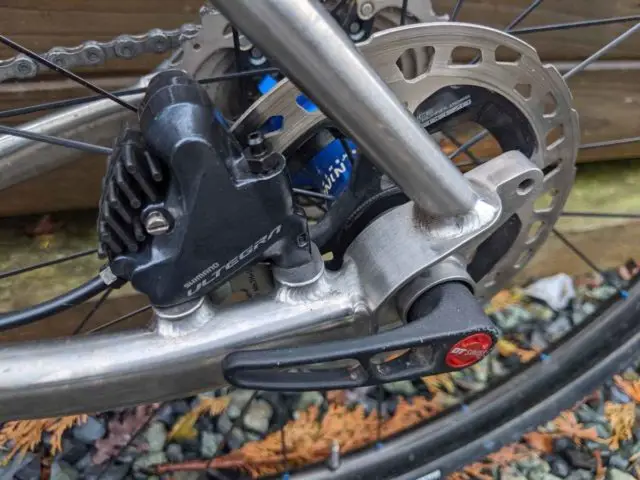 Another thing our dropout design allowed was for was it eliminated the need to bend the seat stays around the rear disc brake caliper: I'm not a fan of the bent seat stay look and I feel that we achieved a cleaner design with our custom dropout.
We also designed our own access port in the down tube to make running cables internally easier while also giving people a good place to put the Di2 battery should you go that route. And if you decide to install a dropper post in the frame, all that routing is not only hidden but far easier to actually install. It's a minor detail perhaps, but it matters and is all part of a cable management solution. Perhaps it's a bit nuts, but all in all, there are 11 custom CNC parts on this frame!
Wow, that is commitment. Doesn't sound easy at all.
Noel: No, but in the end we got the bike we wanted and the ride qualities we wanted. We know our customers who acquire one will enjoy the bike for a really long time and for some might be the last bike they'll need. So while not cheap, the value is high. We didn't want to just stick out toe in the water to sell some gravel bikes, we knew we wanted to do it right the first time and build a unique, high performance platform from scratch.
How about that geometry? 74 degree seat tube angle is a rarity on gravel bikes. Slack head tubes a little more common, and well when you came out with the titanium Cache long top tubes/short stems weren't a thing. Why did you go that route?
Noel: The 74 degree seat tube angle may sound steep, but bio-mechanically it pedals better and that's something we learned as a mountain bike brand a long time ago. People usually associate this seat angle with a harsher ride in the road world (i.e. triathalon or performance road bike). However what I'd like to point out is the actual seat tube is bent around the rear wheel (actual angle is 73 degrees) and somewhat short so you still get increased compliance out of the seat post. It's kind of the best of both worlds: comfort without sacrificing efficiency – or efficiency without sacrificing comfort. But it goes further design wise: the taper of the top tubes and their weld location with the seat tube also help with vertical compliance. The same is true with the placement of the seat stays on the seat tube: they are a tad lower than normal which of course is all designed together to make the bike vertically compliant where it needs to be.
Long top tubes of course are something we know works well in the mountain bike world so that's really how it came to be on the Cache: we wanted to move riders away from 100mm+ length stems into the range of 50-90mm stem lengths. We're not a road bike company that had to abide by road bike traditions and it results in bike that handles better off road as well as on gravel while giving up very little on the road.
And you didn't stop there, you even made your own custom carbon fork? That sounds like a huge undertaking why not just take any of the great carbon forks on the market out there and be done? Sounds like the frame alone was already a ton of work. Why do that?
Noel: Again, you know we wanted to create our overall dream bike package so why stop with the frame? There are a lot of great forks available for sure but nothing quite what we wanted as most are oriented towards bike packing. I really wanted a fork where performance was the driving factor: it needed to have the clearance we wanted for bigger tires and be robust enough for serious off road use, but also be quite light. We left off the common bottle mounts on the fork legs as a result to achieve that goal knowing that should a customer want a bike packing specific fork, there were plenty of excellent options to choose from. It's why we offer the frame with or without our fork. But for those who choose our fork based solely on performance we know will really be happy with its performance!
Last, so I'm curious as the Cache was built out of your own needs and desires, what's your Cache build look like? How about the staff?
Noel: Well I've tried a few builds, but I settled one a pretty standard setup believe it or not. Currently it's Ultegra Di2 with a standard 50/34 2x setup with an 11-34 in the back. I find I prefer the smaller steps between gears and this works best for me where I usually ride and I've had no issues running a front derailleur off road. Running a standard carbon post and typically somewhat wide 700c x 40mm tires for mixed surface use. I recently switched to an FSA AGX K-Wing carbon bar which is kinda funky, but I'm really enjoying the shape of the bar (especially the flats near the brake hoods for the hands) at the moment. I have a Shimano GRX Di2 2 x 11 drivetrain to install when I get the time at some point. I am also toying with building one up as a flatbar 1x build with some bigger tires, just to see how far we can push offroad performance on a fully rigid bike.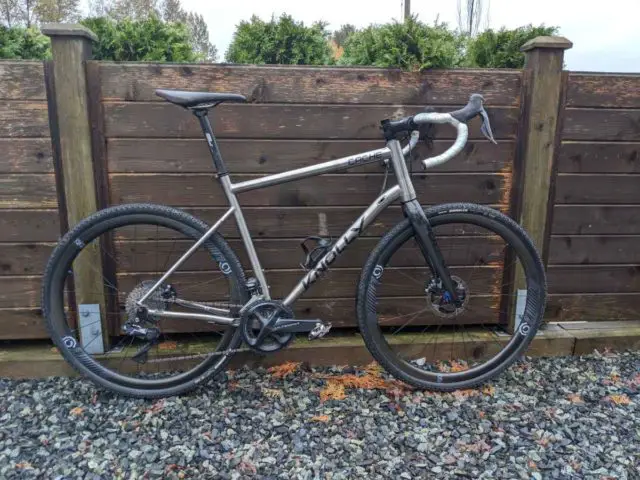 Our employees have a mix of builds. Some SRAM 1x builds, some GRX 2 x builds, a few use dropper posts, some with flat bar builds and one with a suspension fork. We have staff that have done four week long tours on their Cache and several switched out their 40mm knobbies for 28mm Continental Grand Prix II tires and did the Whistler Grand Fondo last month: all commute to work when they can.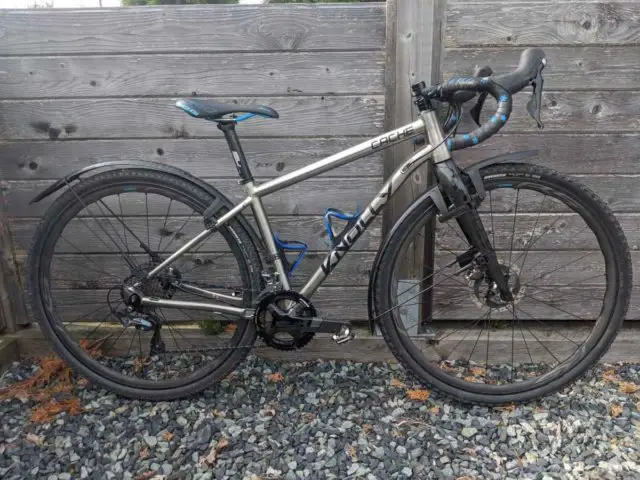 Well thank you for your time Noel, I do appreciate it and it's been great to catch up with you. Been awhile. Thanks!
Noel: Hey no problem and always a pleasure Jon. Thank you for reaching out and hope to see you again soon. Been awhile.
---
About Jon Severson
Jon did his first gravel grinder in 1991 in Cresco, Iowa and again in 1993 on a tandem. He grew up in Winona, Minnesota training on gravel and in college in Decorah, Iowa used gravel to make loops on road and mountain rides. Jon also founded Monstercross News in 2007 after being inspired by the Matt Chester OG Monstercross bikes.