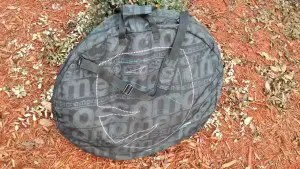 The humble wheelbag has to be one of the most overlooked and forgotten pieces of cycling gear in existence.  I mean, do you walk around the house thinking, wow, I am so blown away by how amazing my wheelbags are, as they languish in the closet.  Not bloody likely.
So, when do you think about them?  In my case, it's usually when you're piling into a vehicle for a cycling road trip, either solo or with some mates, and wheels and other bollocks are clanging and banging against each other.  I don't know about you, I don't relish the idea of spanky, expensive wheelsets being scratched and dinging up whatever else is in the car!
Got 29'er Wheels?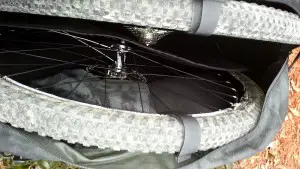 Most regular single wheelbags will cater to road, and in some cases, cross wheels, with tyres mounted and inflated.  But as soon as you attempt to jam a 29'er wheel with a tyre inflated, expect an exercise in futility.  Not naming names, one company produces a single wheelbag for 29'er wheels, but they're massively bulky, and square shaped.  Who wants a goofy, oversized wheelbag?
Enter the American Classic Double Wheelbag.
Thus far, I have fit two 29'er wheels with tyres measuring 2.1″, inflated inside the bag, with rotors and cassette installed.  Quick releases / thru axles were the only thing that needed to be removed for everything to fit comfortably inside.  According to American Classic, the wheelbags will accept two wheels with tyres inflated up to 2.3″ in size.  The bag will easily accept two road wheels with tyres inflated.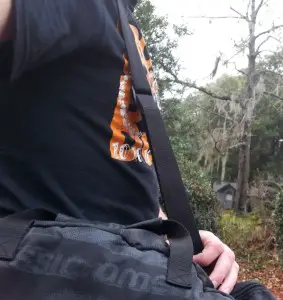 The bag features some very nifty features:
Thick padding to protect the wheels nicely.
Twin zippers with carrying handles and a shoulder strap to making toting nice and easy.
Padded centre divider and hard reinforced rubber circles inside each bag to prevent axles from punching through.
Inner pocket for storage of quick releases, thru axles and tools
Velcro straps either side of the bag to lock each wheel securely in place.
Buy the Bag if:
You want to protect your expensive wheels.
Enjoy ease of loading wheels into the car.  This dual wheelbag fits behind car seats, or any other spot that is convenient.
Post race, dirty wheels are kept segregated from the car.  Nobody likes to trash the inside of their car with mud and grease!
Wheel storage tip for disc brake wheels – load the wheels into the bag with the rotors facing away from each other.
MSRP on the bag is $99, and are available from your local bicycle shop, or direct from American Classic's Webstore.  They are well worth the asking price.
Note: We at GravelCyclist.com are not being bribed, or paid for this review.