"A floor pump, and a tubeless setup tool. Set to Charge for a pressurized chamber that makes at-home and on-the-fly setup of tubeless ready (TLR) tires a breeze." – Bontrager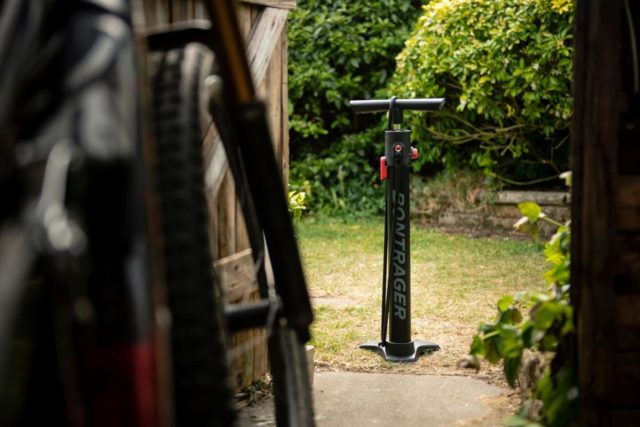 The original Bontrager TLR Flash Charger has been part of Gravel Cyclist's stable of tools for tubeless tyre setup for many years. 75% of our tubeless tyre installations are handled with this pump, the remaining 24% with the Topeak Joe Blow Booster, and the remaining 1%, visiting a mate's house to use his air compressor… when all else fails.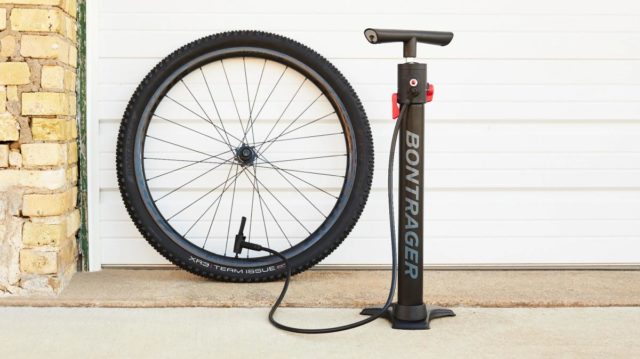 "TLR Flash Charger is the single-pump solution for daily use and at-home tubeless setup. It functions just like a standard floor pump when set to 'Inflate'. Switching it to 'Charge' gives the ability to pressurize a chamber and 'flash release' the stored air in order to seat tubeless tires without a bulky air compressor. Plus, it has a broad, back-lit digital gauge that delivers accurate pressure readings all the way to 160 PSI."
The Only Pump You Need
TLR Flash Charger has dual-chamber design that allows it to perform the functions of both a standard floor pump and an air compressor. It's the single-pump solution for a unique all of your inflation needs, from topping off your pressure at the start of a ride to seating tubeless road and mountain tires.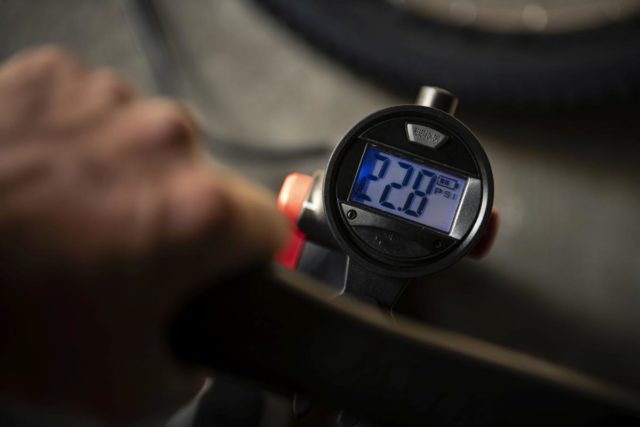 Goodbye Air Compressor
"It's time to ditch the bulky air compressors you can't carry with you to the trailhead. This pump's dual-chamber design stores compressed air, which you can release with the simple flip of a lever to seat tubeless tire beads on a rim."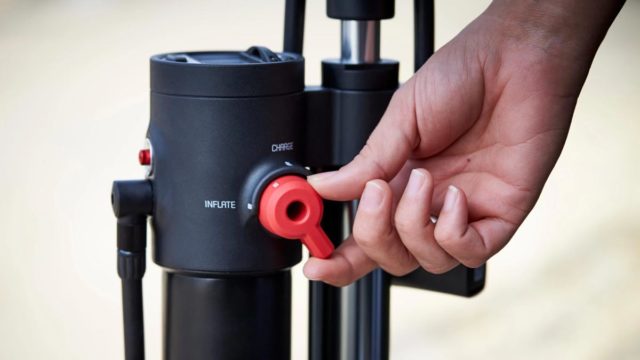 Easy-To-Read Digital Gauge
A broad, back-lit, digital gauge provides accurate pressure readings all the way up to the maximum 160 PSI.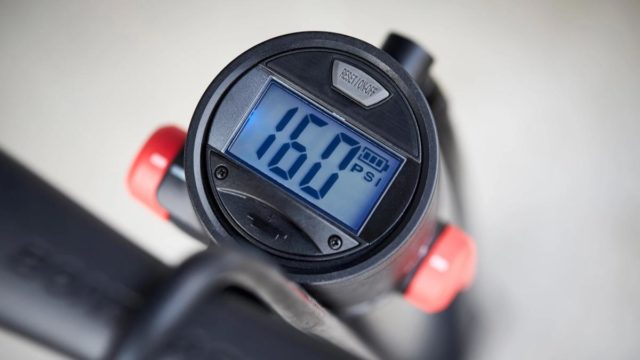 Discreet Handle Storage
Tired of searching for that lost needle? Sleek, handle-integrated storage ensures you'll always know where to find those small, easy-to-misplace attachments for inflating things like basketballs and pool toys.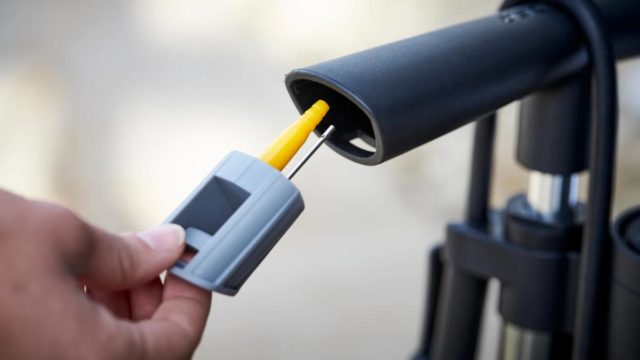 Pump Up The Jams
The recommended pressure for setting up tubeless tires is 160 PSI. Once that limit is reached in the chamber, the digital gauge will show three dashes across the screen to signal you're ready to rock and roll.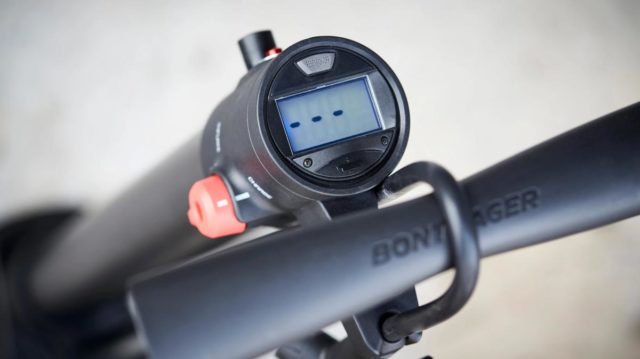 To use as a standard floor pump:
Press-and-hold power button for 3 seconds
Set lever to "Inflate"
Attach to valve, then pump!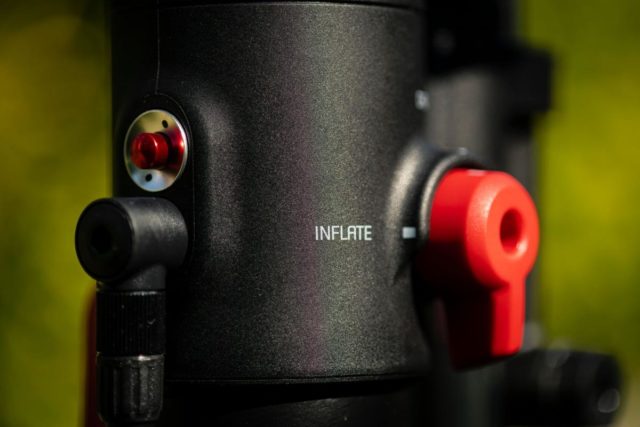 To use for tubeless setup:
Set lever to "Inflate"
Attach to valve, then pump!
Press-and-hold power button for 3 seconds
Set levers to "Charge" and "Fill Tank"
Pump to 160psi – you'll see 3 dashes on-screen when ready
Attach pump to valve
Set lever to "Pressure Release" for blast of air to seat bead onto rim
If additional air is needed, simply flip the lever back to "Inflate"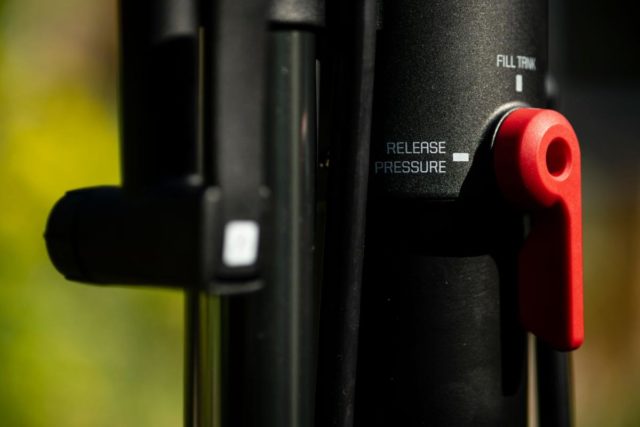 Product Details
Dual-chamber design with Inflate setting allows for efficient use as a traditional floor pump
Set to Charge for a pressurized chamber that inflates tubeless-ready (TLR) tires without a compressor
Digital gauge provides easy-to-read accuracy up to 160 PSI (recommended maximum)
Compatible with both Presta and Schrader valves
Included inflation accessories conveniently stored in the handle
CR2032 battery for the gauge
Price at $US 129.99