Abbey Bike Tools is a small company based in Bend, Oregon, producing innovative, well-designed tools for bike shop and home mechanics.  It also helps that Abbey's tools are aesthetically pleasing to look at, provided you're into tools and such.
I'm an avid home mechanic.  Granted, there are some things such as bottom bracket chasing that are best left to one's trusted local bike shop, but assembling your own bicycle can be a rewarding experience.  Part of that experience is owning high quality, reliable tools that simply do their job.
Crombie Cassette Tool & Whip-It Chain Whip
Clutter is one thing I despise, although I will admit my bicycle work area gets a little messy at times.  The Abbey Bike Tools Crombie Cassette tool can help eliminate that clutter a little, if combined with the Abbey Bike Tools Whip-It Chain Whip.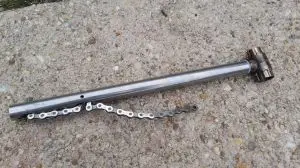 Positives:
When not being used, the cassette tool slides inside the chain whip, taking up less space in one's toolbox or bike assembly area.
The cassette tool is designed to allow space for a standard quick release to remain on the wheel; this saves a few seconds of time when swapping cassettes.  Also, you have less chance of losing a quick release spring.  I hate that!
One cassette tool for Shimano, SRAM and Campagnolo, courtesy of the dual-sided design.
I own the spanky raw finish model of the cassette tool, which was only available at the 2014 North American Hand Build Bicycle Show… nice.
The cassette tool and chain whip make quick work of swapping cassettes between wheels.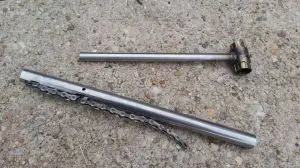 Negatives:
The pin in the Whip-It Chain Whip which holds the chain in place, has popped free from one of its holes on the chain whip body.  I haven't bothered to fix this problem just yet, but the whip has performed marvelously despite this small problem.
This isn't really a negative.  The cassette tool feels a little insignificant in one's hand, due to its shape, versus a wrench and a traditional cassette removal tool.  I thought this would impact leverage for removing a cassette lock ring.  Not so.  Even with some overly tight lockrings, I was easily able to remove them.
Overall, both items are well designed, and worthy of consideration for any bike shop, or home mechanic.  They are not cheap, but they will last a lifetime.  The tools are designed and manufactured in Bend, Oregon, which is great if you're looking to buy USA made.
Please note – both tools have received updates since this review was written.