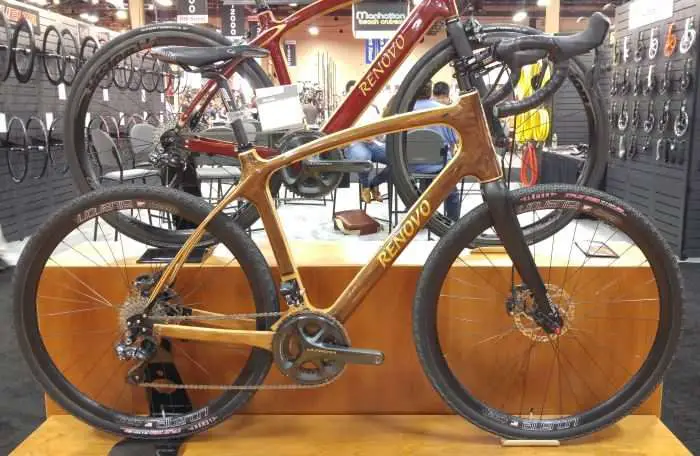 "Renovo was founded by Ken Wheeler whose background includes the design and manufacture of the Wheeler Express, a composite, 4 place airplane and a variety of projects before that. He was joined by his son Stuart and they worked together to develop and test the first Renovo bikes over a six month period between Stu's graduation from college and when he entered the U.S. Marine Corps to train as a fighter pilot in December 2007. Hard work has paid off for both of us; Stu has thrived in one of the Worlds toughest training environments to become a carrier-qualified pilot flying the AV8B Harrier vertical takeoff tactical fighter, and Renovo has evolved from a family company with one model to a close-knit group of skilled folks producing some seven models of well-respected bicycles with sales worldwide."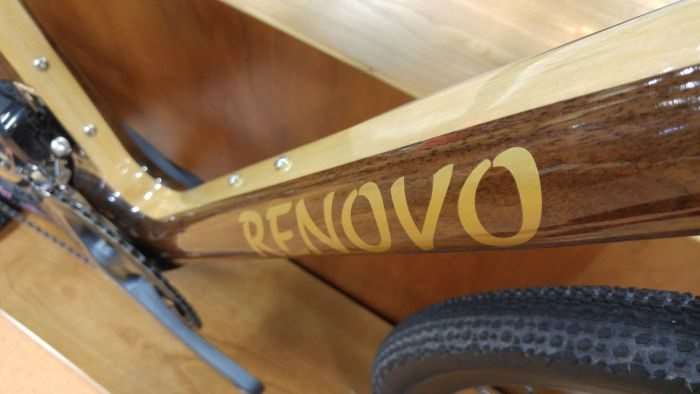 Touted as a backroads, gravel and mixed terrain bike, we understand the Renovo John Day came to light in 2015. Utilizing the company's FFSVD technology (full frame shock and vibration damping), Renovo claims this feature helps tame gravel and chip seal roads and keep the rider comfortable.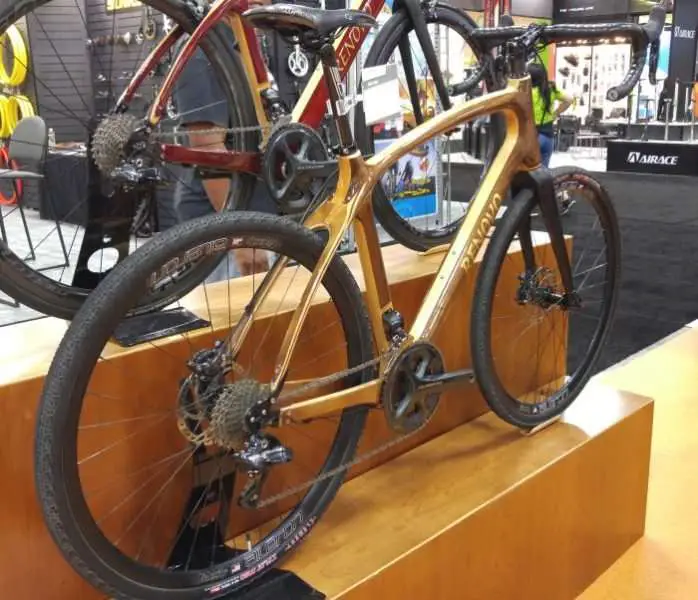 The John Day has a long wheelbase and relaxed geometry – for example, a size 55 with a 555mm top tube features a head tube length of 177mm. This more upright position isn't for everyone, but it does make for comfy, all day cruising. Renovo remark the handling on the John Day is "recreational".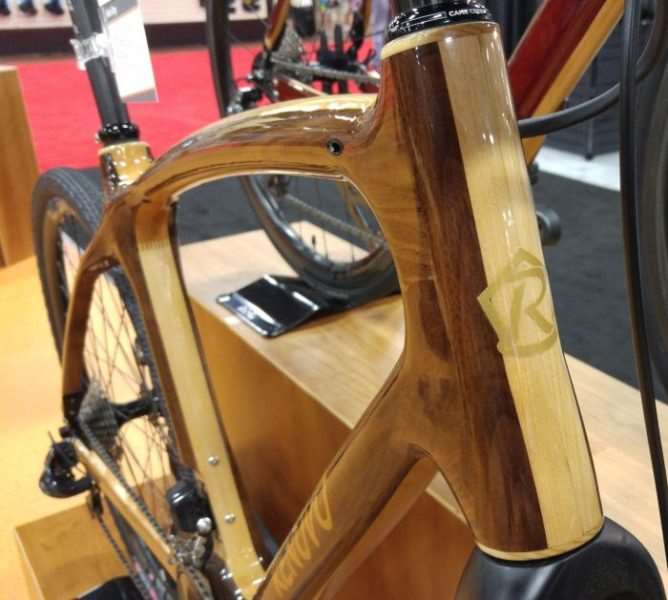 The Renovo John Day frame is hollow in construction and built from woods such as Black Walnut and Spruce. The bike is named for its favorite playground; a scenic area of Oregon loaded with thousands of miles of gravel roads.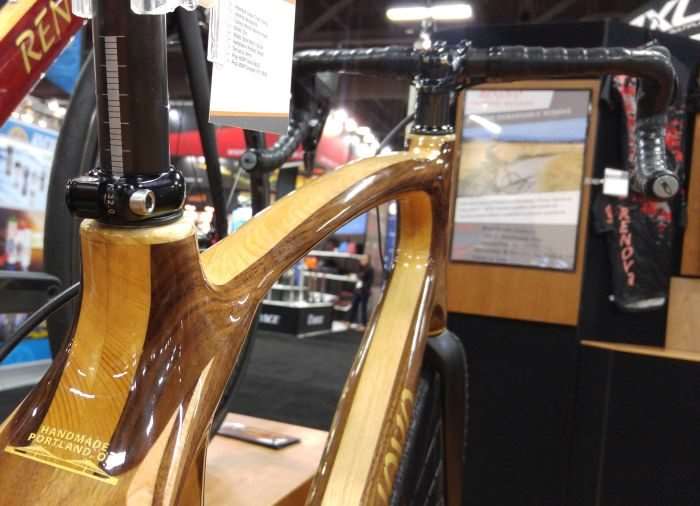 Most  of the cables on the John Day are routed internally at some point on the frame, with support for mechanical and wired electronic drivetrains.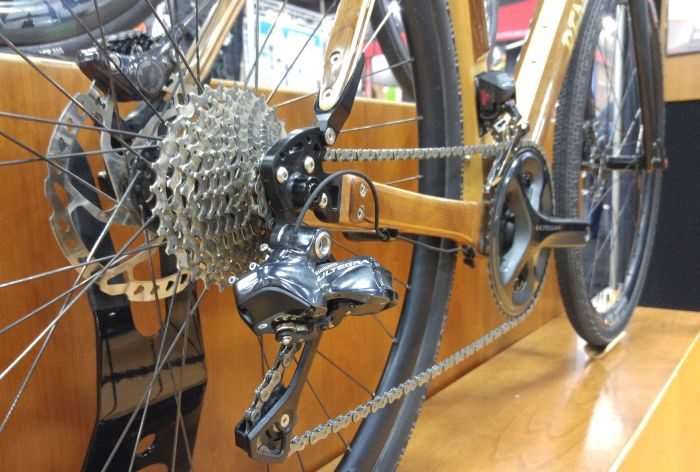 However, we couldn't help but notice the rear Di2 derailleur cable was run externally and looking a bit sloppy. Perhaps this bike was built hurriedly for Interbike and not quite finished?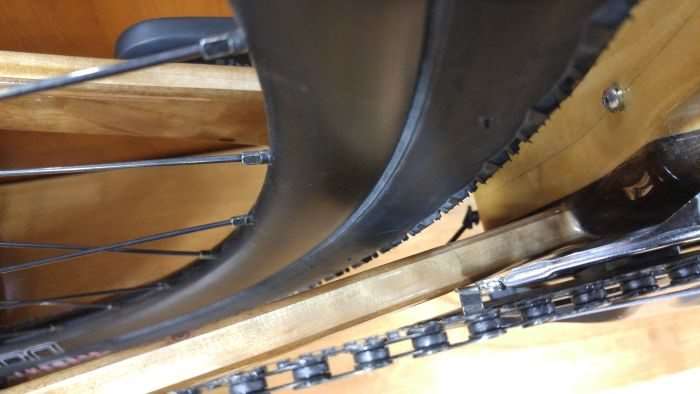 The John Day was shod with Clement's X'Plor MSO tyres in 700c x 40mm, and there was a good amount of clearance between the bike's chainstays. Note also the mounting point for a fender.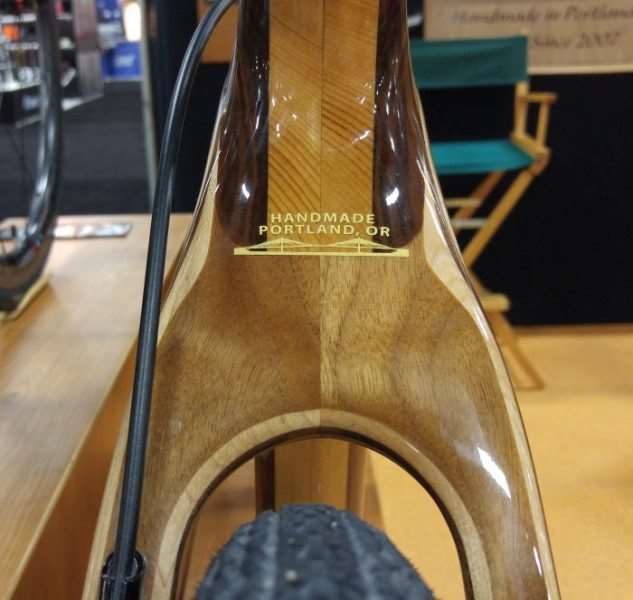 Another view of that tyre clearance – and, the Renovo John Day is handmade in Portland, Oregon. Renovo's frames are made from a variety of carefully shaped sections and pieces of wood that are ultimately epoxied together. To ensure consistent bond quality, Renovo follows industry practice for surface preparation, process control and most importantly, good staff training. The company uses four different epoxy formulations which are proven to withstand high temperatures, resist moisture and ensure the bond is never broken.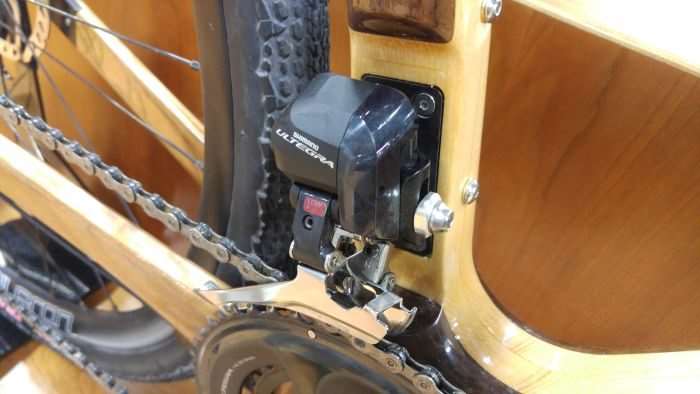 Above, the Shimano Di2 front derailleur sits in a nicely sculpted cutout on the John Day frame.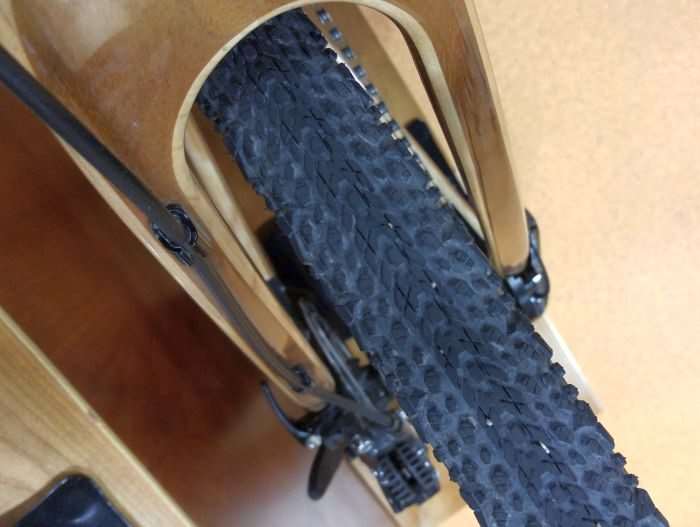 The rear hydraulic brake cable exits the top tube near the seatpost, then runs down the left side rear stay.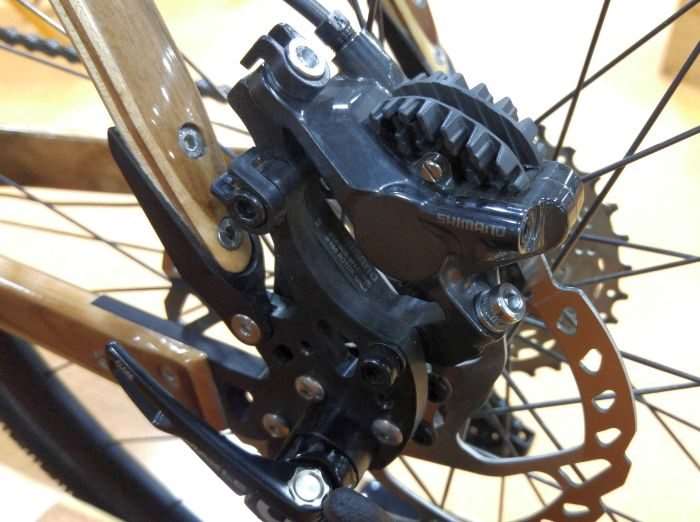 Room in the rear triangle is tight for mounting brakes, so Renovo chooses to mount off the rear dropout.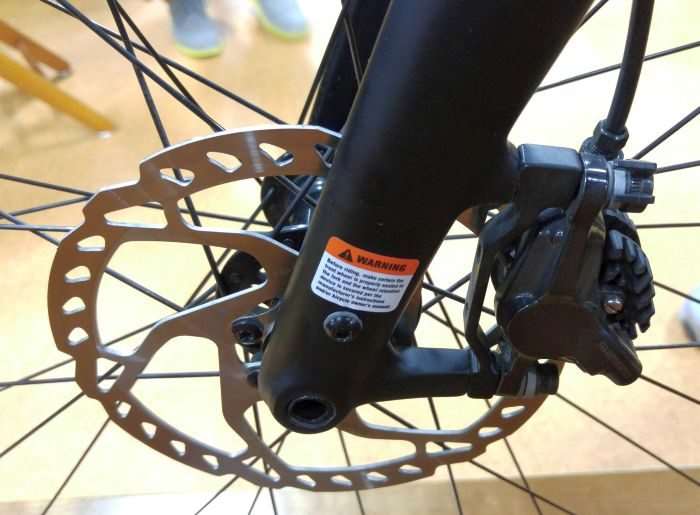 Renovo uses a Whiskey Parts Company fork on the John Day – post mount, front thru-axle and mounts for fenders.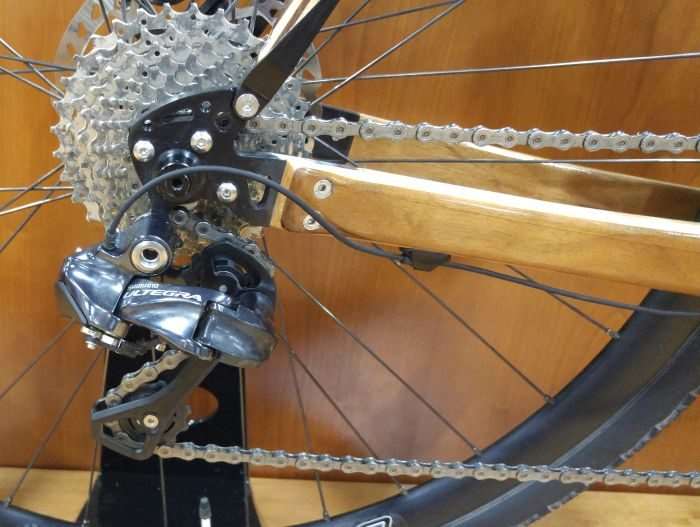 Thru-axle is standard equipment on the rear end of the Renovo John Day.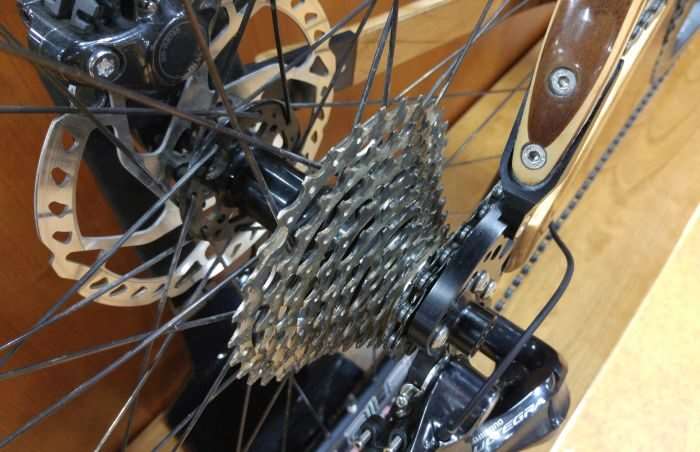 Beefy rear dropouts.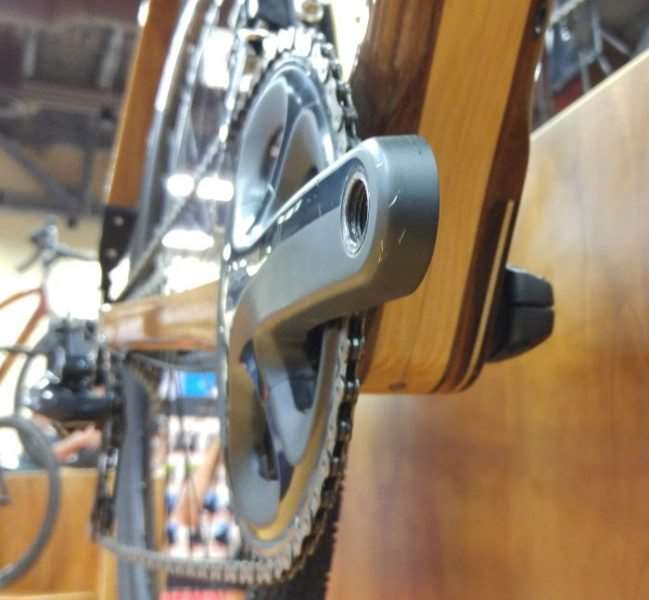 The John Day uses an English thread, external cup bottom bracket.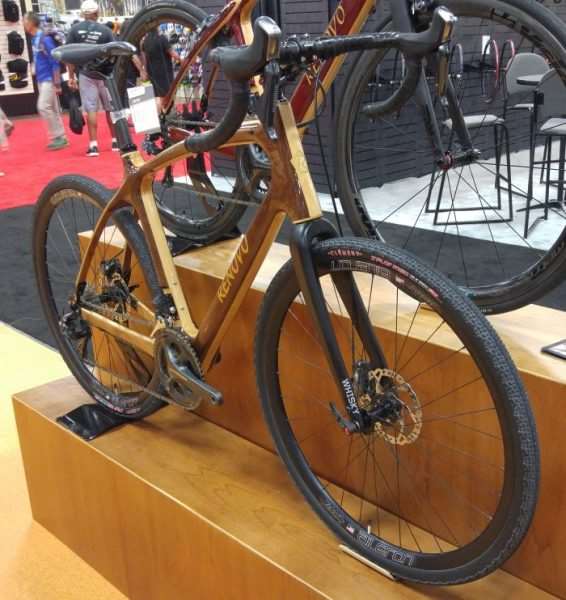 Priced at $US 4,250.00 for the frame, the Renovo John Day isn't a cheap bike. But, take into account the handmade nature of the bike, particularly the number of hours that go into building each one. Renovo's warranty is good for 10 years on craftsmanship and materials including the finish – this goes far and beyond the warranties of most manufacturers. Complete bikes start at $US 6,150.00.