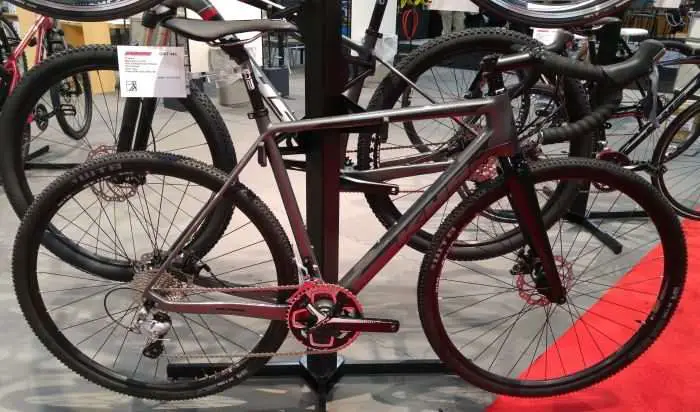 KHS Bicycles, Inc. of Los Angeles, California is the designer and U.S. distributor of KHS Bicycles, Manhattan Cruisers and Free Agent BMX Bicycles. KHS stands for Knowledge, Health, and Strength. Founded in 1974 by Wen Hsieh, the KHS bicycle brand is a part of the KHS Co. Ltd., and UEC (United Engineering Cooperation) which manufactures bicycles, motorcycles and Yamaha musical instruments in wholly owned factories located in Taiwan – Source, Wikipedia.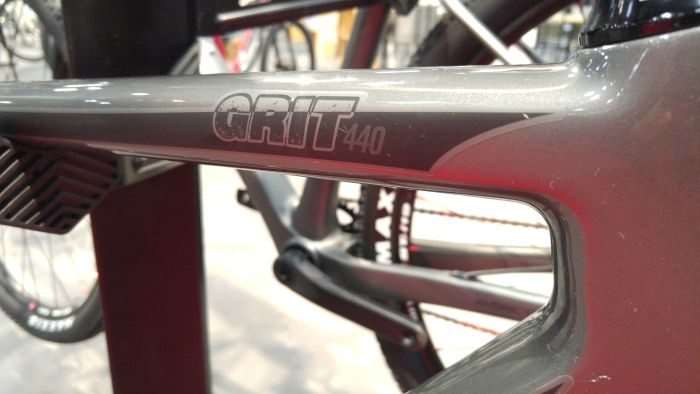 As of 2016 KHS makes more than 90 models of KHS bicycles, two of which include the Grit 440 and CX 500.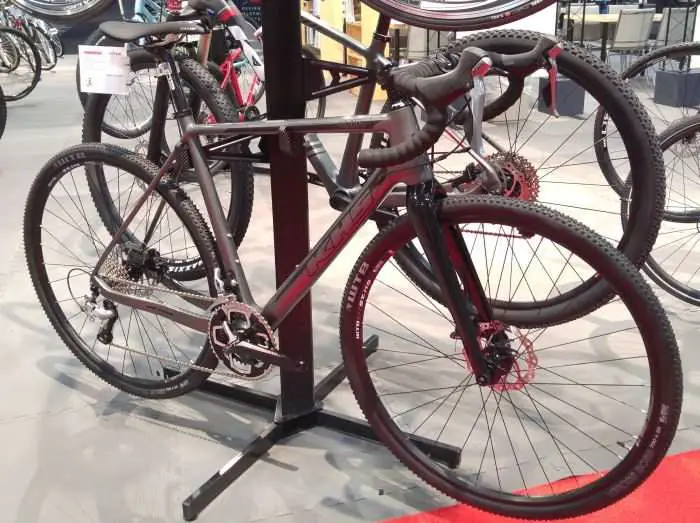 The Grit 440 is KHS' entry into the gravel market and features T700 High Modulus Carbon in its construction, which is a mid-grade carbon often reserved for pricier road bikes.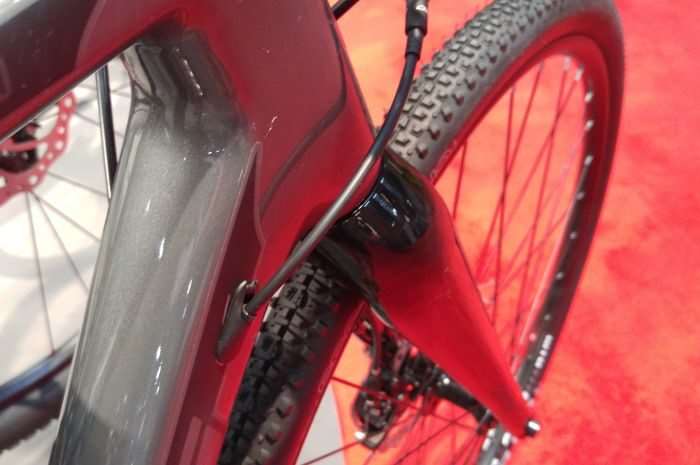 The straight blade all-carbon fork is constructed from the same T700 carbon material as the frame, and utilizes a 12mm x 100mm thru-axle and flat mount for its disc brake. At the time of writing, gravel bikes seem to be divided into two camps on front thru-axles – 12mm or 15mm. The Gravel Cyclist crew prefers the 15mm standard for gravel, and hopes the industry goes in that direction in future.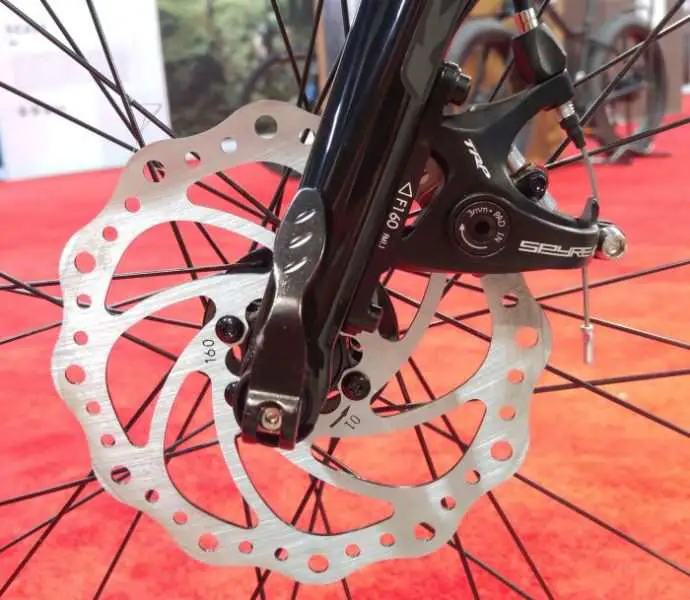 TRP's excellent mechanical Spyre C mechanical brakes are now available in flat-mount. 160mm rotor on the front for the Grit 440.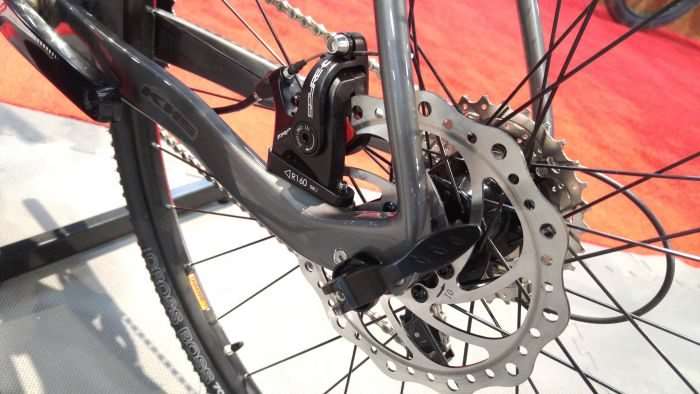 Flat-mount brake for the rear of the bike with 12mm x 142mm thru-axle and 160mm disc brake rotor.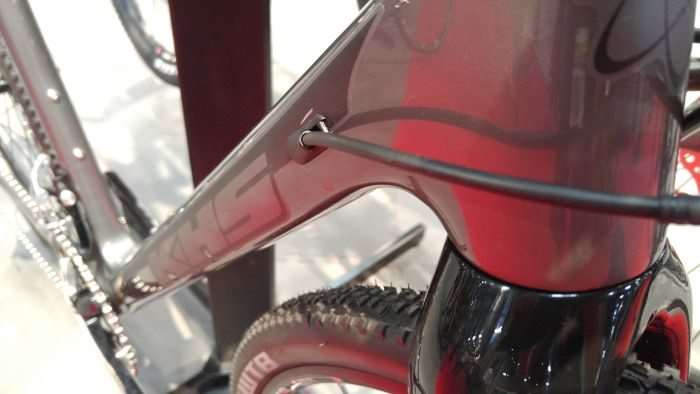 Derailleur cables are run neatly inside the Grit 440's frame. Not the easiest thing to deal with come replacement time, internalized cables do a great job of keeping mud and crud from fouling one's mechanical shifting drivetrain.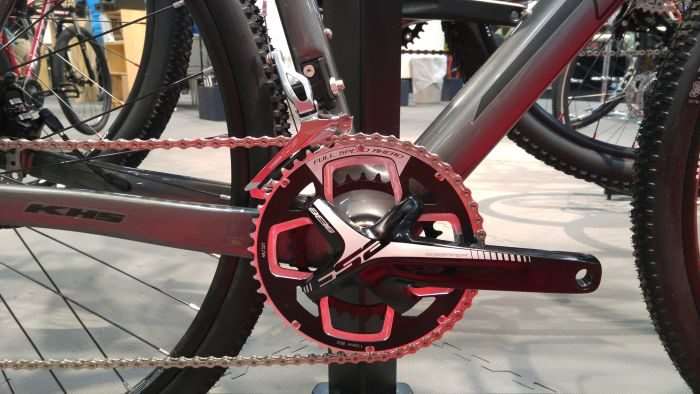 FSA's Gossamer Pro crankset with its 48 / 32 chainrings is a great choice for gravel cycling. The 48 tooth ring may be a tad too big for some, but it is far and away a better choice than a 50 tooth chainring for most. The 32 tooth small ring is super handy for scaling uber steep gravel climbs. Shimano's latest version of their mechanical 11-speed 105 front derailleur handles shifting duties between chainrings.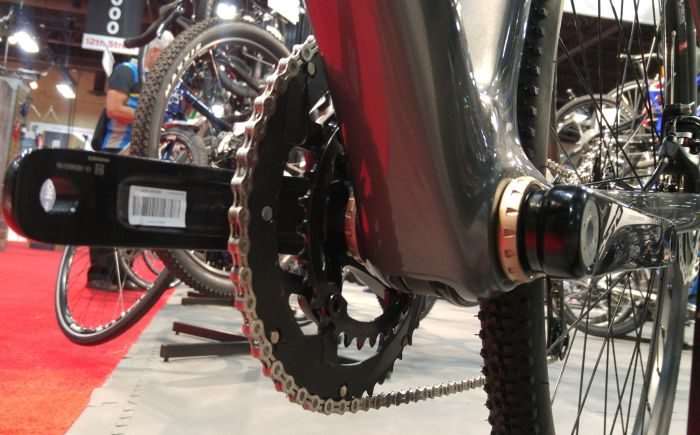 FSA BB386 EVO threaded cup bottom bracket. Note also the bottom bracket cable port. We assume the Grit 440 frame supports wired electronic drivetrains, but this information is unavailable in any of KHS' literature, online or otherwise.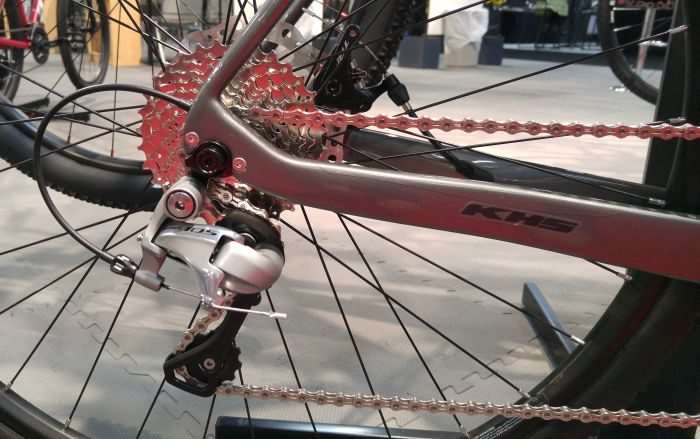 Another excellent choice from KHS at the rear of the bike – longer cage Shimano 105 derailleur matched to an 11-32 cassette. The 32 tooth cog makes for a 1:1 gear ratio when the bike is on the small chainring – steep hills and climbs on gravel demand low gears and traction.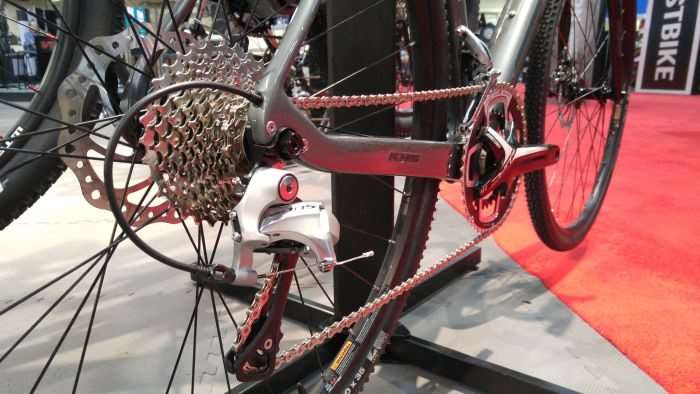 Nice and clean internal routing of the rear derailleur cable.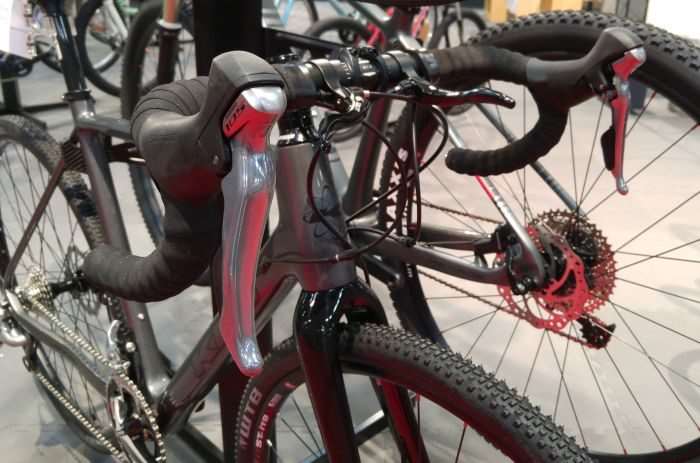 Shimano's 105 level components function just as nicely as their higher end brethren, but at a cost of a little more weight and slightly less durability. Great performers nonetheless. Notice the cross top brake levers – not for everyone, these are great for negotiating tricky terrain, and great for riding a bit of single track here and there.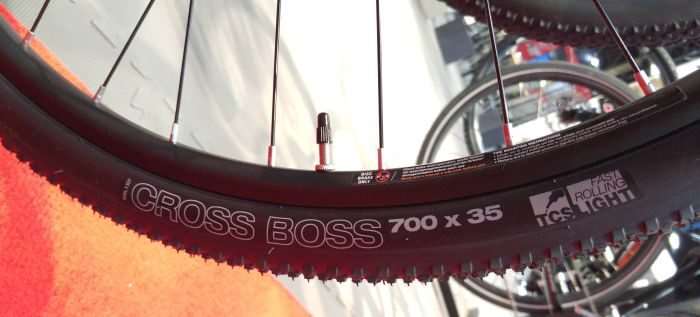 WTB's Cross Boss tyres in 700c x 35mm are tubeless ready and fitted to a WTB STB TCX tubeless-ready wheelset with a stout and reliable spoke count of 32 spokes front and rear. Hubs are Formula RX-812 models.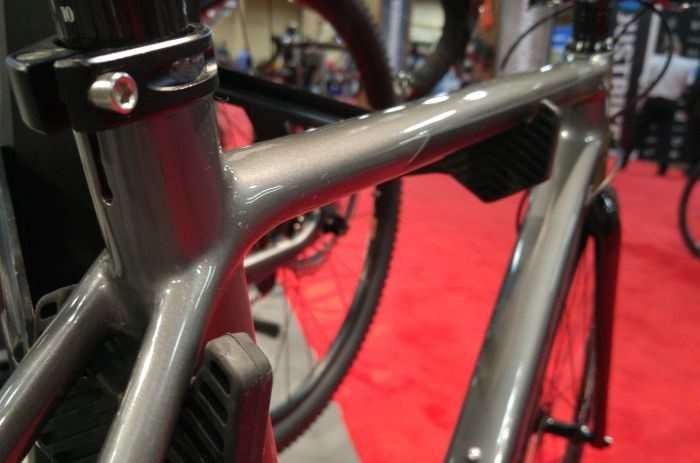 Very clean lines on the Grit 440. The bike is spec'd with a "Q2" carbon fiber 27.2mm x 350mm seatpost.
The Grit 440 is available in four sizes – XS to L, with top tubes beginning at 52cm on the XS and ending at 58cm on the L.
With everything pictured above, the Grit 440 is priced at $US 2,249.00 – $US 2,449.00
---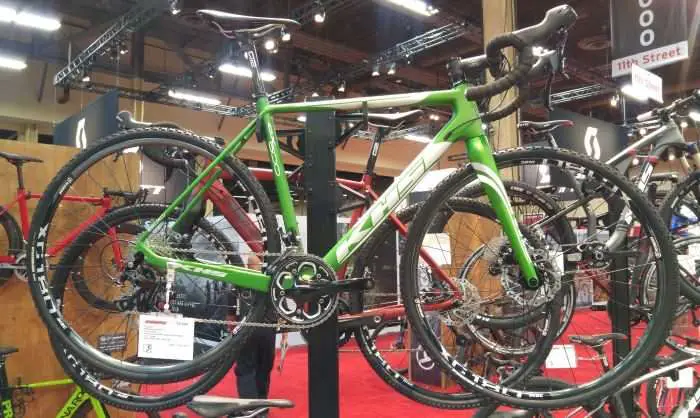 KHS's CX 500 falls under the company's cyclocross / gravel lineup, but it is well appointed to do double duty in both genres.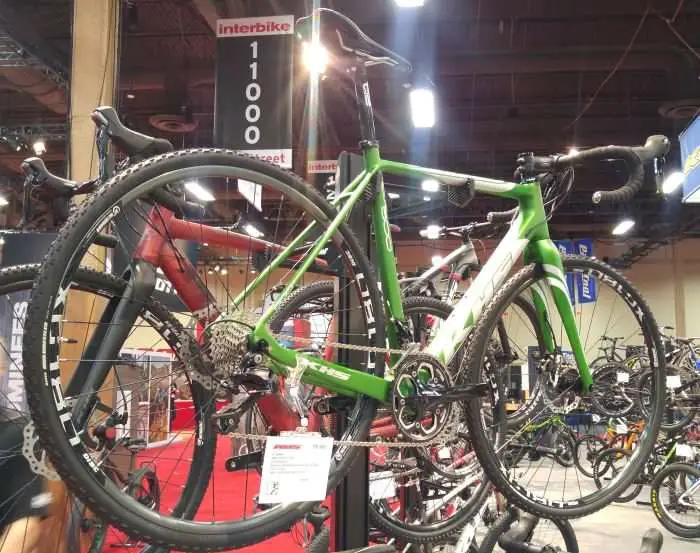 Frame and fork on the KHS CX 500 feature the same T700 High Modulus Carbon in its frame and fork like the Grit 440 pictured above. Other features include thru-axles front and rear – 12mm x 100mm front and 12mm x 142mm rear.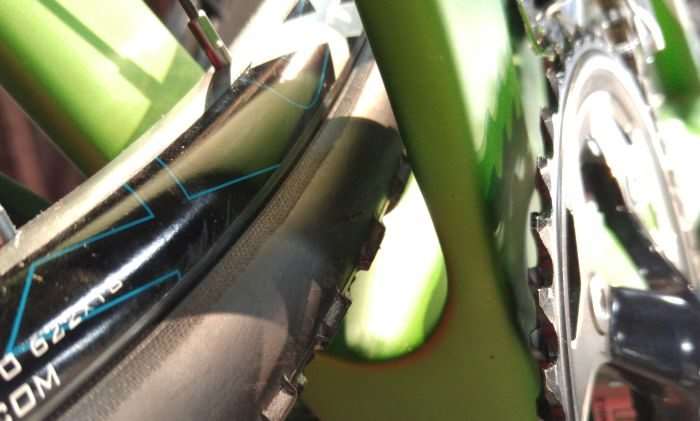 Factory fitted with the Maxxis Mud Wrestler tyre in 700c x 33mm, the photo above demonstrates a tyre clearance of at least 40mm.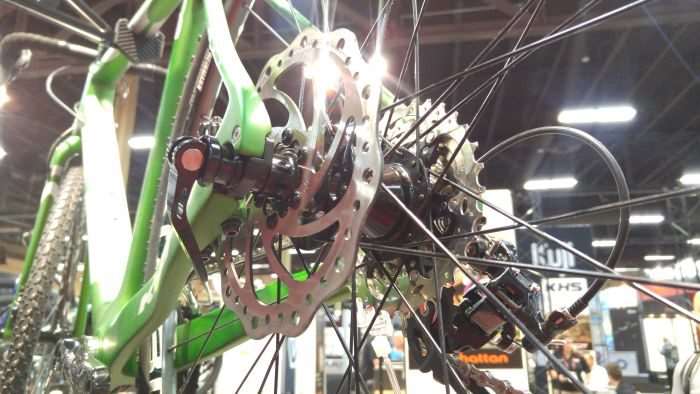 The CX 500 receives a slightly higher end drivetrain spec over it's Grit 440 cousin – Shimano 11-speed 105 derailleurs, full hydraulic braking, courtesy of Shimano's mechanical /hydraulic ST-RS785 shifters and BR-RS505 brake calipers, and a Shimano FC-RS500 crankset fitted with 46 / 36 chainrings. Brake rotors are 160mm front and rear.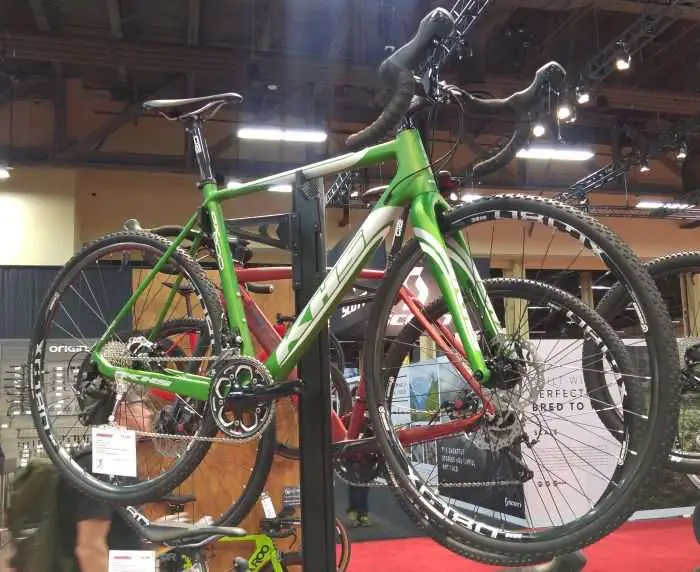 The CX 500 is available in four sizes – XS to L, with top tubes beginning at 52cm on the XS and ending at 58cm on the L.
As pictured above, the CX 500 is priced at $US 2,499.00 – $US 2,699.00