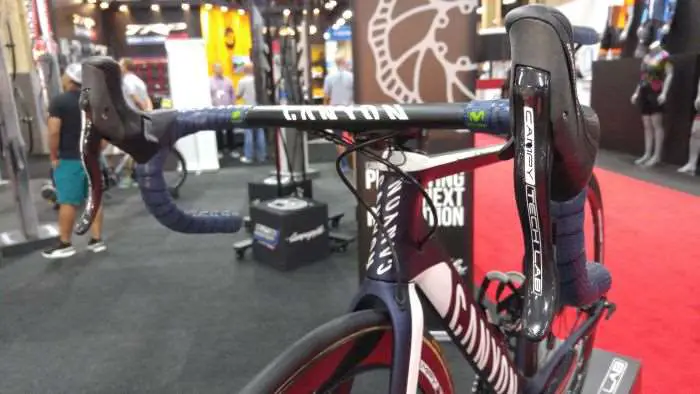 Campagnolo is the late entry into hydraulic disc brake market. Prototypes have been spotted here and there on professional team bikes, yet the groupset remains unavailable to the consumer, nor does it have an assigned product name. But, this is the norm for Campagnolo, whose prototype parts of any type always wear the label "Campy Tech Lab".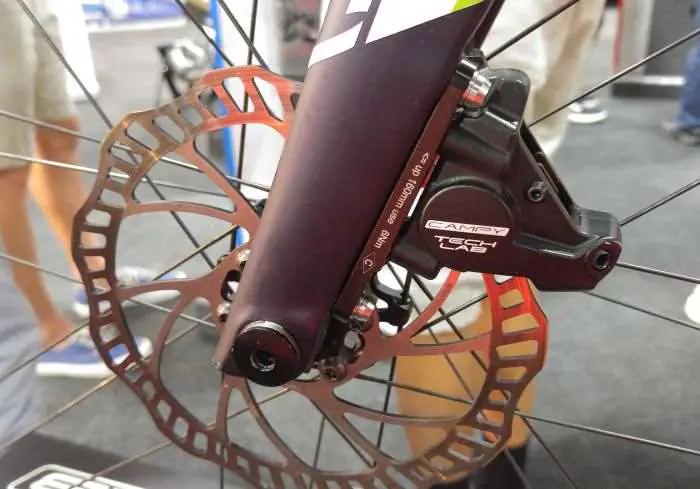 The system is well in development and being tested by teams such as Movistar. Also of note for Canyon fans out there, the Movistar Aeroroad CF SLX features thru-axles front and rear.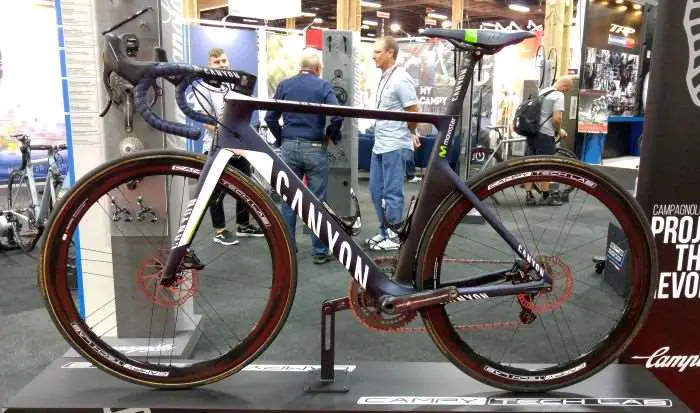 Campagnolo's representatives at Interbike didn't have much to reveal about the system than what is already known, with no set release date.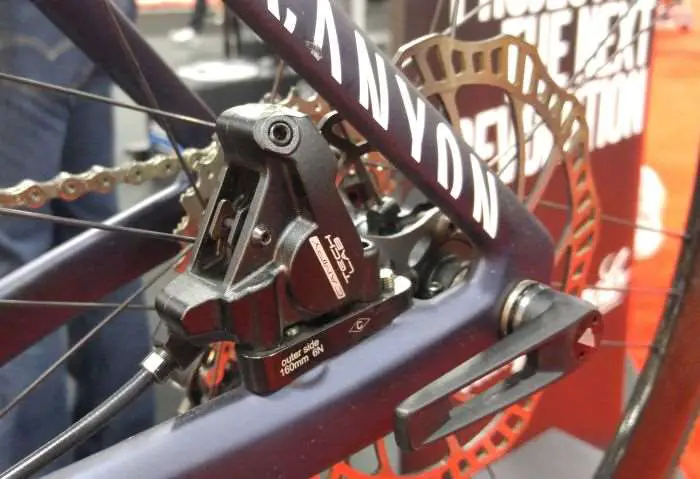 Both front and rear Campagnolo disc brake prototypes are configured for flat mount.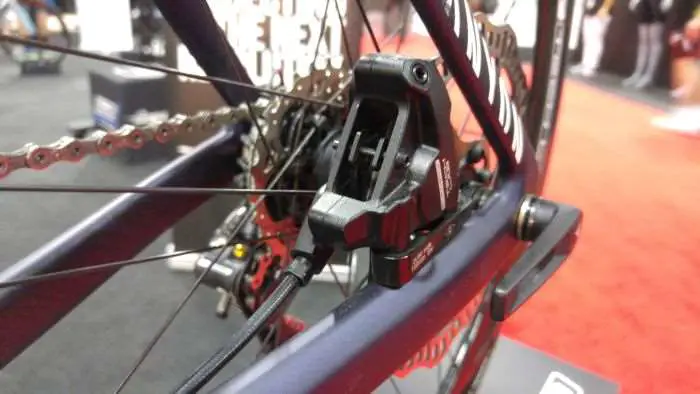 Calipers feature a two-piston hydraulic design. The brake rotors appear to be cut from steel with no additional cooling features on the pads, etc.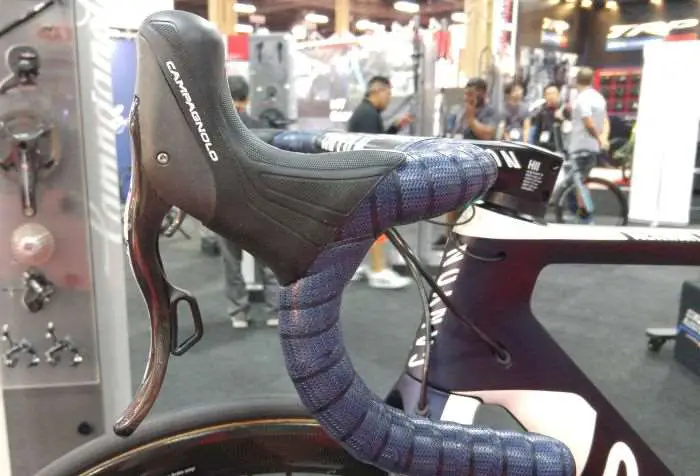 Much like SRAM's hydraulic mechanic and eTap brake levers, the Campagnolo hood is pronounced and contains the unit's master cylinder.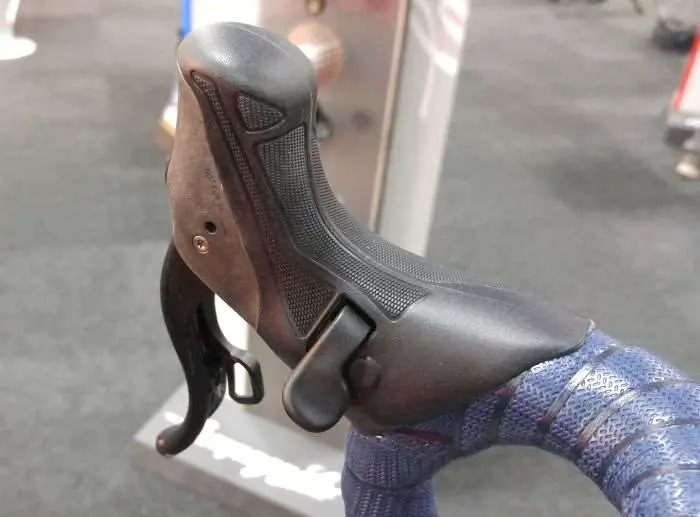 The brake squeeze test yielded a nice feel at the levers, almost akin to the feel of SRAM and Shimano's hydraulic mechanical shifting brake levers.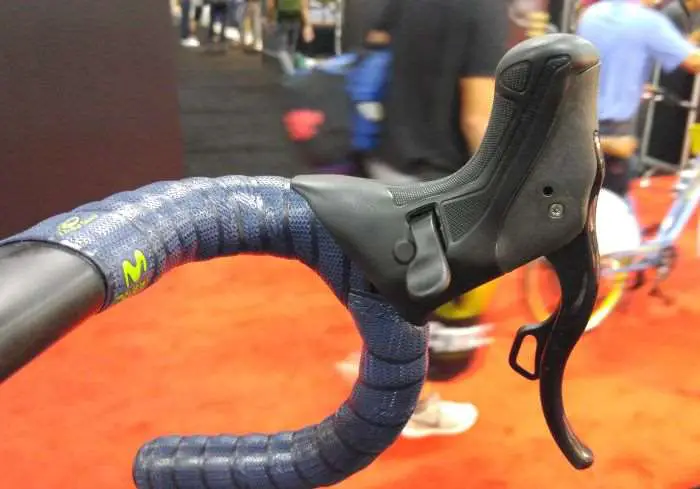 Long-time Campagnolo users will feel right at home on these levers. Pronounced hood aside, everything else is the same as the regular EPS electronic gear system.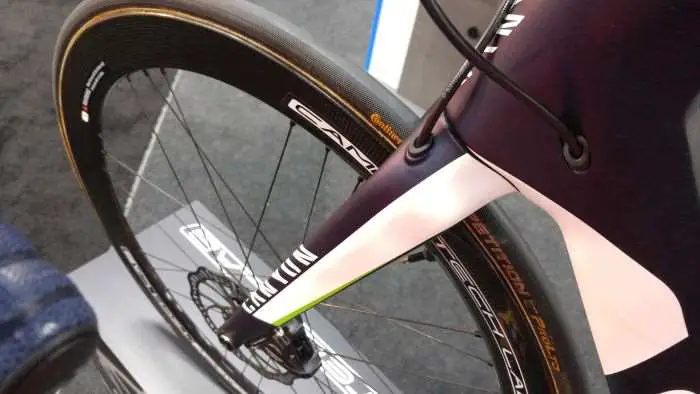 Canyon Bikes do a nice job of internalizing the front hydraulic brake cable.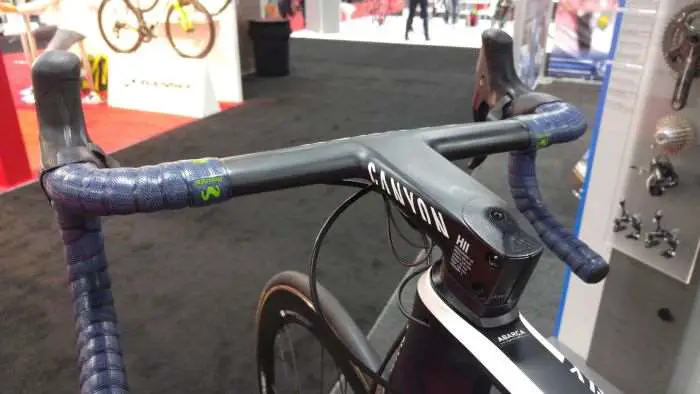 A very clean front end on the Movistar Canyon Aero CF CLX – could we see Campy's hydraulic EPS system on a gravel bike in the future?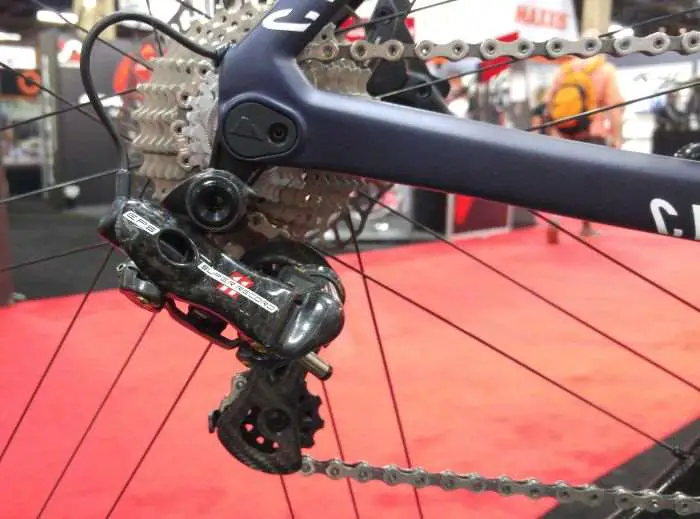 Campagnolo's Super Record EPS electronic rear derailleur is a work of art… almost too nice to get dirty on your average gravel road. However, until the company offers a longer cage variant of their Super Record, Record or Chorus derailleurs – electronic or mechanical, we are doubtful we'll see many adopters of Campy hydraulic brakes on gravel bikes. A mechanical shift version of Campy's disc brake system is in development but no samples were present at Interbike 2016.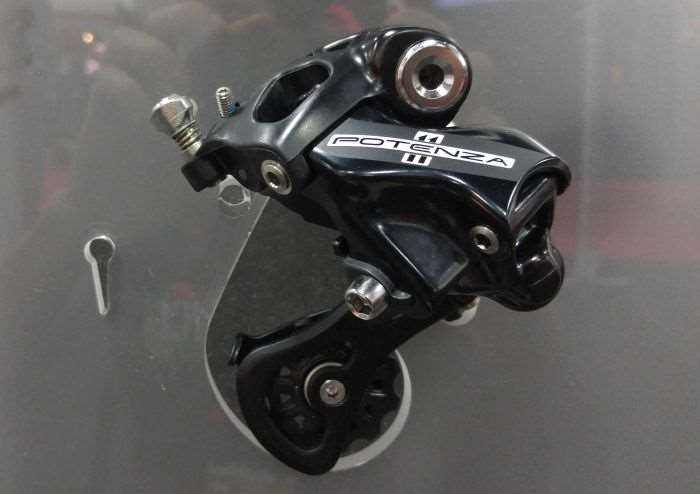 Campagnolo does offer the Potenza mechanical rear derailleur which will shift up a 32 tooth cog on the rear cassette, which would be perfect for gravel use. Like most manufacturers, Campy frowns upon the mixing of groupsets but we assume this derailleur will work with current mechanical rim brake shifters – Super Record, Record, Chorus, etc – and maybe Campy's hydraulic brake mechanical shifters in the future?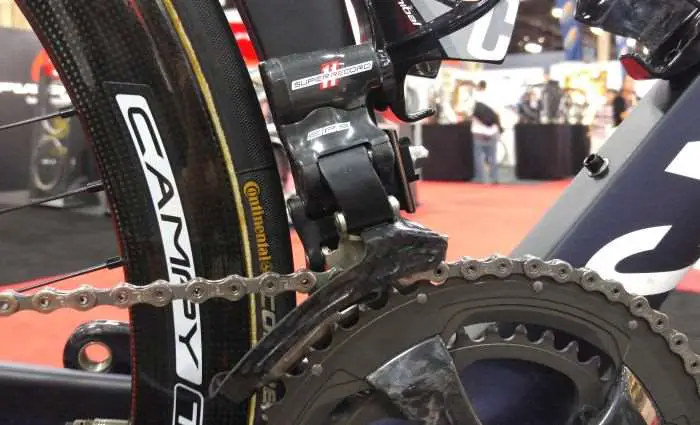 Campy's Super Record EPS front derailleur.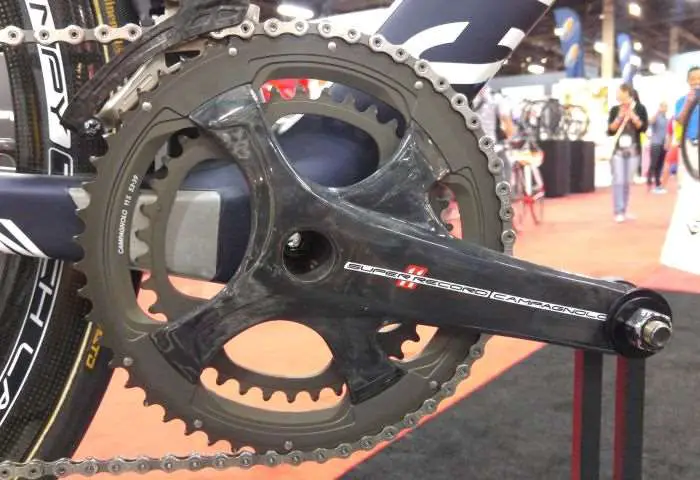 The Campagnolo Super Record carbon crankset – if you have to ask the price, you probably don't want to know.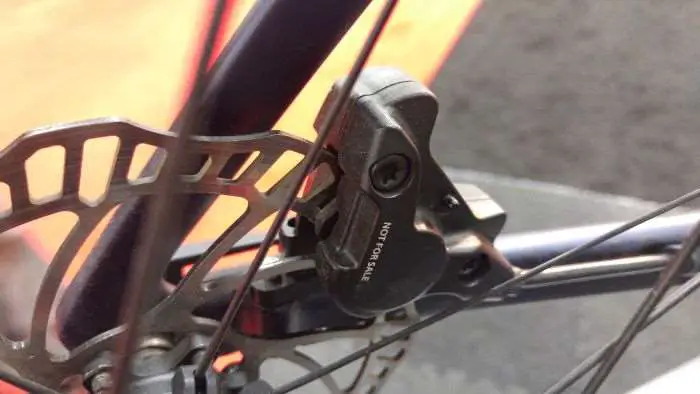 Campy's prototype brake calipers are clearly marked not for sale. At the end of the respective testing cycle, samples are usually returned to Campagnolo and destroyed.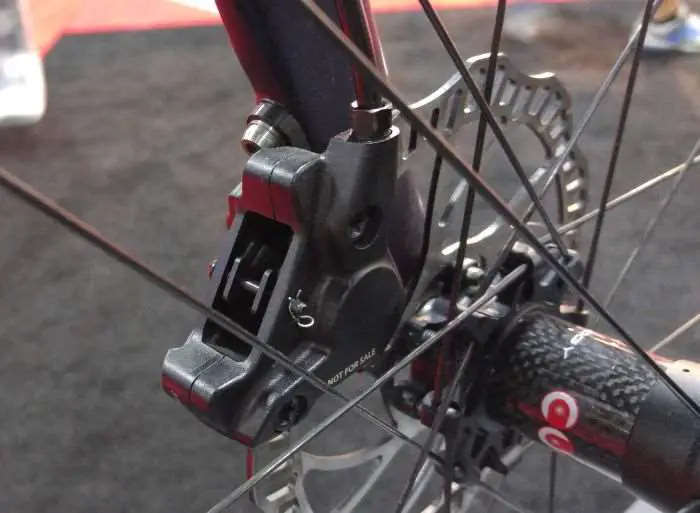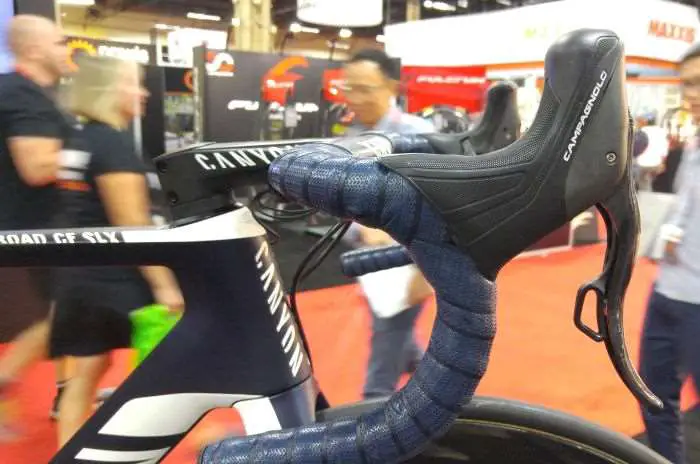 We hope Campagnolo continues working on this system – it would be great to see this long-standing Italian brand fielding their components on stock bike builds in the future?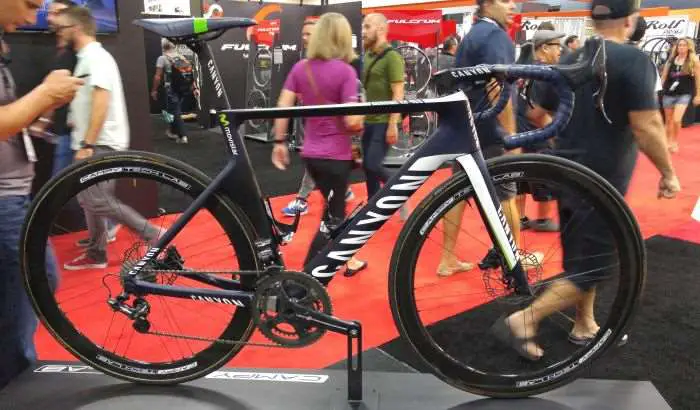 Canyon Aero gravel bike anyone? Maybe another for the future…