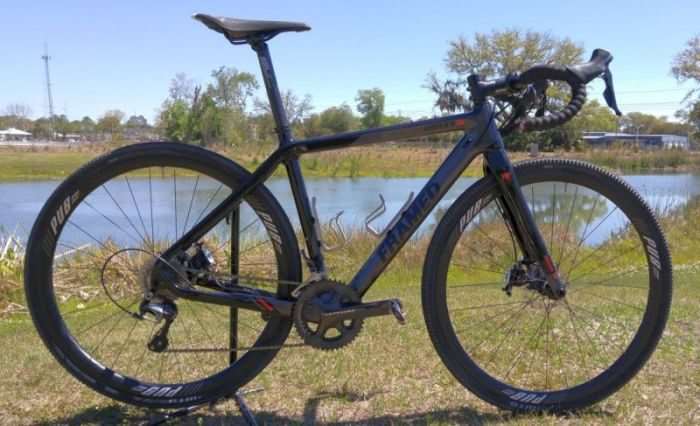 "Just to the south of us here in St. Paul (Minnesota), there lies a vast land of gravel roads. 68,000 miles of virtually car free riding nirvana known to the wider world as Iowa. Having spent many years wandering along these paths and highways, we finally decided to design a bike that we felt would do these roads justice."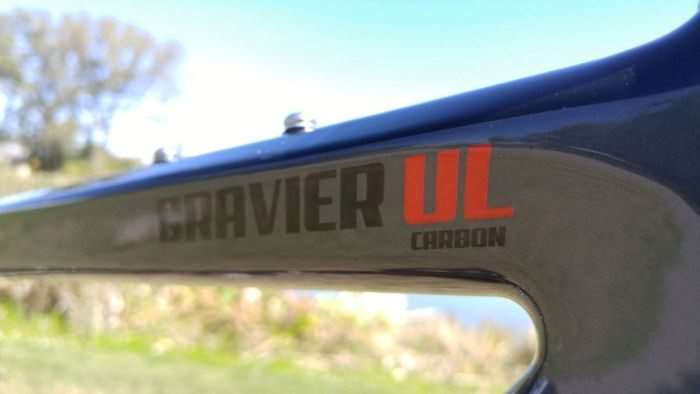 But you may be thinking, just who is Framed Bikes?
"We aren't big and flashy, we know that. We are just like you, everyday riders with a deep passion for the sport. In 2010 we saw a need for bikes that the average person, could afford, ride hard and love. 6 months after we started talking about it, we leapt off the cliff and started Framed Bikes. Since our initial offering of just a few fat bikes, our line has grown to include road, mountain plus, gravel and cyclocross models. Not bad for a small group of friends sitting around a campfire having a beer, and we are just getting started."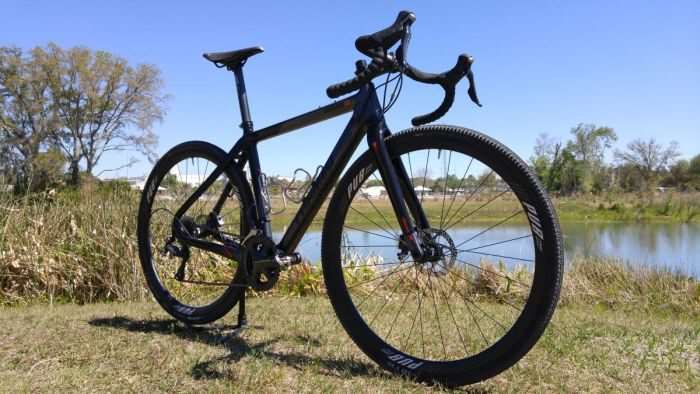 The Framed Gravier Carbon UL features a high modulus carbon fibre frame with flat-mount disc brakes, 142mm x 12mm rear thru-axle, integrated headset, replaceable derailleur hanger and internalized cable routing, with support for mechanical or electronic shifting.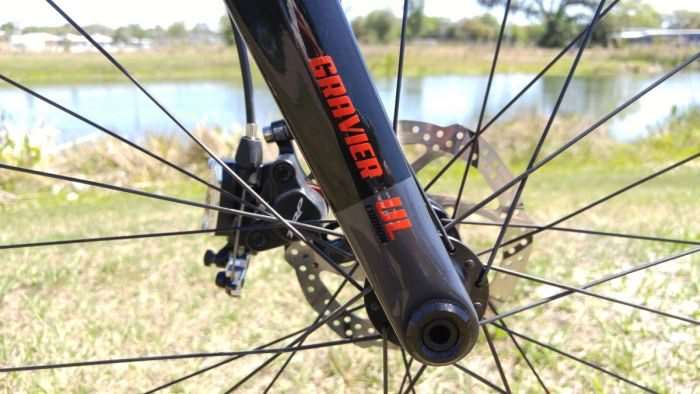 The high modulus carbon fork features a tapered 1 1/8″ to 1 1/2″ steerer tube and support for the 15mm x 100mm thru-axle standard.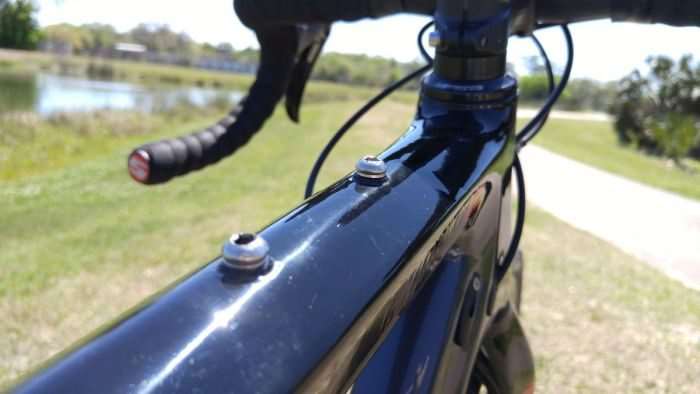 In addition to two standard water bottle cage mounts, the Gravier UL features mounts for a top tube bento box / storage bag.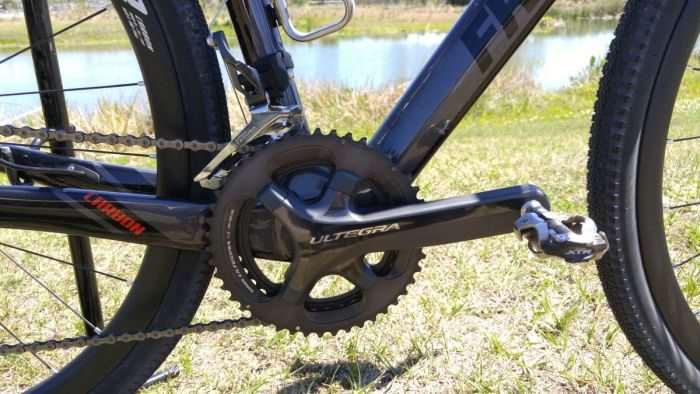 The parts fitted to the Gravier review bike differ from the production model, in that SRAM Rival 22 parts comprise the stock 2×11 build spec. The Gravier is also offered in a 1X SRAM Rival build spec. Despite these differences, the Shimano Ultegra 6800 series mechanical drivetrain fitted to the review bike proved to be a very reliable performer – no great surprises there.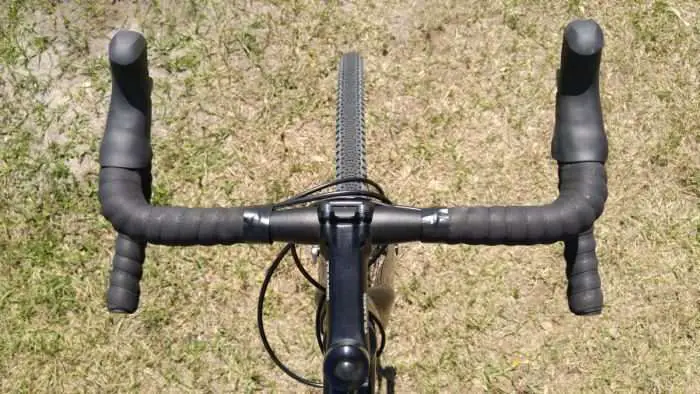 Framed branded cockpit parts on the review bike are the same as the production model.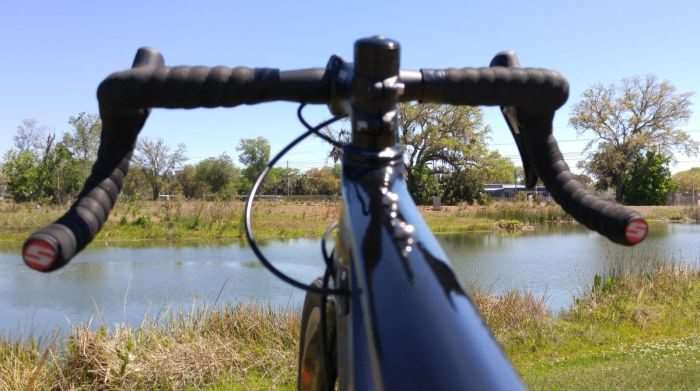 Better visualized from this angle (sorry about the bad focus), the stock handlebars are compact drop and flare at least six degrees at the drops. Handlebars like pedals, shoes and saddles are items that are unique and individual to each rider. With that said, these handlebars do not get along with me. I wasn't happy with the angle at which the brake levers sit relative to the bar, nor do I enjoy the flared drops; they simply feel too wide to me.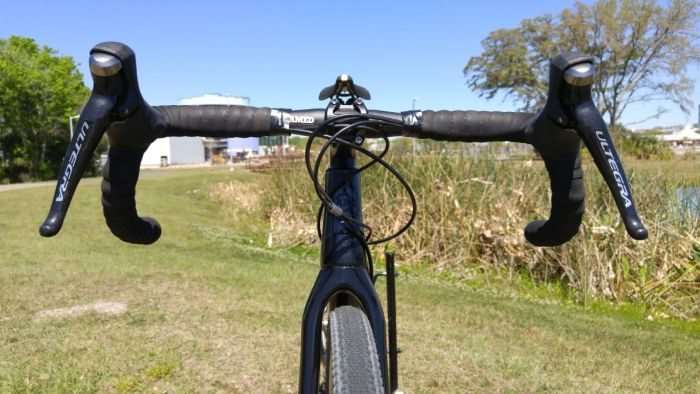 I'm a traditionalist in that I prefer a regular drop type handlebar sans flare. I do wish Framed bikes would provide more than one handlebar choice as part of their build. For the rider who enjoy the merits of flared handlebars, you may appreciate what they have to offer.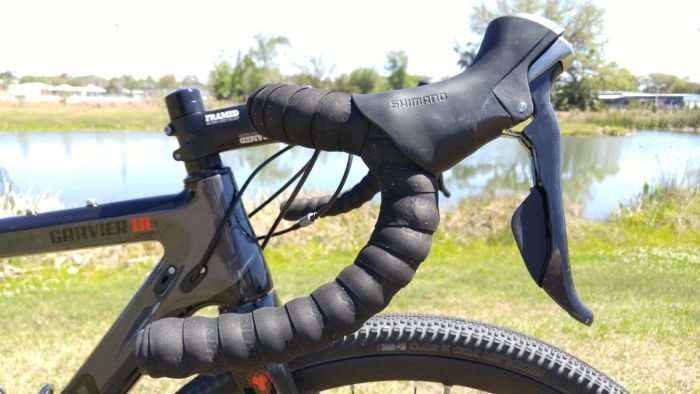 At the price point these bikes are being sold, a handlebar swap could be a relatively economical exercise, depending on the replacement handlebar chosen.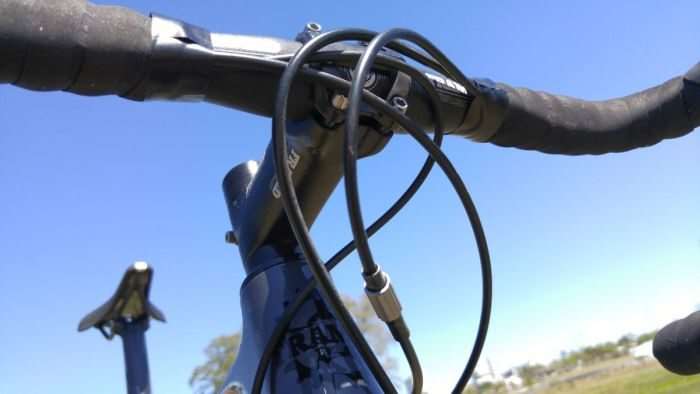 The cable housings on the review bike were overly long, but didn't affect shifting or braking performance any.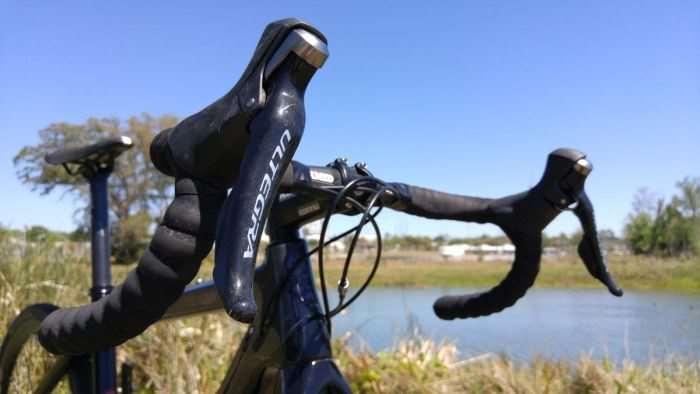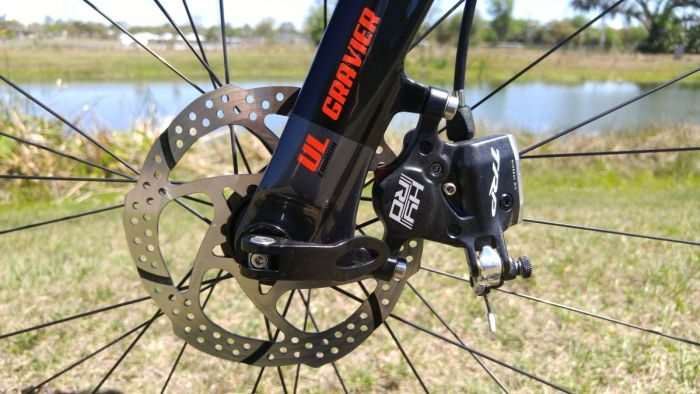 On the subject of braking, the review bike was fitted with TRP's HY/RD brake, a mechanical to hydraulic converter type brake. The production bikes are fitted with Avid's venerable BB7 mechanical brake. The TRP HY/RD's aren't pretty, but they offer superior braking performance over that of the BB7, rivaling about 80% – 90% of the performance offered by a true hydraulic braking system.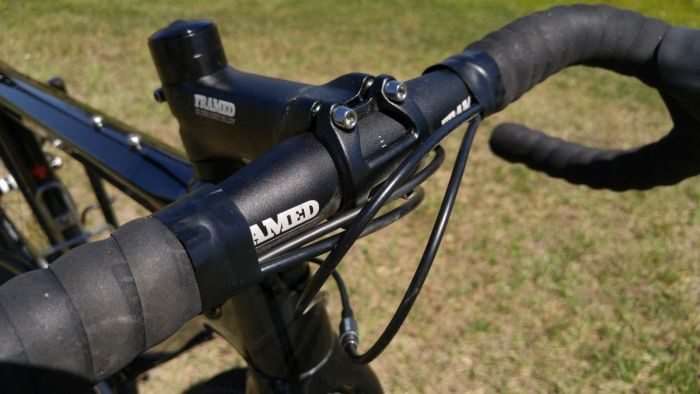 Despite my issue with the flared handlebars, the Framed stem is a no nonsense item, and gave absolutely no trouble during the review.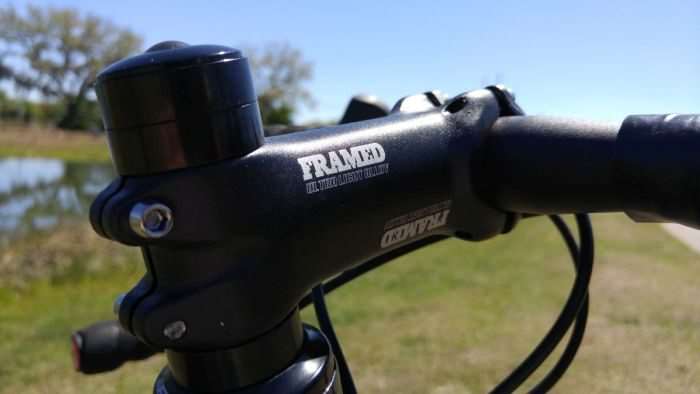 Readers will notice the excess steerer tube that is begging to be cut. However, review bikes are usually returned to their parent company after the review period, usually for demonstration or resale. Thus, it isn't always prudent to customize a review bike!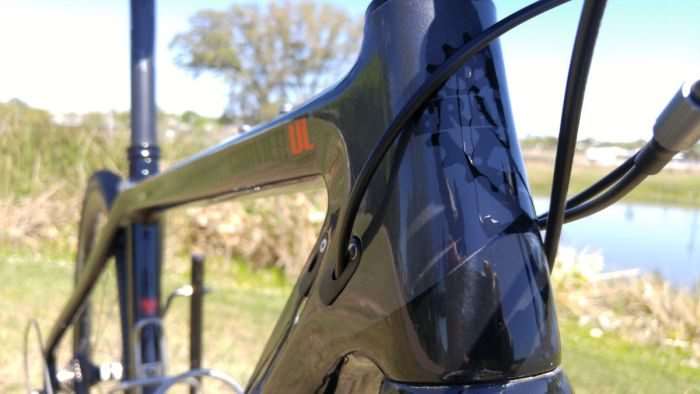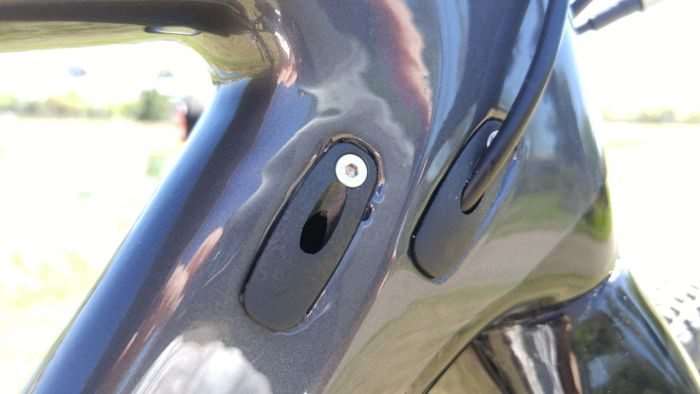 Nowadays, most bikes that internalize cables provide three ports. The Gravier has four – rear brake, front and rear derailleur and a spare. Internalized dropper post cable, anyone?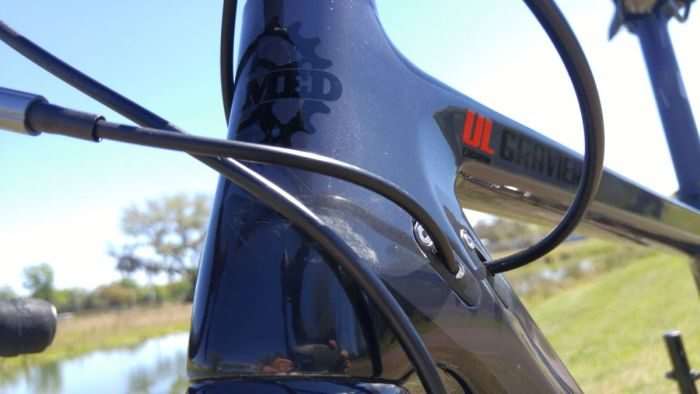 Note the sharp angle at which the rear brake cable (right side of image) enters the frame. The Gravier UL frame tubes are of generous proportion, so the cable doesn't take a sharp bend inside the frame, but routing could be better. Thankfully, feel at the brake lever was excellent.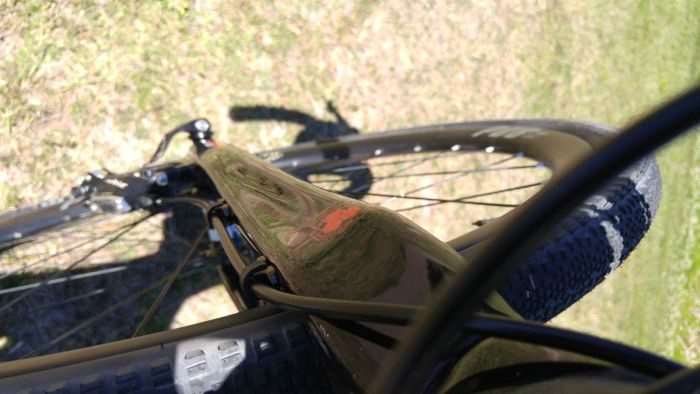 The high modulus carbon fork tracked well and felt adequately stiff, but not so stiff that a rider would be jarred by every bit of road buzz or heavy bumps and potholes. A little at odds with the internalized nature of the rest of the bike, the fork's brake cable is routed externally and behind the fork leg. However, this configuration provides easy access to the housing / cable for replacement in the future.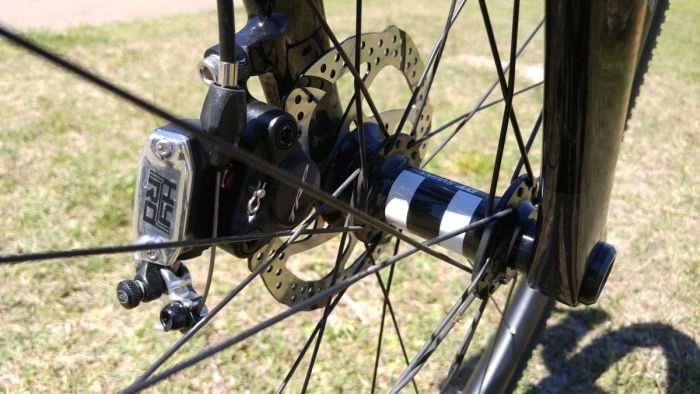 Framed choose a spec of 140mm brake rotors front and rear of the Gravier. I would prefer to see 160mm rotors spec'd – more surface area to dissipate heat.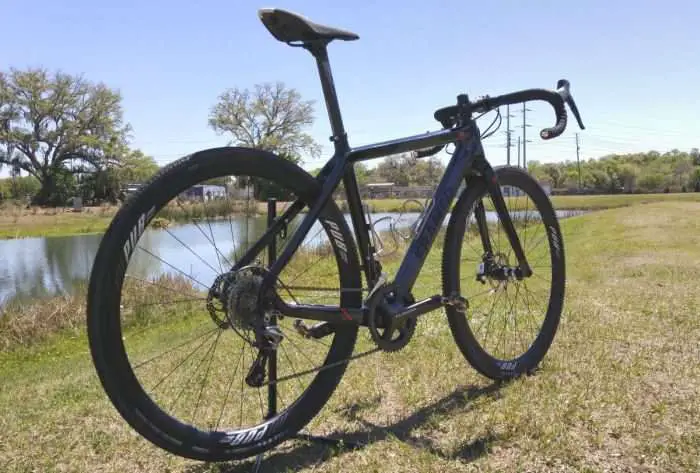 The Gravier features a lower bottom bracket to enhance stability in loose corners, and a longer wheelbase for all-day comfort.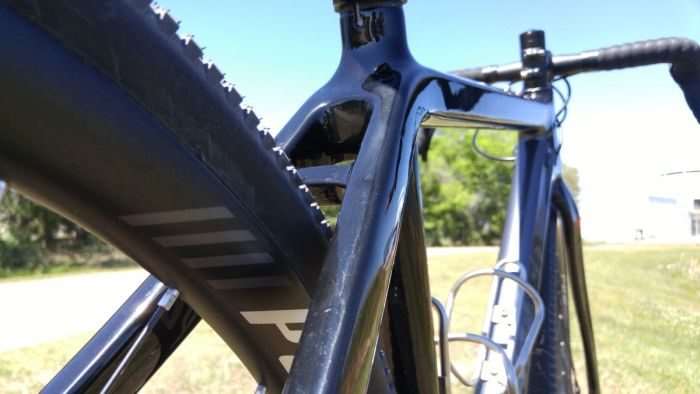 All of the Gravier's frame tubes, including the seat stay cluster, have a chunky, oversized, almost over-engineered look to them.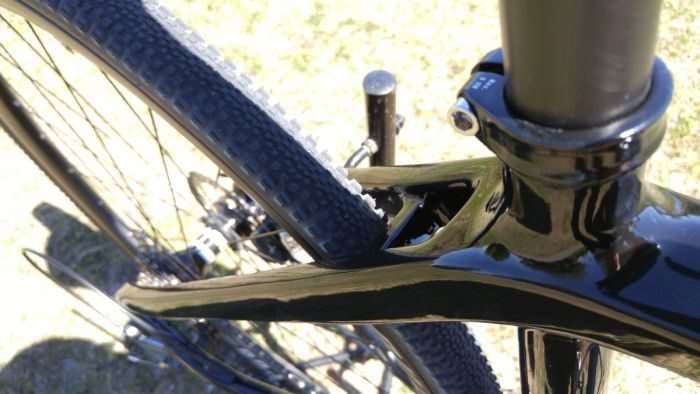 Also oversized is the 31.6mm seatpost, which steers away from the current trend of smaller seatpost sizes, typically 27.2mm.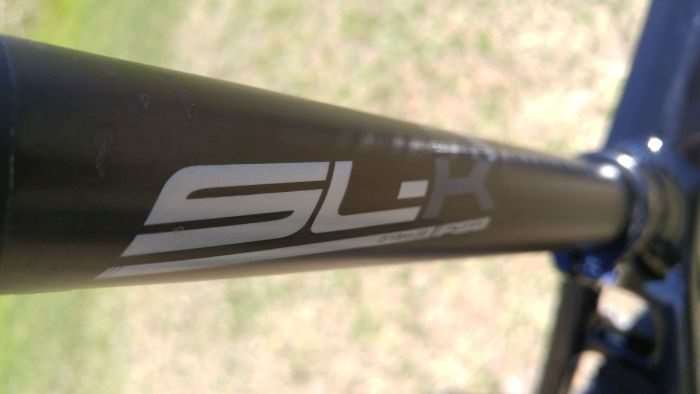 This isn't the first time I've ridden a gravel bike with a 31.6mm seatpost. Alluded to earlier, tyre pressure is one of the biggest factors to a comfy ride, but in no way did the oversize seatpost negatively affect how the bike felt over the rough stuff.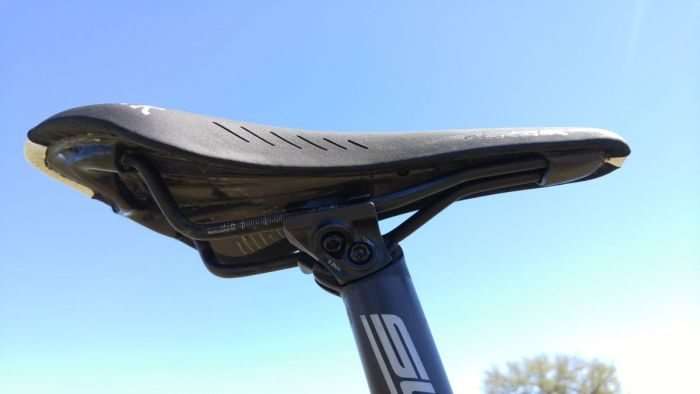 The Gravier UL 2×11 model ships with a Selle Italia X1 flow saddle, but this was substituted for one of my personal Fizik Arione saddles during the review.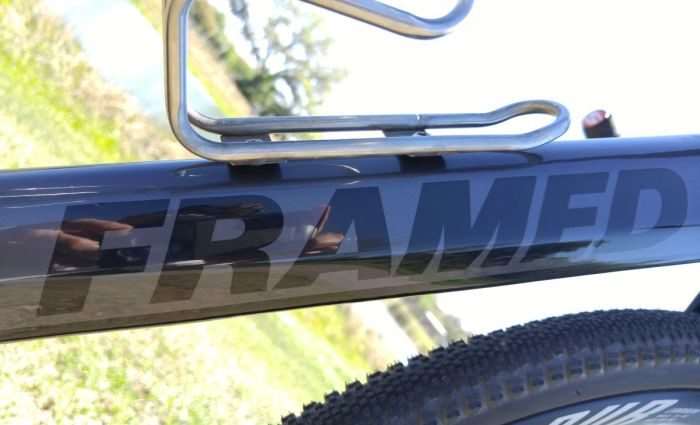 The oversized tubing of the Gravier ties in with Framed's design philosophy for this machine; durability and the ability to take abuse. However, the carbon fiber lay up of the frame is designed for a measure of forgiveness, lessening the effect of rough terrain which ultimately fatigues a rider.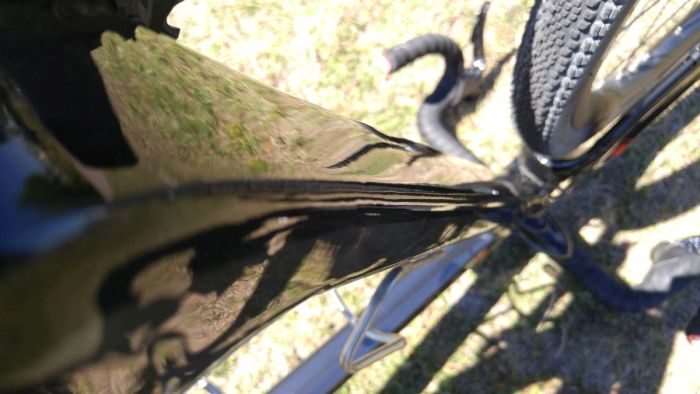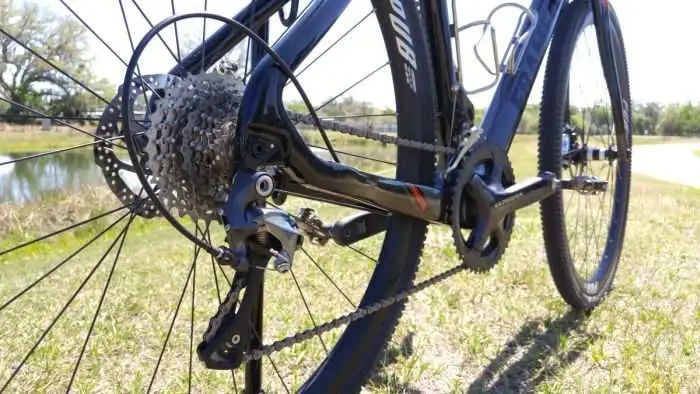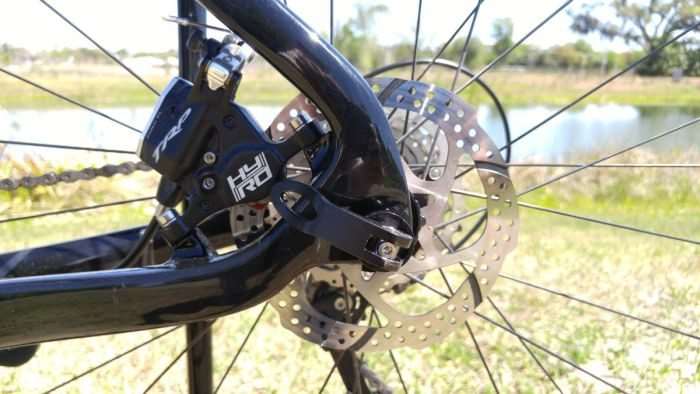 Framed stick with the post mount brake standard for the fork and rear end of the bike, and employ a clean design for the rear chainstays. The rear quick release thru-axle is easy to access and provided a secure and reliable connection.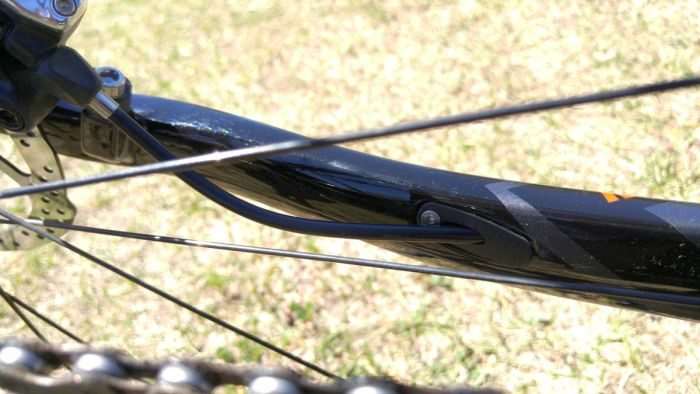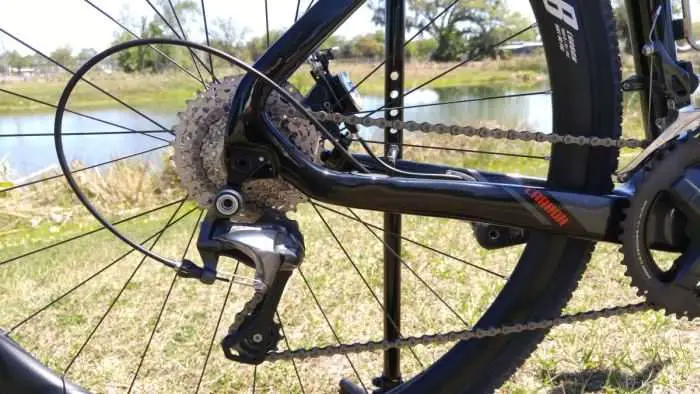 The review bike was fitted an 11-32 11-speed cassette, while the production spec 2×11 bike ships with an 11-26 cassette. I feel Framed would be wise to ship an 11-32 cassette with every Gravier they sell.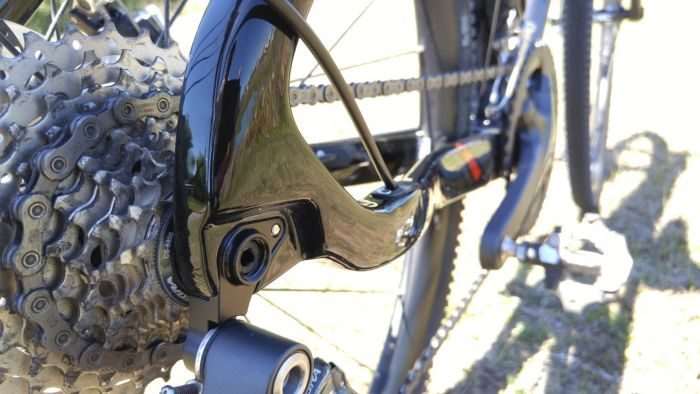 The swoopy chainstays offer plenty of heel clearance, no issues with heel strikes. Also visible in this photo is the replaceable derailleur hanger and exit point for the rear derailleur cable.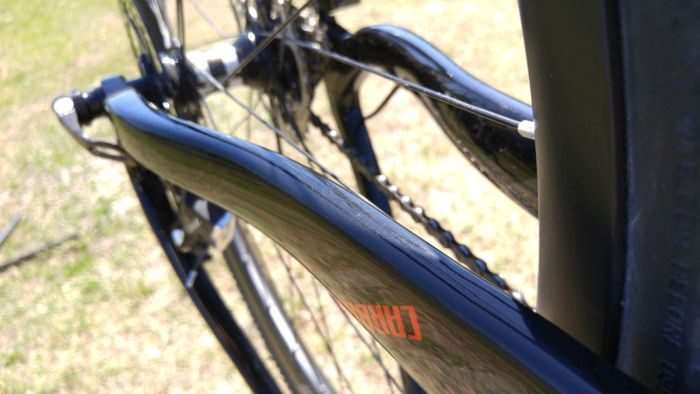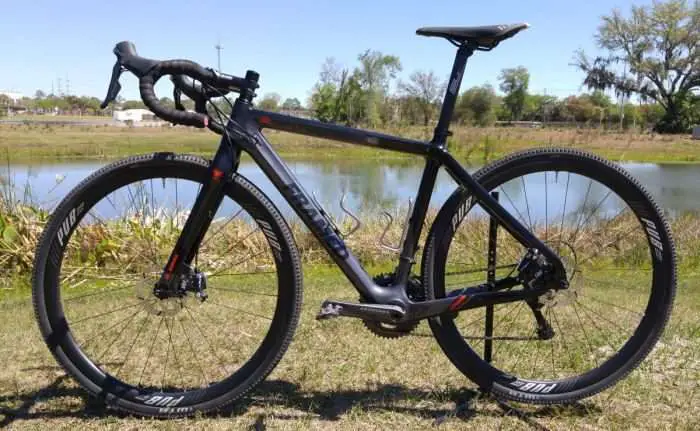 If you appreciate a stealthy look, the review sample of the Framed Gravier UL is a sharp looking rig.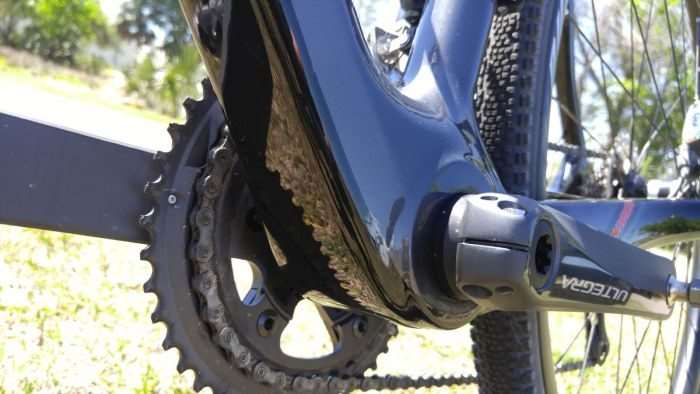 The oversized BB30 bottom bracket shell is huge. No matter how hard I tried with my diminutive levels of power, there was no flex or chainring rub against the front derailleur cage. The stock 2×11 build features FSA's Gossamer Pro crankset, but the review sample came with Ultegra's 6800 series crankset (fitted with 46 / 36 chainrings), and an adapter inside the frame to reduce the bottom bracket down to 24mm, to accommodate the Shimano crankset's axle. Adapters and shims are typically accompanied by creaks and groans, but I'm happy to report the Gravier was completely silent. Bikes should be seen and not heard.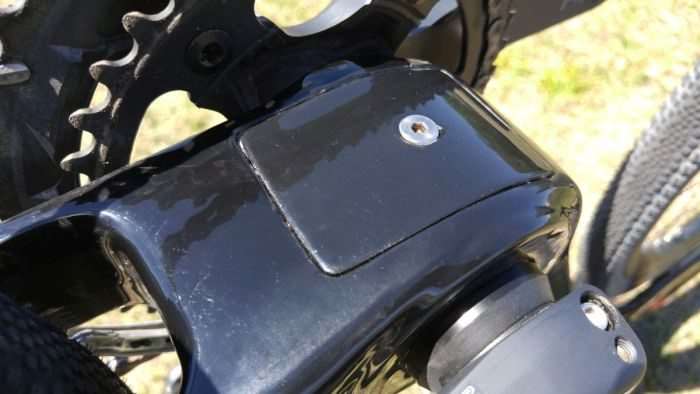 Routing cables internally is a relative delight with the Framed Gravier UL. This handy port provides easy access.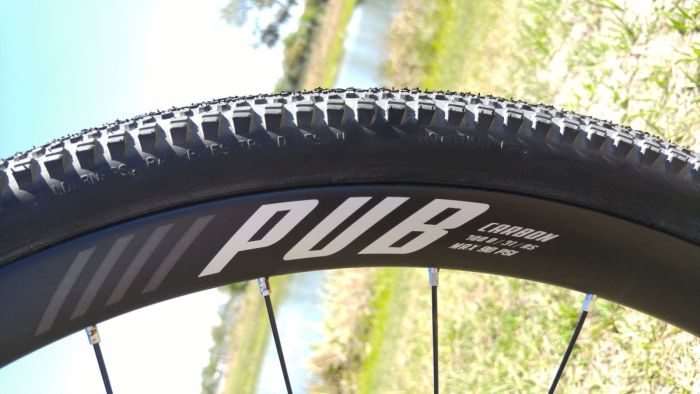 Wheels on the Framed Gravier review sample are PUB branded carbon disc brake clincher wheels, laced to DT350 disc brake hubs. The PUB wheels are tubeless compatible, but I did not convert them to tubeless during the review period.  The production spec 2×11 wheelset rolls on Alex Draw 2.1 rims and Framed brand hubs.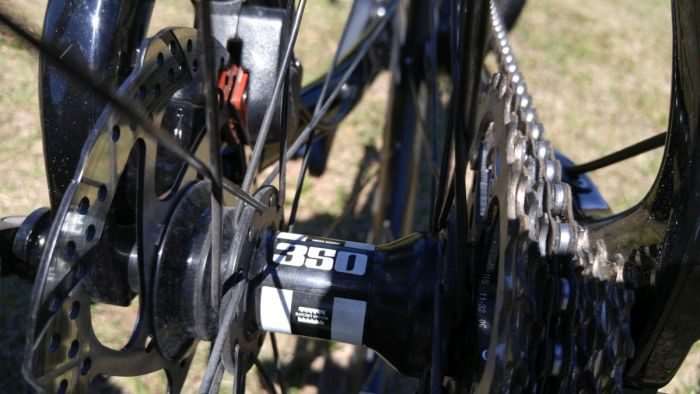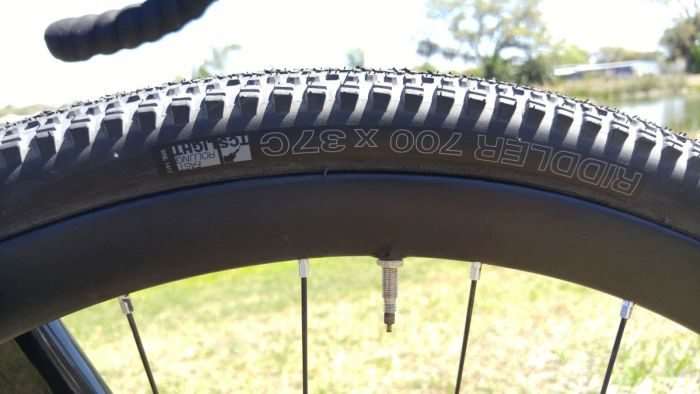 WTB's Riddler tyre in 700c x 37mm, also tubeless compatible, is the tyre of choice for the review bike, while the production 2×11 model sees Maxxis Mud Wrestler tyres in 700c x 33mm. The WTB Riddlers are tubeless compatible (WTB's TCS system), and roll well on pavement and mixed surfaces, and corner reasonably well thanks to the raised knobs on the edge of the tyre.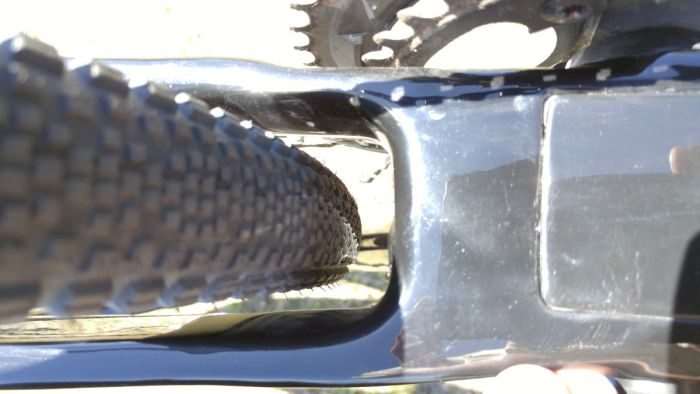 Tyre clearance could be better on the Framed Gravier. The WTB Riddlers measured bang on 37mm, and while the Gravier can accept a 700c x 40mm tyre, if a sticky and muddy road is encountered, the Gravier is going to clog up fast… but this is a problem with about 90% of gravel bikes on the market.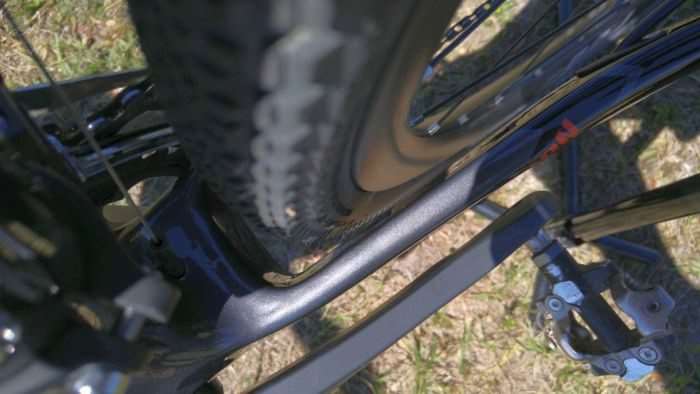 Manufacturers, please take note. I've been extolling the virtues of bigger tyres and decent frame / fork clearance for years. Sure, a bike like the Framed Gravier will serve you well in many areas of the world, but the bike would be even more versatile if extra tyre clearance was provided. Lengthening the chainstay by at least a centimetre isn't going to negatively affect handling.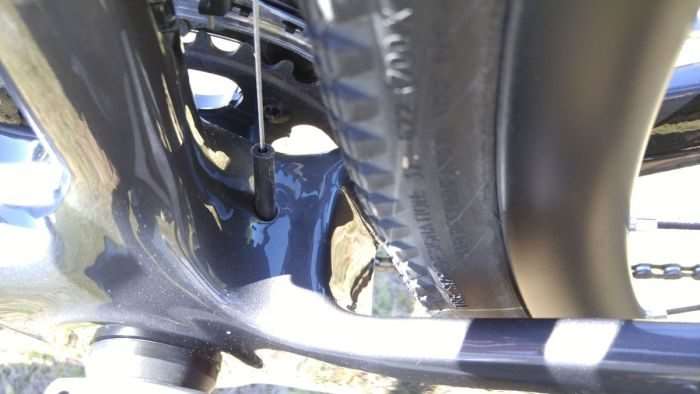 Despite my issues with the bike's choice of handlebars and tire clearance, the Framed Gravier UL is a very solid package and extremely well priced for a bike with a full carbon frame and fork. As at May 5, 2017, the 2×11 model is selling direct through the manufacturer for $US 1,599.00 with a SRAM Rival groupset. Bear in mind the review model was fitted with different components versus the production bike.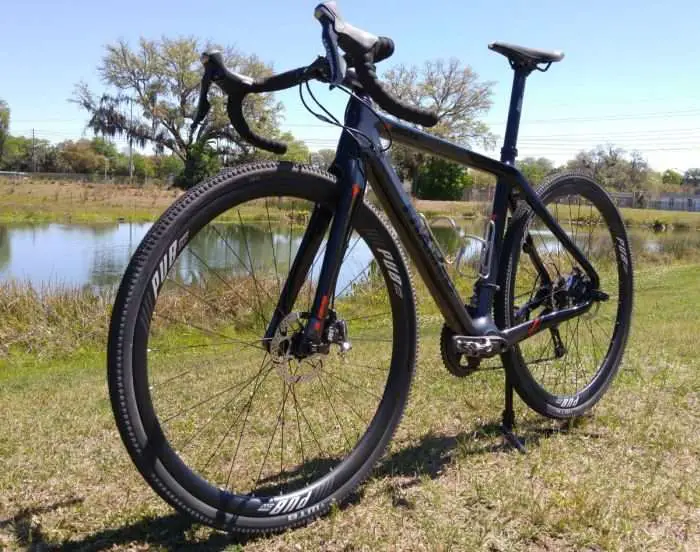 I've been dutifully training for this year's Dirty Kanza 200, and the Gravier accompanied me during one of my shorter gravel rides at around 125 miles / 200kms long, as well as many rides in the vicinity of 70 miles in length. The layup, orientation of fibers and other goodness associated with carbon fiber can be applied in bicycle frames so as to tune the ride properties for a pleasing mix of stiffness and compliance. Overall, the Gravier frame has these properties well sorted, nullifying much of the negative buzz from every gravel road surface I took it across, but without the frame feeling overly stiff or dead as a board. This was a pleasant surprise, because the frame's beefy looking tubes give an impression of an unforgiving ride; not the case. At the asking price, the Framed Gravier is a pretty tough deal to beat.
To provide an additional review viewpoint of the Framed Gravier UL, I loaned it to a good friend for about a week.
Todd's take on the Framed Gravier UL
So I've ridden a Fuji Cross Pro fro the past decade and have used it for gravel road riding since 2011. With cyclocross geometry, an aluminum frame and carbon fork / seatpost, it has been my only option to bridge across the different demands of both cross and gravel riding / racing. So the full carbon frameset with the slacker angles offered by the Gravier seemed certain to offer a very different experience. Likewise, I've primarily been on aluminum clincher wheelsets (other than cyclocross racing wheels) since the 1980's. The PUB carbon clinchers which came on the Gravier review bike would be my first foray into this now well-established technology.
While I've utilized disc brakes on my MTBs for years – the Fuji Cross Pro became one of the last generation of cantilever brake cyclocross bikes – this too would be a change for me on the dirt roads of North Central Florida. Shimano 11-speed? Yeah, that would be new too. And wide, flared drop handlebars? Not sure how I'd feel about those.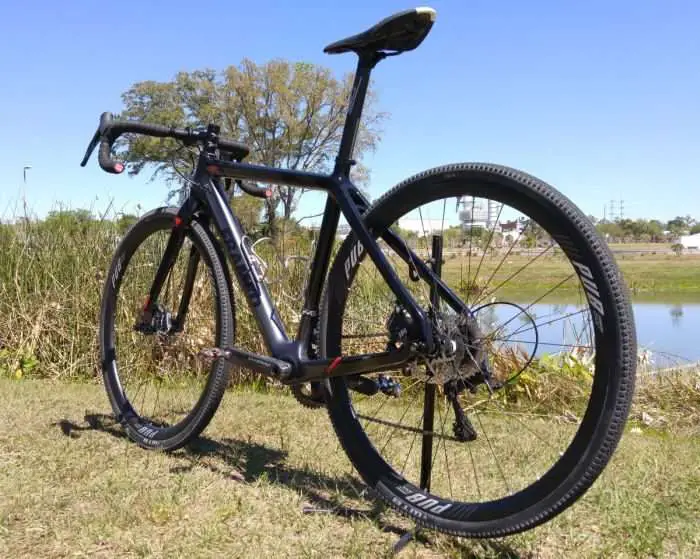 After collecting the review bike from Grandmaster JOM, I mounted my usual saddle – Fizik Aliante – and a set of Shimano XT pedals. The FSA seatpost is 31.6mm in diameter and I appreciated the 3-bolt system for getting the angle (or lack thereof) set precisely. Already setup with JOM's King Ti cages, the Gravier also features the option to bolt on a bento box if that is your thing.
I tested the Gravier on three rides over the course of a week. Ride one took me over the short (18 mile) but sometimes brutal Embezzlers Road course, which we ride regularly over the winter months here in Gainesville, Florida, largely as an excuse to get to the pub in cold weather. This course is the most CX-like of any local route and includes, depending on weather – lots of sand, lots of water, lots of grassy double-track, and some forest paths as well. The first thing I noticed right from the start (did I mention this ride starts and finishes at a pub) was how quickly and easily the wheels spun up to speed – a real difference on pavement that would also translate to other surfaces.
A prolonged drought brought the sand potential of the route to its fullest and by that I am talking about sections that covered at least half of the PUB's semi-deep section rims. I am a fan of WTB tires generally and have ridden the WTB Nano for past few seasons on our local dirt, gravel, limerock and sandy spot roads. The WTB Riddlers rolled fast on the pavement and hardpack but gave me a bit more pause in sandy corners than their larger treaded brothers. The disc brakes functioned smoothly but on this flat course I did not really test the potential.
Ride two consisted of a 32 mile course over more conventional – at least for this area – reasonably hard packed limerock roads. Did I mention the drought? Well one impact of such conditions here is severe washboarding and cratering of our white roads. This route included both, in addition to the requisite moderately sandy sections. The Gravier frameset made these parts more tolerable even at the relatively high pressure I was running in the clincher wheels. I did not setup tubeless for this one-week trial, but doing so would surely improve the ride quality even more on such surfaces. And those handlebars? Well, maybe they might could work out.
Ride three just happened to coincide with the 6th annual Strada Bellamy (report of the 5th edition is here) – a 205km ride that includes over 20 unpaved sectors totaling 125km. Drought conditions looked certain to ensure mucho washboard, sand, and limerock craters. The predictions did not disappoint and of course due to Murphy's Gravel Law, riders encountered the worst sections over the final 40km. All felt the pain and misery at some level, some just felt it while going faster than others. Despite the suffering, I appreciated every bit of the vibration-dampening offered by the Gravier over my usual aluminum rig. While I had some trepidation over taking out a new bike on my toughest event of the spring season, the Gravier felt smooth and sound on all but the very worst sections where only a full-suspension 29er would have provided any real relief.
In sum, my education on gravel-specific bicycles got off to a strong start. A few small quibbles: the carbon frame of a gravel bike should some with factory installed protection of the downtube and drive-side chainstay. The ping of small stones and chainslap are inevitable so why not offer this standard? The flared drop handlebar design, while not my personal choice aesthetically or functionally, did not cause any discomfort on the long ride. Still, Framed might want to offer another option here.
Lastly, the rear triangle probably cannot accommodate more than a 40mm tire. While this would be fine for those who ride good gravel roads, for those of us who face deep sand and want a larger tire on occasion, or for those who encounter sticky clay-based muck and desire more tire clearance, the chainstay design simply does not suffice.
Thank you Todd!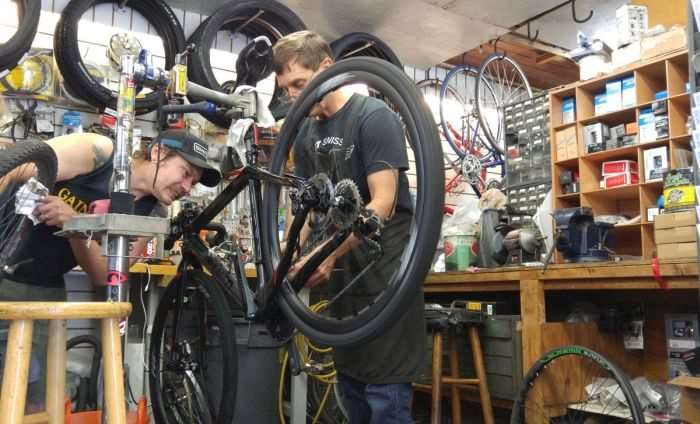 Thanks also to Paul, Dave and the crew at Bikes & More in Gainesville, Florida, for tweaking the Framed Gravier Carbon UL before the review process began.